UPDATED MARCH 2019 Disney is giving Star Wars a lot of attention lately with the premiere of the new movie fast approaching, the Season of the Force event just around the corner at the Disney parks, and with the surprising announcement of the new Star Wars themed land that is planned for construction at Disneyland. I thought it would be fun to create a Star Wars -Themed Disney Vacation countdown for families to use to count down the days until their own Disney adventure begins! This is perfect for counting down until you head to Star Wars Land Disneyland May 31, 2019!

Counting down the days to a Disneyland Vacation can seem to 'Endor' forever. Keep your kids on the light side with these fun printables. The wait may be hard, but the reward is great. May the force be with you!



All you will need:
And one of these six free Star Wars templates available for you:
Each of the pages have fourteen blank circles on them as part of the design. These circles represent the individual days until the vacation begins.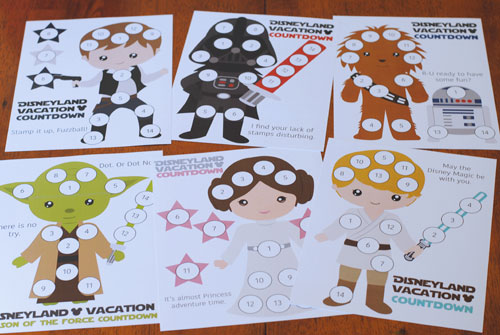 I thought it would be fun to use the Do-A-Dot art markers to fill in the blanks. They are available for purchase at almost any art/craft store or online at Amazon. Dot stamps are a ton of fun because they are simple for kids to use and they make very little mess. My kids really enjoy doing projects with their Dot Stampers. I am sure yours will too!

If you don't want to purchase the Do-A-Dot markers, you could fill in the circles each day with Star Wars Stickers or mark them off with a big X!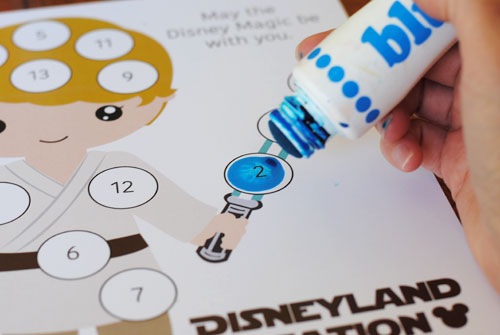 Mark off, or fill in one circle per day. After two weeks, your page will be complete and the time of departure for your Disneyland Adventure will have arrived. I hope you make some out of this world memories with your family and feel the power of Disney magic on your Disneyland vacation!
If you make your way to the Happiest Place on Earth between November 16 and January 6, you can experience three incredible limited time events all in one - Season of the Force, the Diamond Celebration AND Holidays at the Disneyland Resort.
During Season of the Force, you are transported to a galaxy far, far away to experience the epic adventures of Star Wars first hand. In our articles,
Season of the Force
is Coming to Disneyland, you can learn the ins and outs of everything Star Wars you and your young padawans can enjoy like never before.
The Disneyland Diamond Celebration continues to dazzle adults and kids alike. With three all new night time shows highlighting the magic of Disneyland and how far they have come, you will marvel at the nostagia and innovation only Disneyland can produce. We want you to experience everything possible at this once in a lifetime event so we put together our
25 Tips for the Disneyland Diamond Celebration
.
Get Away Today always has the best deals and customer service no matter when you go to make your vacation one you will never forget. Book your
Disneyland package
online or call our travel experts at 855-GET-AWAY.
Check out these other great articles: