How to make a Light Up DIY Lightsaber in under 10 minutes! This easy Star Wars Craft is perfect for any Star Wars Party or event.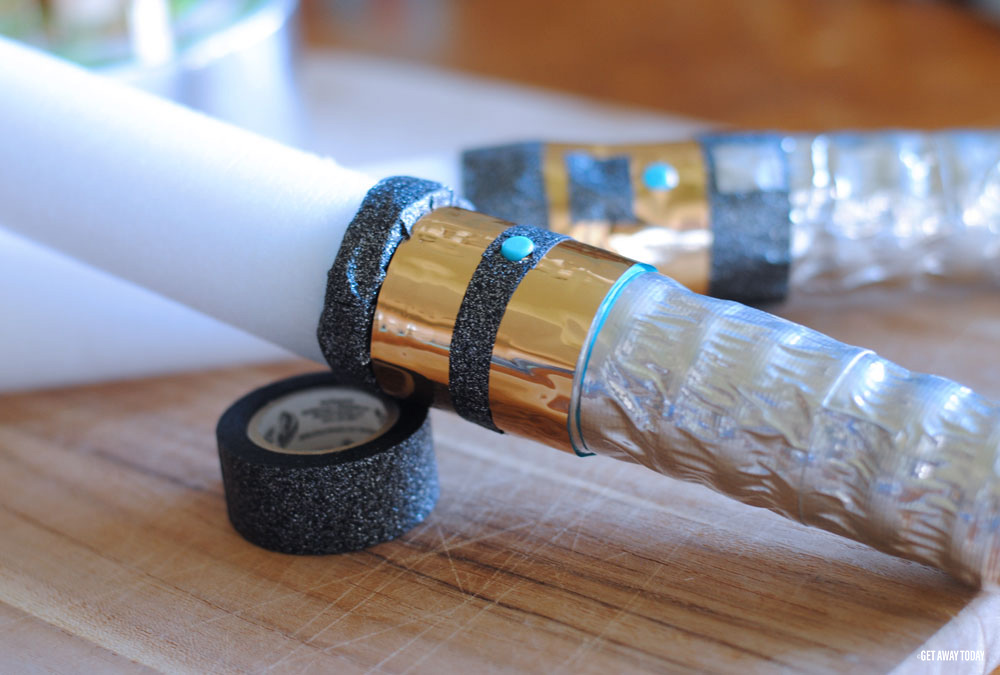 The magic of Star Wars is alive and well at the Disney Parks! With the grand opening of Star Wars Galaxy's Edge this May and then the recent announcement that the Star Wars Rise of the Resistance ride will be set to launch in January, Disneyland fans have plenty of reason to be excited.
DIY Lightsaber
There have been so many amazing reviews about Galaxy's Edge. One of my favorite things is the shopping! Cool space gizmos and gadgets, droids, and character apparel are all the rage. Park guests can even make their own lightsaber souvenir! The lightsabers are quite costly...like $199 pricey! But, the overall experience is totally worth it for die hard fans! Who doesn't want a REAL lightsaber? Total awesomeness.
If you aren't looking to spend a quarter of a grand on a lightsaber, but you still want a light up Star Wars weapon, then this is the craft for you! Our Light Up DIY Lightsaber is only about $5 and takes less than ten minutes to produce! BAM! The force is strong with this blog.

DIY Lightsaber Supplies
You are going to have to do some hunting to find the right materials, but I believe in you. Finding scraps is a specialty of Star Wars fans. The supplies include: Light up foam sword and metallic Duct Tape in various sizes.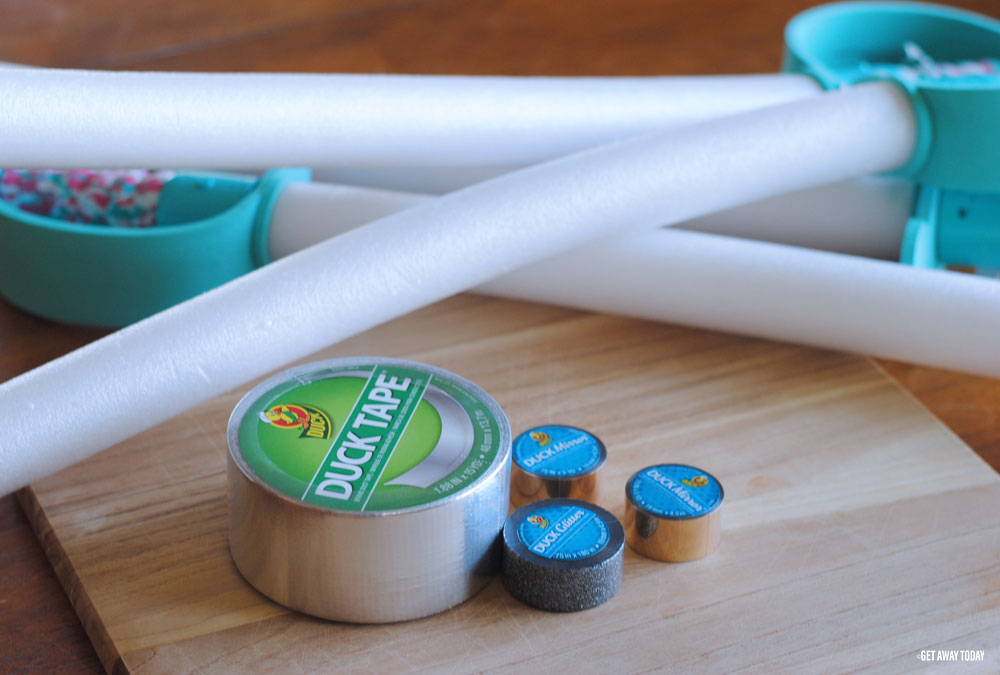 I found these cool super cheap light up swords at Michaels craft store. I think the dollar store has them too! Light up stuff is super popular during summertime. Just keep your eyes out for them.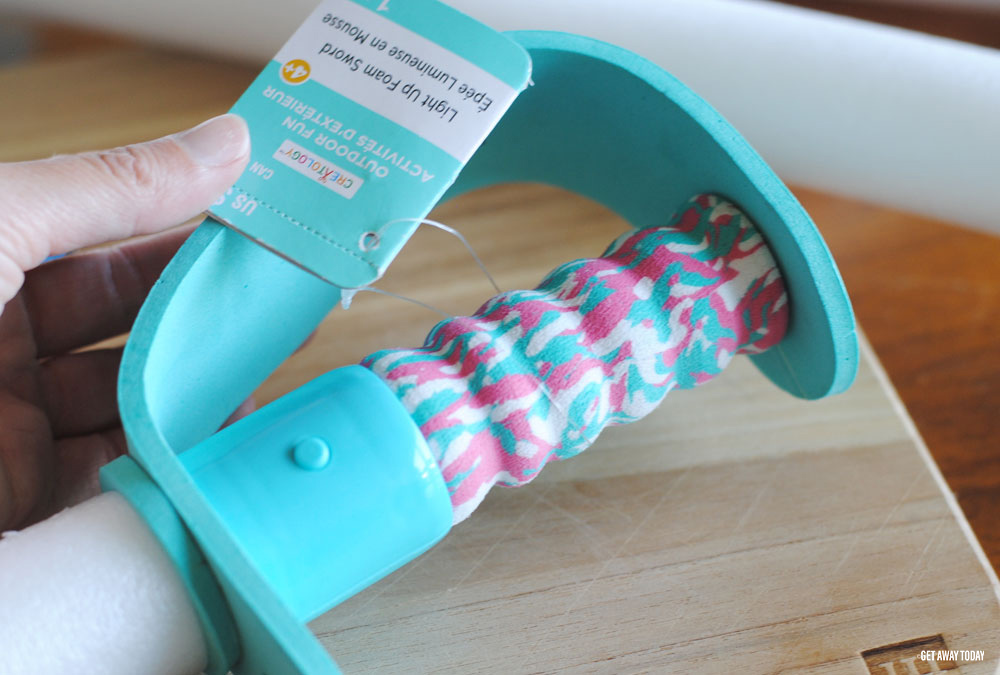 Since this isn't a Pirates of the Caribbean craft, you'll want to cut off the extra foamy sword like stuff to create just a basic long stick weapon.
Then, use the silver Duct Tape to cover the handle. I liked the super shiny silver tape. It looks just like metal! Wrap it around the handle and press it on nice and tight.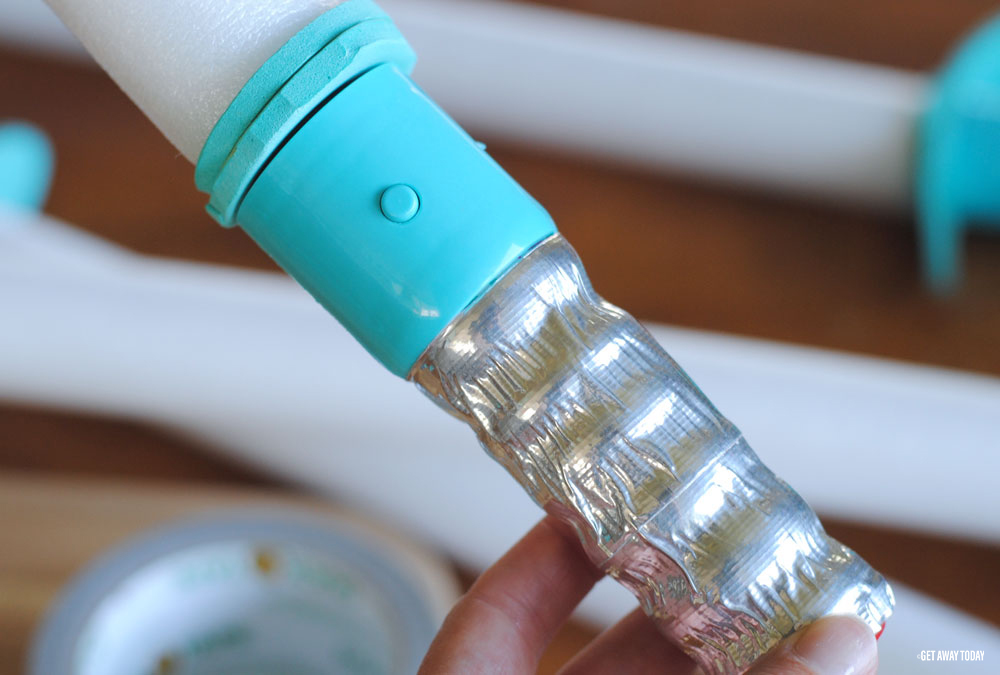 DIY Lightsaber Customizations
This DIY lightsaber craft is really one that allows for creativity and expression! You don't have to build the hilt just like mine. I let my kids decide how they wanted their handle to look and they all decided on different styles of metallic tape combinations. At Savi's Workshop in Galaxy's Edge, guests get to customize their own DIY Lightsabers as well. Individuality is key!
Wrap the tape around the base until it is covered and looks like a proper lightsaber!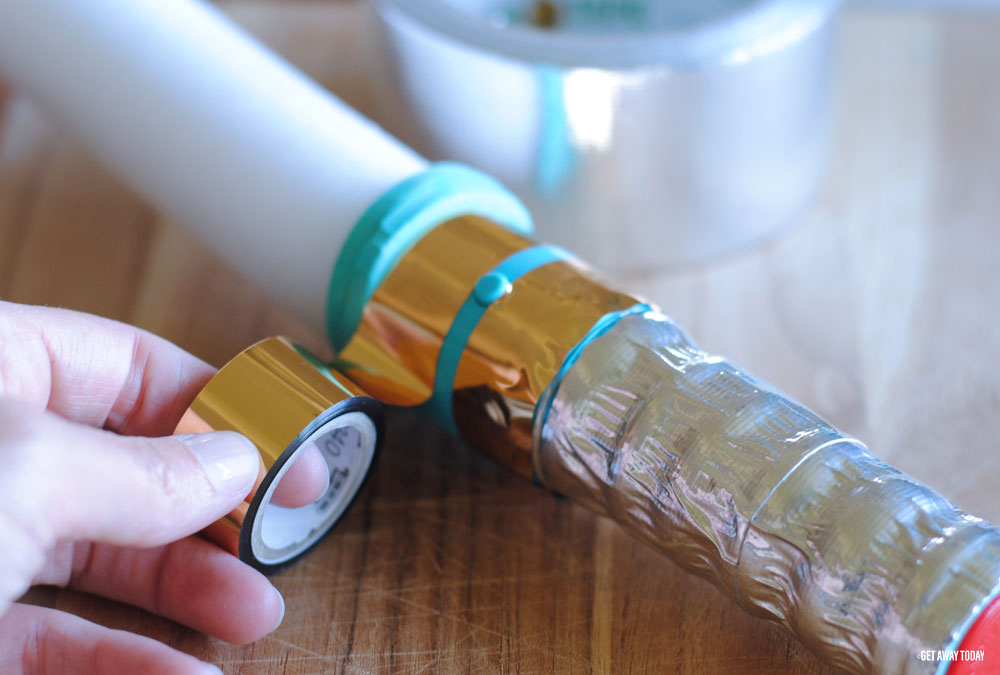 I liked these cool swords because they have a button that makes the whole stick light up and glow! Lightsabers pretty much have to light up to be cool. And, we want cool.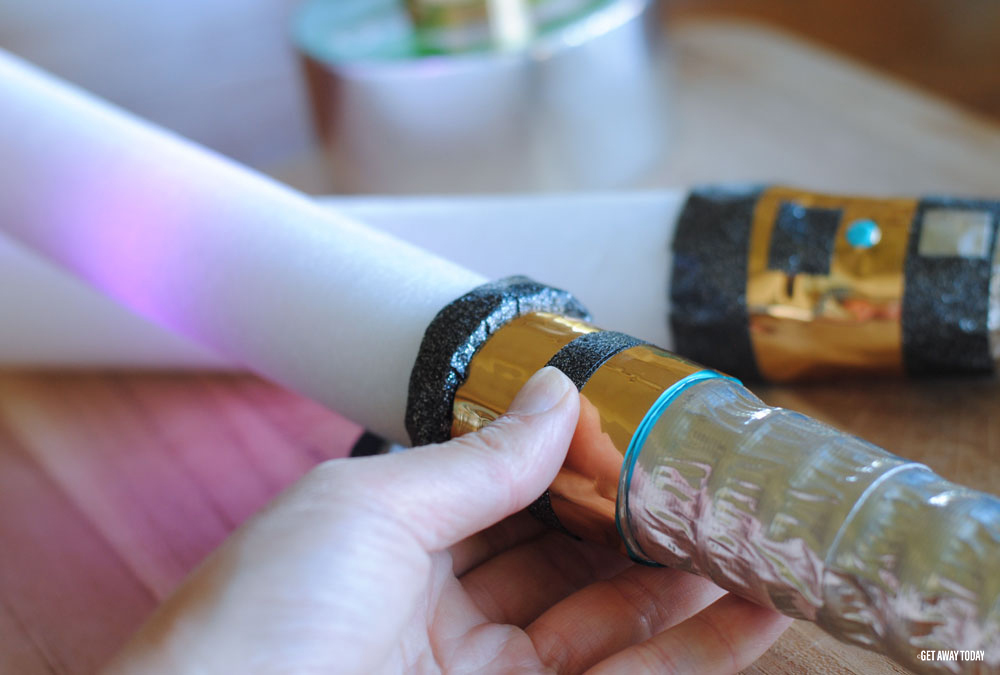 Check out how awesome they are in the dark! I was thinking taking a light up DIY Lightsaber to Disneyland would be fun for the nighttime entertainment. My kids always want to buy things during the fireworks and World of Color. Instead of spending extra cash at the park, you can bring your own flashy toy...I mean, serious intergalactic weapon! Check out how it glows in the dark.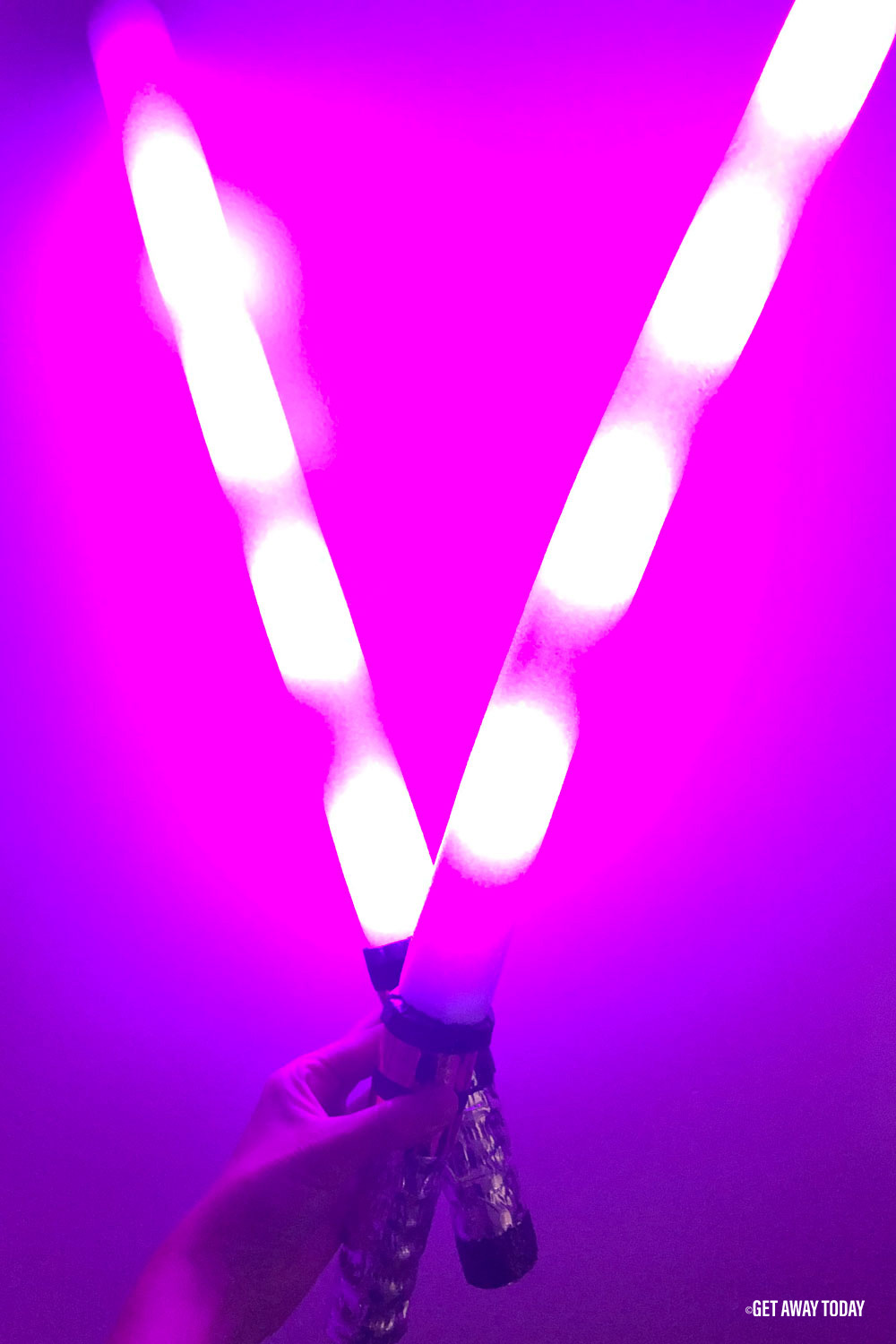 The stick is soft so battling is allowed. It took about 2.6 seconds before my little Jedi men were blasting and hacking away at each other with their lightsabers. Don't fret. No one was injured during the process of documenting this project.
Have fun making your own Light Up DIY Lightsabers! Love them, you must.
DIY Lightsabers at Savi's Workshop
Now is a great time to go to Disneyland Resort to make your own lightsaber at Savi's Workshop in Star Wars: Galaxy's Edge. You can find discount Disneyland vacation packages on our site, or call an agent at 855-GET-AWAY to book. Combine our 5th Day Free special with Extra Night Free specials at hotels near Disneyland and save big for travel this year!