Family gathering vacations are this year's hottest travel trend. It's the perfect way to get everyone together to create memories that will last forever. But seamless family gatherings don't just happen, they take some planning and preparation. Since we help thousands of families plan their family gathering vacations each year, we thought we'd pass along some of our expert tips to help you plan yours. We'll even share one of our most popular family gathering itineraries!
The best trips always have a really good group leader. Your family probably already naturally has someone who organizes family parties and events. Your designated group leader should be able to organize information and take everyone's interests into account. This person will most likely do most of the trip research and get information to everyone. If you're reading this article, the group leader may just very well be you!
First things first, you'll need to select a date. Believe it or not, figuring out a time when everyone can get together can be one of the most challenging things of planning your family gathering vacation. School schedules, extracurricular activities, work schedules, meetings and more can all create conflicts. To make picking travel dates easier, we recommend using a free scheduling service like doodle.com that allows users to enter their availability dates. Once all invitees have responded, doodle.com will calculate the time when most users are available - and voila - you have your travel dates!
Pick your hotel. A number of hotels in the Disneyland Resort area offer a wide range of room types that will accommodate families of all sizes. You may want to select a hotel that offers suites so you have a living room space to hang out in while at your hotel, or even have some extra space if young cousins want to have a "sleepover." When traveling with a group, it is really nice to have a hotel that offers free breakfast. That way your group can plan on sharing at least one meal of the day together, plus it's a great money saver. If families within your group have different travel budgets, there's no reason why you all have to stay at the same hotel. Families each have different travel needs and expectations, so there's nothing wrong with staying separately and meeting up at a theme park, restaurant or beach.
Plan your scheduled activities. Determine how many days you'd like to spend at the parks. Remember that the longer length ticket you get, the more flexibility you'll have during your vacation. World of Color, Fantasmic, Mickey and the Magical Map, Aladdin and Mickey's Soundsational Parade are all must-sees. Don't forget Character Dining and other area attractions like Knott's Berry Farm, Medieval Times, Universal Studios Hollywood and local beaches. Also, realize that you'll want to spend time with your extended and own immediate family on your trip. Not every member of your party has to participate in every activity. You may want to consider a Princess Celebration lunch at Ariel's Grotto with the girls in your group, or maybe the adults would enjoy a night at Napa Rose or Carthay Circle Restaurant.
Plan your meals... not every meal, but you will want to make arrangements for a few group dinners or lunches. The Disneyland Resort and surrounding area have some fantastic restaurants that have wonderful set ups for groups. The Rainforest Cafe, Goofy's Kitchen and the ESPN Zone offer fun atmospheres and delicious food. As an added bonus, you can use your Get Away Today voucher and get an extra $10 game play when you eat at the ESPN Zone. You can make reservations for many of these restaurants up to 60 days in advance. Another thing to consider is making meals at your hotel if you choose a hotel with a full kitchen or BBQ pits. Some hotels like the Homewood Suites and Residence Inn even offer light meals during the week.
Don't over plan. There is a fine line between having a fun-filled, comfortable schedule and an over packed schedule. Before heading to the parks, you don't have to decide which specific attractions to ride first, but you will want an idea of where you're going to start. Decide what lands you want to visit during the day and decide on an order, otherwise your group will be wasting valuable park time asking "What should we do next?" Also, use the FASTPASS system and consider having one person keep track of the group's FASTPASS tickets.
Enjoy! Don't spend too much time focusing on the schedule and not enough time enjoying the moments. Also, be sure to capture those moments and take LOTS of pictures - you'll be glad you did.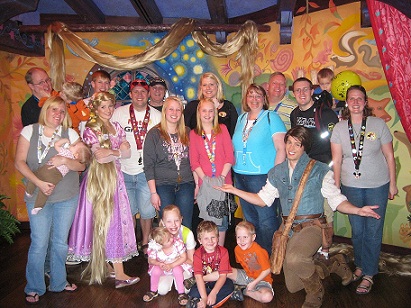 If you want some specific itinerary ideas, check out one of most popular Disneyland Family Gathering Itineraries:
Day 1- Welcome To Anaheim!
• Flight arrives in So. Cal (choose between John Wayne, Long Beach or LAX airports)
• Upon arrival, catch your group's private shuttle to your hotel
• Get freshened up and walk or shuttle over to Disneyland for some fun on your favorite rides
•Gather the group and head to the Disneyland Hotel for a whimsical dinner with your favorite Disney characters at Goofy's Kitchen
• After dinner, enjoy the magic of the World of Color at Disney California Adventure Park

Day 2- Disney Day!
• Start your day with breakfast at your hotel
• Play all day at Disneyland and California Adventure
• Enjoy the Princess Celebration Character Lunch at Ariel's Grotto
• Spend some time in Cars Land and race your family at Radiator Springs Racers
• Head to Downtown Disney for dinner at the ESPN Zone and use your free Game Cards
• End the night with a viewing of Fantasmic!

Day 3- Universal Studios Hollywood
• Enjoy the complimentary breakfast at your hotel
• Board the shuttle and head to Universal Studios where you'll experience the Backlot Tour, Transformers The Ride 3D, Water World and more.
• For lunch, head to Bubba Gump Shrimp Co. at Universal's City Walk and feast on some shrimp at the restaurant themed after the famous movie "Forest Gump."
• After lunch, enjoy the afternoon at Universal Studios and shopping at City Walk.
• Return back to your hotel relax by the pool or spend the rest of the night at Disneyland.

Day 4- Beach and Shopping Day!
• Complimentary breakfast at your hotel
• Take a trip to The Outlets at Orange for some great morning shopping
• When it's warmed up a bit, head to Huntington Beach for a relaxing day at the beach
• When dinner time comes around, enjoy a thrilling dinner at Medieval Times Dinner and Tournament
• Return to Anaheim and end the night at Disneyland to watch a fireworks spectacular that only Disney can provide.

Day 5- Return Home
• Enjoy your hotel's breakfast as a group before checking out.
• Visit the Disney parks for one more day of fun before your head out for your evening flight
• Catch the private shuttle we have reserved for you and shuttle back to the airport
• Have a great flight home!
Our Reservations Specialists would love to help you plan the perfect itinerary for your Disneyland vacation. Or, you can easily book up to four rooms on our website for your family gathering vacation.

Check out these other great articles:
Family Gathering Tips: As Seen On "Or So She Says"
20 Things to Make The Most Out Of A Disney Day
More Family, More Memories, More Savings!