These free Disney Packing List printables makes getting ready for a Disney trip organized and easy. The fun images and comprehensive lists mean you won't forget anything on your next trip to Disneyland or Disney World!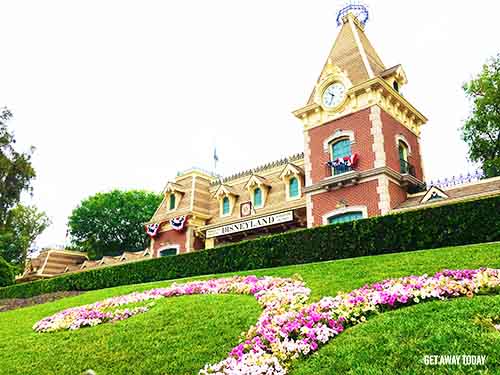 Free Disney Packing List Printables
Do you let your kids help pack for vacations? I used to stress about getting my family of six ready for a trip. It is a lot of work for one person to do alone! Just getting the laundry done so I could start packing was a big job. I love to travel, so I needed to find a way to make it more manageable. I'm excited to share what I learned with you.
Here is the secret...kids are smart. Once I discovered that my kids could follow a packing list and get their own gear organized, my world became a magical happy place. Kind of like Disneyland!
You could totally write out your own packing list for your family, but I wanted to make a free printable to make things even easier. These Disney Packing Lists contains everything your kids will need for a successful Disney vacation.
FREE Disney Packing List Printables:
Click on either link above to download your free Disney Packing List. As you can see, there is a packing list geared towards girls and one for boys as well. You can print it in color ink, or just print it in black and white. It is cute either way.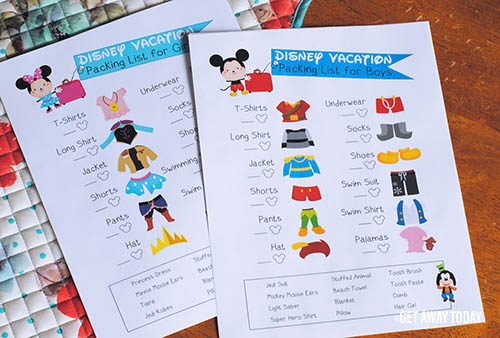 I made sure to include images on the Disney Packing Lists that fit a variety of styles! Not every girl wants to be a princess, so look for the pirate costumes and the Jedi training jacket. The boy list has prince outfits and pirates, as well as ancient warriors. I hope your child can see something that he or she connects with!
Write the number of items that you want of each category on the line. I recommend packing at least one outfit more than you need, just in case you have an accident. One time, we left my daughter's shoes on top of our car and drove away! By the time we realized our mistake, the shoes were long gone. It was a relief to know we had an extra pair with us that got us by until we could find a Target.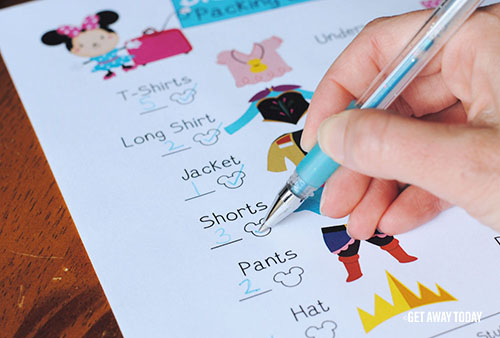 Even though California and Florida are both warm sunny places, it does get cool at night and in the early mornings sometimes. So, having a jacket with you in the park is handy. A lot of times, we say out late for the fireworks or shows like World of Color. My kids like having a jacket to cozy up with as they wait.
When your child finds the items on their list, place a check mark in the Mickey Mouse silhouette to show that the items are accounted for. Tell them to be like Santa and check their list at least twice. You don't want to be missing anything important the you get to your hotel...like underwear!
The items on the bottom of each Disney Packing List are things that you may want to consider taking along on your Disney vacation. There are also things listed that you may decide to pack with your own toiletry supplies. But, I wanted to include them for inspiration and reminders. I circled any items at the bottom that my kids were in charge of finding and packing on their own.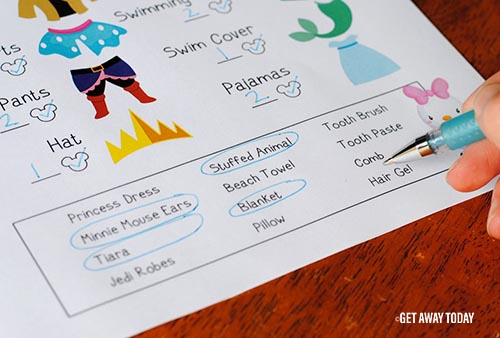 Packing for a family Disney vacation doesn't have to be overwhelming. Get the whole family involved. It is kind of like a game for my kids. They love to find all the items on the list and get it ready to show mom. It also gives them ownership of their own things for the vacation and teaches responsibility. Which I love!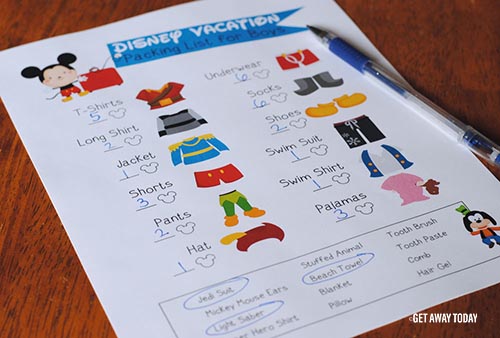 I hope you found these printable Disney Packing Lists helpful. Let us know what your favorite "must-have" items are for your Disney trips! One of my favorites is a poncho. Some people think ponchos are for nerds, but I am a nerd with dry clothes after riding Splash Mountain, so that makes me happy.
If you don't have a Disney vacation on the horizon, make sure to check out Get Away Today. We offer discounted park tickets, reduced hotel rates and expert tips for any type of Disney vacation. So whether you're having a magical time in Disneyland, Disney World or beyond, we can help! Book online now or give our agents a call at 855-GET-AWAY.

Check out more Disney-inspired crafts and recipes below: