Calling all muggles, witches and wizards...The Wizarding World of Harry Potter is coming to Universal Studios Hollywood in Spring 2016! The actual opening date will be announced on the morning of December, 8th. This is certainly front page news material for the Daily Prophet, and we will of course be posting about it on Packed with Fun as well. Stay tuned! Are your bags packed and ready? I can't wait.
Free Harry Potter Spells Game
Since we don't want to look like muggles entering the Wizarding World of Harry Potter, I thought it would be appropriate to put together a tutorial on Proper Uses of Wands and Spells! Perhaps if we all cast the same spell, we could make the Grand Opening date come a little bit sooner? In the meantime, have fun with these authentic Harry Potter spells, charms, and curses. You can also get creative and make up your own spells to add to the book of magic. I particularly enjoy the one that turns carrots into marshmallows! Puffacarrotum! Wouldn't that come in handy?!

To start, you will need a magic wand. There are so many creative options for wands. I saw some amazing wands for sale on Amazon. There are replicas of all the main Harry Potter characters' wands there. If you want to get fancy, that is a great option. But, we decided to go the cheap and crafty route, and made our own wands out of paper. My kids love playing with paint and glitter. It is almost as good as magic! If you want to make a paper wand, follow the simple instructions below. Or, you could collect sticks from your yard, decorate Chinese chopstix, or even use a pencil!
Paper Wand Tutorial
You only need a few supplies to make a paper wand. Order them from Amazon below:
Roll the paper into a cylinder. Start from the corner and keep it tight as you roll.

When you get about half-way through the sheet of paper, add a line of hot glue along the length of the paper. Then roll over it and add another line of glue. Continue, gluing and rolling until the paper is all rolled up. This will keep your wand tight in place. Double-sided tape is an option as well!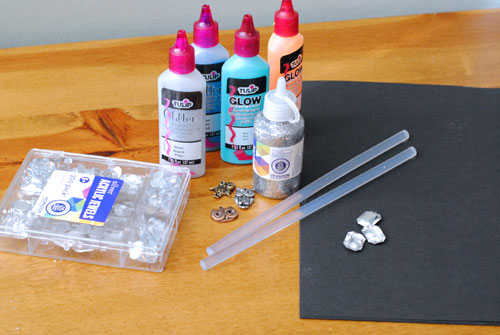 You can decorate your wand however you want! We had some glow in the dark glue and glitter glue in our craft drawer that was perfect for the project. My little boy put googly eyes on his wand. The effect was eery and perfect for making magic. Make the wands in advance so they have plenty of time to dry before you begin using them for casting spells.


The best thing about wands, is that they are all unique--just like the people who use them. I have found that wands typically match the user's personality. So, if you are silly, make the wand silly. The wand chooses the wizard, after all.

I complied a list of some of my favorite spells from the Harry Potter books. You can download the printable here to use at home. Study it carefully so you pass your O.W.L.S. examination!

You can also come up with your own unique wizarding spells in a fun game! My kids and I had the best time making up our own magic words. Here is a little worksheet printable to get your spell building started.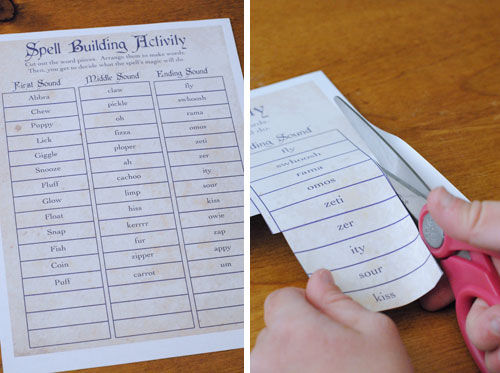 Print the worksheet. Cut out the rectangle word pieces. Keep them in categories.

There is space at the bottom of the worksheet for you to write in your own word parts.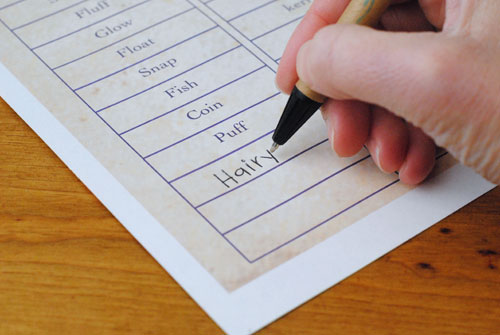 Take turns combining the first, middle, and ending sounds. Put them together to make a spell. Then, you get to decide what magic that word will produce! Watch out! Things may get silly.

Fluff-popper-owie: Shoots cotton balls from the wand tip that pop when they hit the opponent.

Puff-carrot-um: Tuns a carrot into a marshmallow.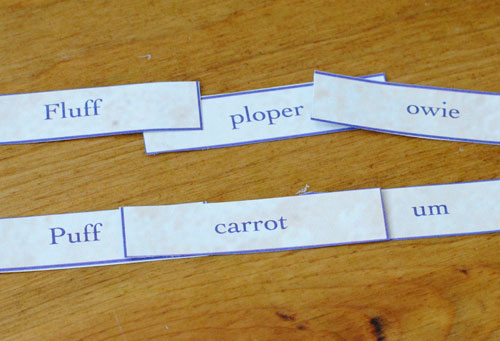 I hope you have fun making magic at your home! I can't wait to experience the magic of The Wizarding World of Harry Potter this coming Spring. And all of us here at Get Away Today can not wait to help our guests walk the streets of Hogsmead, explore Hogwarts Castle, and marvel in the magic of the wizarding world. Book your Harry Potter themed Universal Studios Hollywood package online or call our agents at 855-GET-AWAY.