If you've been thinking about a trip to the Grand Canyon, you'll want to check out the Grand Canyon Railway. We share six things you didn't know about this one of a kind adventure to one of the natural world wonders.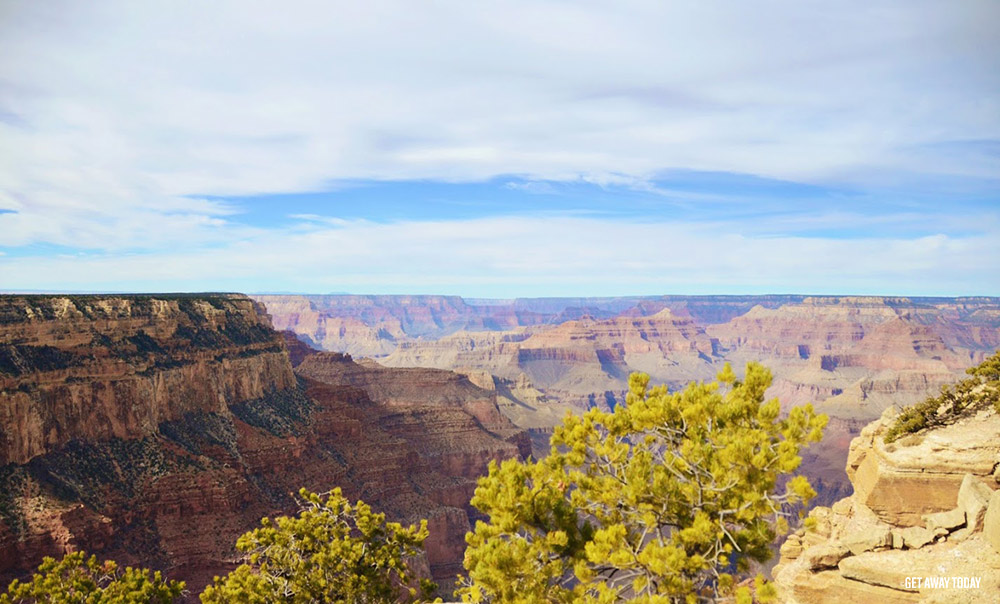 Our team was able to experience the Grand Canyon Railway and it was magical. If you've always wanted to visit the Grand Canyon, the Grand Canyon Railway is an unforgettable way to do it. We wanted to share what you can expect on this incredible journey, so we made a video to include it all. Enjoy learning about the six things you didn't know about the Grand Canyon Railway:
Grand Canyon Railway: 6 Things You Didn't Know
We hope you learned something. And more than that, we hope that you're ready to plan your trip aboard the Grand Canyon Railway. If you'd like a quick review of what we covered in our video, we've put it together for you below:
Grand Canyon Railway Location
1. The first thing you didn't know about the Grand Canyon Railway is that it is based out of Williams, Arizona. Williams is a darling town that's an easy 2 ½ hour drive from Phoenix and just over an hour from Sedona on the classic Route 66. Williams, Arizona is welcoming, charming and downright delightful. You'll love strolling down the main street with shops, restaurants, old time ice cream and more. Plus, it's only a five minute walk from the Grand Canyon Railway Hotel.
Grand Canyon Railway Hotel
2. Our packages include more than just your train ride. Our Grand Canyon Railway packages also include your hotel stay at the Grand Canyon Railway Hotel with comfortable accommodations and amenities. Your hotel stay includes a full breakfast buffet served in the Grand Depot Café. It has all of your favorite buffet items like fresh fruit, yogurt, French toast, sausage, biscuits and gravy, and a cook-to-order egg and omelet station. Don't miss other included amenities like an indoor pool and hot tub, fitness center, games room, outdoor playground, and more!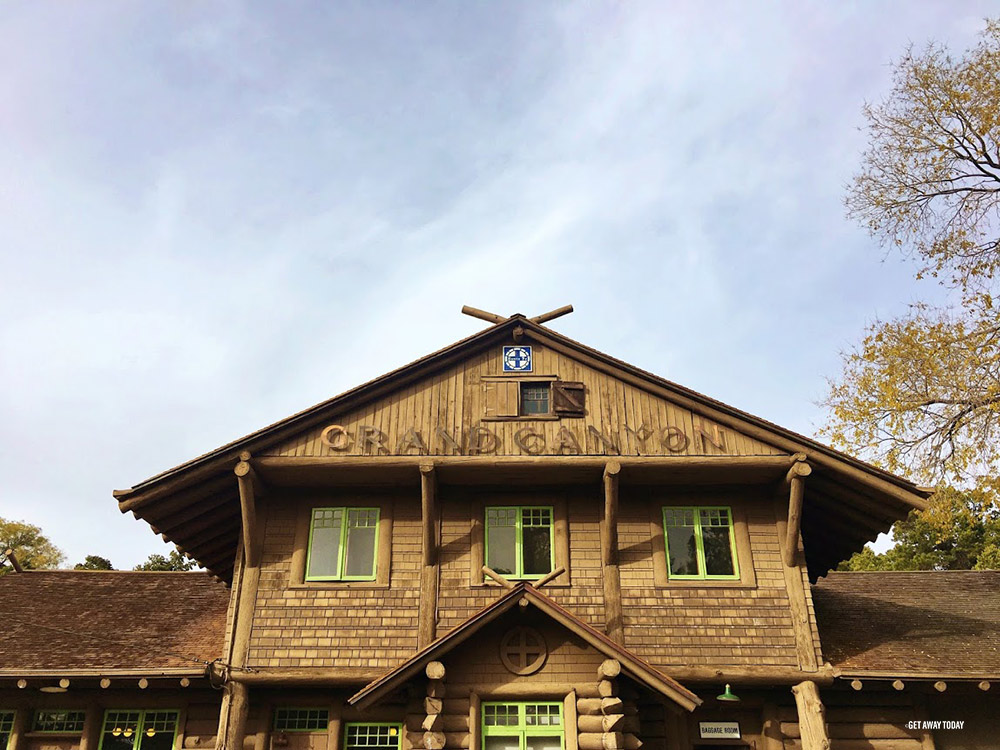 Grand Canyon Railway Schedules
3. The Grand Canyon Railway always departs in the morning. During busier times of the year, a second departure time is added. Your ride will take you from Williams, Arizona to the South Rim of the Grand Canyon. The trains typically leave around 9:30am or 10:30am and are always subject to change. The nice thing about staying at the Grand Canyon Railway Hotel is that you'll always know when the train is leaving. The entire ride is approximately 65 miles and takes about two hours and 15 minutes.
Grand Canyon Railway Entertainment
4. Before you hop on the train, make sure to get your free breakfast, then catch the morning shoot-out with the Cataract Creek Gang and the Marshal. They square off at the Williams Depot, right where you will board the train. And the fun doesn't stop there, on your way back from the Canyon, the gang might be saddling up for a train robbery. Be sure to protect your valuables!
5. The Grand Canyon Railway has been running since 1901! The trains are diesel locomotives and modern, but the guest cars are from the 1920s, 1950s and beyond. All have been refurbished with every modern comfort, though. There are six classes of service with different price points - give us a call to price out which is best for you.
Additionally, there are live musicians and entertainment on each train. Plus, purchasable snacks and drink service. Some classes even have snacks included! Each car has a Passenger Service Attendant who will share fun facts about the Grand Canyon and the surrounding area. They will even help you decide what to do while at the Grand Canyon!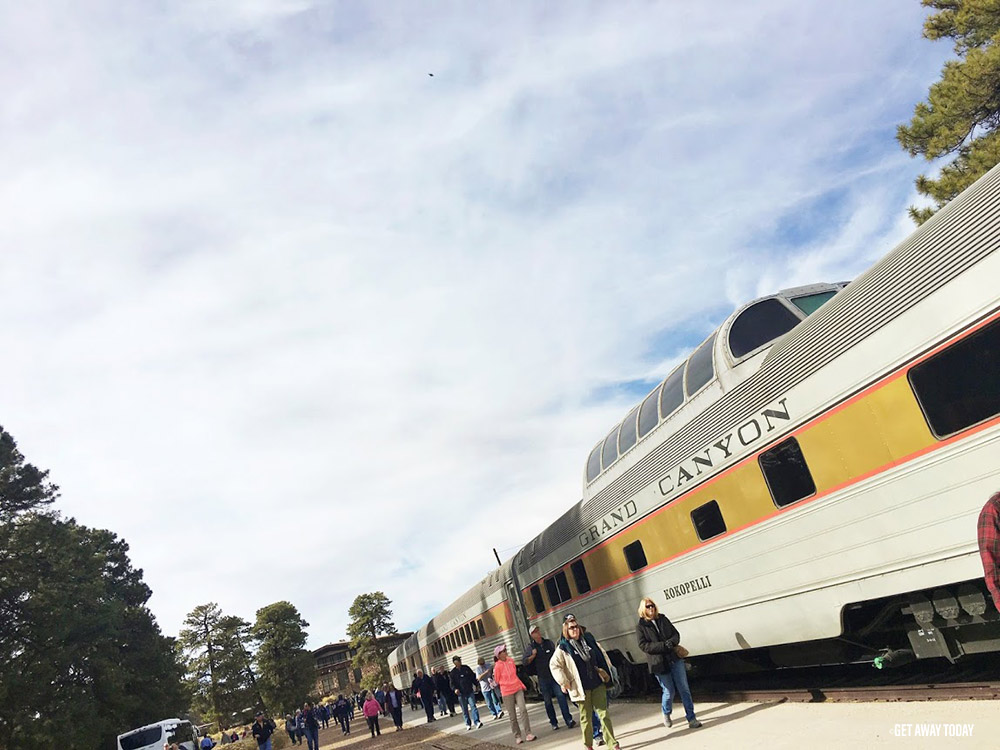 6. Now you have arrived at the Grand Canyon, what should you do? Our highlights include both the sunrise and sunset tours over the canyon. If you are looking for the most beautiful, awe-inspiring moments, there is nothing like watching the light and shadows reflect off the Grand Canyon. It is the perfect way to start or end your day, with memories that will last a lifetime. Plus, you can add other activities like bike rentals, mule rides and even helicopter tours.
At certain times of the year, the Grand Canyon Railway gets even more magical! During the summer, enjoy Steam Saturdays where you can ride in a real life steam-powered train to the Grand Canyon. In the fall, hitch a ride on the Pumpkin Patch Train. All passengers are invited to dress in their favorite Halloween costumes to celebrate the season.
Most special of all is the Polar Express Train Ride. Wear your pajamas on a 90 minute journey, as the classic novel, the Polar Express, comes to life. Santa Claus and reindeer are waiting for you at the "North Pole" to present everyone with a souvenir! As you embark on your adventure, enjoy a reading of the timeless story, hot chocolate and chocolate chip cookies. On your way back, belt out Christmas carols with your fellow train riders and you'll truly feel the spirit of the season.
If you're ready to book your adventure on the Grand Canyon Railway, give our travel experts a call at 855-GET-AWAY. We can't wait to help you experience one of the most beautiful wonders of the world!