Feel the Force as you discover the hidden secrets of Star Tours – The Adventures Continue at Disneyland. A military grade flight simulator combined with the magic of Disney Parks and Lucasfilm has been delighting audiences since 1987. Since that time it has been updated to allow for further exploration of the Star Wars universe. The attraction has the ability to change the experience each time Star Tours is launched for flight. The simulator provides 13 different segments with a combined total of over 100 different experience possibilities!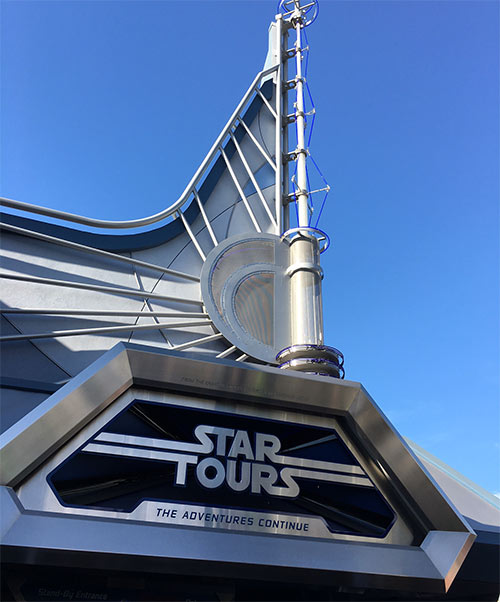 The original Disneyland Star Tours marquee sign is now in the Disney archives. Notice the difference in the sub title.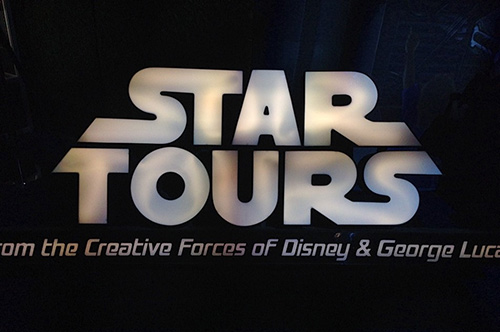 Travel plans:
Star Tours Flight 1401 is very popular – recently, a trip to Jakku – Rey's home planet from Star Wars: The Force Awakens, was added to the itinerary.
Make travel plans before riding and take advantage of Disney's Fastpass service or use rider switch pass if you're traveling with those who are unable to ride. Depending on how adventurous you are, you may want to sit at the rear of the flight for a more intense experience or at the front for a more moderate experience, just ask the cast member for your options upon arrival.
The Star Tours Fastpass Distribution is located across the walkway from the attraction near the entrance to Buzz Lightyear's Astro Blasters.
Pre-flight: Your trip into the flight hangar is one full of Star Wars trivia, inside jokes, and details that pay homage to the creation of the Star Wars film series and an earlier edition of Star Tours. Look for a few of the fun references:
1. Paging: The Star Tours hangar is designed to be a space port, similar to an airport experience, complete with overhead pages and messages. Listen carefully for pages to:
Egroeg Sacul, which is George Lucas, the creator of Star Wars, spelled backwards.
Mot Worrom, Tom Morrow spelled backwards. Tom Morrow was a host on a previous attraction in Tomorrowland as well as a recent host of Innoventions before it became the Star Wars Launch Bay.
There is an announcement to move landspeeder THX 1138. THX 1138 was George Lucas's first film, it is the license plate number on the famous car in his second film, American Graffiti, and is the call sign of a storm trooper in Star Wars: A New Hope.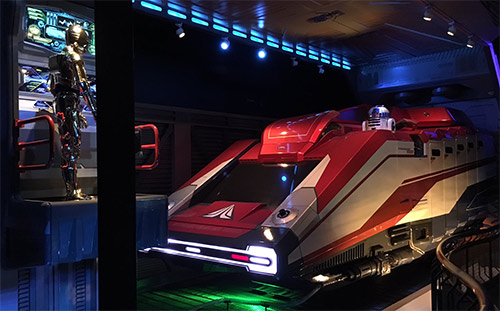 2. Admiral Ackbar: After entering the Space Port look opposite of C-3P0 and R2-D2. Admiral Ackbar can be seen overlooking the crowd as a flight controller, similar to his role in Return of the Jedi.
3. Movie Props: As you approach your coach for space travel, R2-D2 and C-3PO are actual movie props that have been retrofitted with Disney animotronics.
4. Meet Aly San San: Watch the large screen that lists arrival and departures. There are several references to Disney and Star Wars and it is your introduction to your flight attendant: Aly San San.
Aly San San is the spokesperson and flight attendant for Star Tours and ensures that all passengers practice flight safety. In this photo, she discusses the thrill of a pod race on Tatooine.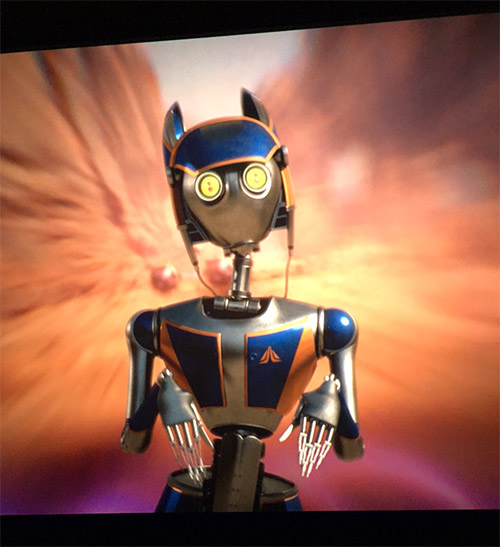 5. Historical and entertaining "security" robots: Walt Disney moved his 1964 World's Fair attraction, The Carousel of Progress (COP) to Disneyland (current location of Star Wars Launch Bay). COP then moved to Walt Disney World and was replaced by America Sings an adventure hosted by Burl Ives as a talking Eagle that described the history of America through song. The cast included singing birds and animals and most were moved to Splash Mountain, remember to look at the closing scene on Splash Mountain for an homage to America Sings. Two animatronic birds "escaped" and were stripped of their feathers and moved to Star Tours. Now in "robot metal", their webbed feet and tails can still be seen, although they now serve the role as the space port security team. One robot checks luggage, apparently he is not very attentive because the contents are fun, look at the "X-Ray machine" for C-3PO's head, Wall-E, Mickey Ears, homages to Captain EO, a super suit from the Incredibles and other fun Disney references.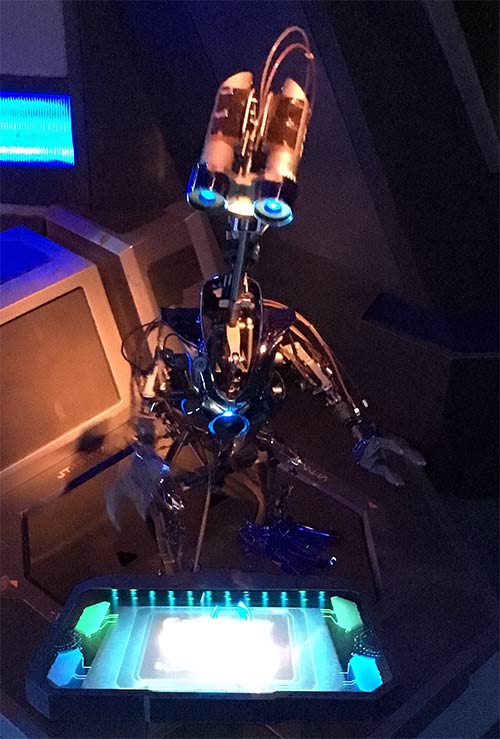 Another robot shares funny dialog with guests as thermal imaging is used to maintain security. The robot is voiced by the same actor who voices Kronk from the Disney animated movie, The Emperor's New Groove, and Soarin' Over California's flight attendant, Patrick Warburton.
6. Rex the pilot: Prior to the update of Star Tours, Rex, a Star Tours pilot took passengers through a crazy Star Tours adventure. Rex can now be seen as part of the décor and if you pay close attention you can hear him "malfunction" with a few lines from his past role. If Rex's voice sounds familiar, it is the voice of Paul Reuben, better known to many as Pee-Wee Herman. Rex is now "retired" and being packaged for transport, but it is fun to see an homage to the previous version of Star Tours.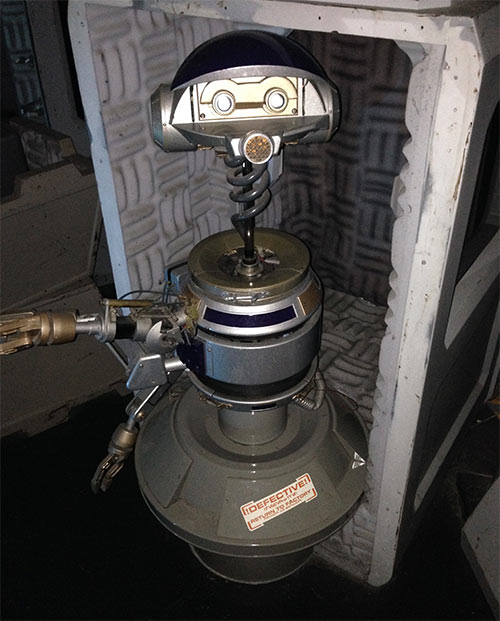 The previous pilot of Star Wars nearly packaged up, notice the defective sticker on the bottom. Rex sometimes malfunctions and uses dialog from the previous version of Star Tours.
7. Shadows of Star Tours passengers: As if walking through a concourse, the shadows of travelers are fun to watch, Gunguns, Stormtroppers, aliens, and droids from many worlds "walk" past the window. A hidden Mickey on the attraction includes R2-D2 wearing Mickey Mouse ears. Some Disney fans have named him R2-MK or R2-D23. (D23 is the name of the official Disney Fan Club).
Security Cameras: After arriving at the queue line for Star Tours the monitors above the entrance doors tell a pre-story of your Star Tours adventure and reveal why C-3PO is the involuntary pilot of your flight.
Flight: Your flight, number 1401, takes off despite the fact that C-3PO is not the captain. Prior to take-off, the Dark Side of the Force stops your flight as its agents are looking for a rebel spy that may be carrying important information for the Rebel Alliance.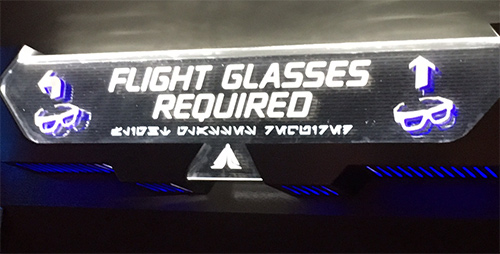 3-D glasses are required to enjoy Star Tours. Notice that all Star Tours signs and destinations are also available in Aurebesh, a common language in the Star Wars Universe.
Expert Tip: If you are interested in being the Rebel Spy do not put on your flight glasses until the cast member instructs you to do so. The cast member selects the rebel spy and usually chooses someone in the first five rows that is looking forward. Look at the monitor on the right side of the screen for additional story telling and visits from Boba Fett, Finn, the Rebel Spy, and other "guests".
Once stopped, an Imperial droid attaches to your transport and identifies the rebel spy! After some "Imperial entanglements", your flight jumps to light speed and arrives on a planet which may include:
1. The snowy and frozen planet of Hoth, during a battle between the rebels and large walking imperial AT-ATS.
2. Luke and Anakin Skywalker's home planet of Tatooine, during a pod race which allows for a chance to feel the speed of Sebulba's pod racer.
3. The Wookie planet of Kashyyyk, where Wookie technology is seen flying in the sky. Sensing danger, a wookie jumps on the windshield and tries to hang on but only leaves hand prints before sliding off.
4. Rey's planet of Jakku, where Star Tours follows the Millennium Falcon piloted by Finn, at which time it lands in the belly of a Star Destroyer. You'll have a bad feeling about the landing because it is clearly not a level landing and your transport lists dramatically to the left. Sensing a chance to collect portions, scavengers show up to see what new materials are ripe for the taking and pry the Star Tours medallion from the front of the ship.
R2-D2 uses his piloting skills to escape into space. After passengers are safely away from trouble, a transmission is received from one of four characters who describes the importance of the rebel spy's mission: Princess Leia, Admiral Ackbar, Yoda, or BB-8.
Sensing the importance of the mission, C-3PO and R2-D2 take Star Tours to the next scene:
A. The atmosphere of Corusanct during a battle where the transport is attacked by "buzz droids," R2-D2 shocks them, but the tour loses power and plummets towards the planet!
B. Naboo, your tour plummets underwater in Naboo's planet core. Be careful because there is always a bigger fish and after nearly being swallowed by one of the biggest, R2-D2 saves the day with a shock that scares off the large creature, but not before he rubs his tongue all over the windshield!
C. The orbit of Geonosis where Boba Fett launches a bomb in an effort to capture the rebel spy.
* Many fans continue to report that there are surprise destinations frequently, keep riding and see what new destination that you might experience!
The experience ends by narrowly escaping with a surprise ending. C-3PO thanks everyone for choosing Star Tours despite his involuntary role. In airline fashion Aly San San sends a final buh-bye greeting…
Disembarking:
After leaving your Star Wars tour vehicle, you exit into the Star Trader gift shop where you can explore Star Wars merchandise, build your own light saber and even purchase a T-shirt identifying you as the Rebel Spy.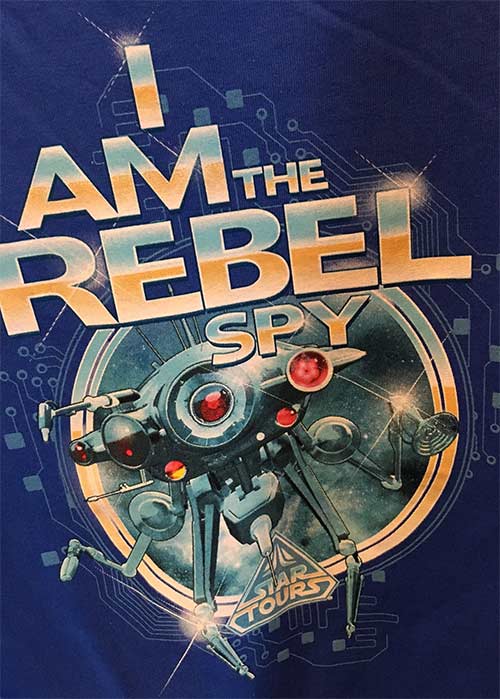 Buh – Bye! Feel the force by creating magical experiences! Get Away Today can help you create the perfect adventure for your family with everything from discount park tickets, a list of secrets to make your trip special, and information to the most affordable and themed hotel accommodations. Book your Disneyland vacation online or call any of our Disney Experts 855-GET-AWAY.

Chris Dallin is a Disneyland fanatic. He travels to Disney parks several times a year and continues to find hidden gems, adventure, joy, and magic in the Happiest Place on Earth. Tune into future blogs for additional ways to experience the Disney Parks.
Check out these other great artciles: