We love Disneyland history and looking back at memories over the years. This article is no longer being updated, but is a great way to look back and see what was happening at Disneyland when this was originally published.
UPDATED MARCH 7, 2019 If you are like us, and are anxiously awaiting the opening of Star Wars Land in Disneyland, we have it! Star Wars: Galaxy's Edge will open in Disneyland May 31, 2019, and August 29, 2019 in Walt Disney World.
Star Wars Land Disneyland: New Information Released!
It's true; we just heard today from Disneyland when they will be opening Star Wars: Galaxy's Edge. Look for select Star Wars rides to be available when Galaxy's Edge opens May 31, 2019. For Walt Disney World, Star Wars Land will open August 29, 2019.
Star Wars Land Disneyland: Galaxy's Edge
Here is what we currently know about the Star Wars: Galaxy's Edge Disneyland expansion: it is the very largest addition to Disneyland in history when it comes to a single theme! Walt Disney always wanted Disneyland to be an ever evolving destination, and it is truly living up to his expectations. All the details have been carefully crafted to ensure there will be an authentic Star Wars feel to what many people are calling Star Wars Land Disneyland.
As far as new information about Star Wars: Galaxy's Edge, Disneyland released details about Batuu, which is where guests will find themselves when they enter Star Wars: Galaxy's Edge in Disneyland.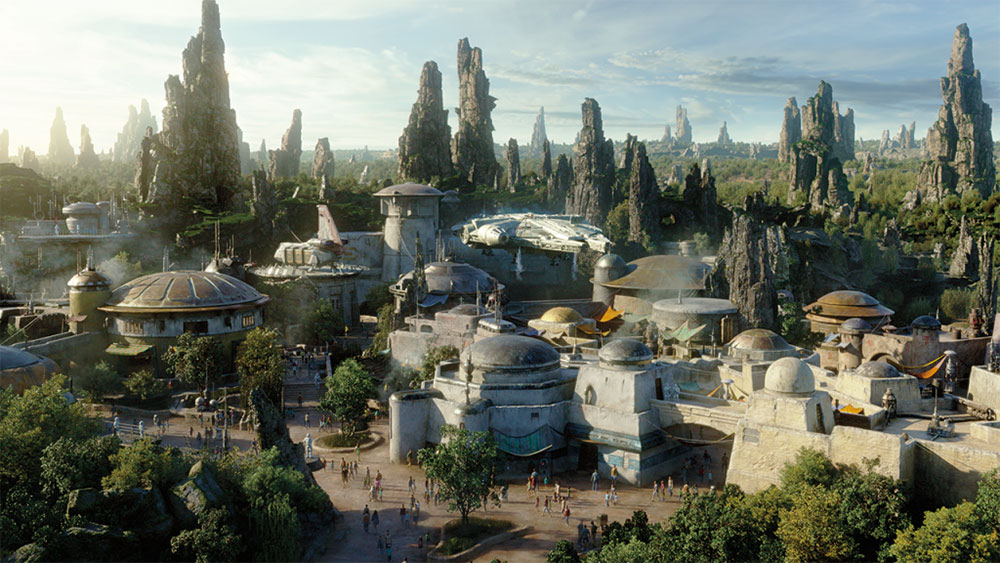 Photo courtesy of Disney Parks Blog
Star Wars Land Disneyland: Galaxy's Edge - Building Batuu
In case you do not already know, Batuu is the planet that serves as home to the Black Spire Outpost. Black Spire is one of the very last stops before entering Wild Space. A tip for having a truly immersive experience in Galaxy's Edge is to download the free app Play Disney Parks. Doing so will allow guests to play games and and engage in interactive experiences throughout Disneyland. The more you interact with the land, the more personal your Star Wars experience will be!
Star Wars Land Disneyland: Galaxy's Edge - Dining Experiences
Since food at Disneyland is part of the reason we go, let us share what we now know about the themed dining experiences that will be available at Star Wars: Galaxy's Edge this summer. Food you can expect to find in Star Wars Land Disneyland includes, but is definitely not limited to the following:
Ithorian Garden Loaf - vegetarian "meatloaf" served with vegetables and mushroom sauce
Smoked Kaadu Ribs - pork with served with a blueberry corn muffin and cabbage slaw
Docking Bay 7 Food and Cargo - Known as the chef at Maz Kanata's castle, Chef Strono "Cookie" Tuggs will be serving up exotic flavors and dishes at "Tuggs' Grub" traveling diner in Galaxy's Edge. A fast, casual dining restaurant, think of Tuggs' Grub as the Star Wars version of a food truck that will be docked on the roof of the hangar bay. There will be both indoor dining in the Docking Bay 7 hangar, as well as shaded, outdoor dining options.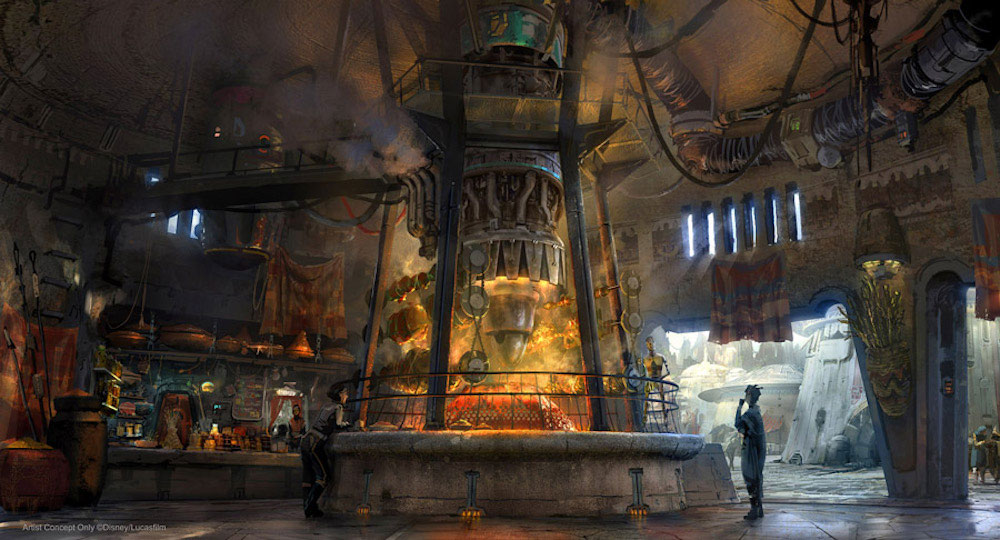 Photo courtesy of Disney Parks Blog
Ronto Roasters - Enjoy meats from a galaxy far, far away when you visit Ronto Roasters. The meat will be cooked to perfection on spits with the guidance of former smelter droid 8D-J8.
Milk Stand - Looking for milk from Bubo Wamba Family Farms? You will find both fresh blue and green milk here at the Milk Stand. We are hopeful the milk will be served at other Galaxy's Edge eateries as well.
Kat Saka's Kettle - Find the delicious and popular Outpost Mix of popcorn here at Kat Saka's Kettle. The flavor combination of sweet, savory and spicy popcorn appeals to any palate, whether human, droid or otherwise.
Star Wars Land Disneyland: Galaxy's Edge - Merchandise
Guests interested in purchasing merchandise to commemorate their visit to Galaxy's Edge will have a variety of options in the many Outpost stores in Black Spire. Stars Wars Land Disneyland will not disappoint!
Dok-Ondar's Den of Antiquities - Dok Ondar is well known for both buying and selling incredibly unique, rare and valuable items. Seek him out to find something from any number of galaxies that you can take home as a souvenir of your own journey.
Savi's Workshop - Hand built Lightsabers - The Gatherers are a secretive group of people who dedicate their lives to restoring the balance of the galaxy. They take great care in passing on their knowledge of Jedi history, as well as of the Force. If you, too, want to be an honorary member of the Gatherers, visit Savi's workshop. Any number of Master guides here can assist you in building a lightsaber, and teach you how to use it properly as a Jedi.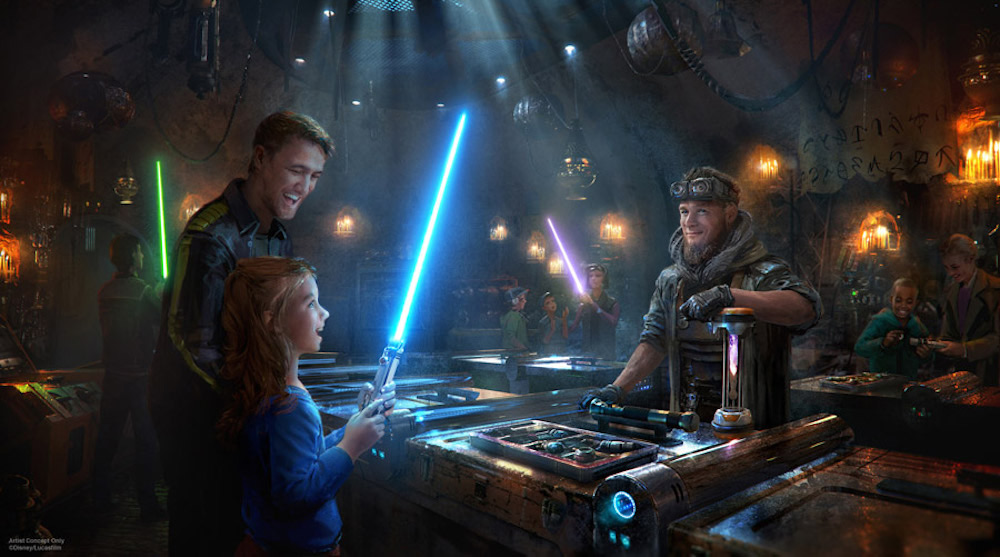 Photo courtesy of Disney Parks Blog
Droid Depot - Visit Mubo's workshop and see how to make your own droid! An astromech droid makes a very useful companion on your journey across galaxies, so you'll want to stop at the Droid Depot to craft one that you can take home when you leave Galaxy's Edge.
First Order Cargo - If you are seeking apparel to help you look the part of a member of the First Order, stop by this outpost. This spaceport hangar bay in Star Wars: Galaxy's Edge is serving as a temporary home base for the First Order, and with them they have brought gear, uniforms and more for visitors.
Resistance Supply - Members of the Resistance and their recruits man this makeshift stall that supplies all one could need to join. Look here for Resistance uniforms, pins, badges, hats, helmets, jackets, maps, tools, training supplies and food rations.
Throughout Star Wars Land Disneyland, also look for other outposts offering toys, interesting creatures you can adopt, clothing and other treasures.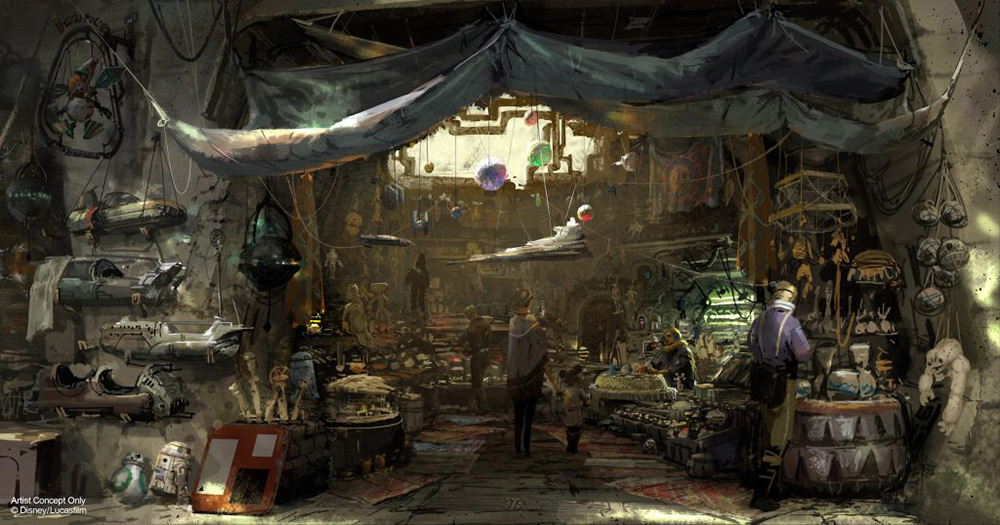 Photo courtesy of Disney Parks Blog
We hope this inside look at Star Wars Land Disneyland outposts and food vendors is getting you even more excited to visit this summer! Look for more information to be released any day now. Stay up to date with our Instagram and Facebook channels to be among the first to know details as they are released.
If you are ready to start planning your summer trip to Star Wars Land Disneyland, you can find any of our Get Away Today vacation packages online, or give us a call at 855-GET-AWAY. May the force be with you!