Updated August 2019: Star Wars: Galaxy's Edge is officially open at Disneyland and we couldn't be more excited about it. Since opening in May, two of the hottest reservations throughout the entire Disneyland Resort are Oga's Cantina and Savi's Workshop, both located in Star Wars: Galaxy's Edge. Procedures for how to get reservations have changed a few times over the last few months, so today we're going to share the latest on how to get into Oga's Cantina and Savi's Workshop.
How to Get Into Oga's Cantina and Savi's Workshop
First things first. In order to get into Oga's Cantina or Savi's Workshop, you must have two things; a reservation and valid theme park admission into Disneyland. Reservations are currently available up to 14 days in advance via Disneyland's dining reservation system. You can make them via the Disneyland app, website or by calling. Additionally, a handful of same day reservations can be made beginning at 7am PT via the Disneyland app or website. June 24, 2019 was the first day that reservations were not required to get into Star Wars: Galaxy's Edge, so both Oga's Cantina and Savi's Workshop reservations went quickly. As in, they were gone within 20 minutes of being available. However, on day two, June 25, 2019, reservations for both Oga's Cantina and Savi's Workshop were available throughout the day.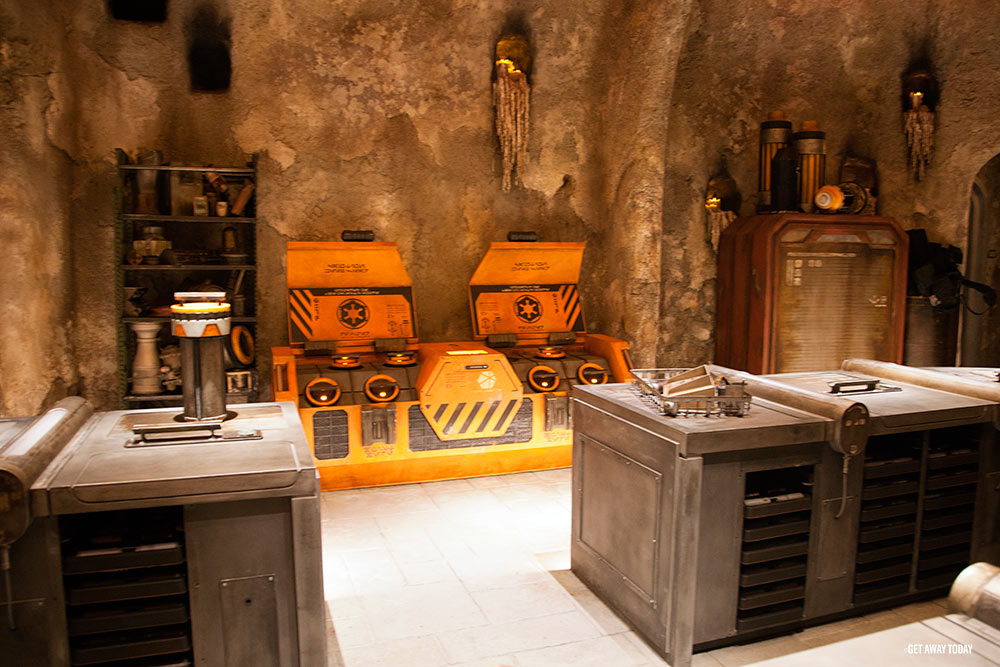 Since that time, reservations have been easier to come by. If you're having a hard time finding a reservation during your trip, first make sure that you're looking within 14 days. Disney has said that eventually the reservation window will be open to up to 60 days in advance but, for now, if you look outside that time it will show that no reservations are avaialable. If you're looking within those times, you can try choosing a general time frame like "breakfast," "lunch" or "dinner" instead of an exact time. If you have a larger party, you can also try splitting up your party and try to get similar times.

How to Get Into Star Wars: Galaxy's Edge
As you know, both Oga's Cantina and Savi's Workshop are located within Star Wars: Galaxy's Edge. Reservations are not required to get into Star Wars: Galaxy's Edge, however, if the land reaches capacity, it will temporarily "close" or stop letting in new guests.
If that happens, Disney will implement a Boarding Pass as part of a virtual queue. If that's the case and you don't have a reservation for Oga's Cantina or Savi's Workshop, you'll need a Boarding Pass to get into Star Wars: Galaxy's Edge. Much like a FastPass, you'll get a return time when you can come back and enter the land. However, if you have a reservation for either Oga's Cantina or Savi's Workshop, you are able to enter as early as an hour before your reservation time even if the land is "closed." In order to get in, you'll go to the entrance near Fantasyland and show your photo ID with your reservation on the app.
How to make a reservation for Oga's Cantina or Savi's Workshop
In order to make a reservation for either Oga's Cantina or Savi's Workshop, you'll need to use the app or Disneyland website. In order to use either and make a reservation, you must have a Disneyland.com account. Once you're logged in to your account, you'll be able to easily find where to make a reservation. Because reservations are based on availability, we recommend making them as early in the morning as possible. Reservations normally become available at 7am PT each day for the next 14 days. The same-day reservations also open at 7am PT, so it's good to check back if you were't able to find a reservation in advance.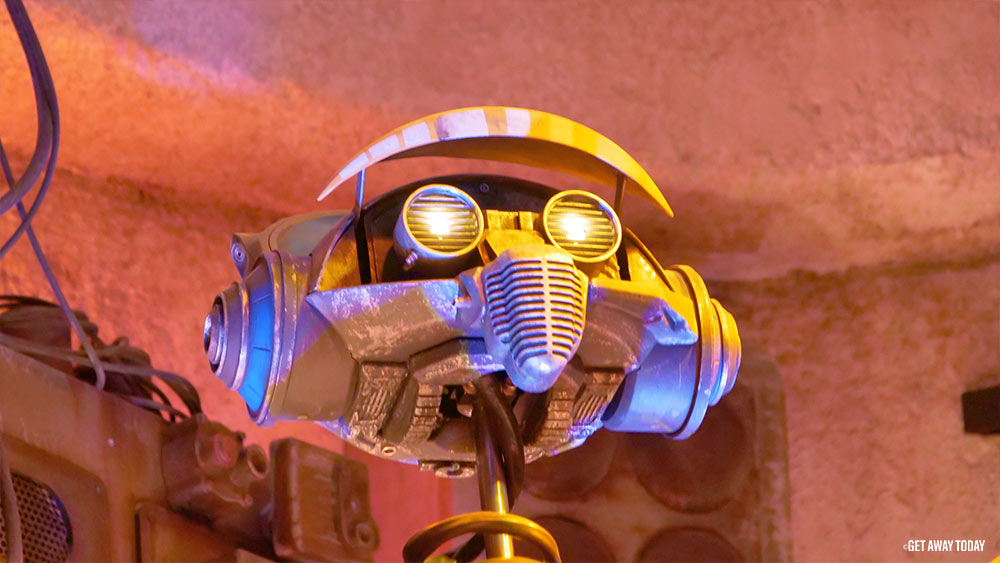 Now here comes the really important part. Making a reservation requires a credit card deposit. If you make a same-day reservation, you won't be able to cancel. If you have to cancel or miss your reservation, you will be charged $10 per person for Oga's Cantina and $199 for Savi's Workshop. That means you're basically paying for the entire lightsaber experience at Savi's Workshop without getting one should you book a Savi's reservation and not use it. Don't let that happen to you. Only make a reservation if you're sure you will make it. If you're booking in advance, you must cancel your reservation at least 24 hours prior to the experience. Otherwise, you'll be charged the same rates as a same day cancellation above.
Why do I need a reservation to get into Oga's Cantina?
That's a great question! Oga's Cantina is popular for a reason. In addition to being totally fun, immersive and the only place guests can order alcohol inside Disneyland, Oga's Cantina is incredibly true to what a real bar experience would be like on the planet of Batuu. That means it's bustling... and intimate. Oga's Cantina is primarily standing room only and has a maximum occupancy of 45. Because of this, Disney has implemented a 45-minute time limit on parties to allow as many guests to experience Oga's.

How to check-in to Oga's Cantina
The check-in process for Oga's Cantina is pretty straight forward. Once you're in Star Wars: Galaxy's Edge, you can check in with the Cast Member outside the queue at Oga's Cantina. You can begin checking in no earlier than 15 minutes before your scheduled reservation time. Be ready with your reservation number, photo ID and the credit card you used to hold your reservation.
How to get into Oga's Cantina - Rules
Because Oga's Cantina is a bar, there are a few rules you have to know. First, in order to even get in the door, at least one person in your party must be at least 14 years old. And even though you're on Batuu, the residents follow U.S. liquor laws, which means you must be 21 years old to drink an alcoholic beverage. There is a strictly enforced two drink maximum per guests, with or without alcohol, to help with the 45-minute time limit.
Why do I need a reservation for Savi's Workshop?
If you think Oga's Cantina has limited capacity, wait until you hear about Savi's Workshop. This experience only allows 14 guests to build their own lightsaber at a time, and even with a $200 price tag, it is highly popular. Because it is such a unique, exclusive opportunity, reservations go quickly. Each guest who is building a lightsaber is able to bring in up to two guests with him/her, so the entire room only allows for up to 42 people at a time. Keep in mind, only the person with the reservation will be able to build a lightsaber; the others may only observe.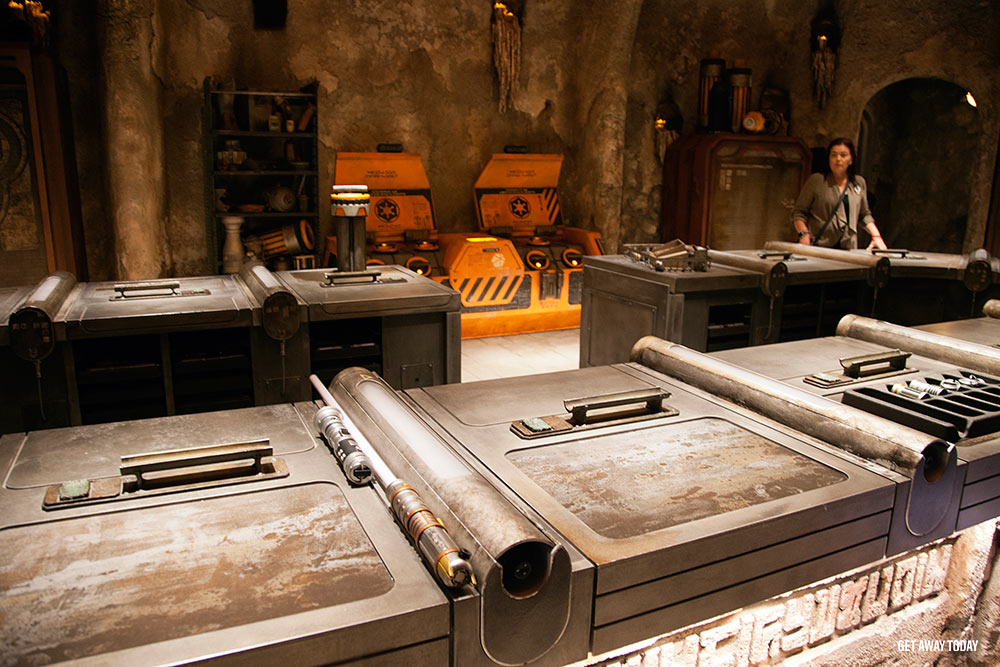 How to check-in to Savi's Workshop
Checking in for your Savi's Workshop experience is part of the appeal. Because building a lightsaber is not allowed under The First Order, Savi's does not have clear signage outside. You'll want to use the map on the app to help you find it. If you get really lost, it's next to Dok-Ondar's Den of Antiquities. You can check-in up to 15 minutes prior to your reservation time. You'll be greeted by "Gatherers" who will show you the styles and types of hilts that are available. You'll be given a pin, which lets the "Gatherers" know what type of lightsaber you'll be building. You'll be assigned a building group and be asked to put on your pin. Then, the experience begins... and we don't want to give away any more than that. But trust us; it's incredible.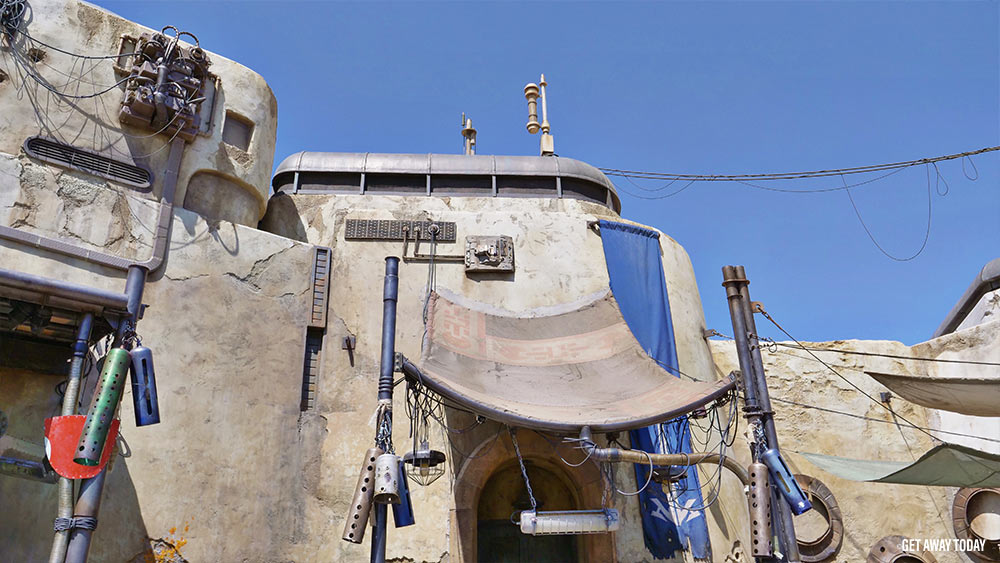 Booking Your Disneyland Vacation
Now that you know how to get into Oga's Cantina and Savi's Workshop, you need to actually get there. That's where we come in. We help you save the most on your Disneyland vacation and give you all the inside tips and tricks for making the most of your time. Whether it's your first visit or if you're a Disneyland veteran, we're here to make your vacation the best yet. Find our Disneyland packages and discount Disneyland tickets online. Or, call our Disneyland experts at 855-GET-AWAY for personalized assistance. Either way, we can't wait to help you experience all of the magic of the Disneyland Resort, including the new attractions at Star Wars: Galaxy's Edge.