LEGOLAND California is known for its delicious Apple Fries. Now you can make them at home with our easy copycat LEGOLAND Apple Fries recipe.
LEGOLAND Apple Fries Recipe
LEGOLAND California is known for a lot of awesome things. In fact, everything is awesome at LEGOLAND! But, there is one thing you really don't want to miss on a visit to the park...Granny's Apple Fries. Apple fries are apples cut like french fries. The apples are fried and then tossed with a cinnamon and sugar coating. When the need for a tasty snack comes on, head over to Castle Hill. When you can smell the sweet cinnamon aroma filling the air, you'll know you are close.
We grabbed a few orders of the famous LEGOLAND Apple Fries on our recent visit to the park. My kids gobbled them up pretty quickly. And, they are made of apples, so they are at least a little bit healthy right?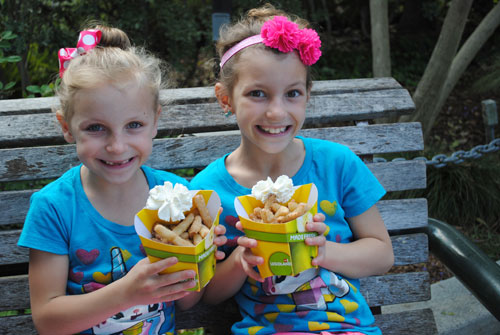 We decided to try making our own apple fries at home. I added a few extra ingredients to our homemade version to make them even better! I think you will agree that they are an awesome treat.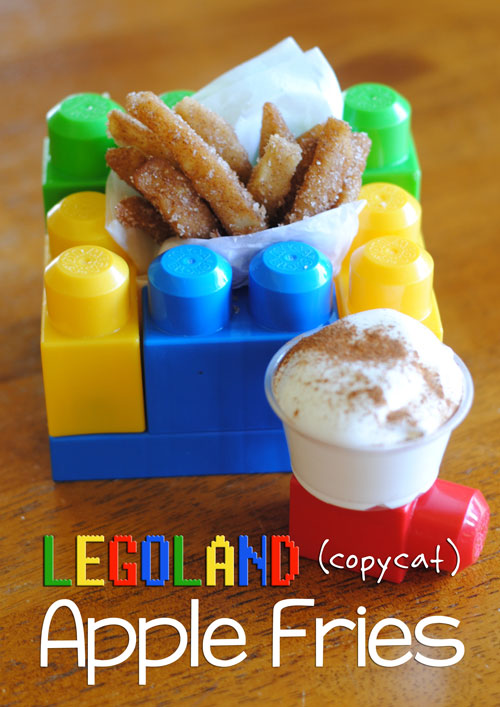 LEGOLAND Copycat Apples Fries Recipe
4 Large Granny Smith Apples
Apple Peeler or Vegetable Peeler
1 Cup Oatmeal
1/2 Cup White Sugar
2 Tablespoons Cinnamon
1/4 Cup Brown Sugar
1 Cup Coconut Flakes
Cooking Oil
Whipped Cream

Start by mixing the white sugar, brown sugar and cinnamon in a bowl. Grind up the coconut in the blender so the coconut is fine powder. Mix it all together and then set aside for later.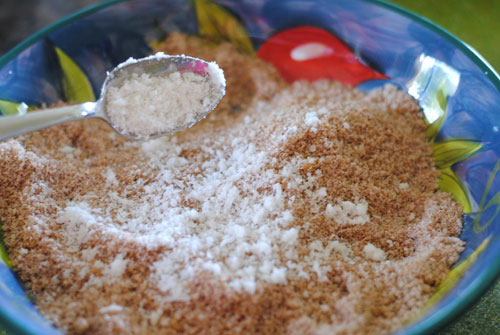 Grind the cup of instant oatmeal in the blender to make a smooth oat flower. Put it in a bowl and set it aside for a moment.

Put four to five inches of frying oil in a saucepan and warm it over medium heat. It will take a little while for the oil to heat up, so I like to get it started before cutting the apples.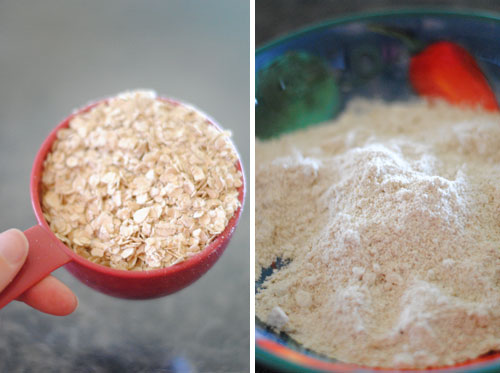 You want to be sure and use a firm apple for this recipe. Granny Smith apples are the best!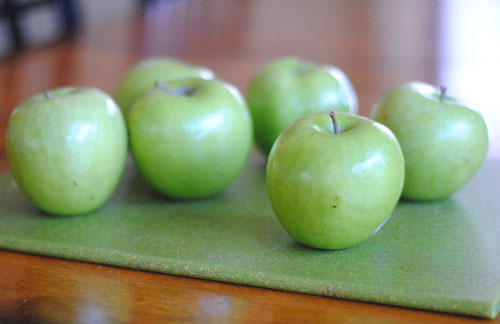 Peel the apples. Slice them into fat rectangles, like french fries.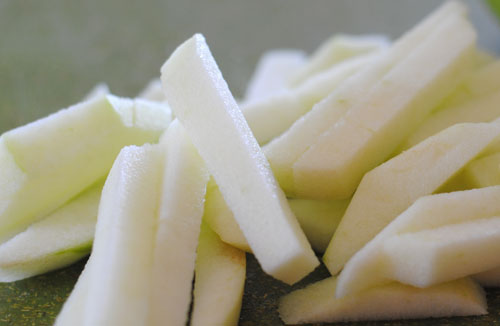 Toss the apples a handful at a time in the oat flour. Coat them liberally.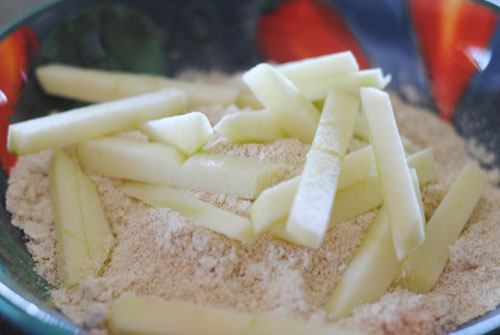 Then, shake off the excess flour using a strainer. You don't want a lot of extra flour caked onto the apples, because it will fall off into the oil when frying. It makes the oil burn easier.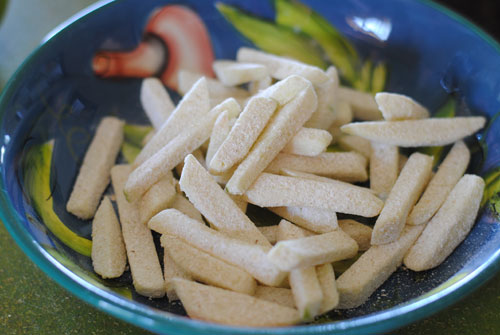 The oil should be about 350 degrees. But, who has a cooking thermometer? I stick the edge of a wooden spoon into the oil to test it. If the oil bubbles around the tip of the spoon, it is hot and ready. I keep my stove temperature set at medium heat--at around five or six on my stove dial.

Gently place the apple slices into the oil. Do not overcrowd the pot. It only takes a few minutes to cook the apples. Watch for them to get a light golden brown. Remove the cooked apples from the oil with a slotted spoon. Place them on a paper towel lined bowl to cool for a moment and then toss them liberally in the sugary mixture.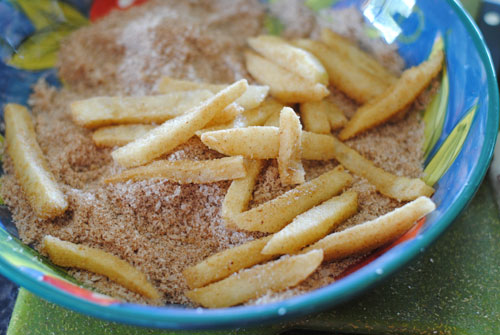 Continue cooking the apples in small batches until you are finished. Serve them warm with whipped cream dip.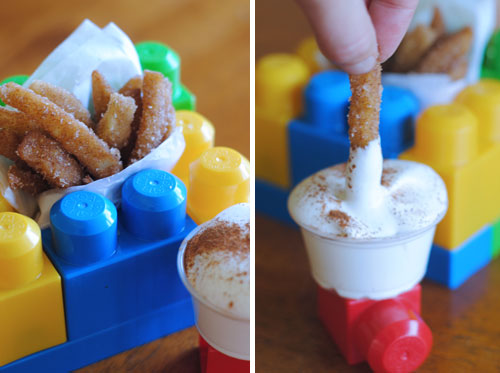 I hope you enjoy your homemade Granny Apple Fries. They are really good! If you haven't had a chance to visit LEGOLAND yet, Get Away Today has all of the best prices! LEGOLAND has so many tasty treats, fun rides and plenty of LEGOs for your whole family to enjoy!
Book your LEGOLAND vacation online or call our travel experts at 855-GET-AWAY.