What is the best age for LEGOLAND is one of the questions we get asked the most often for this Carlsbad based theme park. LEGOLAND may have been built with kids ages 2 - 12 in mind, but LEGOLAND appeals to a much broader audience. We've broken down what is best at LEGOLAND for each age group and thrown in a few bonus tips along the way.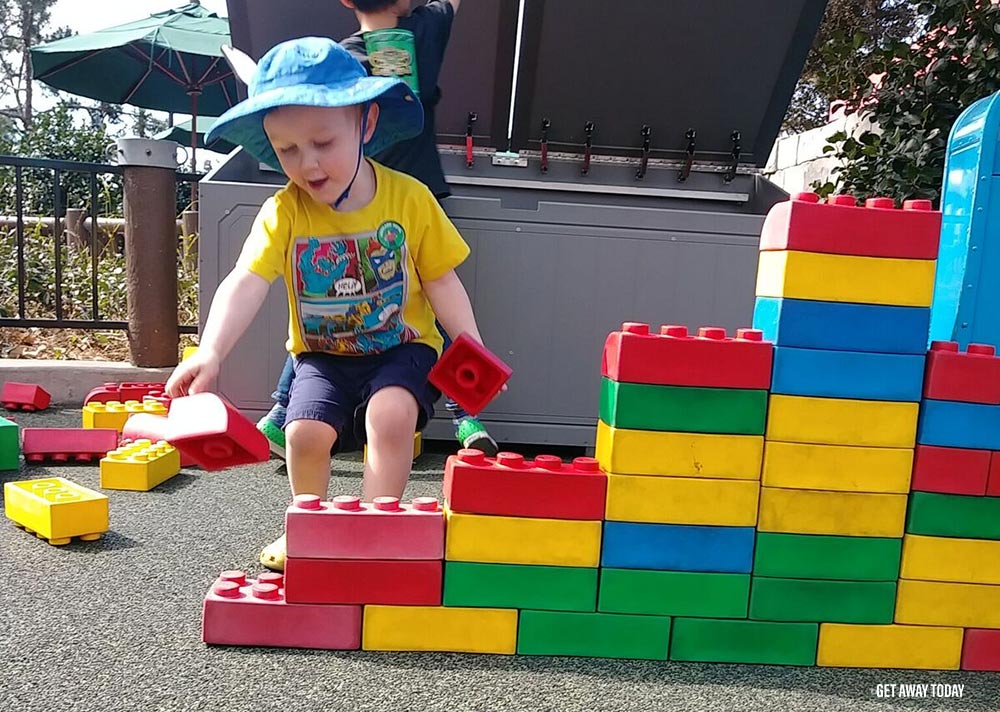 What is the best age for LEGOLAND?
You may have heard that LEGOLAND is just for little kids. LEGOLAND is definitely awesome for little kids, but that's not all. There is a wide range of experiences suited for any age group. We have broken down each age group and paired it with what LEGOLAND attractions and experiences they'll enjoy the most.

Best Age for LEGOLAND - 2 and under:
If you have really little kids, there are so many engaging attractions and experiences with no height or age requirement. Some of our favorites for babies include:
DUPLO Playtown - Even the youngest tykes will love playing in, climbing on and exploring around the DUPLO Playtown. It is the brightest, most adorable playground ever. Your kids will love playing in the larger than life versions of their favorite DUPLO toys. Parents will love the views, especially since the DUPLO Playtown is now located on the ridge and overlooks Miniland U.S.A..
Dig Those Dinos - This is essentially one giant sand box, but with giant fossils. Even if your babes are too young to use the tools to uncover dinosaur bones, they'll love playing in the sand.
LEGO CITY: Deep Sea Adventure - This attraction is great for the whole family, but babies in particular will be mesmerized by the real fish swimming right in front of their eyes. Your whole family boards a submarine and goes on a voyage through a giant aquarium with all sorts of fish and fun LEGO surprises.
Mia's Riding Camp - Babies and kids will love the adorable carousel located in LEGO Friends Heartlake City. There is no height requirement and usually minimal wait times.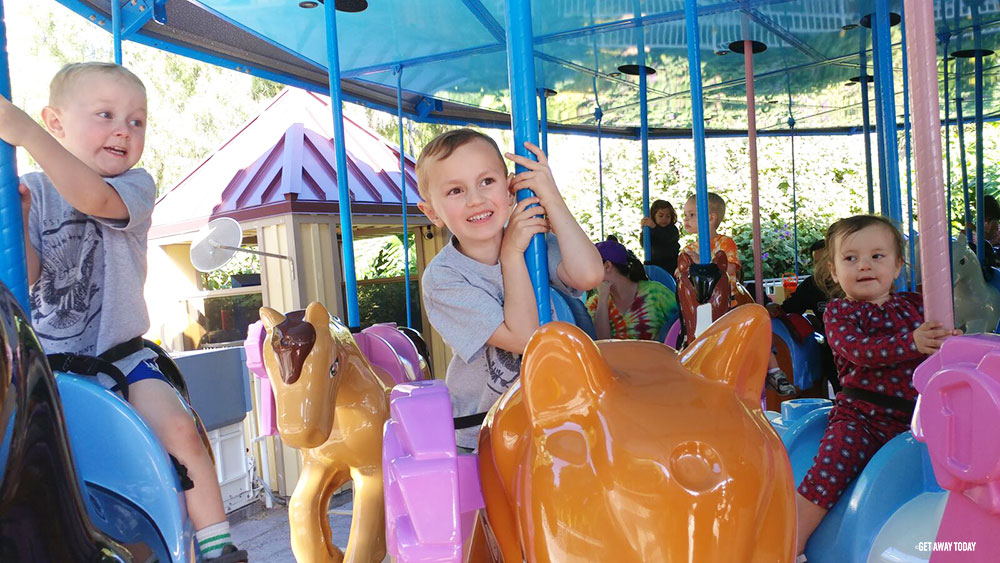 BONUS TIP - If you're traveling with babies and older kids, you may want to use the rider swap option. When you get to the front of an attraction, an adult can ride with one or more children (depending on the attraction) who meet the height requirement, while the other adult stays back with the baby. Then, when the first group gets back, the second adult can ride with the kid(s) while the first adult stays with the baby.
Best Age for LEGOLAND - Preschoolers:
While many of the attractions and areas that are awesome for babies are also great for preschoolers, there are some others that we love for this slightly older age group:
Safari Trek - One of our favorite attractions for preschoolers is the Safari Trek. You'll climb into your own Jeep and then go on a safari where you'll spot all sorts of LEGO animals.
Fairy Tale Brook - This attraction has no height requirement, so it's good for babies too. However, we especially love it for preschoolers because it highlights many of the fairy tales that they are just learning like Snow White, Little Red Riding Hood and The Three Little Pigs... all in LEGO bricks of course.
Junior Driving School - Kids ages 3 - 5 get to DRIVE THEIR OWN CAR. Yes, really. It was by far the highlight of my preschooler boys' time at LEGOLAND. They couldn't stop talking about how they got to drive and got their own driver's license. As a parent, it was hilarious to watch these tiny kids try to figure out how to not crash into each other and steer in a slow, safe environment.
BONUS TIP: If your preschooler (or older) has a hard time waiting in lines, LEGOLAND has your back. The most genius thing in all of LEGOLAND are the LEGO play areas located in the ride queues. Your kids can build with LEGOs while mom and dad wait in line - all in view of the play area. When the parents get to the front of the line, the kids can come over and ride. It helps restless kids stay busy and keeps parents relaxed while waiting. It's a win-win.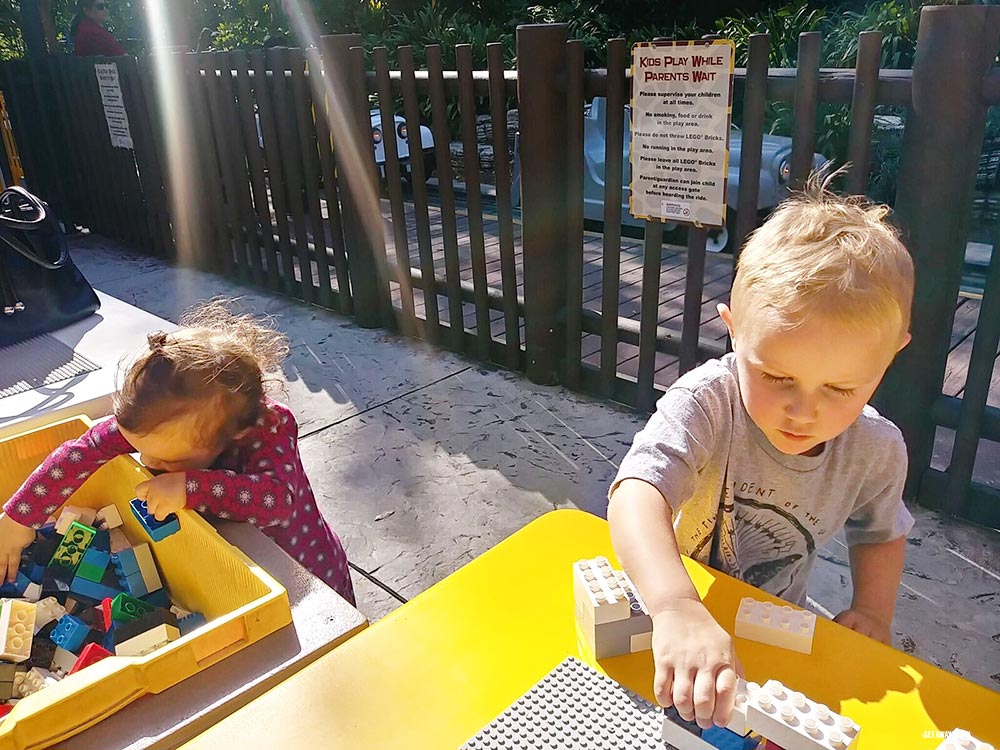 Best Age for LEGOLAND - 6-9 Years:
If there was a prime age for LEGOLAND, the 6 - 9 age group would likely fit the bill. There are almost no height requirements that they won't reach, and there is so much to do.
The Dragon Coaster - The Dragon Coaster is a perfect intro roller coaster for kids, and is legitimately fun. You'll start by going through a LEGO castle, then blast off on a wild ride around the castle grounds.
Driving School - Don't worry, if you have older kids (ages 6-13), they too can drive their own car. This is another trackless drive, but the track is bigger, the kids can go faster, and it's just really cool.
LEGO NINJAGO - The Ride - There is no height requirement for LEGO NINJAGO - The Ride, however, we think the gamification of the attraction makes it a perfect fit for the 6 - 9 years age group. It's one that your kids will want to ride again and again because they are actually part of the attraction. Plus, what 6 - 9 year old doesn't love NINJAGO?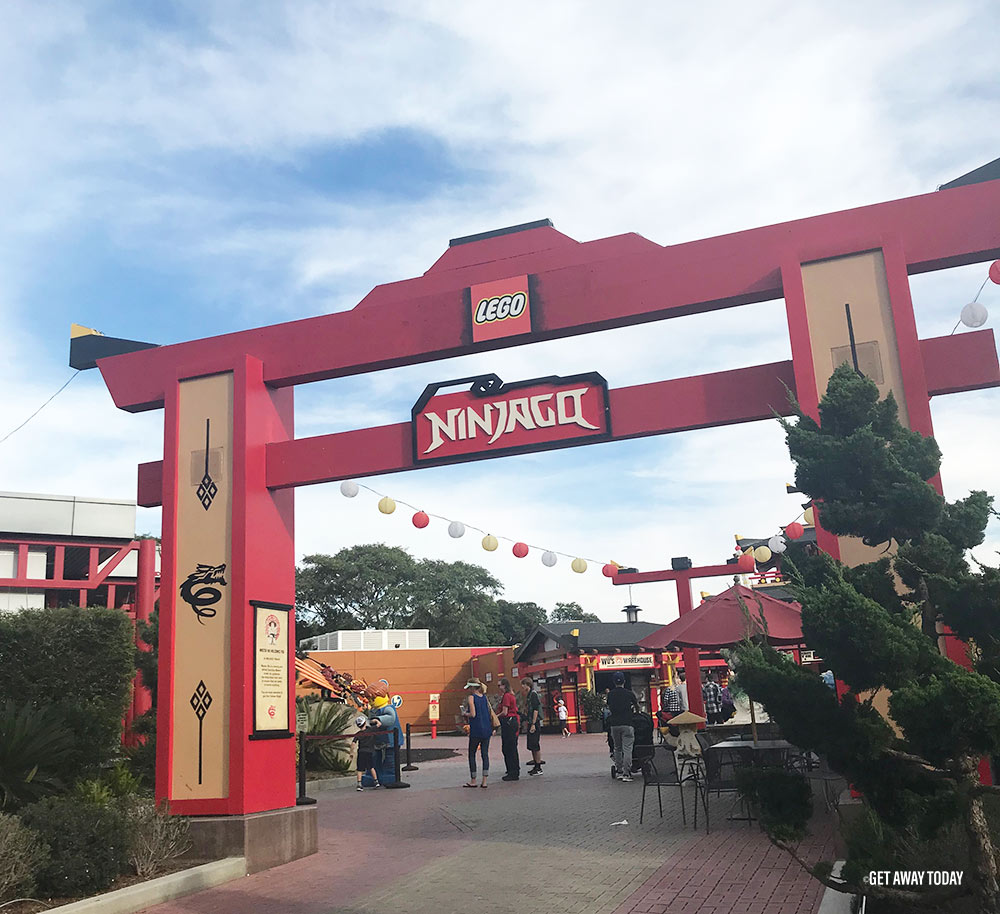 Best Age for LEGOLAND - 10 - 12 Years:
There is quite a bit at LEGOLAND for older kids, particularly those who grew up loving LEGOs. Regardless of whether or not your family are hardcore LEGO fans, these attractions are sure to be a hit with the 10 - 12 year crowd.
LEGO TECHNIC Coaster: This is truly a thrilling roller coaster that is perfect for tweens - and they can even ride it without mom or dad. It makes them feel very grown-up.
Water Parks: I don't know a pre-teen who doesn't LOVE a water park. And the LEGOLAND California Resort has one of the best. There are two separate parts of the water park; LEGOLAND Water Park and LEGO CHIMA Water Park. Kids of all ages, but especially 10 - 12 year olds, will love racing down water slides, building their own LEGO rafts for the lazy river, hanging out in the wave pool and more.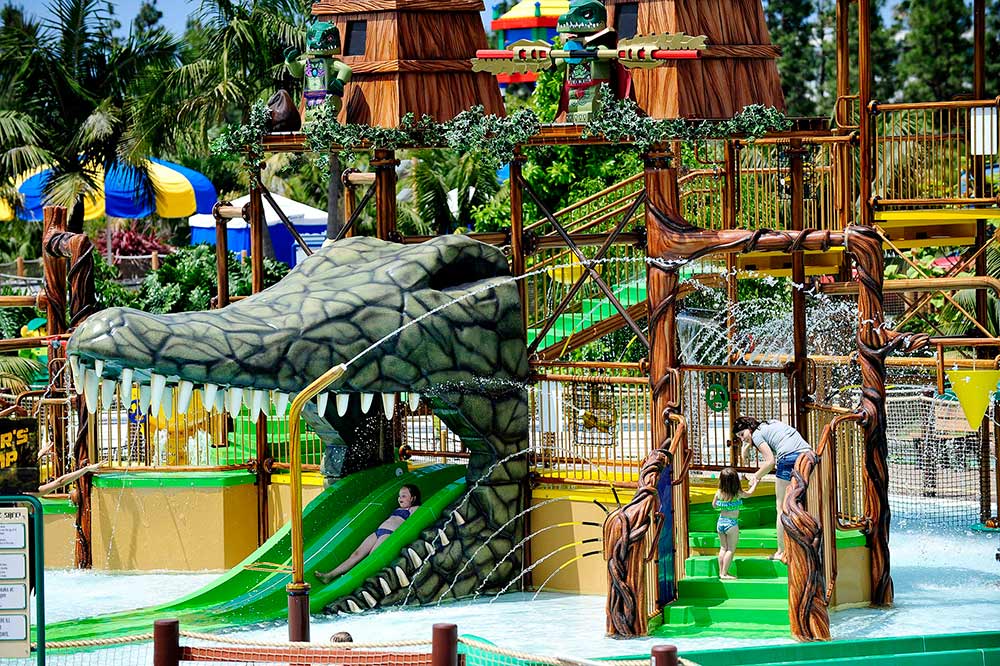 Photo courtesy of Legoland California
BONUS TIP: Always check the official LEGOLAND calendar before planning your vacation to make sure the Water Park is open if you want to make sure you get to go. The Water Park is open most days during the summer and on weekends beginning in spring and going through October. In order to get into the Water Park, you must have LEGOLAND admission, so your best bet is to purchase one of our Park Hopper tickets that includes admission to both.
Best Age for LEGOLAND - Teenagers:
While many of the rides at LEGOLAND may be considered tame, there are a few that are stand-outs and will impress even the most discerning teens.
Knight's Tournament - Because this attraction lets you set your own intensity level, you can really kick it up a notch. Riders are strapped in as a giant robot arm shakes, drops and twists you all around a LEGO dragon and moat. If you want a really wild ride, select the top setting. Just watching this attraction gets my heart pumping! This attraction has a maximum height of 5'4" and 220 lbs.
LEGO Star Wars - If you have a Star Wars fan in your family, they'll love the intricate Star Wars replicas made of LEGO bricks. Even teenagers will be impressed with the detail of the recreated scenes from the iconic film series.

Best Age for LEGOLAND - Everyone:
From babies to grandparents, there are some attractions that are sure to appeal to everyone in your group, regardless of age. Here are just a few of our favorites:
Miniland U.S.A. - One of the most impressive points in all of LEGOLAND is Miniland U.S.A., a recreation of our country's most famous cities. No matter the age, everyone will want to spend a good amount of time strolling through amazingly detailed LEGO versions of Las Vegas, San Francisco, New Orleans, Washington, D.C., New York and more. There are interactive buttons that kids (and kids at heart) will love to push and see what happens.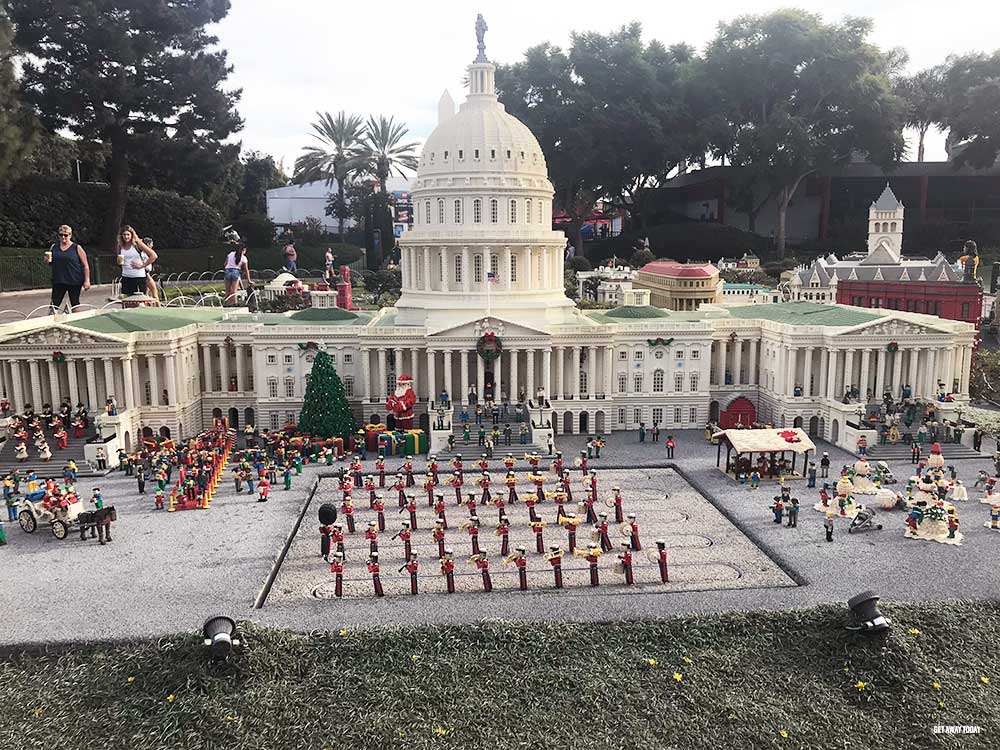 Coast Cruise - For scenic views of more famous landmarks, everyone will love the Coast Cruise. You'll sail by places like Mount Rushmore, the Taj Mahal and the Eiffel Tower.
LEGO Show Place Theater - The LEGO Show Place Theater has three different shows that rotate throughout the day: THE LEGO MOVIE 4D A New Adventure, LEGO NINJAGO Master of the 4th Dimension and LEGO CITY 4D Officer in Pursuit. You can pick one or watch all three; just be sure to check the schedule to make sure you get to watch your first choice.
BONUS TIP: Download the official LEGOLAND app before you arrive at the park. You'll be able to see wait times, which is huge for making your day awesome. You can also get special offers while you're in the park, like the Kids Eat Free after 5pm at select restaurants this summer.
BONUS TIP: Don't miss the LEGO Movie 2 Experience, available at LEGOLAND for a limited time. You'll see the actual set from the LEGO Movie 2, which is incredible. Everyone will be amazed at how detailed everything is, and fans of the film will love seeing Emmet, Lucy and their LEGO co-stars.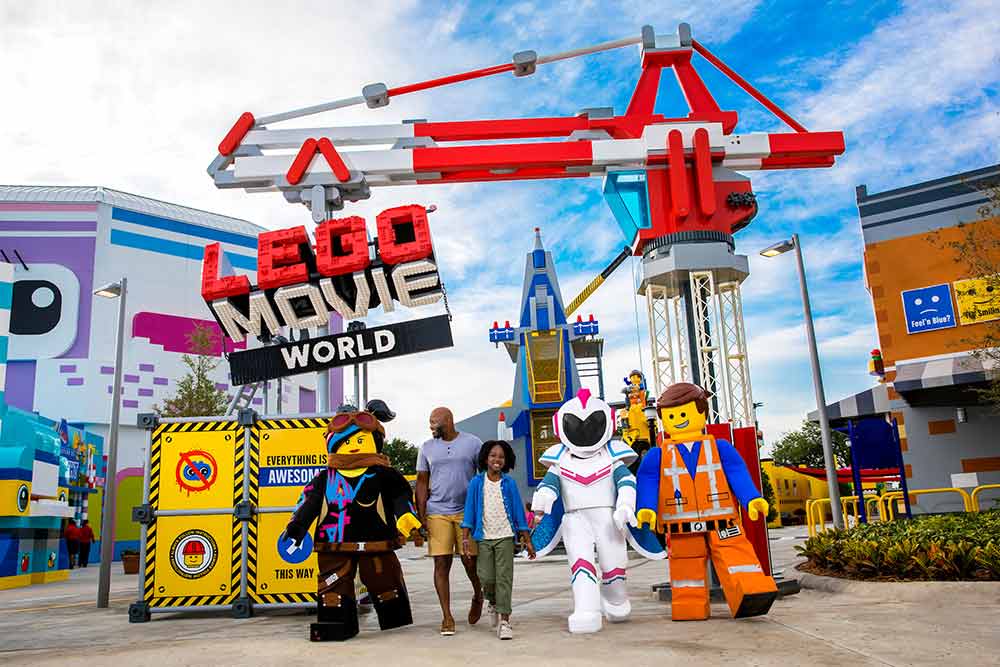 Photo courtesy of Legoland
How to Book Your LEGOLAND Vacation
We hope you see that any age is the best age for LEGOLAND! When you're ready to bring the whole family, we're ready to help. We love helping vacation dreams come true, and that starts the moment you decide to go. For the most immersive and relaxing experience, we recommend staying at either the LEGOLAND Hotel or the LEGOLAND Castle Hotel. Both are on-property and offer exclusive perks. We also have everything from value to luxury area hotels that fit any budget.
No matter where you decide to stay, we have all of our LEGOLAND packages available online. Or, you can call our agents at 855-GET-AWAY for personalized help from our vacation experts.