Make Forky from Toy Story 4 with this simple craft tutorial. This is the perfect activity for a Toy Story themed birthday party or movie marathon!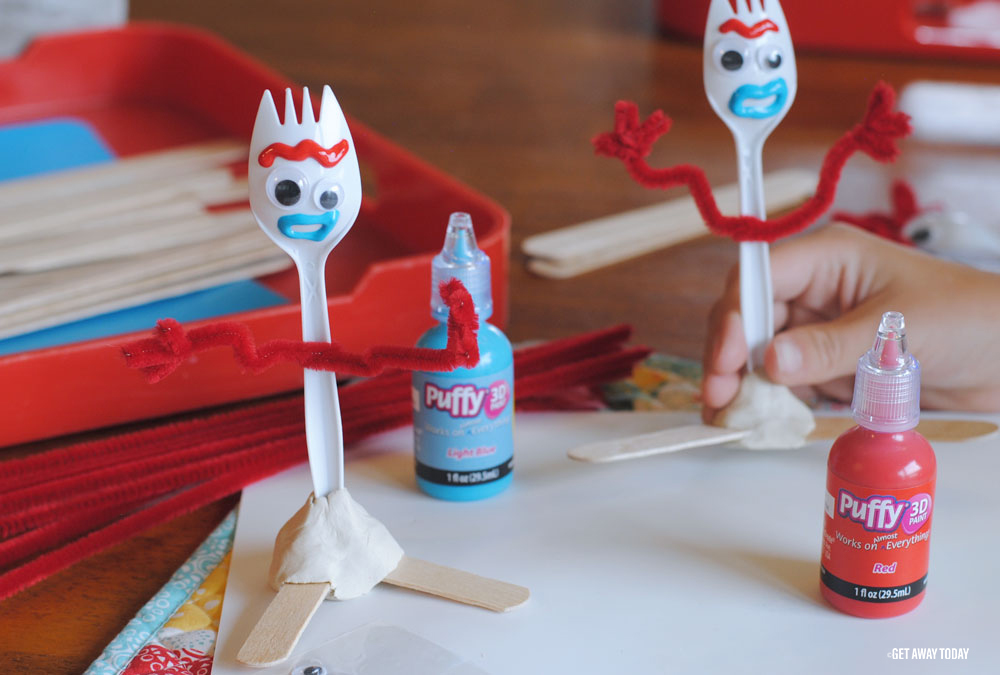 Forky from Toy Story 4
Toy Story 4 is the latest installment to the Disney Pixar series! All of our favorite toys are back for a crazy adventure. Woody, Buzz Lightyear, Bo Peep, Jessie and the rest of the crew meet a brand new toy named Forky. Forky is a homemade toy made out of trash. He proves that even a little bit of garbage can become something important if shown love. Disney Pixar is pretty good at sending life lessons home to audiences over the big screen!
Forky is made out of a plastic spork. He was created by Bonnie with some craft sticks, clay, a rubber band, yarn, wiggle eyes, and a red pipe cleaner. He comes to life and has an adventure of a lifetime with Woody and the Toy Story cast!
It didn't take long for Forky to become a household name. Kids love him! With this tutorial you can make your own toy Forky at home. So, grab your supplies from the Amazon affiliate links below and get crafting!
Supplies for Forky from Toy Story 4:
The supplies you need to make Forky are all really inexpensive. And best of all, you can find them all online at Amazon.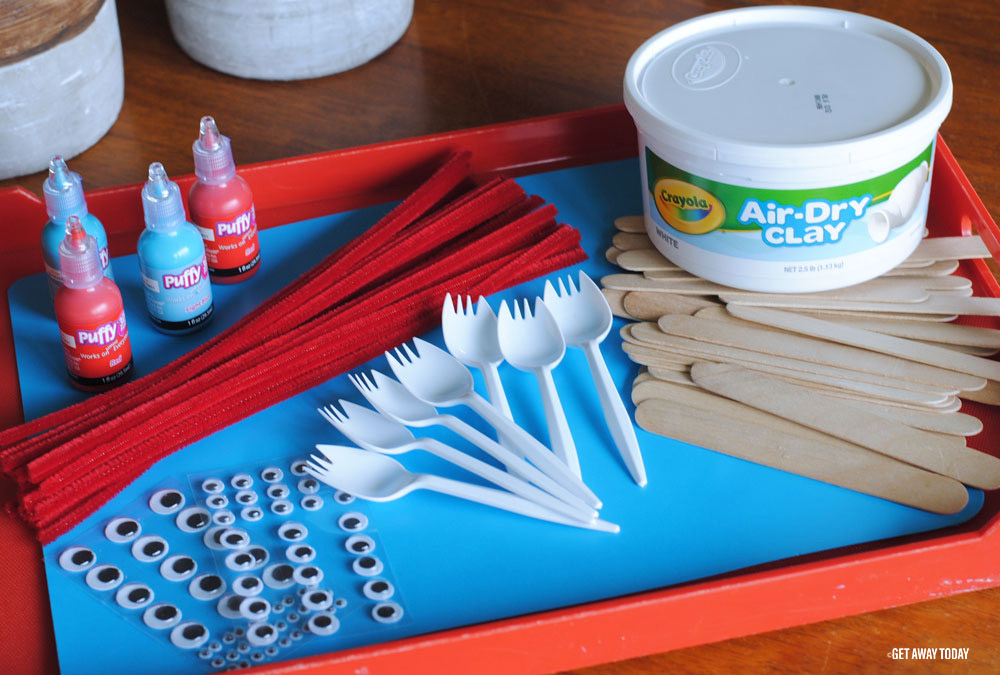 Forky from Toy Story 4 - Getting Started
Start by cutting a craft stick in half. I liked using the thicker craft stick so my kids could write their name on the back. A popsicle stick would totally work too. It is just a smaller space for the name.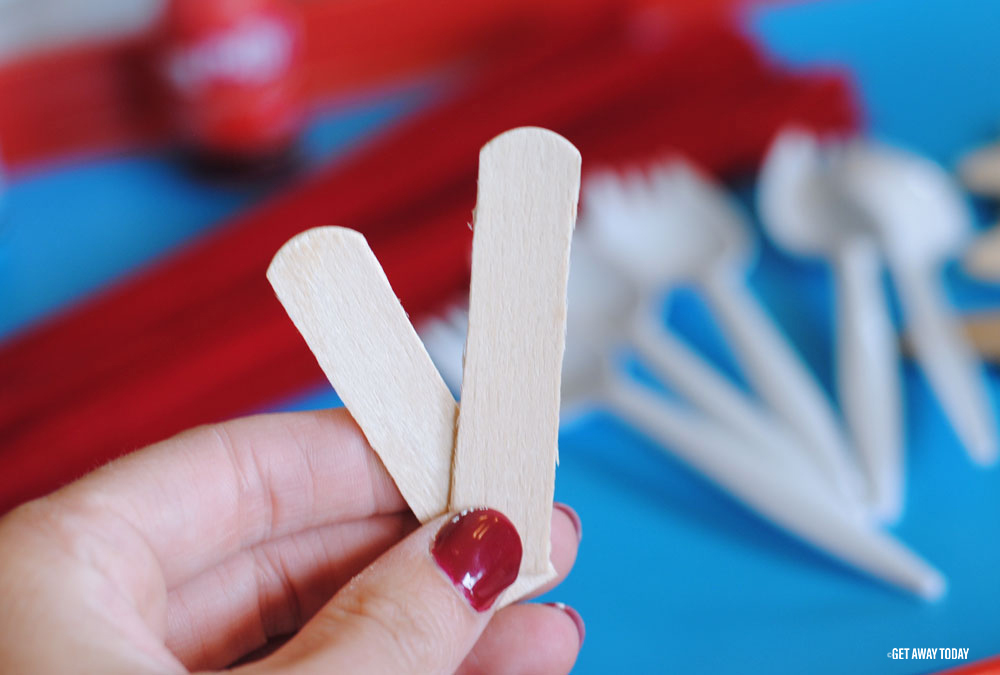 Let your kids write their names on the back of the craft sticks. Break the name up into two parts so there are letters on both sides of the stick. Also, leave some space on the end of the stick for where it attaches to the clay.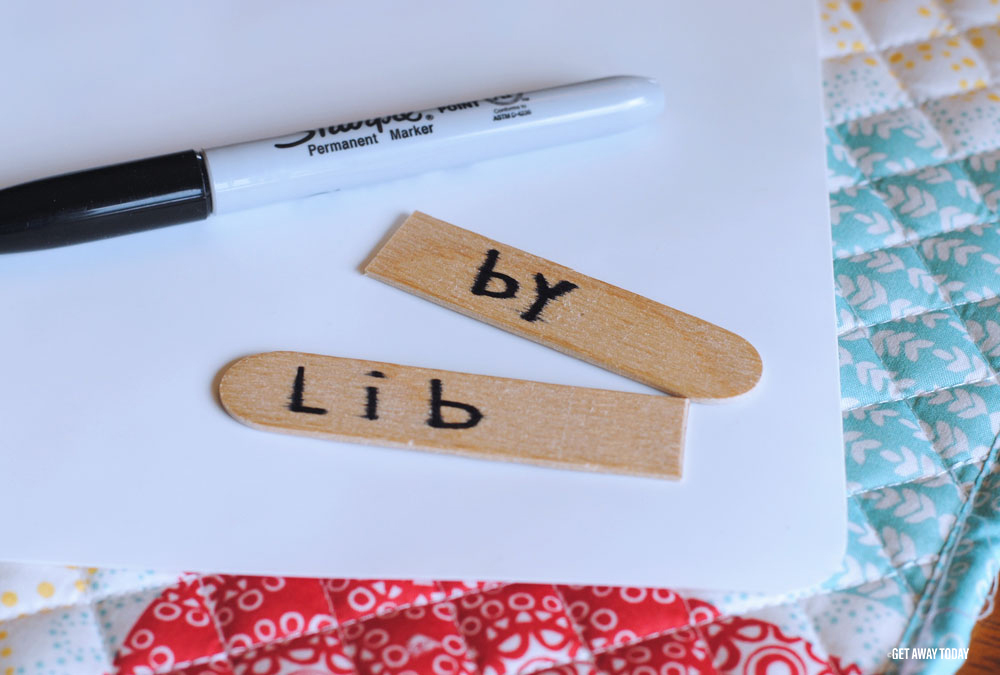 Forky from Toy Story 4 - Prepping the Clay
Set the stick aside for a minute. Open the Crayola Air-Dry Clay. Gather a small mound and roll it into a ball. It should be about the size of a ping pong ball.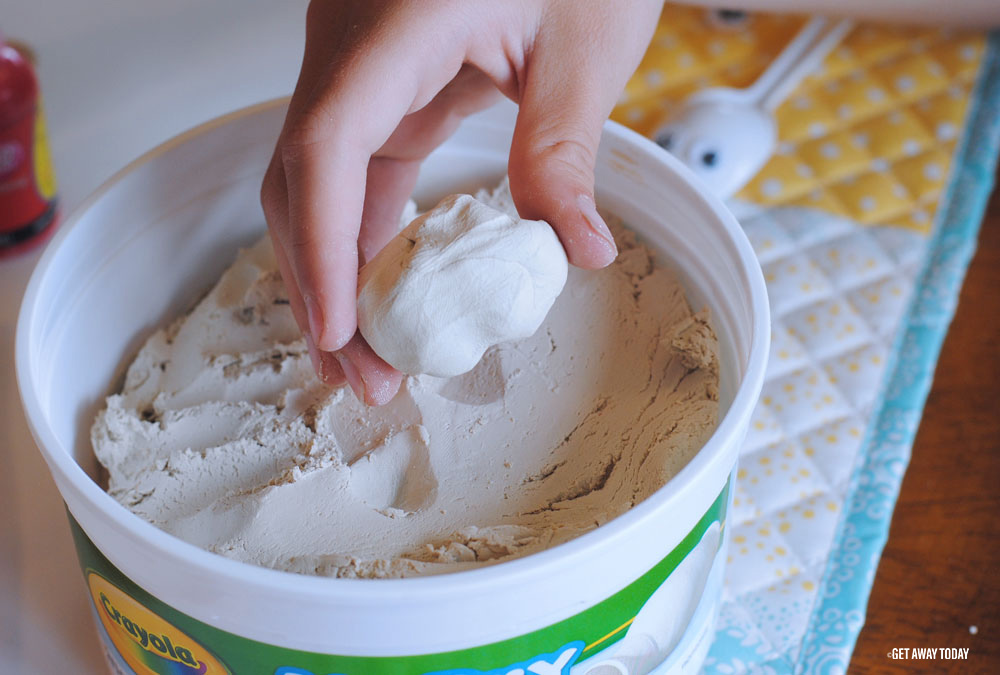 Stick both of the craft stick "feet" into the clay. Then pull the top of the clay so that it looks kind of like a volcano. The bottom of the clay should be flat on the table to make the toy Forky able to stand without tipping over.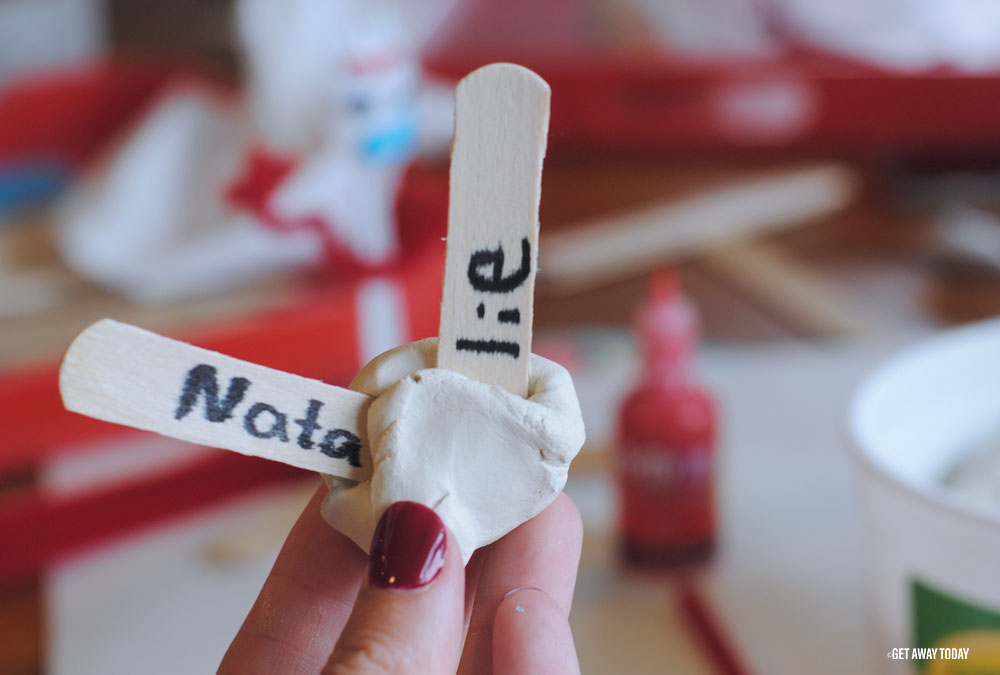 Forky from Toy Story 4 - Making His Face
Now it is time to make Forky's face! I was really excited to find adhesive wiggle eyes for this project. The pack I bought had four sizes of eyes. I used the two middle sizes for my Forky. Peel the eyes off of their packaging and stick them onto the center of the rounded spork top.
Next, add his crazy unibrow! The eyebrows give Forky a lot of personality. You can make him look mad, sad, excited, crazy, or surprised. Really, any emotion can come through with just a change of eyebrow shape. The 3-D Puff paint is perfect for this project. It is easy to apply and dries nice and "puffy!" The red paint is for the unibrow.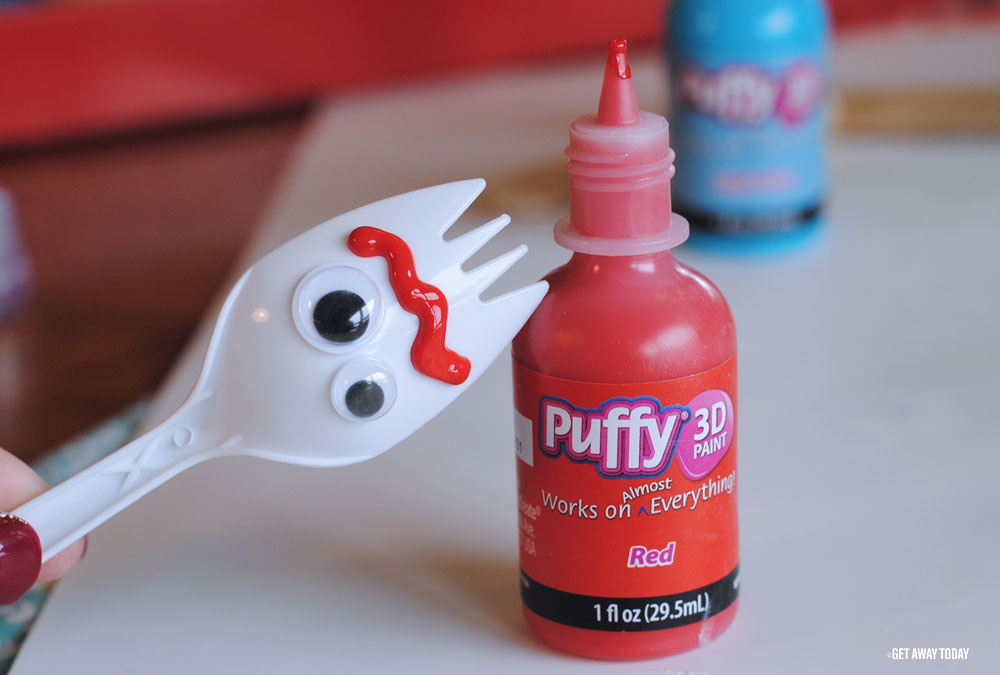 Then, use the blue Puffy 3-D Paint for his mouth. The shape of the mouth also shows expression! Make sure to make it nice and crazy! Just as a heads up, the paint does take about 30 minutes to dry. So, be careful with Forky's face after you apply the paint. You don't want to smear your art.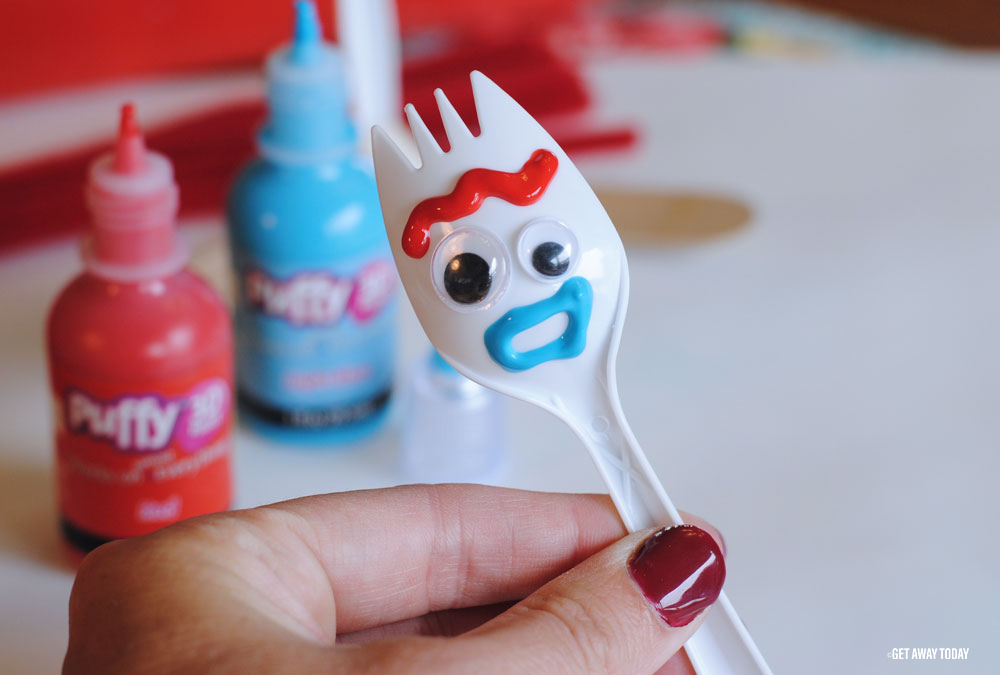 Forky from Toy Story 4 - Assembling His Body
Stick the handle of the Spork into the top of the clay. Forky will be nice and sturdy. The clay takes about 4 hours to harden completely. I would let Forky dry overnight before actively playing with him! Just to be safe.
The last thing Forky needs to be complete is arms! Forky's arms are made by bending a red pipe cleaner. Make three fingers on each end of the pipe cleaner.
Then, wrap the center of the pipe cleaner around the spork and twist it into place. Your cute new Toy Story Forky is ready for action. Well, after he dries that is!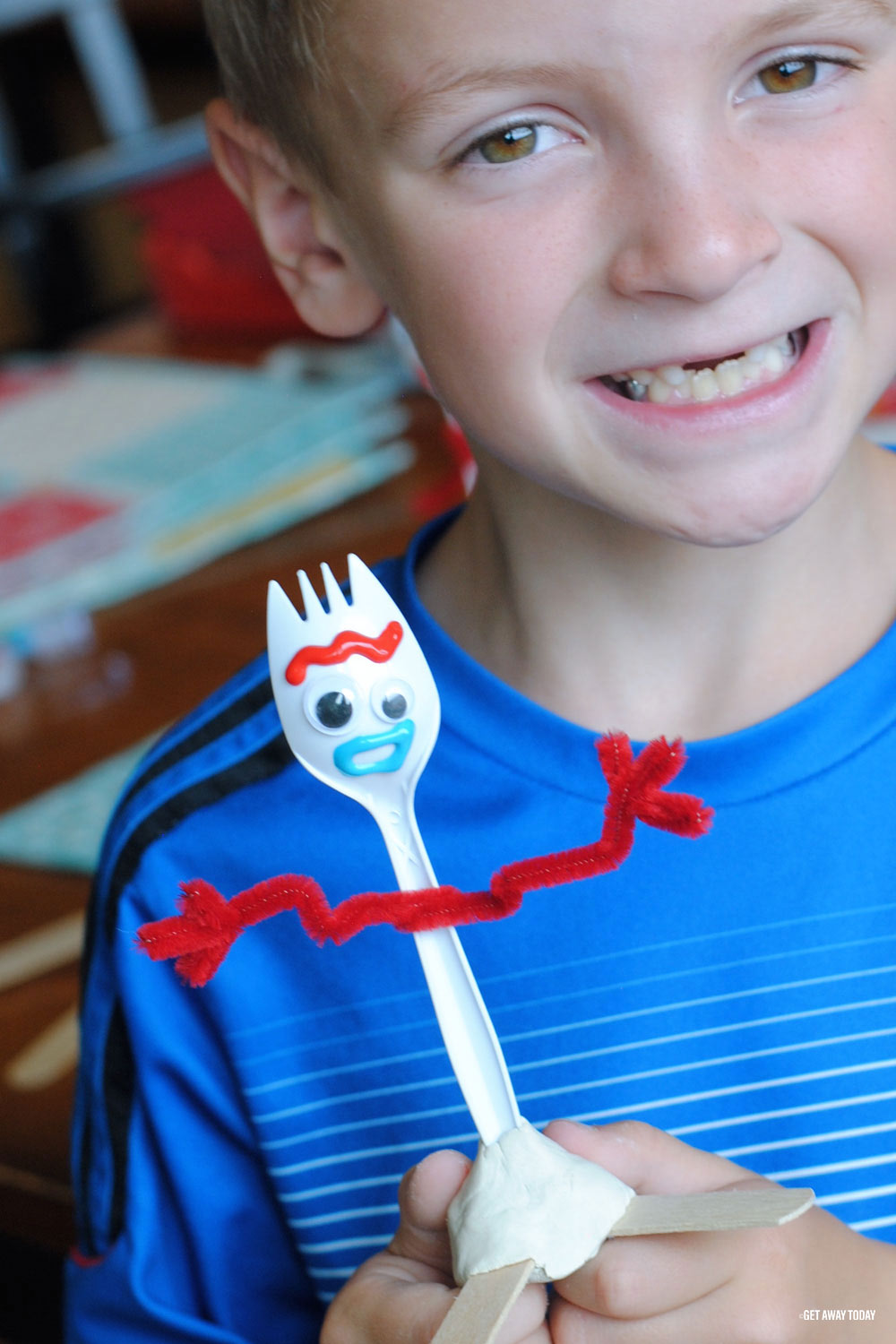 My four kids had a blast creating their Forky characters to play with. We made a whole squad of them. It was a great activity for us to do as a family. I hope your little crew has fun crafting Forky as well!
Visit Disneyland to Meet Forky from Toy Story 4
Did you know Pixar Pier has a Toy Story neighborhood? You can meet some of your favorite characters from Toy Story, as well as encounter rides, attractions and decor that bring Toy Story to life. Find Disneyland packages online, or call our agents for details at 855-GET-AWAY. You've got a friend in us, and we'd love to help you plan your next Disney vacation!