Count down the days to your vacation to Toy Story Land in Disney World or Pixar Pier in Disneyland with this Toy Story Aliens countdown – free printables included.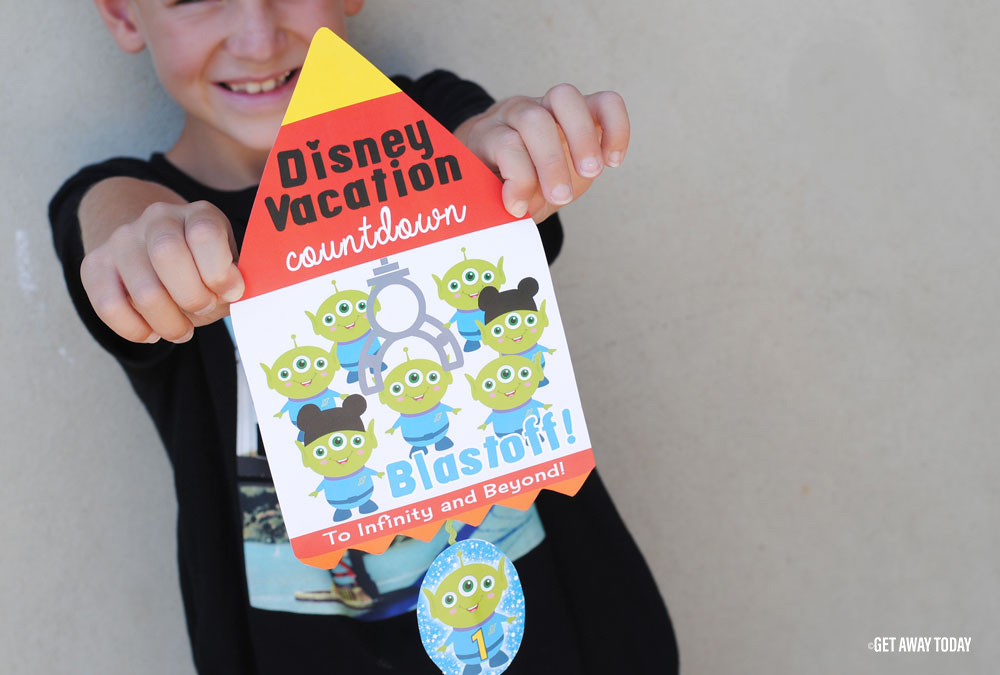 Have you seen pictures of the new Toy Story Land at Disney's Hollywood Studios in Disney World? Or better yet, have you been there for a visit? It looks incredible! You can ride the Slinky Dog Dash or take the little green men for a spin on the Alien Swirling Saucers. My favorite has to be Woody's Lunch Box though – it is offering some delicious food! I think it would be so fun to be a toy. You would get to play all day long. What could be better than that?
If you are on the West Coast, have you visited the new Pixar Pier in Disney California Adventure Park? It's just as incredible, with the Incredicoaster, PixarPal-A-Round, Toy Story Midway Mania and more. And just like Toy Story Land, there is plenty of yummy food to choose from. Like Red Hot churros, lemon ice cream and chicken legs. It's easy to see that both Disneyland and Disney World know how to bring Pixar to life for their guests!
Whether you're visiting Disney World or Disneyland, you can count down the days with our Toy Story Aliens Countdown. It's the perfect way to get your Pixar pals ready for launch! It would be great to surprise your family with a Disney vacation too. Can you imagine their faces when they realize they will be in Disneyland or Disney World in ten days? They might blast off then and there with their excitement!
Toy Story Aliens Countdown
Toy Story Aliens Countdown Materials:
Cardstock
Scissors
Ribbon or Rick Rack
Double Sided Tape or Hot Glue
Toy Story Aliens Countdown Free Printables:
Toy Story Aliens Countdown Instructions:
To start, print both files onto cardstock paper using color ink. There is one file for the header (doesn't it remind you of the Pizza Planet Rocket?) and then another file for the alien numbers.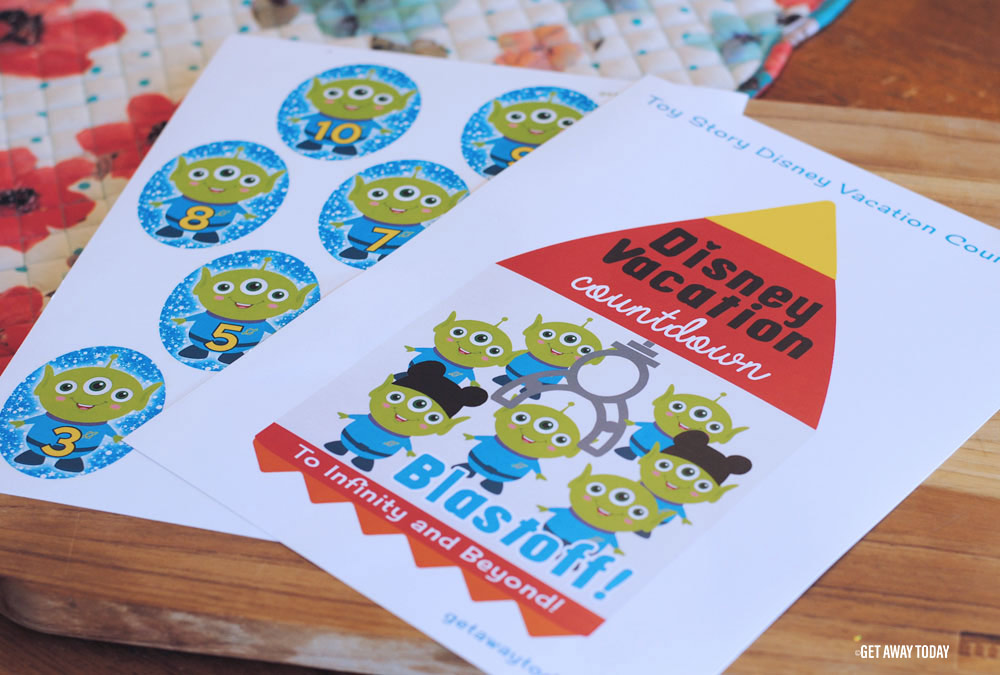 Cut the Toy Story Aliens out following the outlines around each one. There are ten aliens. I originally designed this printable without the circle space stars behind the aliens. Then I thought to myself, "Who really wants to cut around all of those alien ears and feet and hands?" Cutting around a circle is so much faster. You can cut all ten circles at the speed of light. Sweet!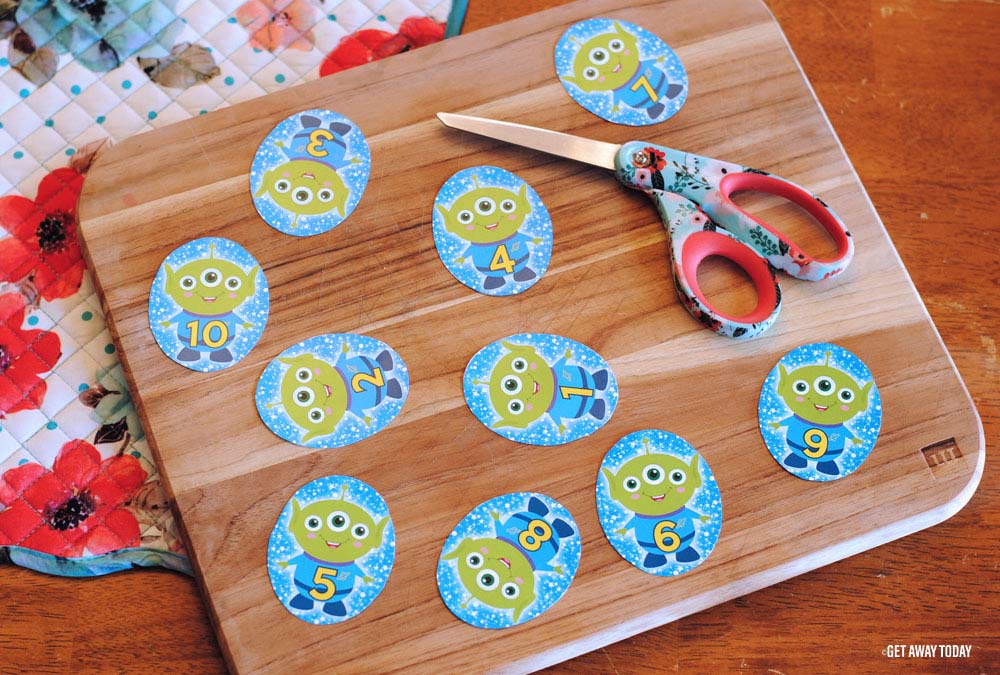 Cut out the rocket ship header next. It can't head to Infinity and Beyond (or to Disneyland or Walt Disney World) until the countdown is complete!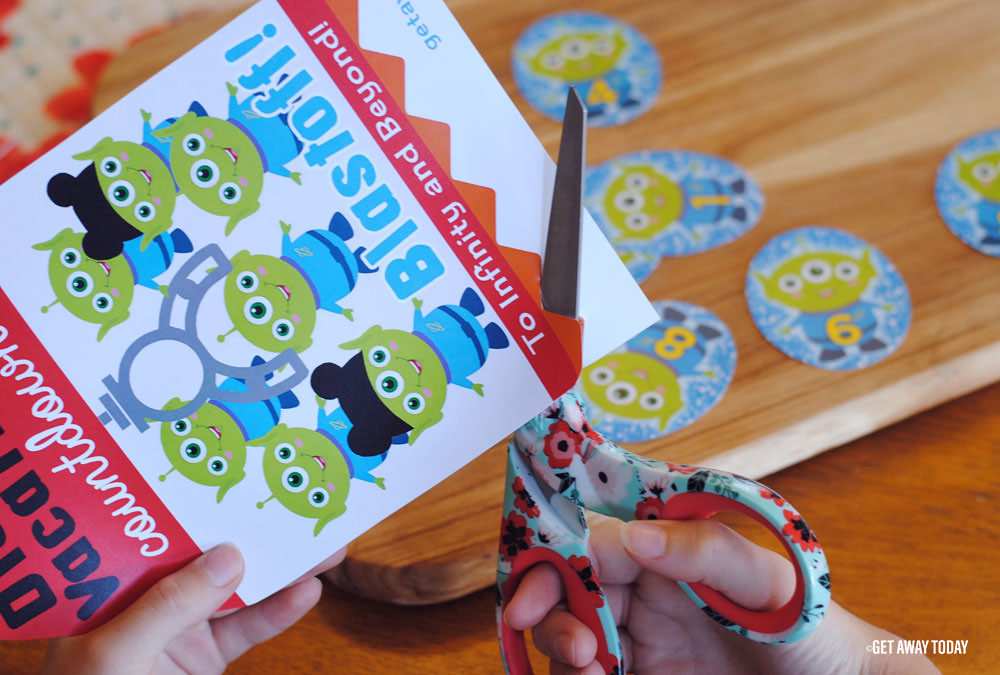 Tape or glue a long string, ribbon or even rick rack to the back of the rocket ship. It should be about a yard long.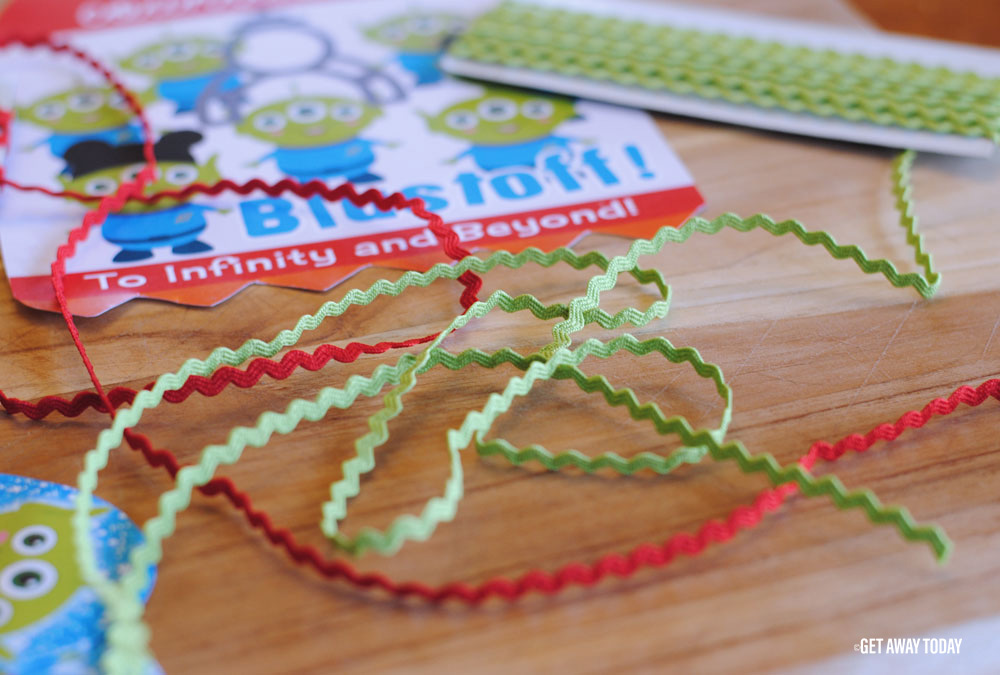 Then glue or tape the alien numbers onto the string in order. Start with the alien with the number one first and then work down to the alien with number ten.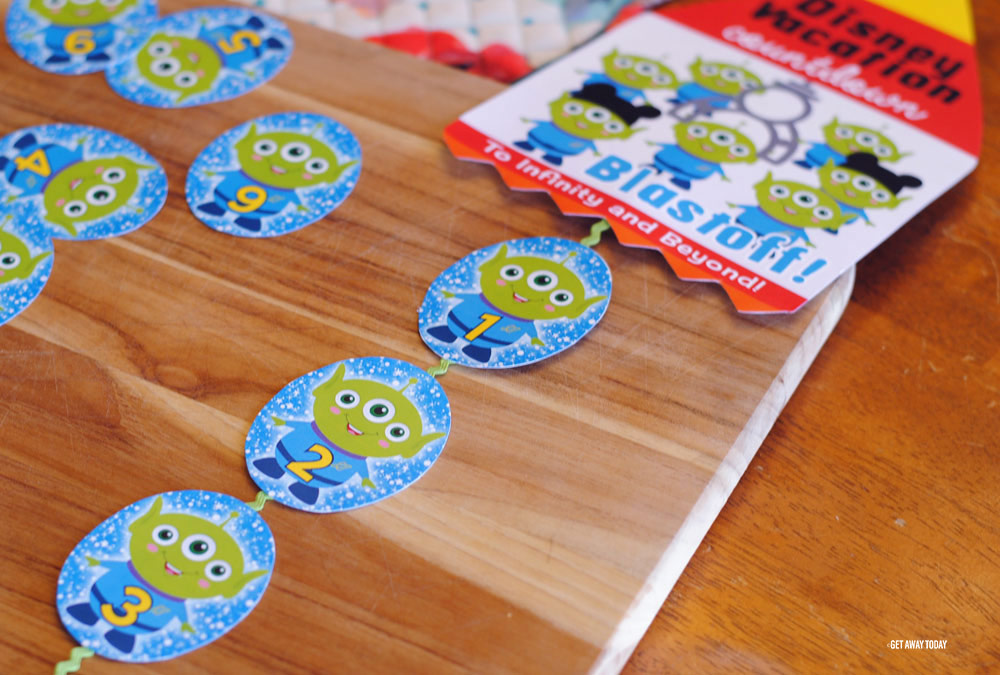 You are ready for action! Aren't the little aliens so cute?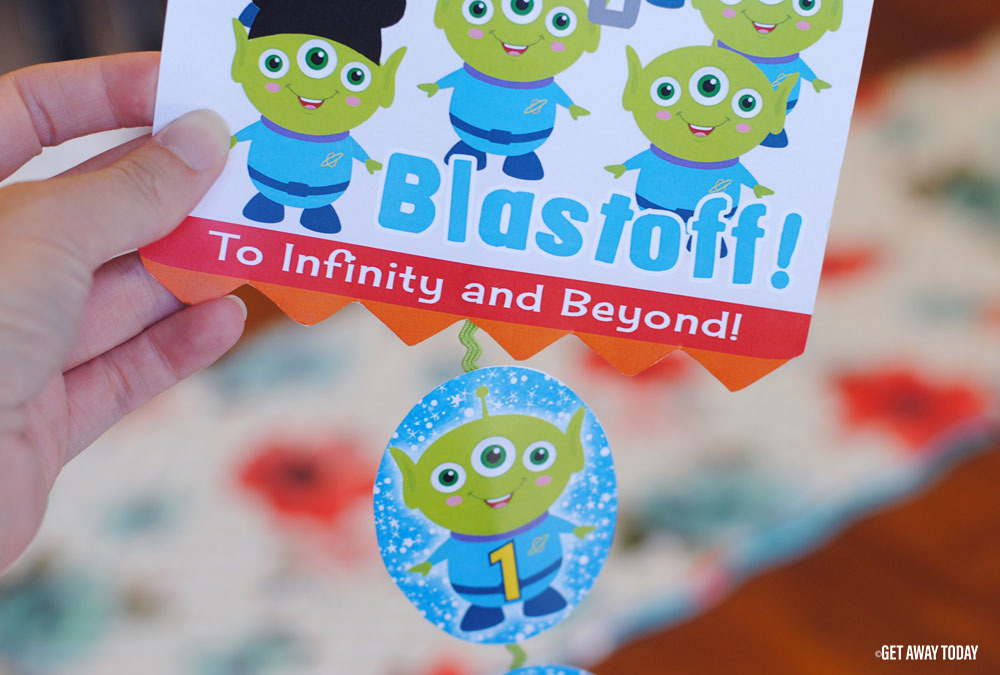 Each day before your Disney vacation cut one alien off the Toy Story Aliens Countdown. It represents a rocket ship countdown...10, 9, 8, 7, 6, 5, 4, 3, 2, 1 BLAST OFF!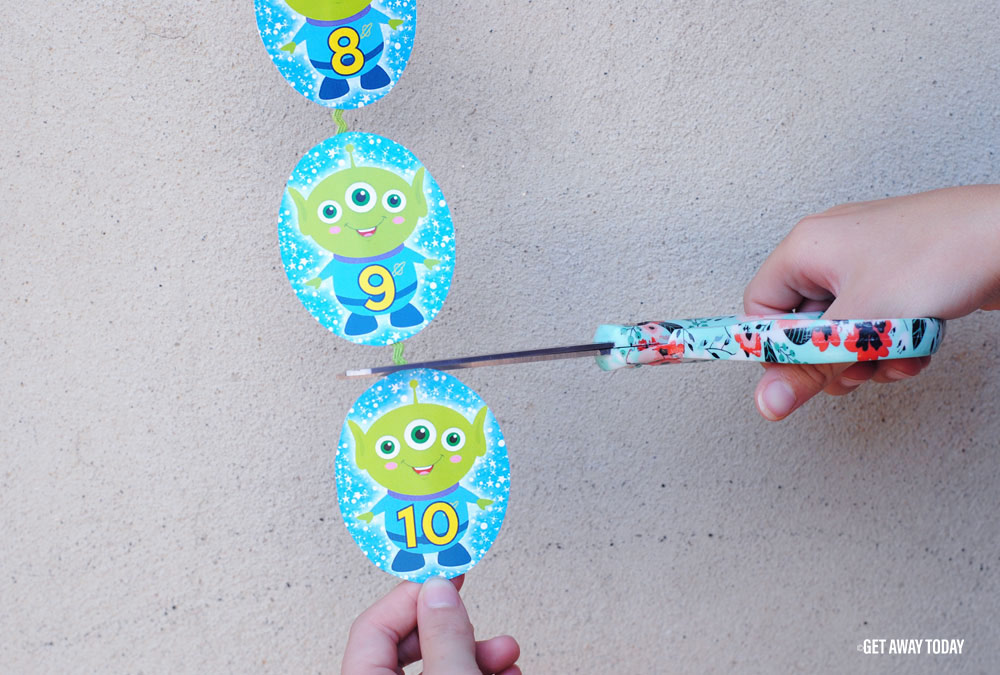 Your family will be taking off to a magical vacation full of Pixar fun! If you're landing in Disney World, make sure to experience Toy Story Land at Disney's Hollywood Studios. Whether you're zipping around with Slinky or spinning through the galaxy with the aliens, you're going to have a great time. Make sure to have your camera ready if you spot Woody and any of his friends, too.
If Disneyland is on your flight plan, you will want to jet over to Pixar Pier in Disney California Adventure Park. You can meet many of the Toy Story pals, plus face off against friends in the Toy Story Midway Mania game. This is a family favorite that has a healthy does of competition as you all aim to get the highest score with each new 3D adventure. And you'll be able to see more of your favorite Pixar pals as you visit all Pixar Pier has to offer.
To book your Pixarrific Disney vacation, browse our Disney packages here or give our travel experts a call at 855-GET-AWAY. We know a thing or two about how to have the best Disney vacation, including how to save with our discount Disney tickets and how to have a magical time with our expert tips. We can't wait to help you blast off into a Disney vacation that you'll remember forever!