The food from Pixar Fest at Disneyland is every bit as magical as we hoped for. Make a little of that Pixar magic at home with our Toy Story Alien Cupcake recipe.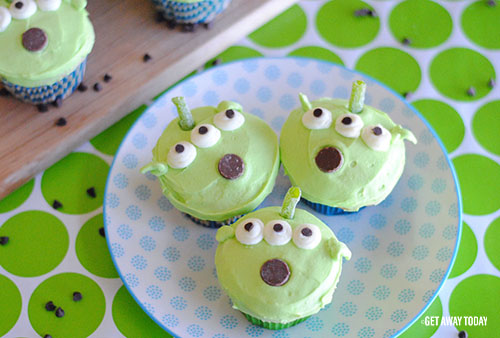 Toy Story Alien Cupcakes Recipe:
Toy Story has to be one of the very best Pixar films of all time! I don't think it would be possible to pick a favorite character from the series. Woody is a fun loving and adorable cowboy. Buzz is totally full of himself, but also so likable. Mr. Potato Head is always good for a laugh. Jessie is so rowdy and energetic, and she has such a cute red hat! The Army Guys, Mr. Slinky Dog, Hamm, Rex and Little Bo Peep all make amazing supporting characters. The whole gang is so entertaining.
Disneyland is highlighting Toy Story and the rest of the Pixar films in their Pixar Fest this summer. It is a whole immersive and interactive experience! Pixar friends are available for meet and greets. You can even get your photo with Woody - yee-ha! The decorations are adorable. The parades are full of special effects and new Pixar floats. Of course, the Pixar Fest food is out of this world.
Speaking of which, do you remember the Green Aliens from the Toy Story movie? "Ooooo...the claw!" They have their very own macaroon cookie! It is adorable. I wanted to make something to showcase this part of the Toy Story legacy at home. Since macaroons are a little bit time consuming and involved, I chose cupcakes instead. All of the cuteness in a tenth of the time. A total win-win.
Really though, all of the Pixar Fest food is adorable and so good. It is almost worth going just to experience the culinary lineup. In the meantime, enjoy your very own Toy Story Alien Cupcakes!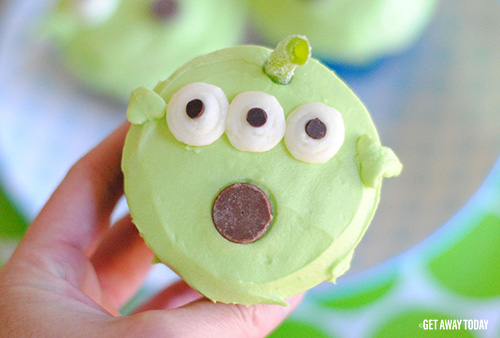 Toy Story Alien Cupcakes - Ingredients:
24 baked cupcakes
2 sticks butter
1 six-ounce package cream cheese
5 cups powdered sugar
1 tsp vanilla
1/2 tsp salt
2 T milk
sour green licorice candy
mini chocolate chips
large chocolate chips
frosting bags
Toy Story Alien Cupcakes – Tutorial:
Start the Toy Story Alien Cupcakes recipe by baking a batch of cupcakes. The flavor does not matter. My favorite for this recipe is the rainbow chip. It reminds me of being a kid. I used blue and green cupcake liners to match the aliens from the movie.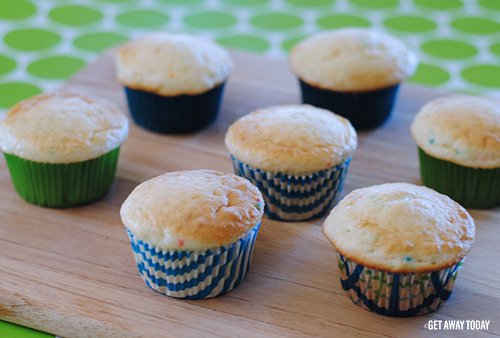 When the cupcakes are cooled to room temperature, make a batch of buttercream cream cheese frosting. It is the best! Seriously, it is my go to frosting for pretty much everything.
Place two sticks of butter and six ounces of cream cheese in a mixing bowl. It is easier to mix when they are at room temperature. I usually pull them out of the fridge when I start the baking process, so they have time to soften.
Cream the two together and then add one teaspoon vanilla and the two tablespoons of milk. Gently sprinkle the salt around. Spread it so that all the salt doesn't land in one little clump. Mix again.
Then add four cups of powdered sugar. Mix in the sugar and taste a little sample. You may decide you want to add more sugar! Add another cup to the frosting. Mix and sample again. Frosting is best when it isn't too sweet. It should balance the sweetness of the cake!
Important: Remove about 1/2 cup of the white frosting before you do the next step. Place it in a plastic frosting bag for later.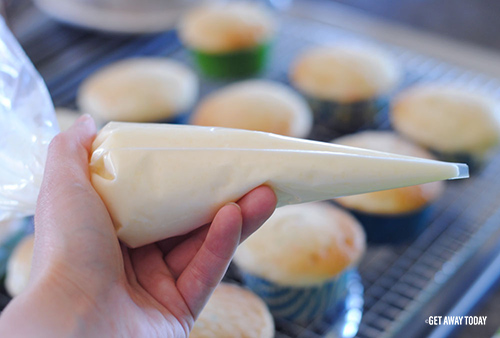 Drop in about 10 drops of lime green food coloring. Incorporate the food coloring into the frosting until it is nice and smooth and alien green!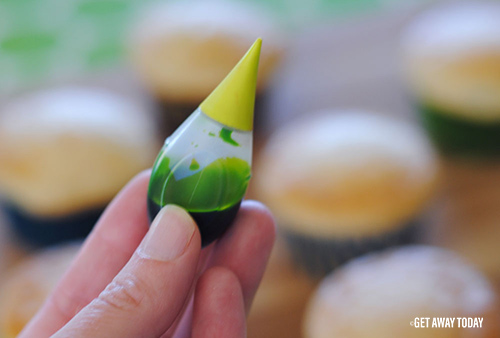 Frost the top of each Toy Story Alien Cupcake. I tried to make mine smooth and flat.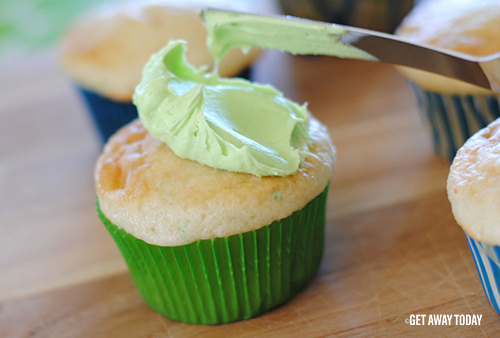 Next, add the eyes! My little boy loved that the cupcakes had three eyes and not just two. It made him giggle. To make the eyes, clip the tip of the frosting bag off and squeeze the frosting onto the cupcakes in three small mounds.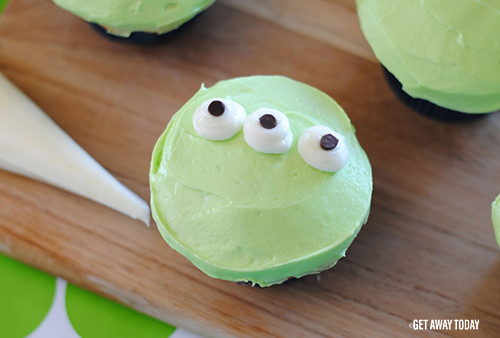 I really do not like the taste of hard candy eyes. They are just yucky. I knew I didn't want to use those for our Toy Story Alien Cupcakes! These alien eyes are delicious. Do you know why? They have chocolate pupils. YUM! Open a bag of mini chocolate chips. Place one little tiny chocolate morsel upside down into the center of the white frosting eyeball and press into place.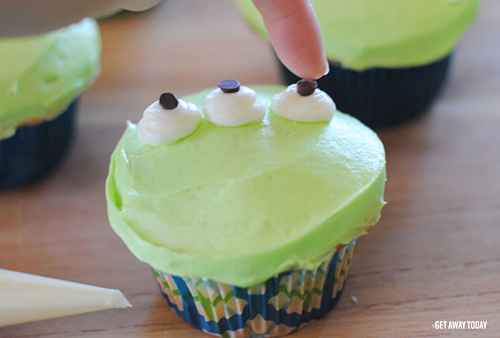 Now, add more chocolate! That is right. We don't stop with chocolate pupils. These Toy Story Alien Cupcakes also have chocolate mouths. Mmmmmmmm. Can you picture the little chocolate alien mouth saying, "Ooooo....the Claw!" I sure can.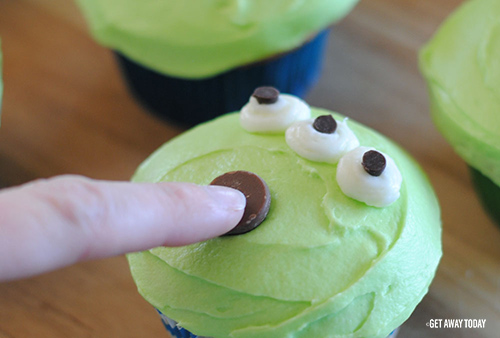 I used the large Ghirardelli chocolate chips. They are the best in the universe. Plus, there is a little Ghirardelli Square at Disney California Adventure Park! Did you know you can go and get a free sample of chocolate every day that you visit the park? You can! It is so yummy.
Next, add the antenna to your Toy Story Alien Cupcakes. I found some sour green licorice rope in the candy isle that was perfect for this. Cut the candy into about 1-inch sections. Then stick it into the top of the cupcake.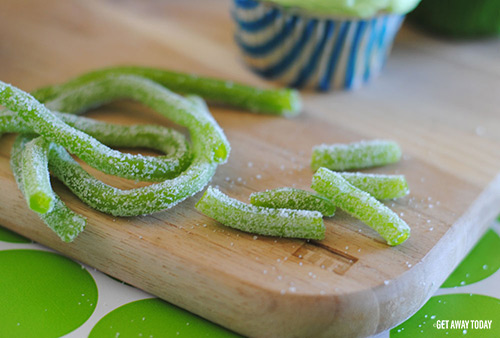 Last, add the ears! Put a little bit of green frosting into a frosting bag. You can use a petal tip if you have one. If not, just snip the top of the bag of at an angle. Put a little green spout of frosting onto each side of the Aliens' faces.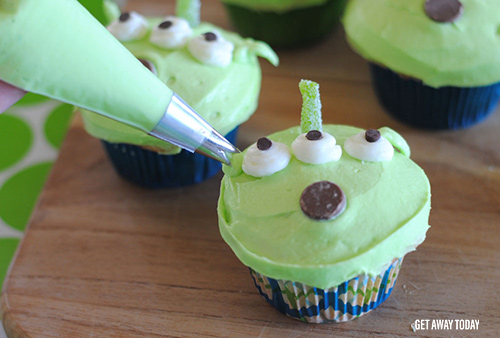 Don't the Toy Story Alien Cupcakes look cute?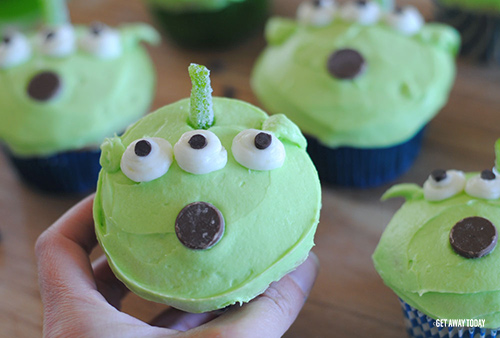 Hopefully these Toy Story Alien Cupcakes help bring a little of the Pixar Fest magic into your home this summer. If you're able to, you'll want to make sure you visit the real thing in Disneyland. Pixar Fest runs through September 3rd and helps celebrate the opening of Pixar Pier on June 23rd. Plan your summer vacation now to experience one, or both, of these incredible events! You can save the most when you combine our discount Disneyland tickets and reduced hotel rates. Book online now or give our Disney experts a call at 855-GET-AWAY.

Check out more Pixar Fest inspired crafts and recipes: