UPDATED MARCH 2020 This Disney Piggy Bank will make saving for a Disneyland vacation a family affair. The free foldable savings bank features Hamm from the Toy Story movies. It is easy to create and fun to fill!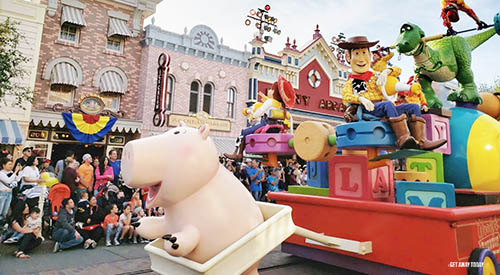 As of 2019, Pixar Pier is complete at Disney California Adventure Park! There are four separate "neighborhoods," each with their own theme. We have Toy Story Boardwalk, Incredibles Park, Pixar Promenade and Inside Out Headquarters.
Toy Story Boardwalk makes guests feel they're the size of a toy wandering around Andy's Room. Toy Story Boardwalk features Toy Story Midway Mania!, Jessie's Critter Carousel, Poultry Palace and Senor Buzz Churros.
Incredibles Park is home to the Incredicoaster and Jack-Jacks Cookie Num Nums. One of the best places to view the Incredicoaster is from the boardwalk in front of Adorable Snowman's Frosted Treats while you enjoy a soft-serve dessert.
Pixar Promenade is the spot to go if you love the California boardwalk vibe. Here you'll find Pixar Pal-A-Round, the iconic ferris wheel of California Adventure. You can choose stationary or swinging carriages on Pixar Pal-A-Round; each line is clearly marked before you enter the queue. Pixar Promenade also features boardwalk-style games, including Heimlich's Candy Corn Toss, Wall-E Space Race, La Luna Star Catcher and Bullseye Stallion Stampede.Stop by the bandstand shell for live performances, and be sure to visit Bing Bong's Sweet Stuff for treats and souvenirs.
And finally, at the western end of the Pier is Inside Out Headquarters, with Inside Out Emotional Whirlwind. This spinning, colorful ride is great for all ages.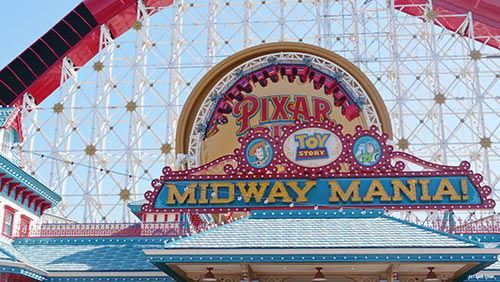 When my family goes to Disneyland, I prepare them in advance for what they can buy while we are at the parks. They typically get to choose one souvenir from the stores and then one special treat. When they know the plan in advance, it helps us to make the experience fun because we are all on the same page! Some of my favorite Disney memories are from watching my children carefully select their favorite item to purchase. They take souvenir shopping very seriously.
Disney Piggy Bank Tutorial
To get the whole family involved, make a Disney Piggy Bank! This free printable Disney Piggy Bank is Hamm from the Toy Story movies. It is very easy to make and use. Kids can help with the folding and the taping.
To start, download and print the Disney Piggy Bank file here. Use heavy duty cardstock paper and color ink. You can print one for each child in your family.
Stock up on craft supplies here:
Disney Piggy Bank - Featuring Hamm from Toy Story
Cut around the solid line outline of the bank.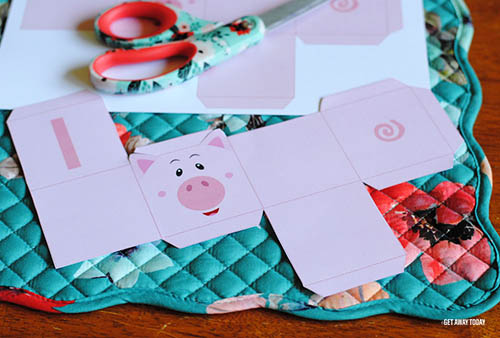 Make sure to cut around the ears of Hamm the pig. The ears will stick up above the bank.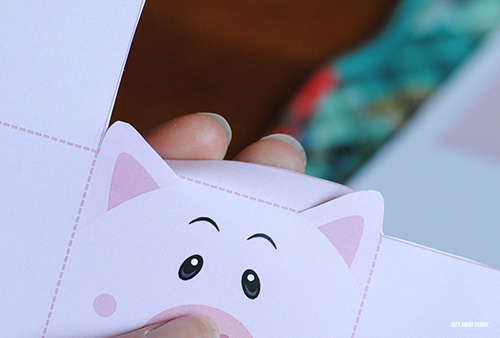 Lay the bank template down on the table so the printed side is face down. Then, fold the little tabs up.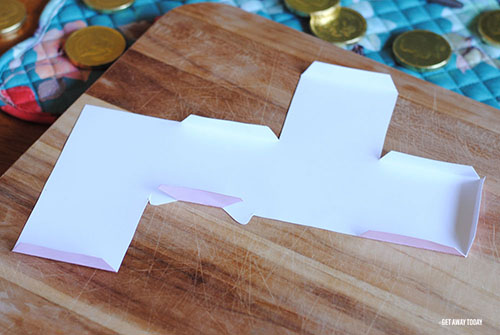 Now, fold each of the lines of the squares up and crease the edges tight.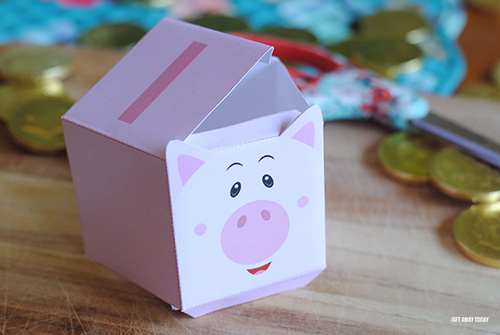 You will want to cut the little square from the top of the piggy bank that allows you to put money in the bank. I didn't do it at this time when I built mine and, looking back, I decided it would be easier to do it before taping the bank together!
Place the template onto a cutting board and then use an Exacto knife to slice out the rectangle hole. If you don't have a blade, you can cut it with scissors. It is just more tricky that way!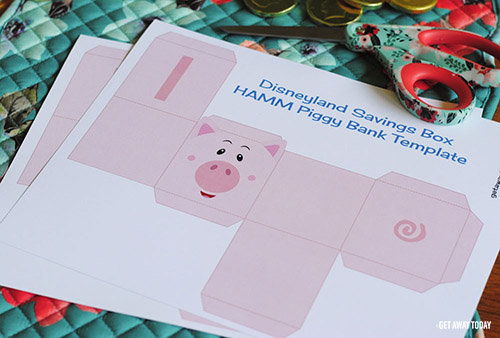 Use double-sided tape to attach the little tabs to the square sides. The Disney Piggy Bank template folds into a 3-D cube. Place a strip of tape on each tab and then press the tape to the inside of the square that it coordinates with.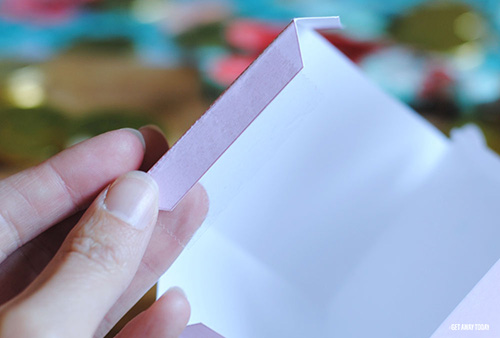 You can choose to tape the lid closed, or just slide the folded tab into the side of the piggy bank so that you have access to the money inside!
Hamm makes a pretty cute Disney Piggy Bank, don't you think?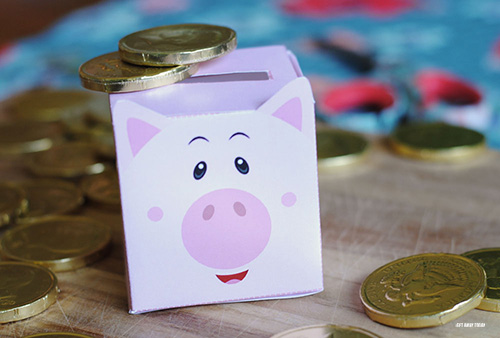 There are so many amazing things to experience for free at Pixar Fest! The parades, fireworks, musical entertainment and decorations are all included in your regular Disneyland Resort ticket! If you want to purchase the adorable merchandise or sample some of the special Pixar treats and eats, then start saving now with this Disney Piggy Bank. It is good for kids to participate in earning money and saving for their Disney vacation. They will appreciate the experience if they have a hand in earning it! Make Hamm one happy pig and try to fill him with as much money as you can before you go.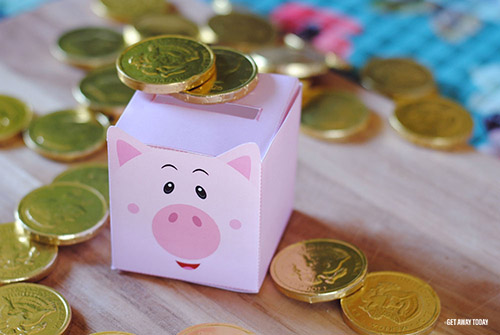 You can start planning your Disneyland vacation with Get Away Today now. We recommend using our Layaway Plan, which lets you lock in your low prices and book for only $175 down - with the rest not due until five days before you go! Your Disney Piggy Bank will be perfect for saving up the money before you go. You can book any of our discount Disneyland packages online or by calling our travel experts at 855-GET-AWAY.

Check out more Disney and Pixar crafts: