The Halloween Time at Disneyland treats are always a hit and never a trick. They are spooktacular! These Mickey Mouse Sugar Skull Treats are a tasty part of the celebration. Learn how to make them at home with this simple tutorial.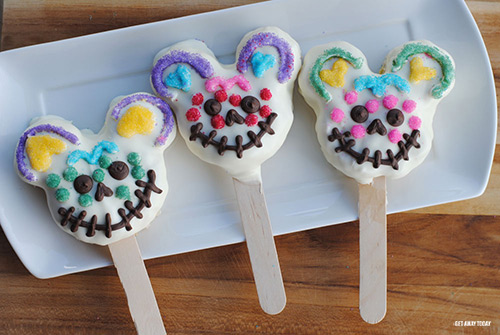 There is so much going on at Disneyland during Halloween Time. It is one of the most popular seasons of the year to visit. Each year the Dia de los Muertos is represented in a seasonal display in Frontierland at Disneyland. It is small, but festive and fun. New for the 2017 celebration is a full Dia de los Muertos festival happening at Disney California Adventure Park! The new event will showcase the upcoming Disney-Pixar film Coco.
The Mexican tradition of the Day of the Dead is a holiday that is spent celebrating life and reconnecting with lost love ones. Children eat sugar skulls and dance with caricatures of death. Instead of being scary, the celebration is meant to help people learn to not fear death and accept the miraculous circle of life.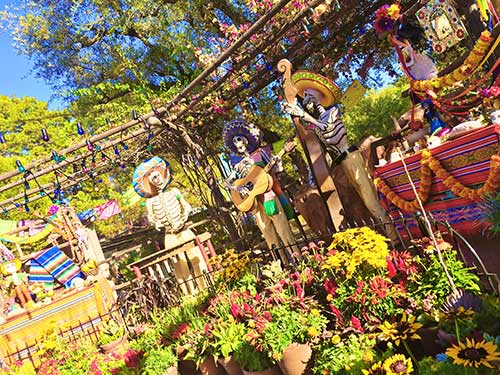 At Disney California Adventure Park, guests will be treated with colorful Day of the Dead decorations, Mexican folk art, and special musicians and dancers. Spirited food inspired by traditional Mexican fare and fun activities will be available for the whole family. You'll find the Dia de los Muertos celebration throughout Disney California Adventure from September 15th to November 2nd. After that, select elements will move to "a bug's land" where they will stay through the holiday season. It's going to be a celebration unlike any other!
Speaking of the delicious food reminds me of one of my favorite Halloween Time treats; the colorful Mickey Mouse Sugar Skull. Disney has a fun tradition of decorating their Rice Krispy treats to match the season, and these Mickey Mouse Sugar Skull treats are one of the cutest. They are sugary sweet, so make sure to share a bite with your best pal. Creating them at home is really quite fun. Get ready to sprinkle colored sugar and lick melted chocolate from your fingertips!
Mickey Mouse Sugar Skull Rice Krispy Treats:
1 large bag of regular marshmallows
1 box of Rice Krispy Cereal
Start by making a batch of regular Rice Krispy treats. I like to melt a stick of butter in a large bowl in the microwave. Then, add the entire bag of marshmallows to the bowl. Place it into the microwave for about one minute. Stir before heating for an additional minute. I typically try not to overcook the marshmallows and just get them big and puffy.
Next, stir in the cereal. I would say about 3/4 of the regular sized cereal box is sufficient. Mix the three ingredients together until the marshmallows are spread evenly over the cereal. Now spread the mixture into a baking dish and press it into the dish so it is tight and smooth.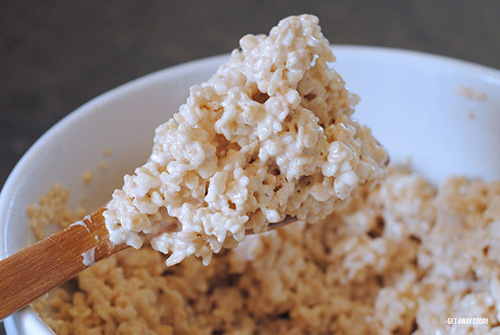 Line a baking sheet with parchment paper. Let the treats cool for about 30 minutes or place them in the fridge for 10 minutes. Once they've set, use your adorable Mickey Mouse cookie cutter to cut out the base for your Mickey Mouse Sugar Skull treats. Lay them onto the parchment paper.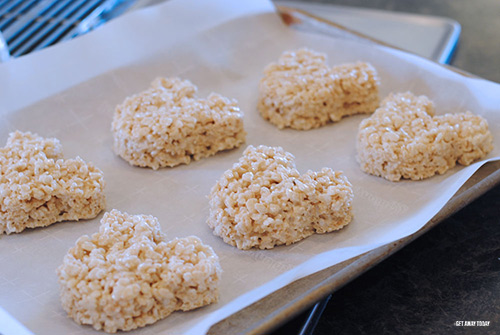 Stick the wooden craft sticks into the bottom of each Rice Krispy treat. Place them in the fridge for about another 20 minutes.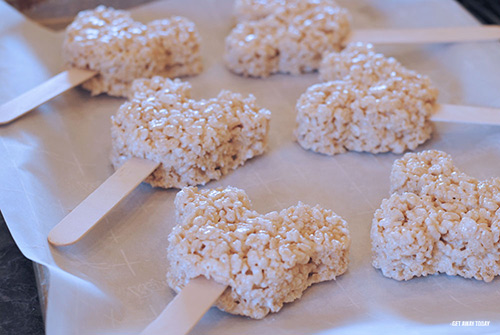 Now it is time to decorate your Mickey Mouse Sugar Skull treats! This is the fun part. You will need quite a bit of white chocolate to cover six finished Mickey Mouse Sugar Skull Rice Krispy treats. I recommend getting the high quality melting chocolate as the lower quality chocolate is similar to wax.
Place a cup of white chocolate melting chips into a bowl and microwave for about 45 seconds. The chips will not be totally melted, but that is ok! Stir until all of the chips dissolve into a warm creamy chocolate syrup. Do not overcook the chocolate or else it will get clumpy and become hard to work with.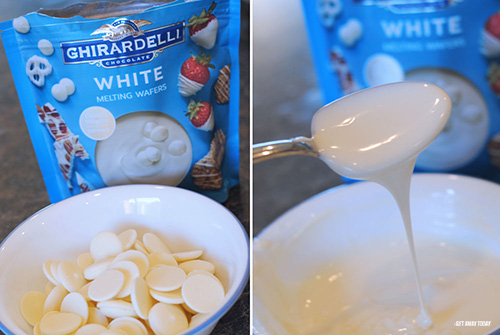 Dip each Mickey Mouse Sugar Skull into the chocolate to cover on one side. Then, lay it on the parchment paper to set up. You may need to scrape some of the last bits of chocolate from the bowl onto the top of the treats and spread it with a spoon if it gets too shallow for dipping. You can always melt more chocolate, too!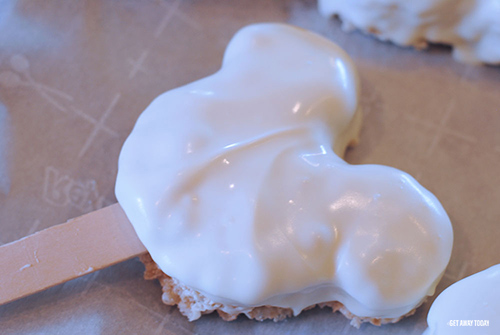 Once the chocolate is hard melt 1/2 cup of white chocolate in the microwave following the same procedure as before. Place the melted chocolate into a plastic frosting piping bag that has been fitted with a small round tip.
You will make the face designs by piping chocolate onto the Mickey face and then sprinkling sugar onto the chocolate before it sets up. Sugar gets dumped all around the design, but it only sticks to the part with the fresh chocolate. The rest can just shake off into the sink or onto a plate. Get ready for a bit of a mess! I also blew the excess sugar off with my mouth if it was being stubborn.
Start by outlining the ears. I did one treat at a time, piping and then sprinkling. You have to sprinkle the sugar pretty quickly after piping the chocolate for the sugar to stick properly.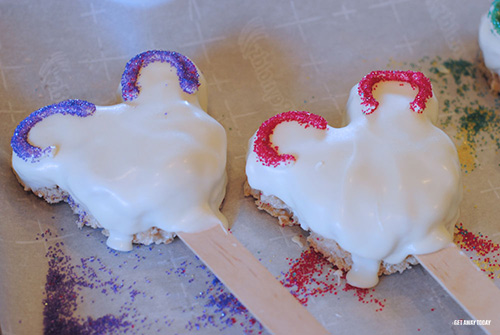 After the ears, add the eyebrows to your Mickey Mouse Sugar Skull treats. Sprinkle them with an alternate color of sugar.
Next, I drew hearts inside of the ears. You can do them upside down or right side up! It is cute either way. Cover with sugar and let set.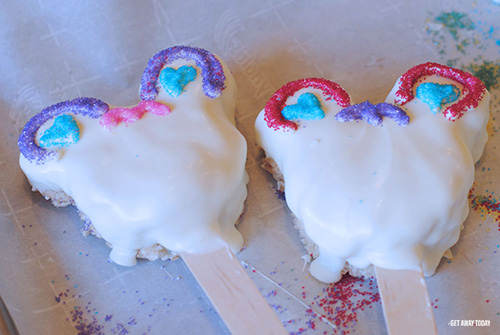 Set the white chocolate aside and melt about 1/4 cup of dark chocolate. It only takes about 30 seconds to warm up in the microwave before you can stir it to melt together. Place the chocolate into the piping bag that is fitted with a small round tip. If you don't have bags and tips, you could also use a sandwich baggie and just snip off the end to make a very small hole.
Draw the eyes and heart nose.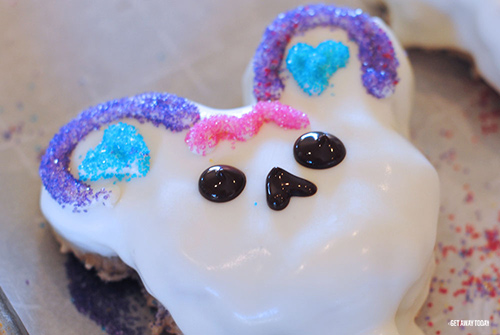 Now add the smile line and cross it with stitches. Your Mickey Mouse Sugar Skull treats are almost complete!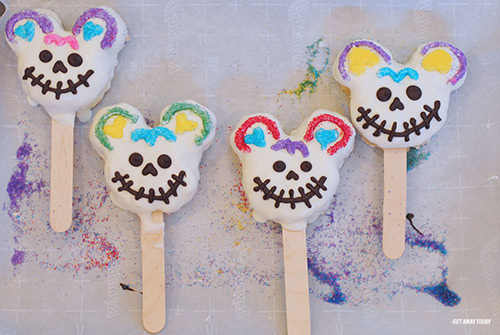 The last part is to add the dot decorations. I had to warm up a tad more white chocolate for this step. Add dots around the face and cover them with the sugar. Brush, shake and blow off the excess sprinkles and your Mickey Mouse Sugar Skull treats are complete! Don't they look adorable?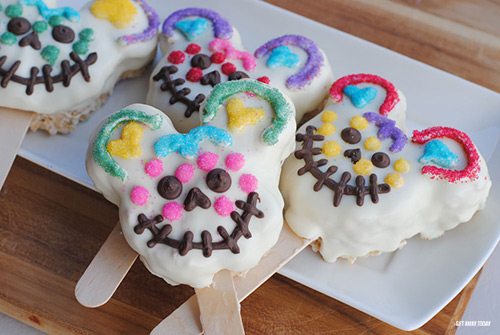 They taste good too! You can find these Mickey Mouse Sugar Skull Rice Krispy treats at the Candy Palace and Pooh Corner in Disneyland. We hope to see them at Disney California Adventure Park this fall as well. Enjoy!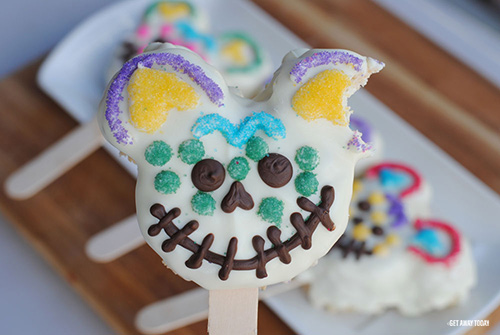 Your wallet won't be scared when you book your Halloween Disneyland vacation with Get Away Today. From discount Disneyland tickets to hotels with Free Night specials, we've got you covered! Book any of our Disneyland packages online or give our travel experts a call at 855-GET-AWAY.

Check out these other spooktacular articles: