Simple pattern and tutorial for a Minnie Mouse Puff Bow. Use your favorite Disney fabric to make a cute accessory to wear at the Disney Parks or wherever you want to feel Disney magic.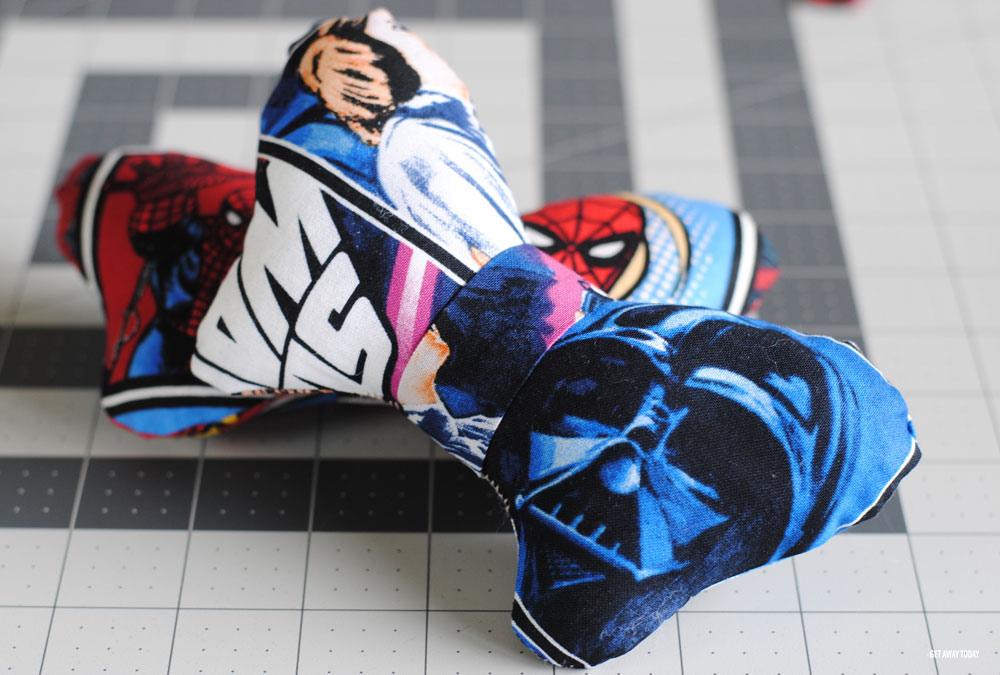 I love wearing cute accessories while vacationing at the Disney Parks! The Minnie Mouse Ears are always a hit. There are so many cute styles to choose between. Sometimes, wearing a headband all day long gives me a little bit of a headache. So, I wanted to find something that would be cute for pictures and festive at the parks, but not be attached to a head squeezer!
Minnie Mouse Puff Bow
Since Minnie Mouse always wears cute bows, I figured a bow for you and me would be the next best thing to ears. This cute Minnie Mouse Puff Bow turned out to be the perfect substitute! I like that the 3-D puffiness makes it feel like part of a cartoon. There are so many cute Disney fabrics out there, you can customize the theme to match any of your favorite characters! So fun.
For the tutorial, I picked Marvel and Star Wars fabrics because they are pretty popular right now at my house. Star Wars Galaxy's Edge is just opening at Disneyland and The new Marvel Land is under construction at California Adventure Park. Two awesome places to explore and experience while looking adorable in a Minnie Mouse Puff Bow. Lets get started!
Minnie Mouse Puff Bow Supplies:
Disney Fabric

Scissors

Straight Pins

Minnie Mouse Puff Bow Pattern

Needle and Thread

Pillow Stuffing
I got some cute Disney fabric at Walmart for only a few dollars. It was packaged as cut by the yard fabric. If you are cutting your own fabric from the bolt, you will only need about 10 inches of fabric. They use very little!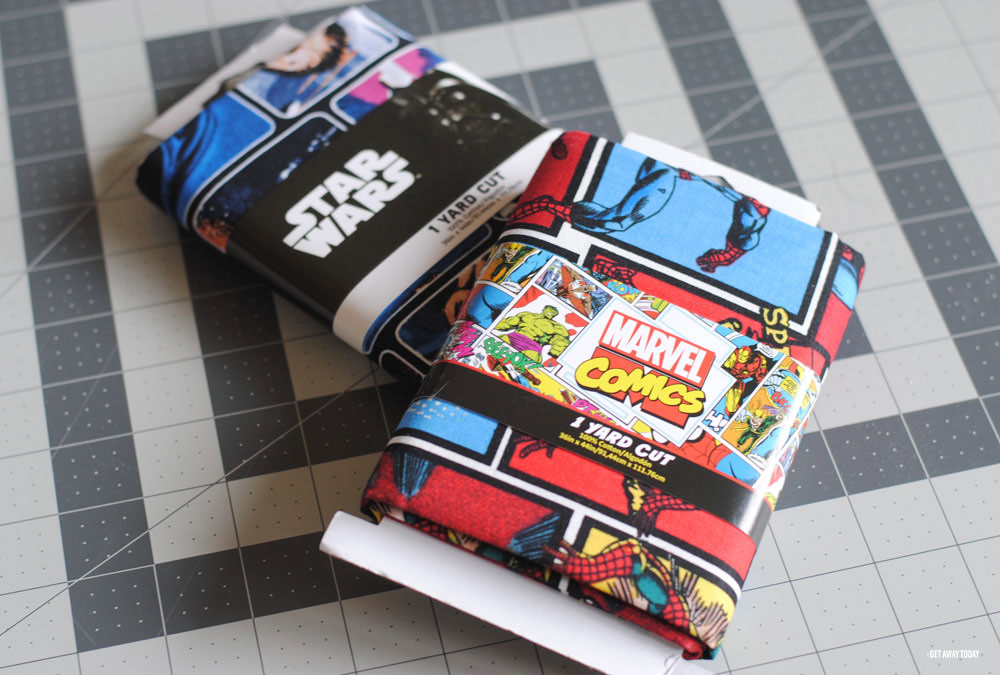 Minnie Mouse Puff Bow - Template
Print off your Minnie Mouse Puff Bow template and cut out the pattern pieces. Find it HERE. Make sure to do a good job following the lines of the pattern. You want smooth edges on the bow.
Fold the fabric so you can lay the curved bow pattern piece on the folded edge. I hunted around to find a good spot on the design for the pattern to lay. I wanted to be sure to get a good picture on the bow.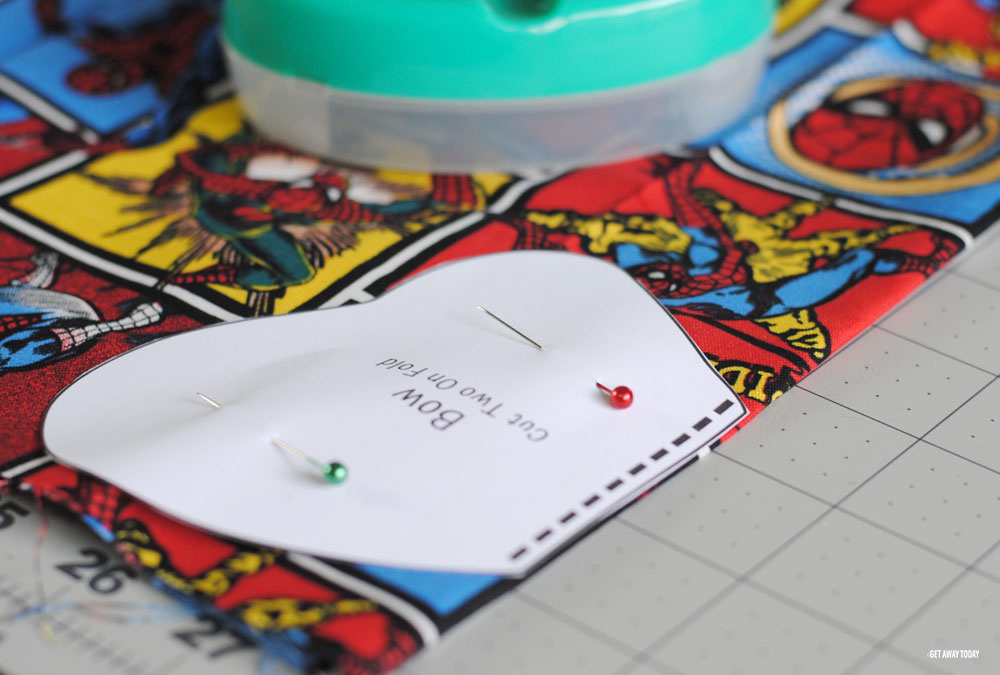 You will need to cut two of these pieces. Pin the pattern in place so it makes cutting easier.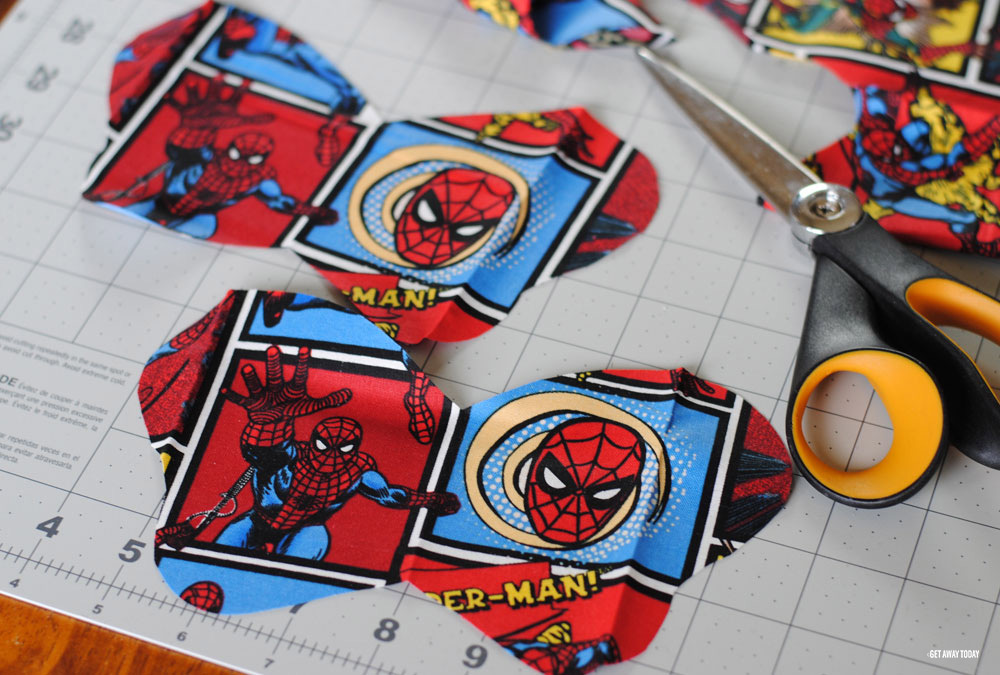 Then, cut out the long rectangle section. You just need one of this piece.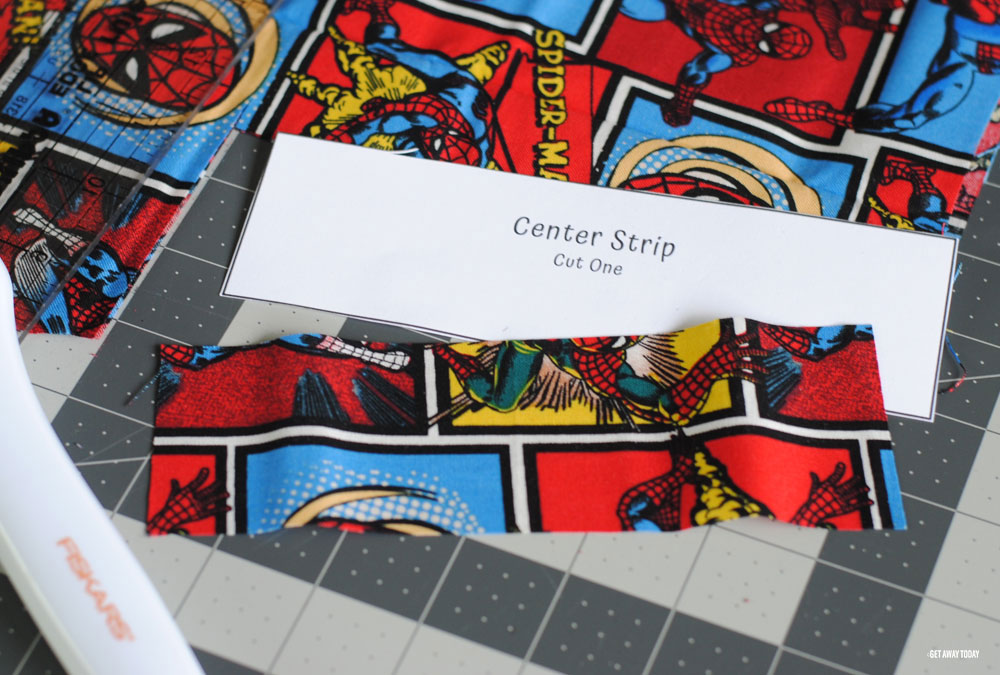 Minnie Mouse Puff Bow - Sewing
Fold the rectangle so the right side of the fabric is together. Then sew a line down the open edge. You are making a long tube. Use about a 1/4 inch seam.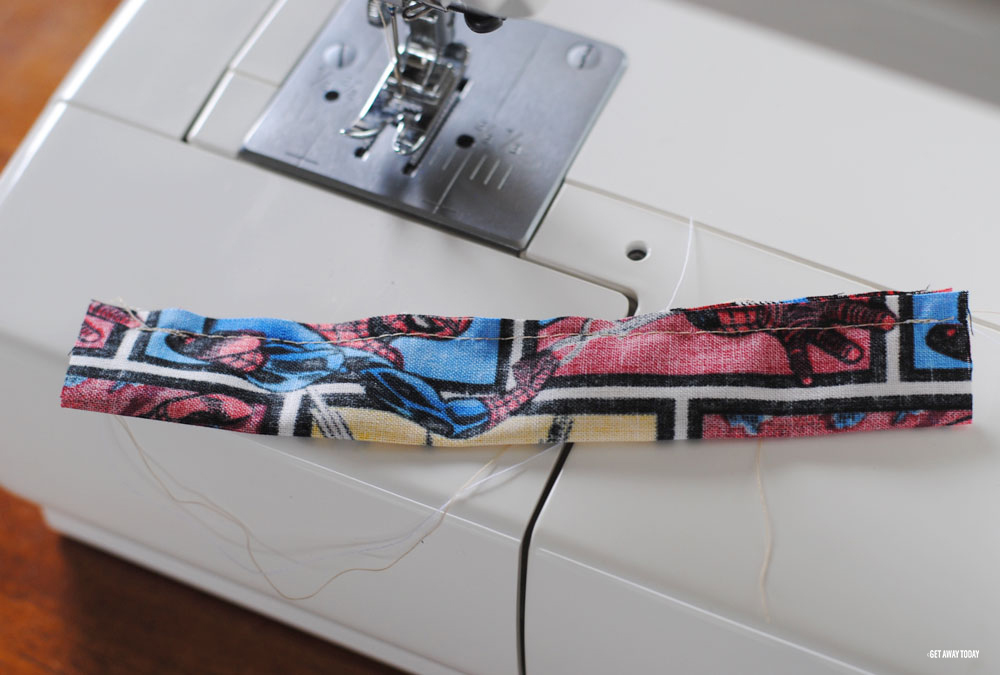 Then, turn the tube inside out so the printed colorful fabric is on the outside. I slide my pinky finger into the hole and then pull it out to inch the fabric around to the correct side. It just takes a little wiggling and pulling.
Iron the strip so that the seam is in the back center. Also iron the bow pieces. Lay the two bow pieces so that their right sides are touching.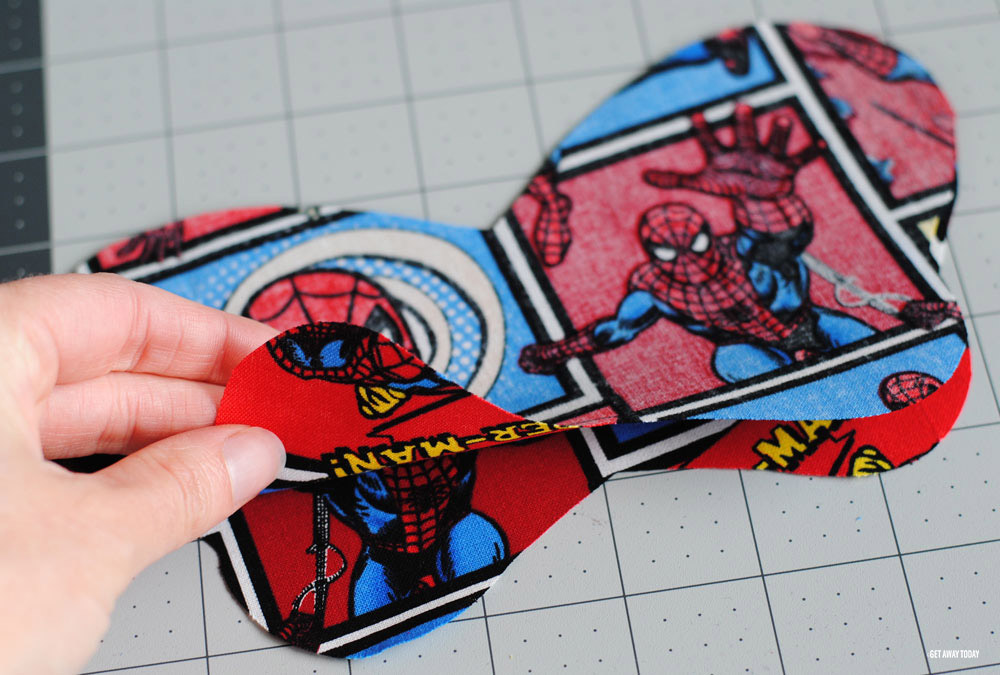 Pin them together with several straight pins. Then, sew around the outside edge. Leave a 1 inch hole at the bottom center so you can turn and stuff the bow later! Make sure to backstitch when you start and stop.
I used a 1/4 inch seam allowance on this as well. Just take it slow and steady. Make sure your stitches are smooth. You may need to leave the needle in the down position and turn the fabric a little bit as you go around the curved edges.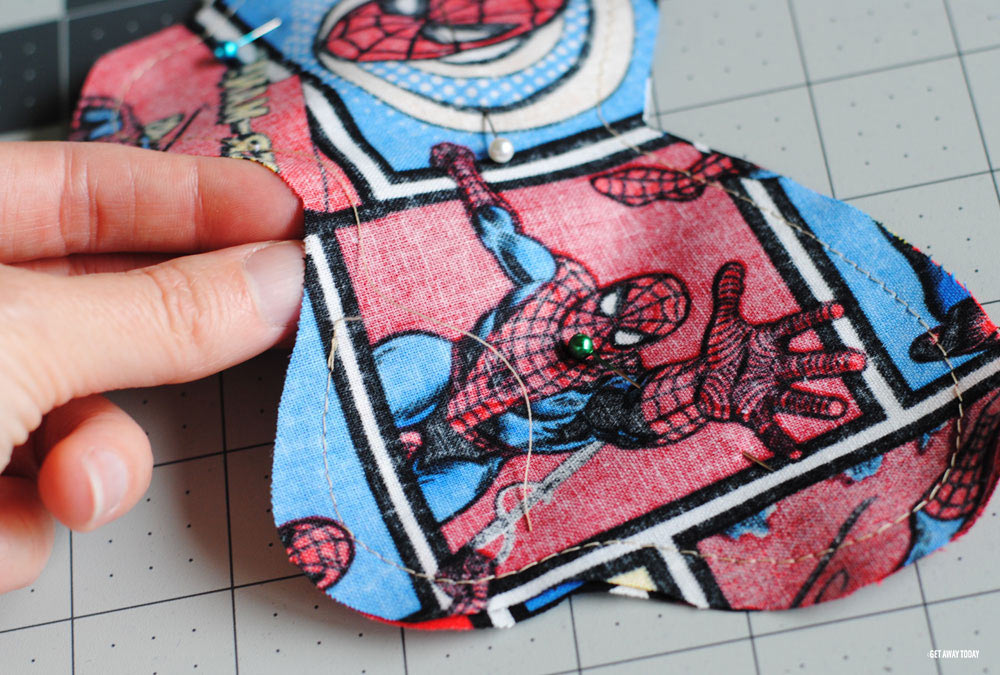 Use sharp scissors to snip little slots along the rounded edges and at the top turning point. These little slits make it so the bow lays flat after you turn it right side out. Just make sure you don't snip down into the thread line! You don't want it to unravel.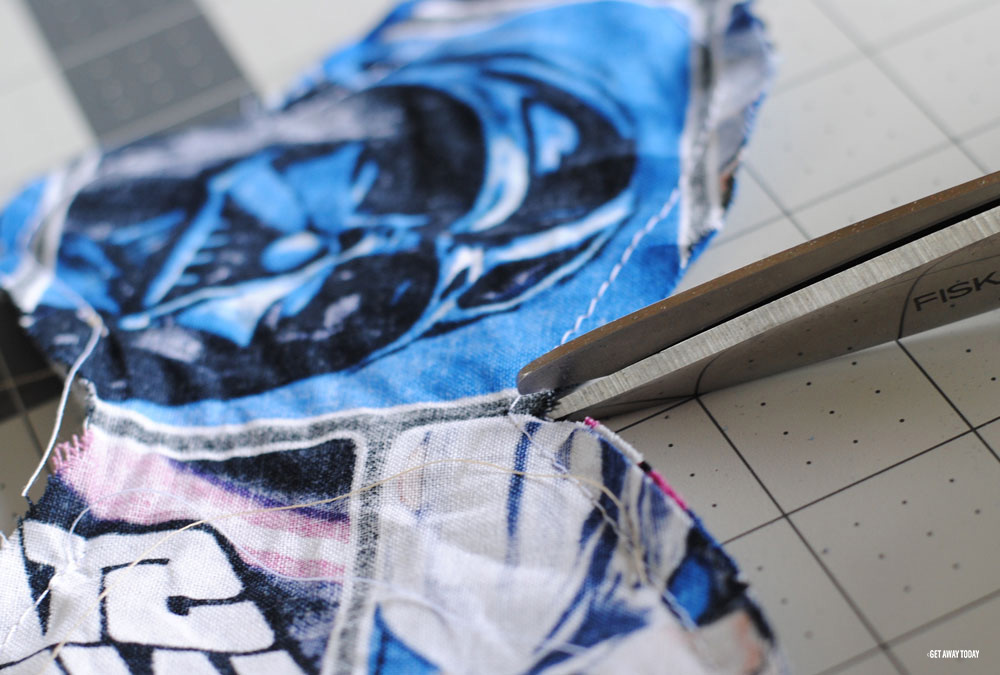 Turn the bow and press the edges out. Then, iron it again. Ironing is a big part of sewing. It keeps projects nice and happy.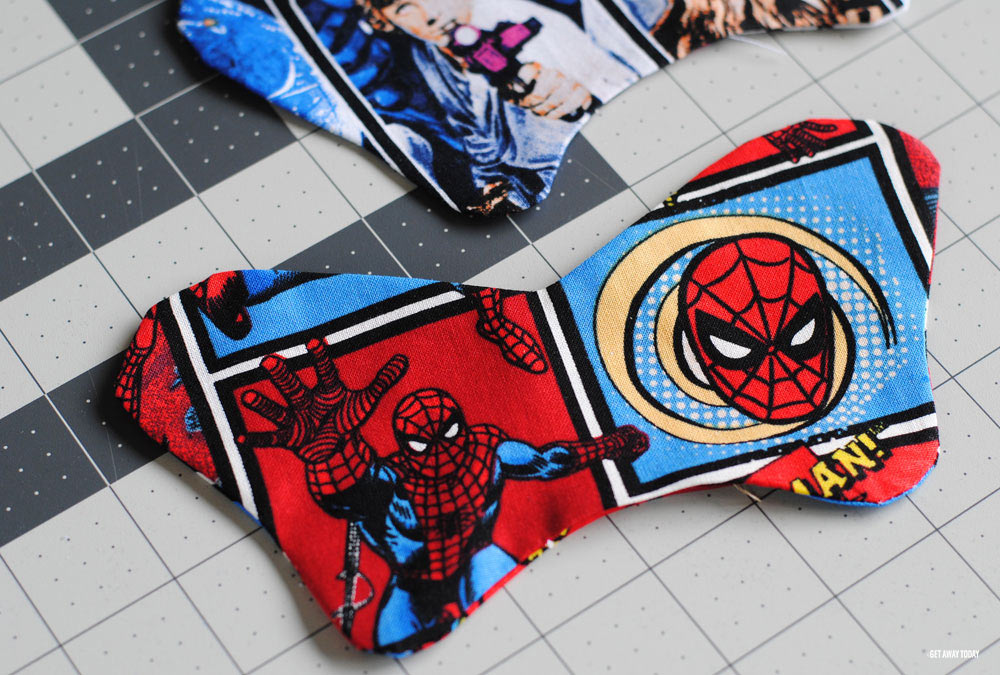 Minnie Mouse Puff Bow - Stuffing
Fill the Minnie Mouse Puff Bow with stuffing. I actually just cut open a pillow and robbed some fluff from that! Push the stuffing into the bow pretty good. You want it to be firm.
Now, sew up the hole at the bottom with a needle and thread. I just did a little loop stitch. It is the easiest one. And the bottom of the bow will be against your head, so it doesn't have to be perfect.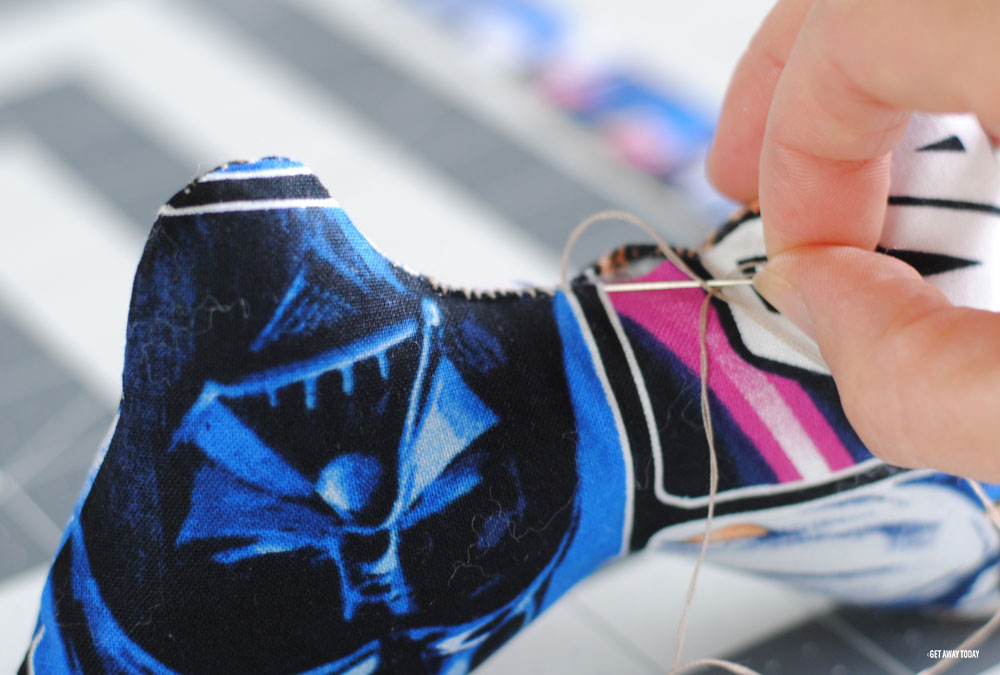 Finish the stitch off with a couple of knots.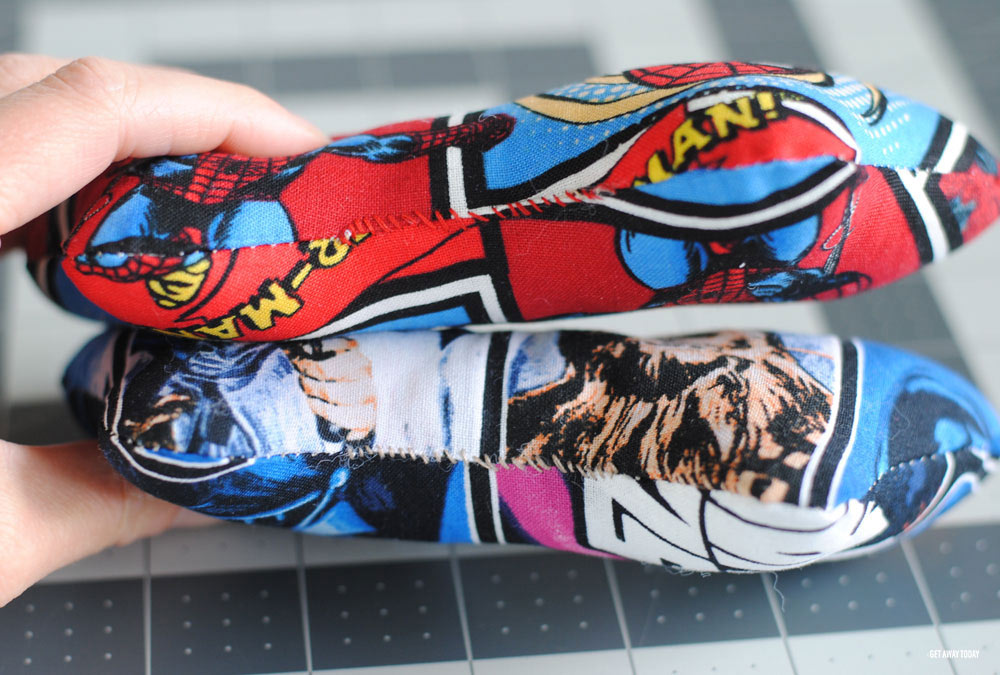 Wrap the rectangle strip around the center of the puff bow. I cut off about 1/2 inch of the length of my strip to make it fit a little bit nicer. You can adjust yours as well. Fold the edges over to make a pretty finished edge and then glue one end to the back of the bow.
Wrap the bow (with a snug fit) and then glue the end of the rectangle strip to the top of the strip that is already secured in place.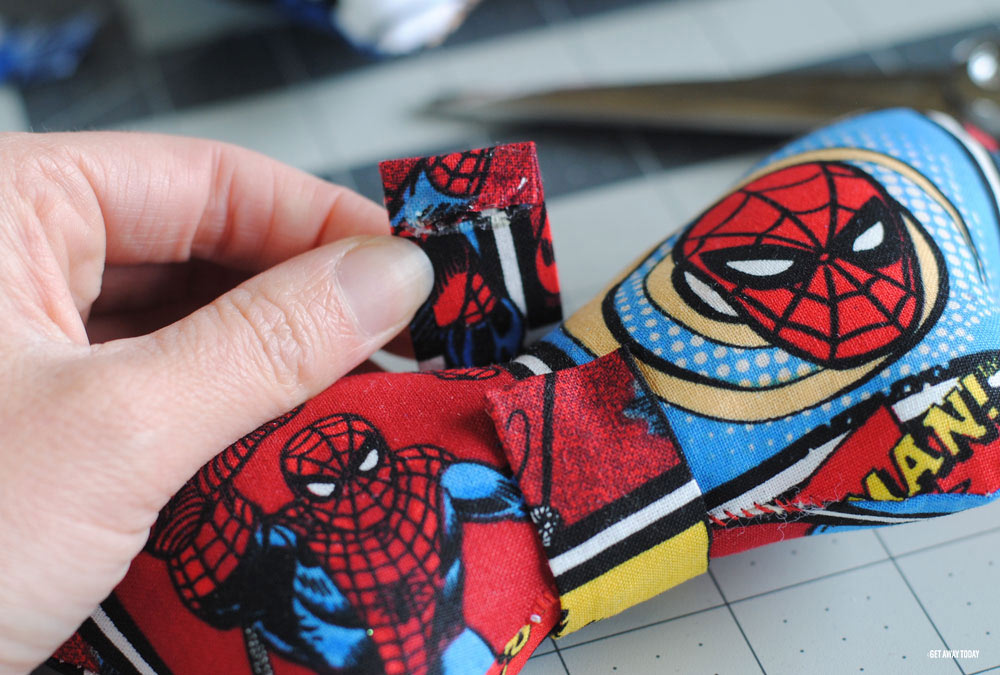 Minnie Mouse Puff Bow - Finishing Up
I found these barrette accessories by the ribbons at the craft store. They just the right size to slide under the rectangle bow wrap in the back of the bow. You can glue it in place if you want.
Just like that, you are finished. These cute Minnie Mouse Puff Bows would be perfect to wear with a high pony or even between two cute Minnie Mouse hair buns. What kind of fabric are you going to choose?! I am thinking a polka dot version would be adorable!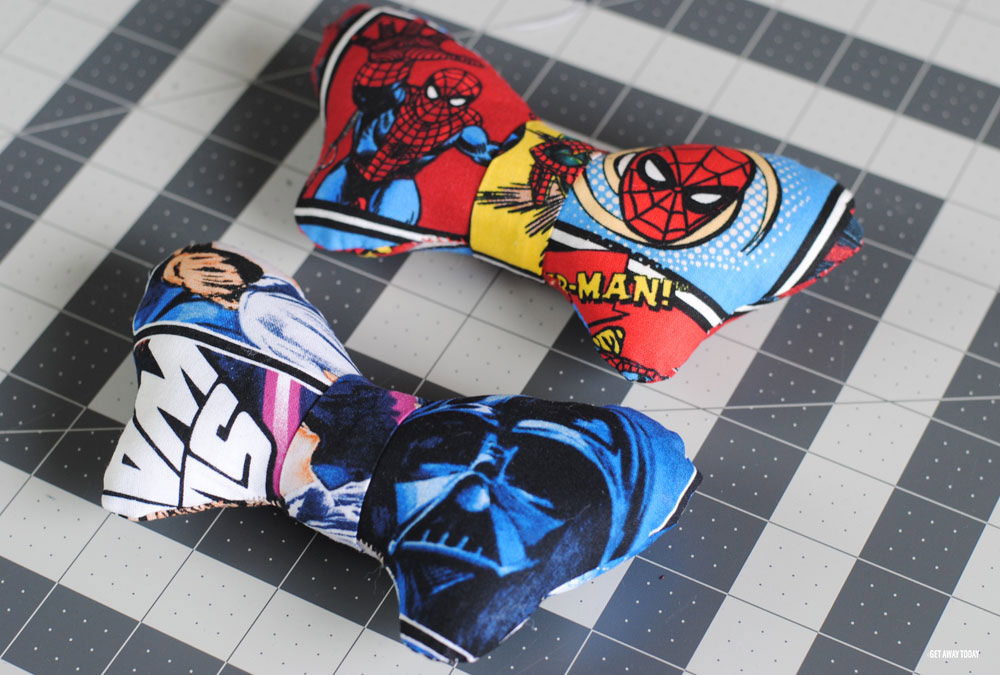 Where will you sport these Minnie Mouse Puff Bows? Naturally we think they would look best at Disneyland, but don't let our opinion sway your mind! If you do want to wear your adorable Minnie bows on vacation, we are more than happy to help you every step of the way. Whether you're heading to Disneyland, Aulani, taking a Disney cruise or have some place else on your mind, we've got you covered! Check out all our vacation packages online or call an agent at 855-GET-AWAY.