Make your own batch of delicious Poutine Fries with this copycat recipe from Disney Springs.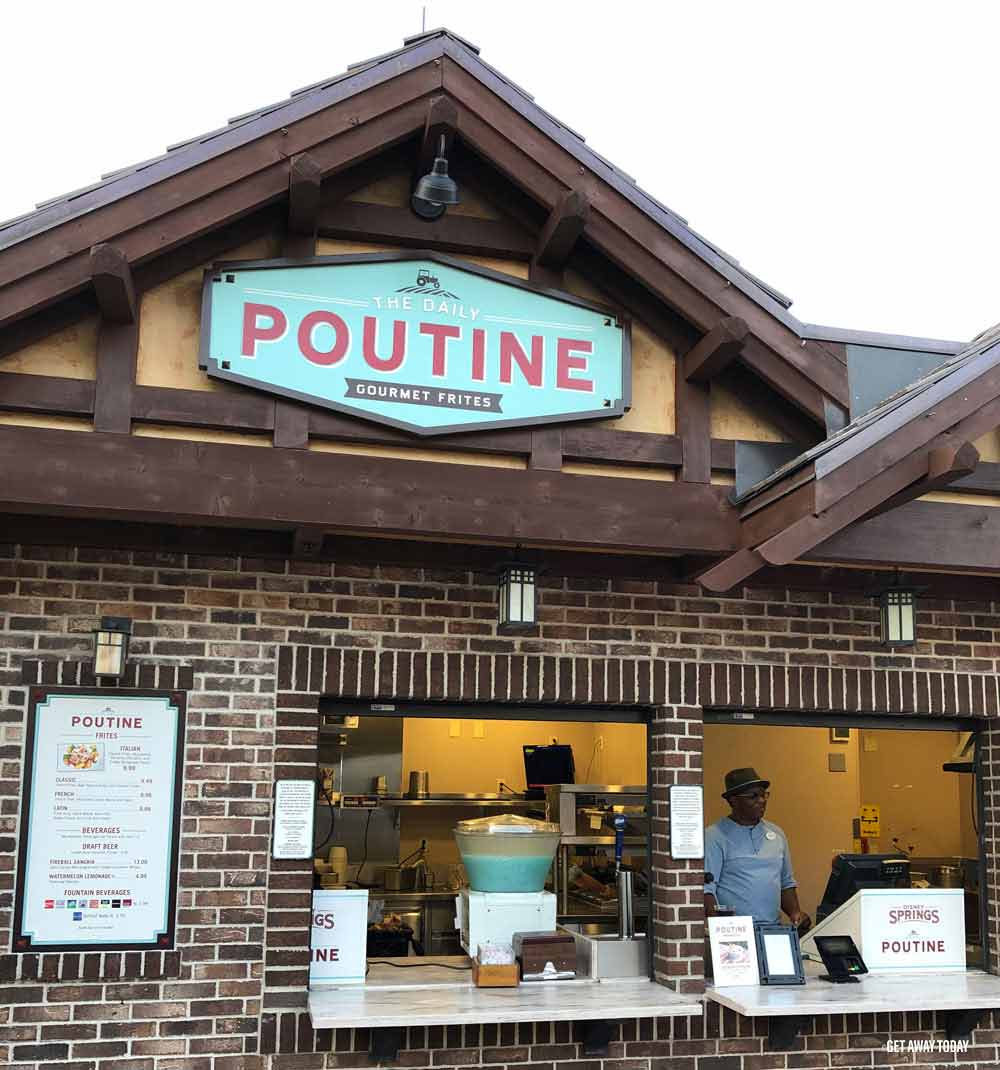 Poutine Fries Recipe - Inspired by Disney Springs
Last week, my husband got to visit Orlando, Florida for a work trip. His hotel was right by Walt Disney World. How lucky is that? In the evenings, he and his work team explored Disney Springs. (If you are a California Disney fan, Disney Springs is like Downtown Disney in Anaheim.) It is an outdoor shopping, dining, and entertainment complex that is extremely festive and fun. He sent me pictures from the Disney Store and Ghiradelli Ice Cream and Chocolate Shop! I was drooling and totally jealous!

I told him it was his job to walk around and find something delicious to eat and then send me pictures. That way, I could make a copycat version at home and feel like I had been to Disney Springs too. He sent me several pictures, but I didn't give him the go ahead until I got this photo of poutine fries!
Ummmmmm...Italian French Fries? Yes please! I think making french fries into a meal is the best idea ever. It is the perfect day-at-the-park food that makes you feel like you are getting a treat but also getting a full happy tummy. Plus, the restaurant is right across from the Disney Store! So, the views can't be beat.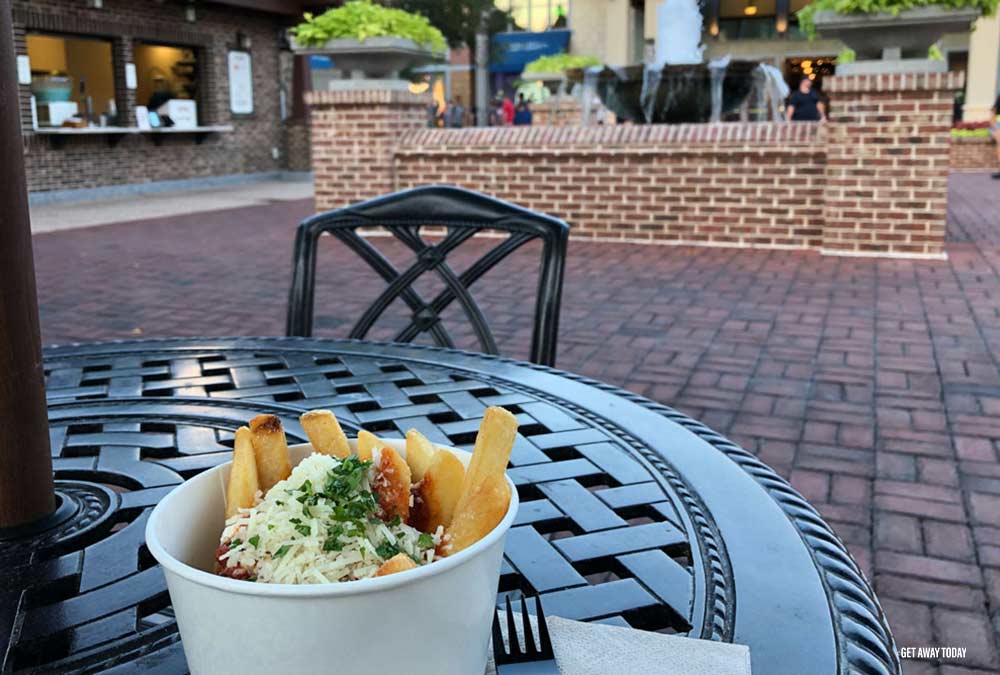 I'm sure you all want to feel like you have spent an evening at Disney Springs too! So, here is the copycat poutine fries recipe I came up with. Enjoy your own Poutine Italian Fries wherever you are. Bon Appetit!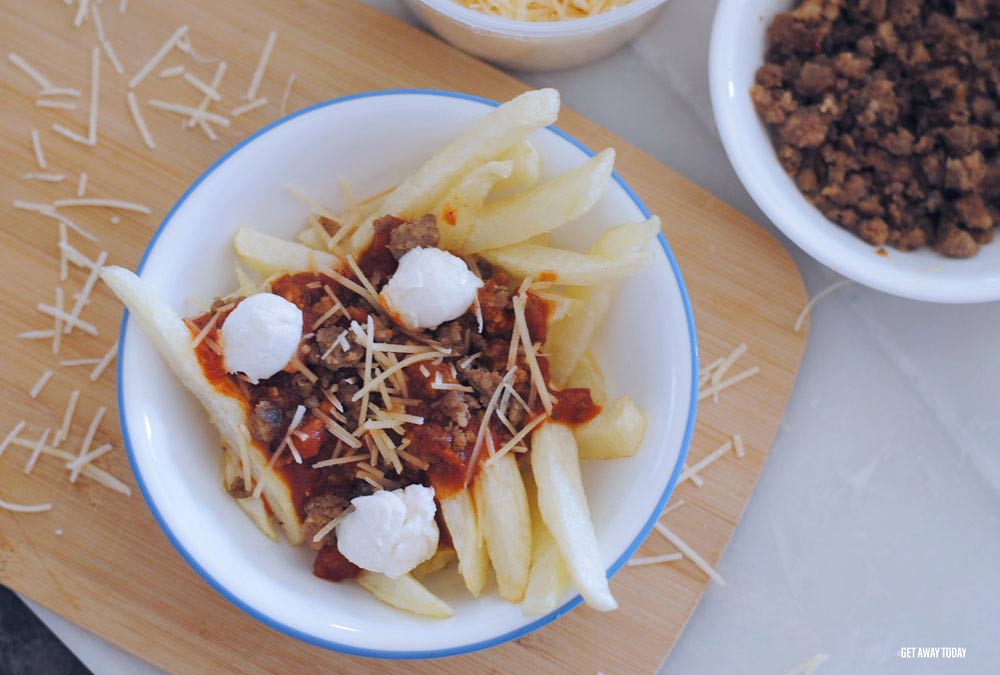 Poutine Fries Recipe:
1 jar Prego Traditional Spaghetti Sauce
1 lb Italian Sausage
8 large Russet Potatoes
1/2 cup hard graded Pecorino Romano or Parmesan Cheese
Fresh Mozzarella
4 cups Vegetable Oil
Poutine Fries Recipe - Getting Started
Start by browning the Italian sausage meat in a frying pan. Cook the meat on medium heat. Break it into small bits with a spatula or wooden spoon. Stir it occasionally until all of the meat is brown and cooked through.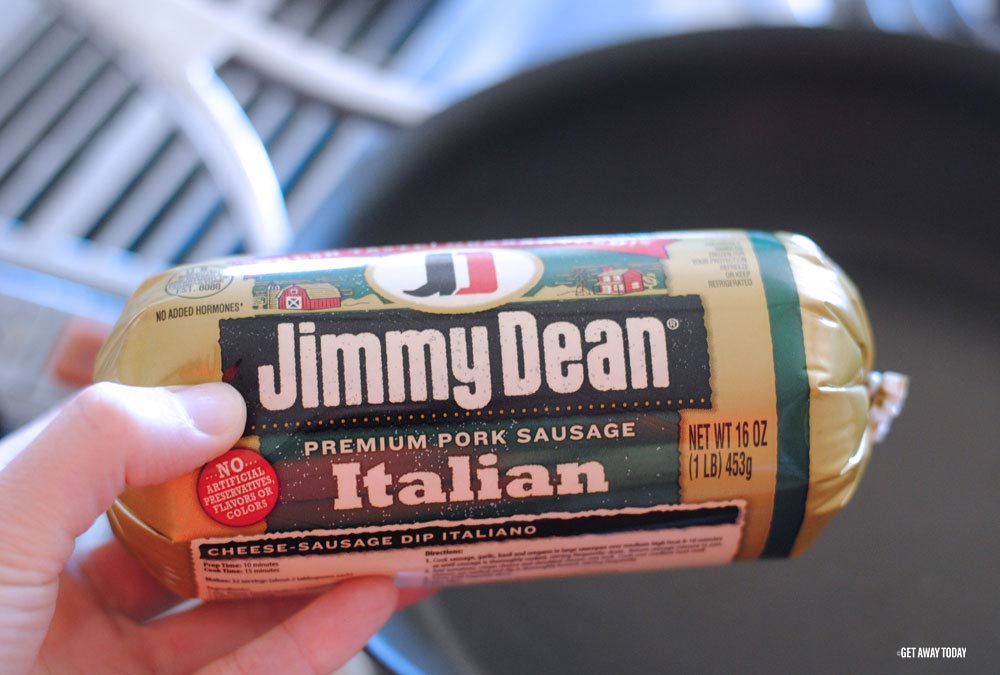 Then, drain the grease from the pan. Add a whole bottle of spaghetti sauce. Prego is my favorite sauce brand. I like the traditional flavor.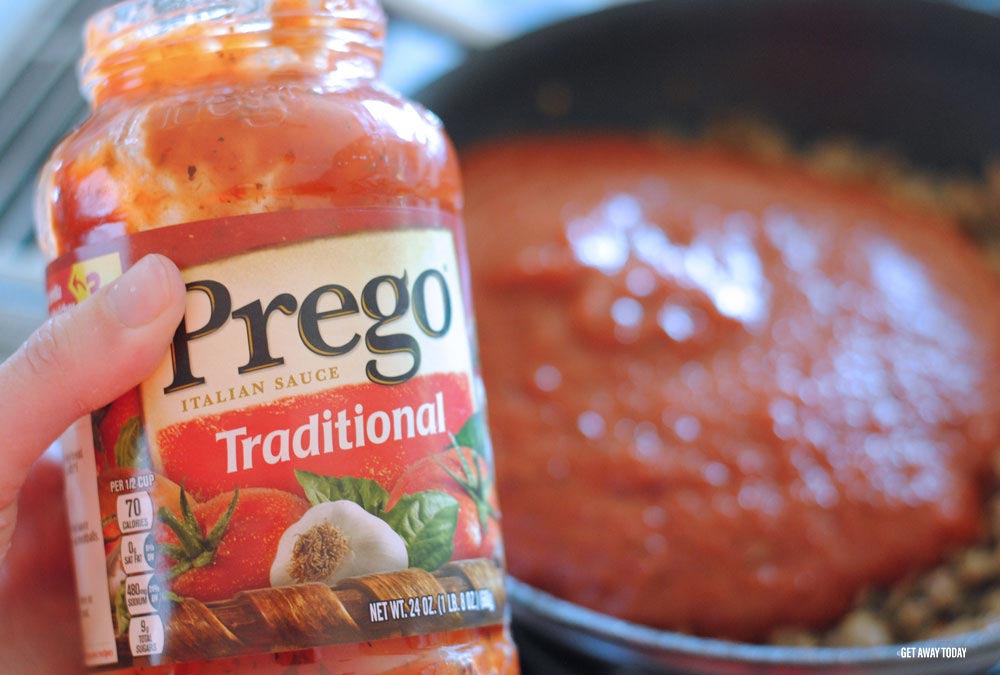 Let the sauce simmer on the stove over low heat.
Then, heat the oil in a large frying pan. The oil needs to get nice and hot before you start cooking! But, don't try to rush the process by turning the heat to high. That could cause a fire! Just warm it up at a reasonable pace on medium-high heat. (About a number 7 if your knob is from 1-10)
Poutine Fries Recipe - Cutting the Potatoes
While the oil is heating, peel and cut the potatoes. You will need about 1 large potato or 2 small potatoes per serving. After all, the french fries are the main dish! That is what we like about this recipe. Make sure to wash the dirt off of the potatoes when they have been peeled.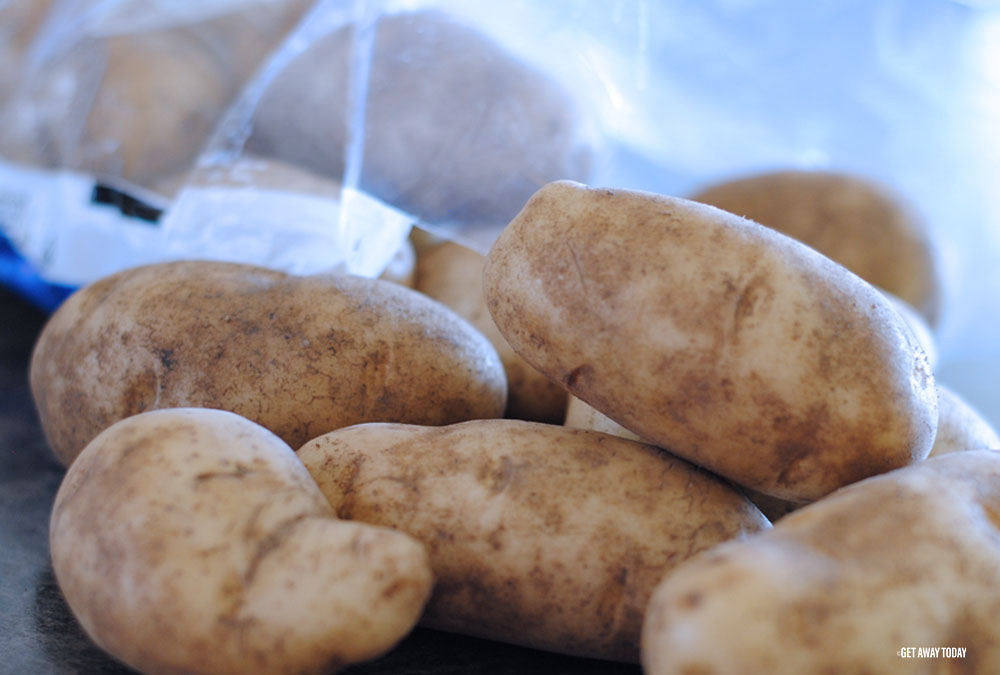 Slice the potatoes into thick french fries. Make sure to use a sharp knife and watch out for your fingers!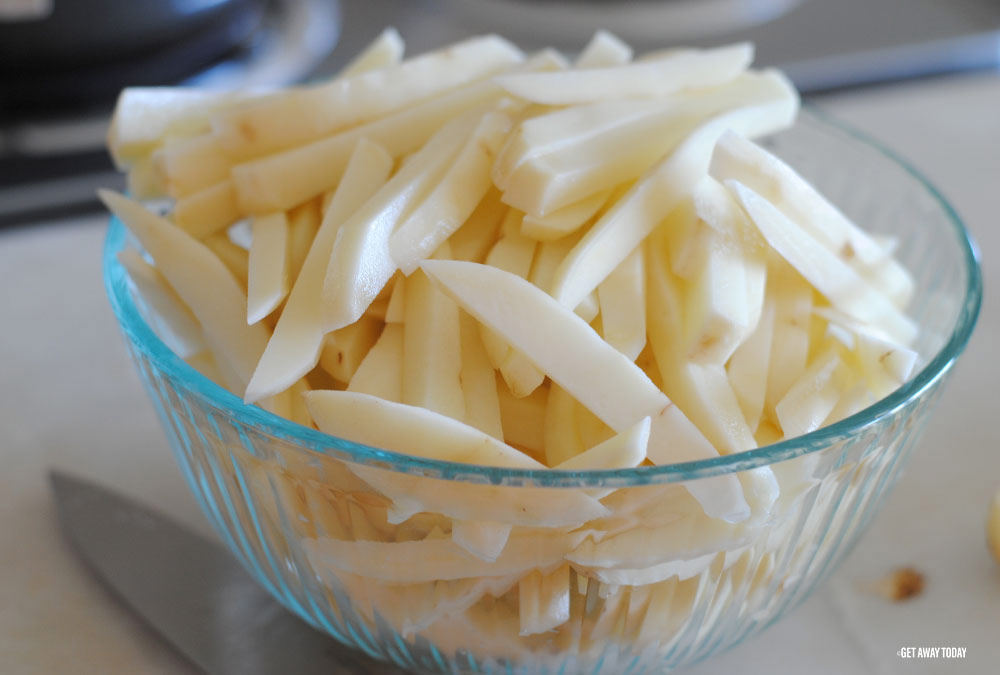 Slide a handful of cut potatoes into the hot oil and then gently stir them so the fries aren't all stuck together in the pan. Let them fry for about 5 minutes. They should be a light golden brown when you take them out.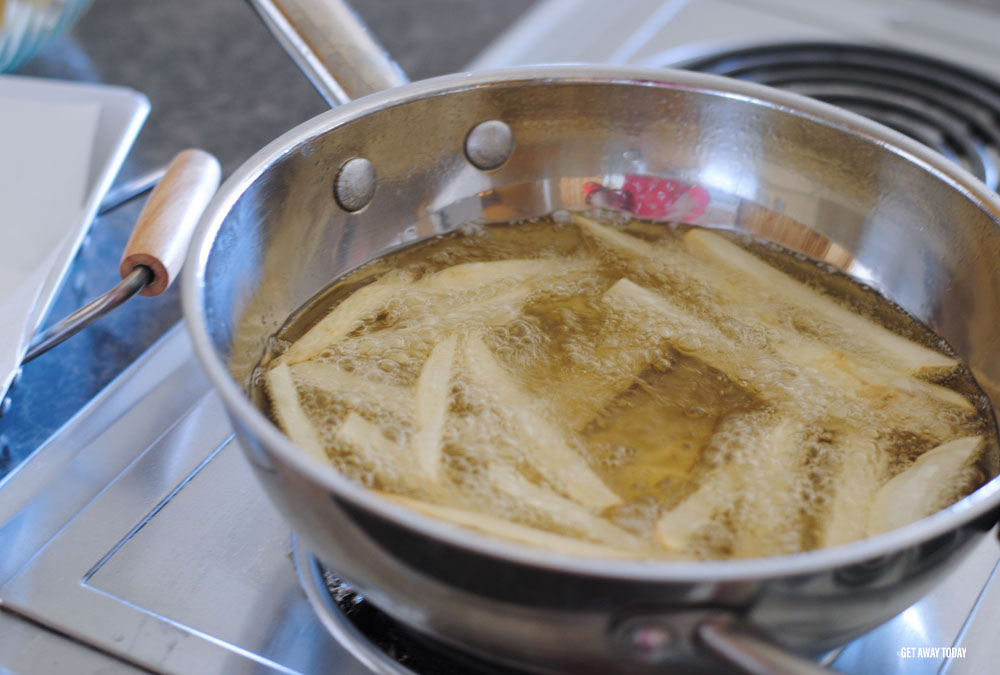 Let the cooked fries rest on a plate with paper towels or set them on a rack so the grease has a chance to drip off or get soaked up in the paper towel. Sprinkle the fries with salt.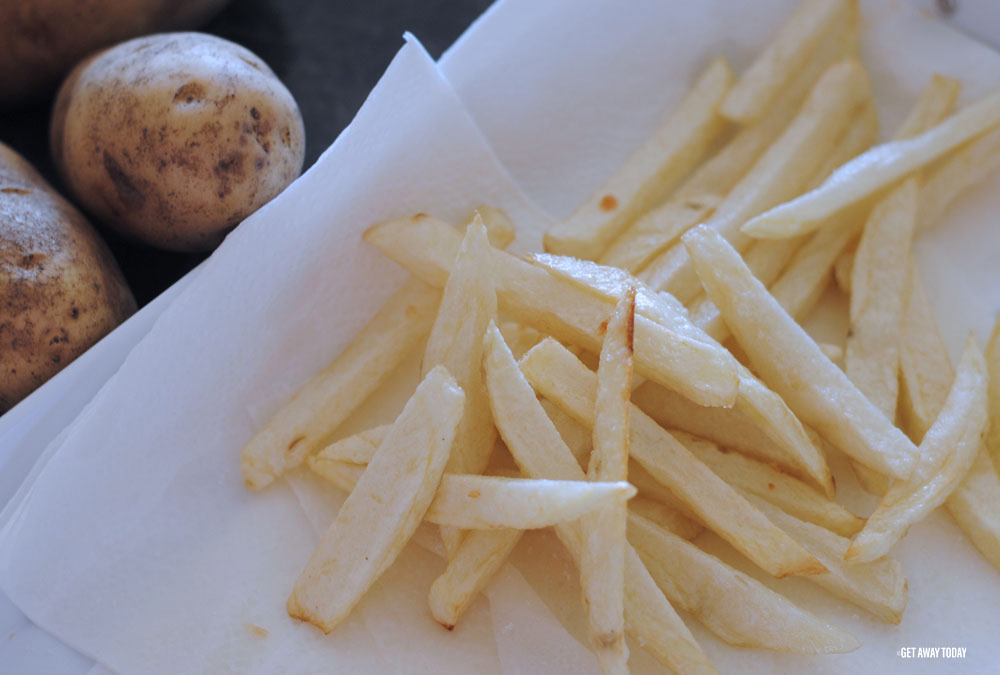 I served the poutine fries in servings as the fries came out of the oil. So, we ate in shifts! But, I thought the meal was best when the fries were fresh and hot.
Poutine Fries Recipe - Dishing Up
Place the hot fries in a bowl.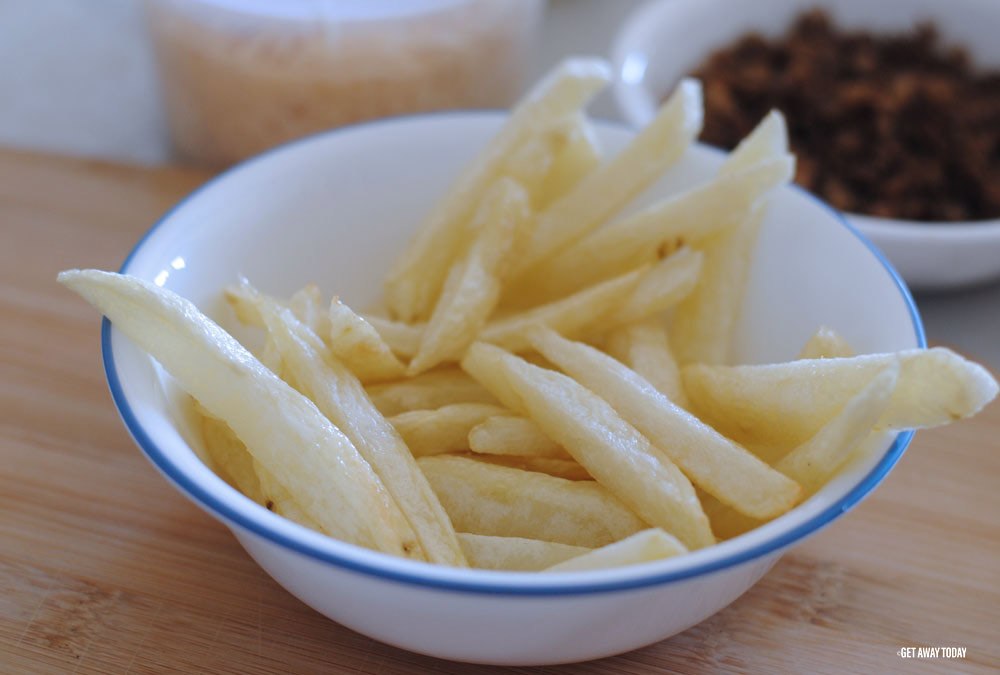 Cover them with a hefty scoop of the meat sauce.
Sprinkle the top with grated cheese. I ended up using a grated Parmesan cheese. I couldn't find the Pecorino Romano cheese at the store. I did read about it online and saw that it has the same texture as the Parmesan cheese but it has a more mild flavor.
Add a few bits of fresh mozzarella cheese to the top. The cheese starts off pretty firm, but as it sits on the warm Italian French Fries and sauce, it starts to melt and get gooey. YUM!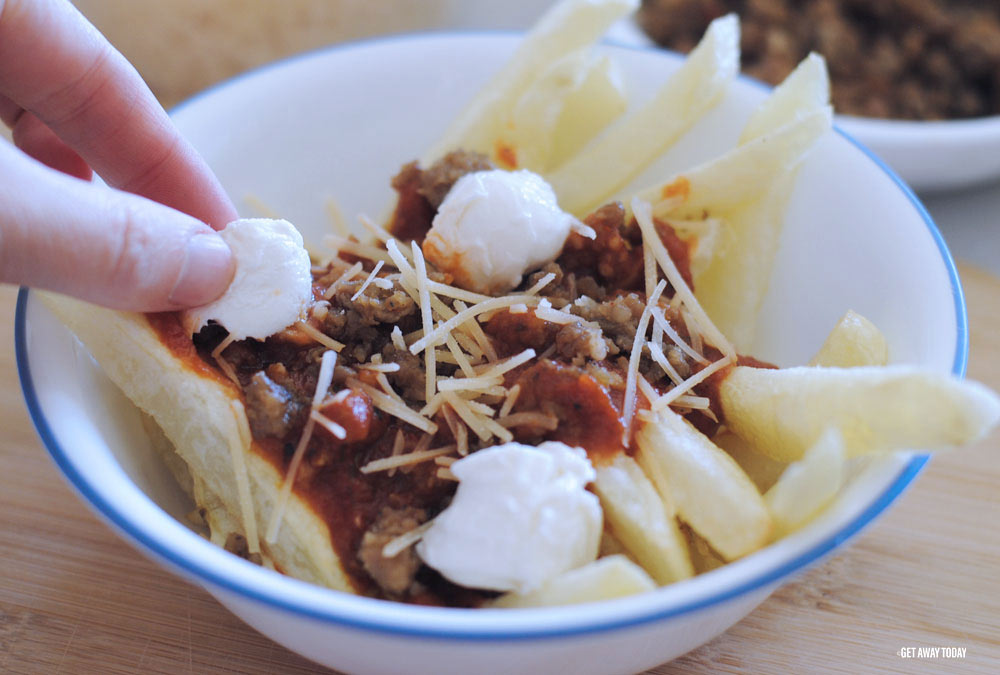 I hope you enjoy a taste of Disney Springs. I sure liked making these awesome Italian French Fries. My husband said that the homemade version was just as good (if not better!) than the ones served in Orlando. Let me know what you think!
If you'd like to try these for yourself fresh from Walt Disney World, you can book discount Orlando vacations with Get Away Today! We not only offer the best prices on Walt Disney World vacation packages, but complimentary Walt Disney World concierge services as well. When you book 2-night and longer packages with us, we'll have a travel expert reach out to help you with the Disney World details. View all Walt Disney World packages online, or give us a call at 855-GET-AWAY.