Have you ever wanted to experience Europe and the beauty it has to offer? Did you know river cruises are a wonderful way to see much of what Europe has to offer? Read our review of the Romantic Rhine Cruise offered by Viking Cruise Line onboard the Viking Hlin. The Romantic Rhine itinerary sets sail from Basel, Switzerland to Amsterdam, Netherlands and it's perfect for couples.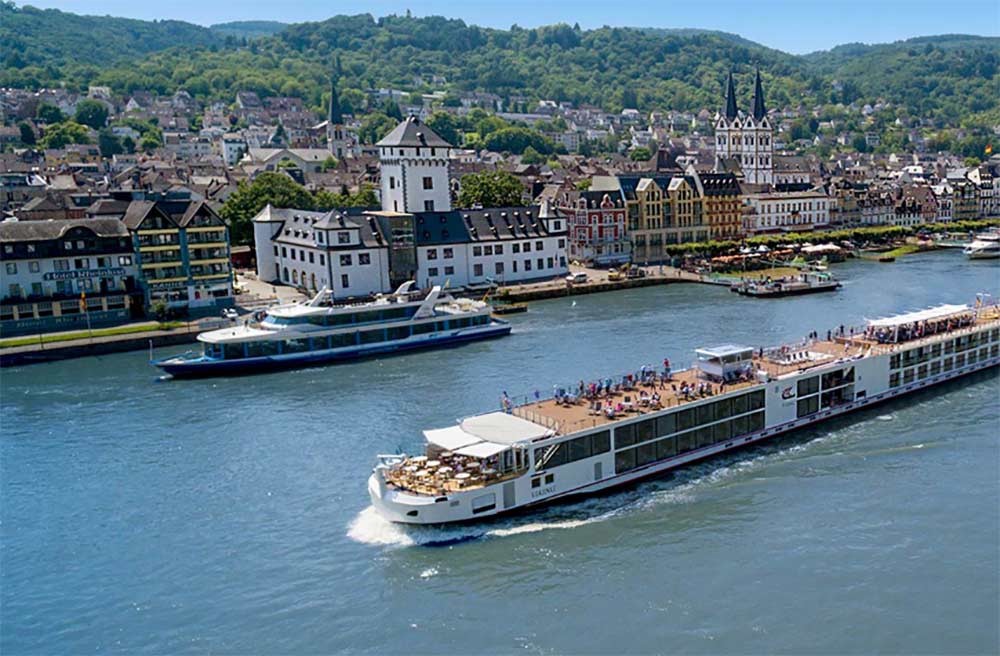 Romantic Rhine Cruise - Viking Rive Cruises
We always say we loves cruises because they offer more than one vacation experience while only having to unpack once. Viking River Cruises offer an opportunity to celebrate an anniversary or just have a romantic get away. See what Jen, our Executive VP, loved about the Romantic Rhine Cruise she recently took to celebrate her wedding anniversary.
Romantic Rhine Cruise - Viking Hlin Staterooms
The ships in the Viking Cruise Line are all the same, which means you spend less time comparing amenities and more time comparing itineraries. Your stateroom on the Viking Hlin provides the ultimate in comfort while you sail to romantic destinations along the Rhine. Enjoy the classy decor, comfortable bedding and the heated floors in the bathroom. You'll have everything you need in your home-away-from-home on the Rhine.
Viking Hlin staterooms offer various views, so you are welcome to request a Standard, French Balcony or Veranda stateroom. There are also Veranda and Explorer Suites, which range in size from 275 to 445 square feet. Enjoy river views from all, as well as amenities including the following: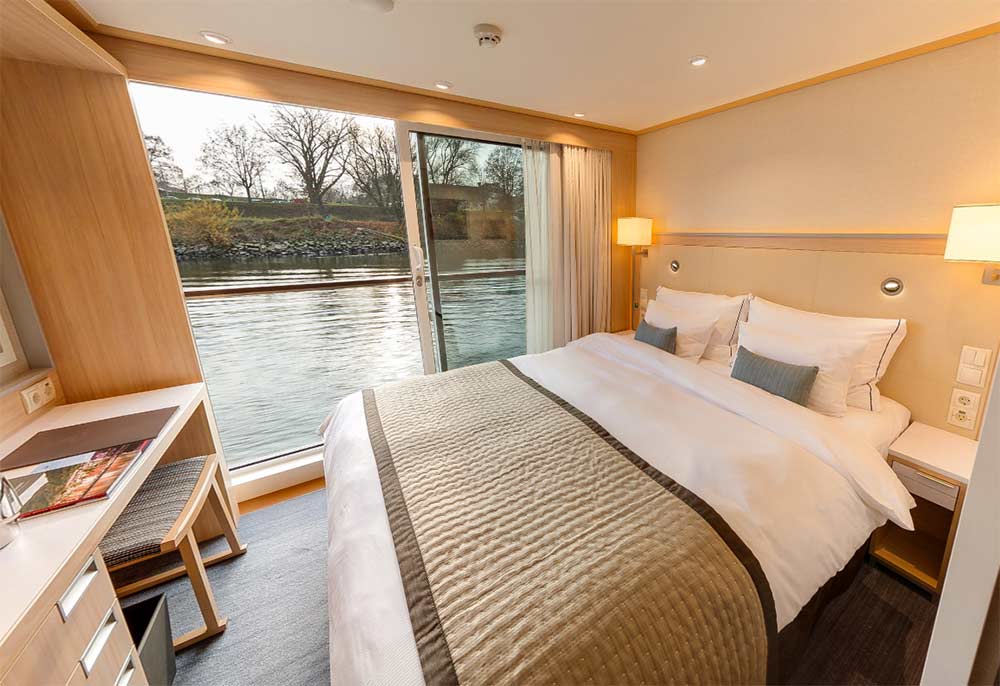 Complimentary WiFi (connection speed may vary)
40" flat-screen TV
110/220 volt outlets & USB ports
Telephone, safe, refrigerator, hair dryer & individual climate control
Premium Freyja® toiletries; plush robes & slippers available upon request
Bottled water replenished daily
Stateroom steward & twice-daily housekeeping
Space under bed for storing suitcases
Spacious closet
Romantic Rhine Cruise - Viking Hlin Dining
On a Romantic Rhine Cruise, you'll savor delicious regional fare, which includes beverages. On her anniversary vacation, Jen made sure she didn't miss a single meal offered onboard! You may find yourself visiting with ship's chef during your meals, and you'll be delighted by the customized service offered by rest of the ship's staff. Also, inquire about kitchen tours that offer menu samplings.
Breakfast: The Hlin prepares a beautiful spread of local cheeses, fruit, oatmeal, pastries and cook-to-order omelets for breakfast. There is also a menu off of which guests can order.
Lunch: Much like breakfast, lunch offers a light buffet, as well as menu options.
Dinner: Each evening, dinner can be ordered from the menu. Again, the emphasis is on local cuisine, depending on where you are in your itinerary.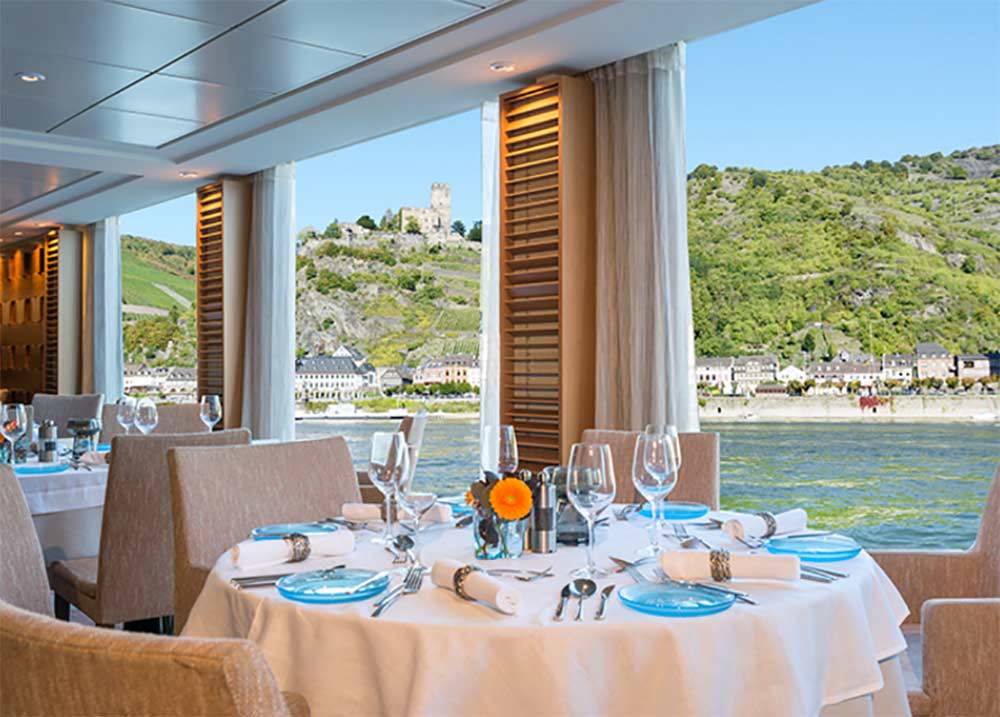 Romantic Rhine Cruise - Viking Hlin Onboard Activities
A river cruise is about exploring the destinations, so as a result the onboard activities are minimal. Romantic Rhine Cruise ships typically offer shuffle board, a walking track and a lounge area. You can also enjoy music and dancing onboard, plus access to a library, card games and more. Your itinerary will also include demonstrations from locals, such as glass blowing, musical concerts and lectures. Jen said there was a lot of options, but the vibe onboard was still very relaxing.
Romantic Rhine Cruise - Shore Excursions
Small but mighty, Romantic Rhine river cruises offer a shore excursion at every stop! This itinerary is such a great deal, and each excursion is hosted by a local tour guide. Depending on the length of your itinerary, you may get to experience the following ports along the Rhine:
Basel, Switzerland: Ground transfer from the airport to your ship is included in Basel. Depending on your arrival time, you may be able to explore the city on your own before boarding and enjoying dinner onboard.
Breisach, Germany: Known as the "gateway to the Black Forest," Breisach is home to wine country, beautiful mountains, rolling hills and a workshop that's open for cuckoo clock demonstrations. You can eat lunch on the ship, then return to the city and learn about Black Forest cake, visit museums and take in medieval architecture.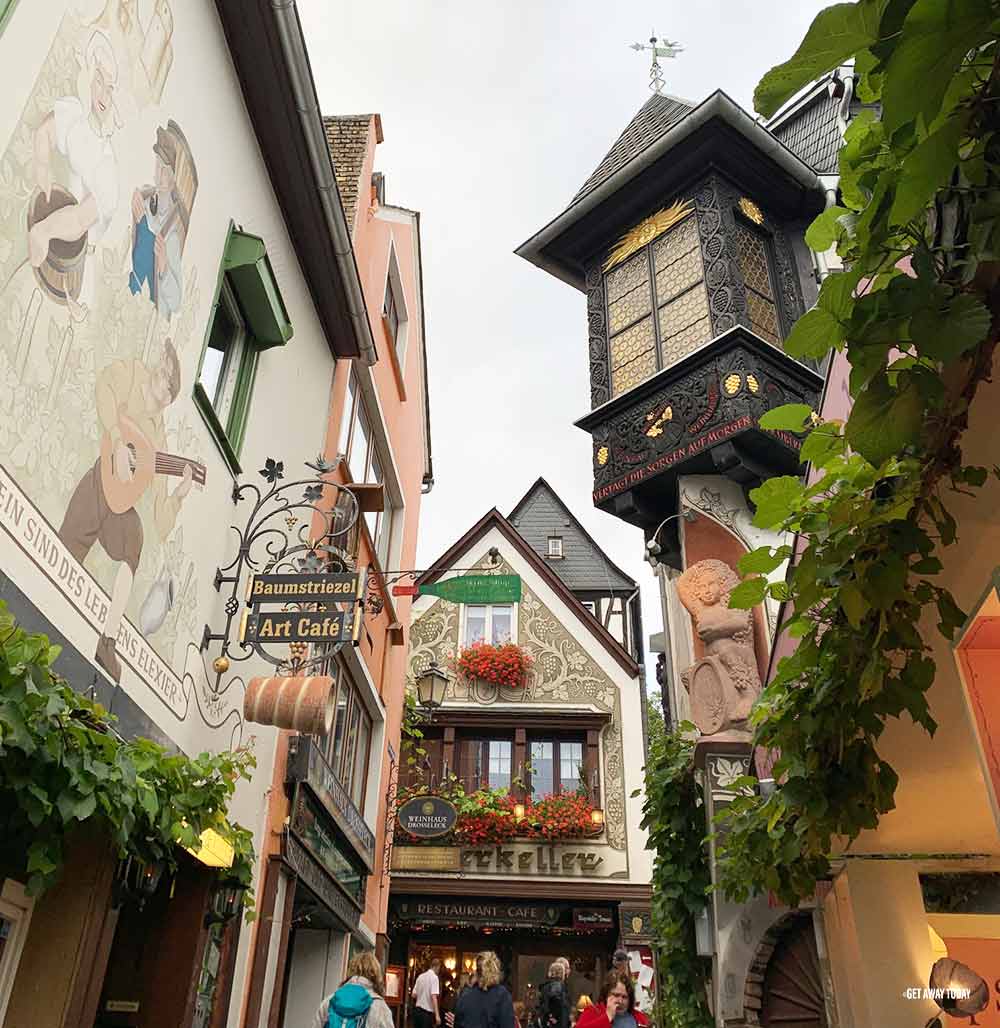 Strasbourg, France: Take a guided tour in Strasbourg and visit the Mercedes-Benz factory, cathedrals or Alsatian wine country. This quaint city offers a mix of French and German culture, architecture and cuisine.
Speyer and Rudensheim, Germany: Here you can visit Speyer Cathedral, a UNESCO World Heritage Site, tour Heidelberg (home of Germany's oldest university), Heidelberg Castle or simply stroll the shop-lined streets.
Koblenz, Germany: This part of the Romantic Rhine itinerary includes stunning views of castles along the river's banks. Take an optional tour of Ehrenbreitstein Fortress, the 700-year-old Marksburg Castle or Moselle wine country. You can return to the ship for lunch if you'd like, and enjoy the rest of the afternoon exploring this region on your own.
Cologne, Germany: Cologne is Germany's fourth-largest city, and once docked here you can explore Old Town. You're invited to visit the Dom, Germany's largest cathedral and a UNESCO World Heritage Site. Cologne has a beautiful waterfront, and other excursions include a taste of Cologne's beer culture, with samples of Kölsch, a beer brewed only in Cologne.
Kinderdijk, The Netherlands: Kinderdijk is another UNESCO World Heritage Site. You can take a tour of the iconic windmills here, learning why they were built and how they work. You may choose to see a Dutch cheese-making demonstration or take a bike ride through the town.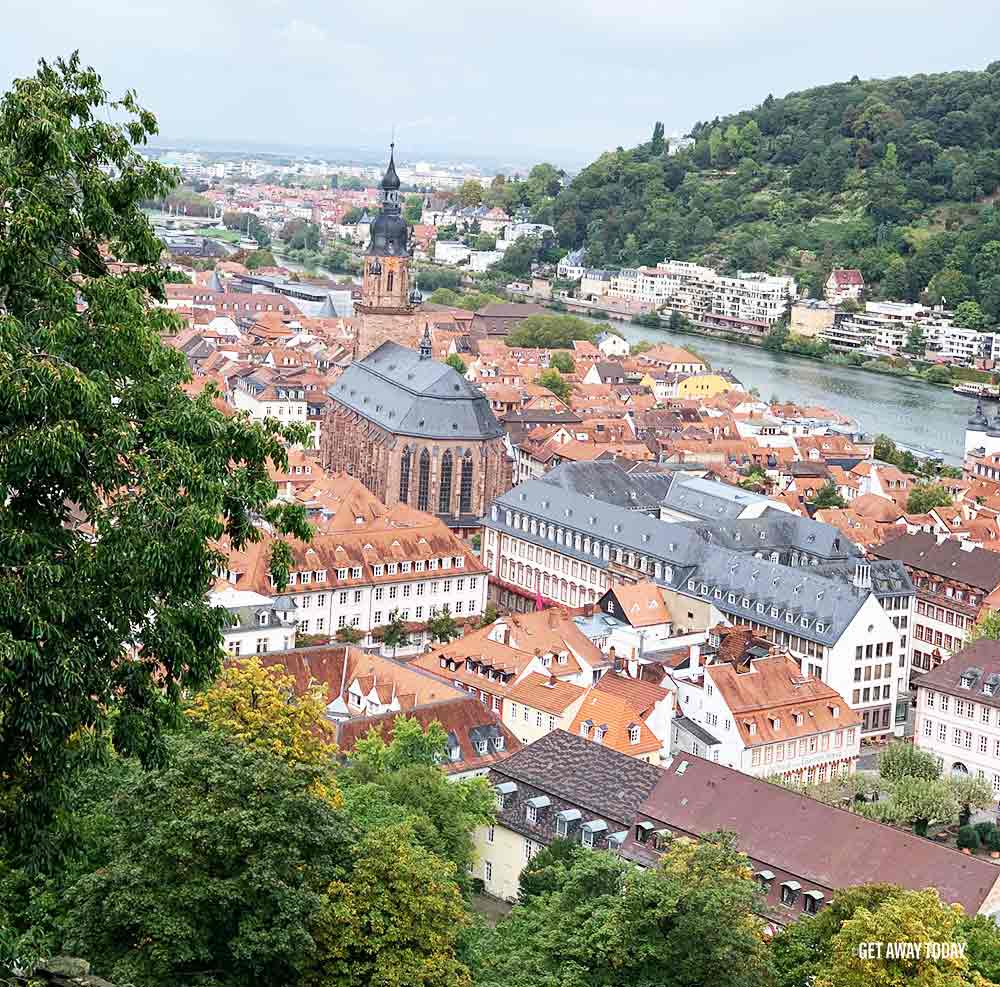 Amsterdam, The Netherlands: The Netherlands capitol city of Amsterdam is your last stop of the Romantic Rhine river cruise. You're ready to either board your airplane to head home, or extend your stay and explore Amsterdam further. The city offers museums, biking, exciting nightlife and more.
Romantic Rhine Cruise - Book with Get Away Today
Have you heard about our flexible payment plans? You can typically book a Romantic Rhine Cruise now by putting down a deposit, and then make flexible payments toward the vacation package. A cruise specialist will ensure you always get the best fare on your cruise, and that you are aware of all the perks included with your itinerary. For cruises, you can browse our website or talk directly with a cruise expert by calling 877-510-2929. Bon voyage!