If you're thinking of taking a cruise, you probably know there are a lot of options out there. With destinations such as the Caribbean and Disney's Castaway Cay, there's something for everyone. Here at Get Away Today we share the 6 must take cruises in your lifetime to help you narrow down your options.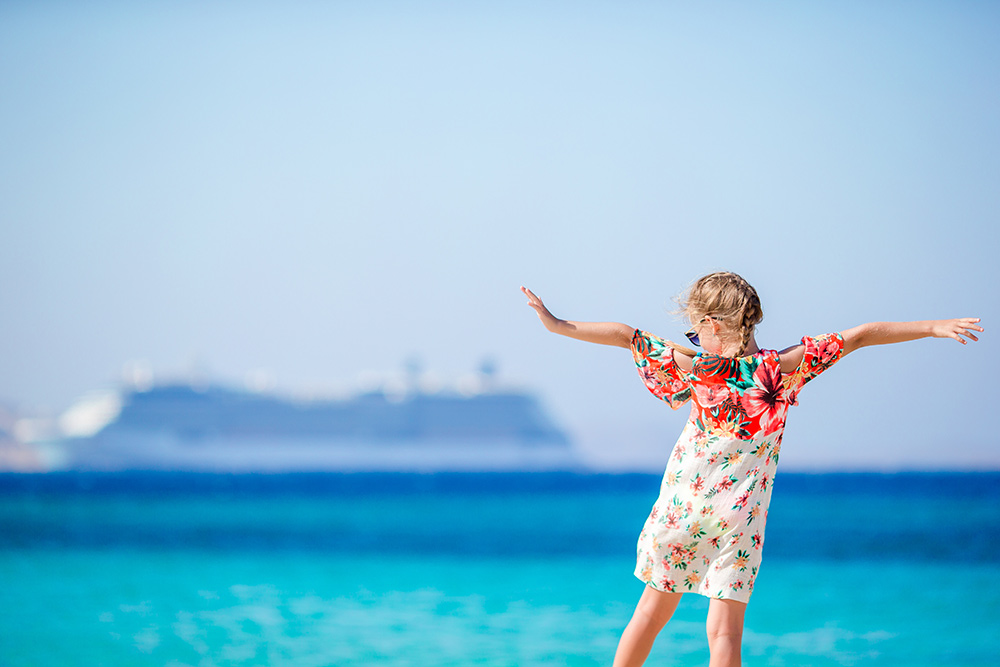 Our cruise experts at Get Away Today have personally enjoyed a number of the cruises we offer, and have nothing but good things to say about the cruise lines, ships and destinations. Today they're sharing the 6 must take cruises you have to take in your lifetime.
6 Must Take Cruises in Your Lifetime
6 Must Take Cruises in Your Lifetime: Caribbean 7-Night
Caribbean cruise lines have the newest and most grand ships, with all the bells and whistles, making them one of the must take cruises to add to your bucket list! Since the Caribbean cruise ships are some of the largest, they can offer a wide array of amenities. Activities on board range from flow riders to laser tag, 10-story water slides to a zipline bike ride. Some Caribbean cruise ships also offer rock climbing, ice skating and IMax theaters! Can you imagine having all that adventure without even leaving the ship?
On board Caribbean cruise ships you'll find expanded dining options like a sports bar, taco bar and sushi. Some additional fees apply, but these help limit crowding to enhance your dining experience.
Balconies are primo rooms, so book early. Calmer seas can usually be found in the Caribbean and the bigger cruise ships can help with stability on the sea, reducing the likelihood of sea sickness. Caribbean cruises leave from a number of ports in the southeast region of the USA, including Louisiana and Florida.
In addition to the amenities on Caribbean cruise ships, you can also find some of the most beautiful port destinations. Caribbean cruises are divided into three regions: Eastern, Western and Southern.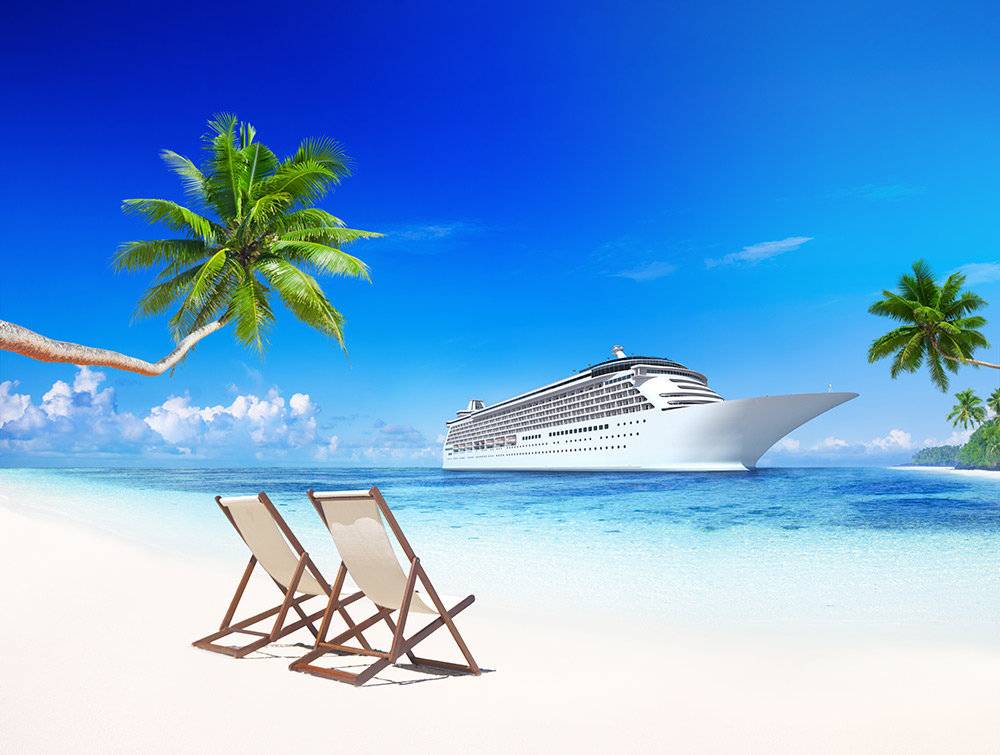 Eastern Caribbean ports are more exotic. They include jungle excursions and destinations such as St. Thomas and Turks and Caicos. The scenery is exquisite.
Western Caribbean ports can be considered more ancient. They include access to ancient ruins, and places such as Cozumel and Roatan Honduras. The waters are often warmer in these ports, too.
Southern Caribbean ports offer ports with high-end luxury. Ports such as Aruba, St. Lucia and Barbados offer access to turquoise water - perfect for snorkeling!
Bahamas cruises usually include private islands with exclusive attractions such as tidal wave pools and water slides. Disney cruises to the Caribbean include a visit to Disney's private island, Castaway Cay, with unique excursions like a 5K. Select dates typically apply for the port excursions with any cruise line, so be sure to check for availability and additional fees.
6 Must Take Cruises in Your Lifetime: Alaskan
Alaskan cruise dates span from Memorial Day to Labor Day, and you can usually book quite far in advance for a one-way or roundtrip cruise. Get Away Today already has cruise prices for 2020!
If you are looking into an Alaskan cruise, Norwegian cruise ships are also among some of the largest. Some will offer go-kart style racing on board, as well as laser tag. Alaskan cruises are truly designed with the adventurer in mind, and the Ovation of the Seas tries to maximize your exposure to the scenery. On board, the Ovation has an enclosed capsule that operates at the end of a crane-like apparatus; it extends beyond the decks of the ship to allow its occupants to see better views of glaciers or whales near the ship. The dining room includes expansive glass walls to show off the stunning views during meal times. Additionally, many of the state rooms on Alaskan cruises will have balconies so you can take in your surroundings even when you're not on deck.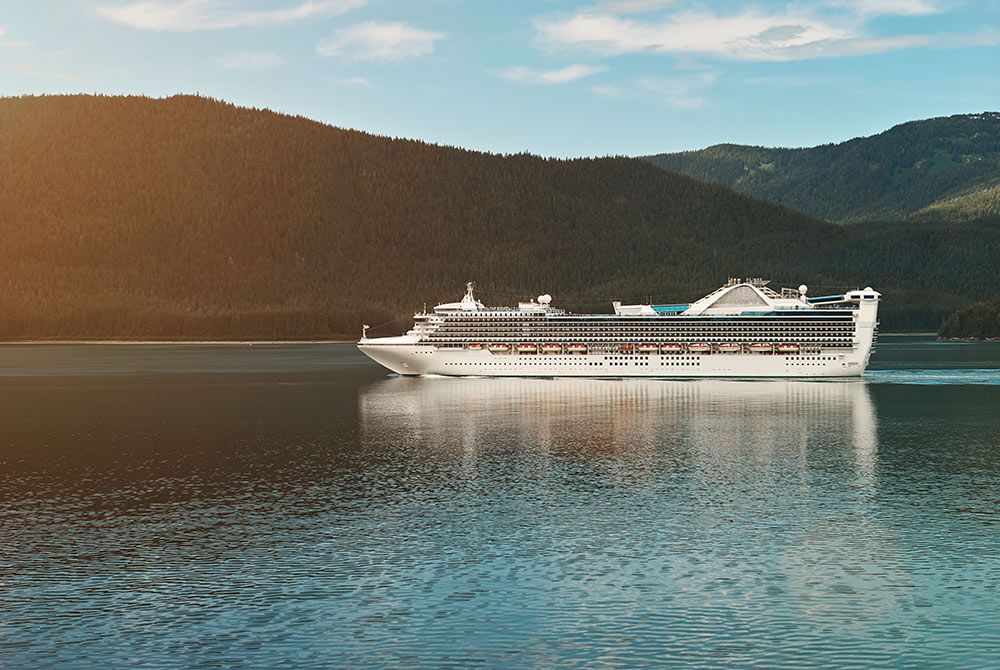 Scenic-based Alaskan cruises typically offer 7-day cruises or longer, and family appeal has taken a forefront in some of the newer ships' designs. Some cruise ships will have indoor pools, and more hot tubs than other liners. The kids clubs do their best to incorporate the surroundings with the activities they offer. Also, there usually isn't a formal or themed dining night on an Alaskan cruise; instead each restaurant has a dress code.
Alaskan cruises offer both land and sea tours, with some ports boasting helicopter rides over glaciers, lumberjack experiences, hiking or dog sledding. These cruises typically depart from Washington or Vancouver.
6 Must Take Cruises in Your Lifetime: Mediterranean
One of the best things about a Mediterranean cruise is that you can cover a lot of "ground" in one voyage. Whether you choose a one-way or roundtrip cruise, a Mediterranean cruise offers guests lots of culture, history and immersive experiences. With smaller cruise liners, the customer service can be at its best, and guests will experience stronger rapport with both crew and fellow passengers. Less guests on a smaller cruise ship mean ports may be less crowded, as well as activities on deck.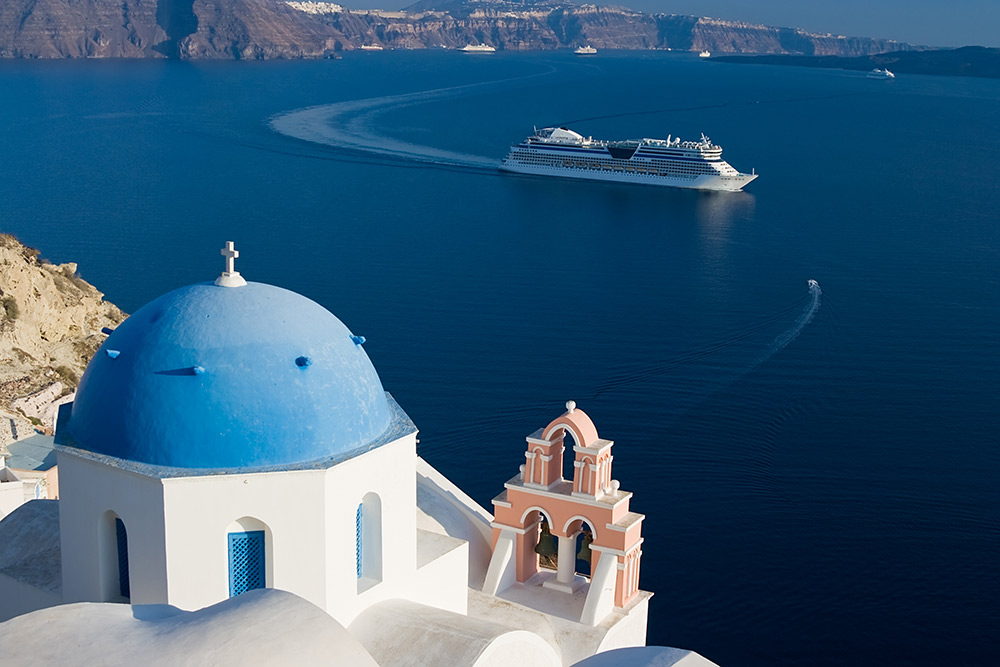 Mediterranean cruises are one of the best ways to see a lot of Europe in a short amount of time. Visit Rome, Venice, Greek Isle and Barcelona, and experience different languages, shopping and food at every port. Typically, Mediterranean cruises are a seven-day minimum, leaving from Europe.
6 Must Take Cruises in Your Lifetime: Disney Cruise
Why is a Disney cruise on of the 6 must take cruises in your lifetime? Because Disney does customer service right! They offer some of the most top-notch interactions with any cruise crew we've ever experienced. They take magic to the max!
There are four ships in the Disney cruise line, and each has its own theme. Regardless of which you choose, you'll find some outstanding amenities on board. Disney is the only cruise ship that includes self-serve soda and juice at no additional charge, which can be a big selling point for many! On a Disney cruise, you'll likely experience some memorable character interactions, and you'll enjoy various themed days depending on your itinerary. You can plan for Star Wars days, Marvel days, or trick or treating during Halloween.
There's a complimentary kids club for children ages 3+, and a separate gathering place for children ages 12+. Additional fees apply for nursery aged children.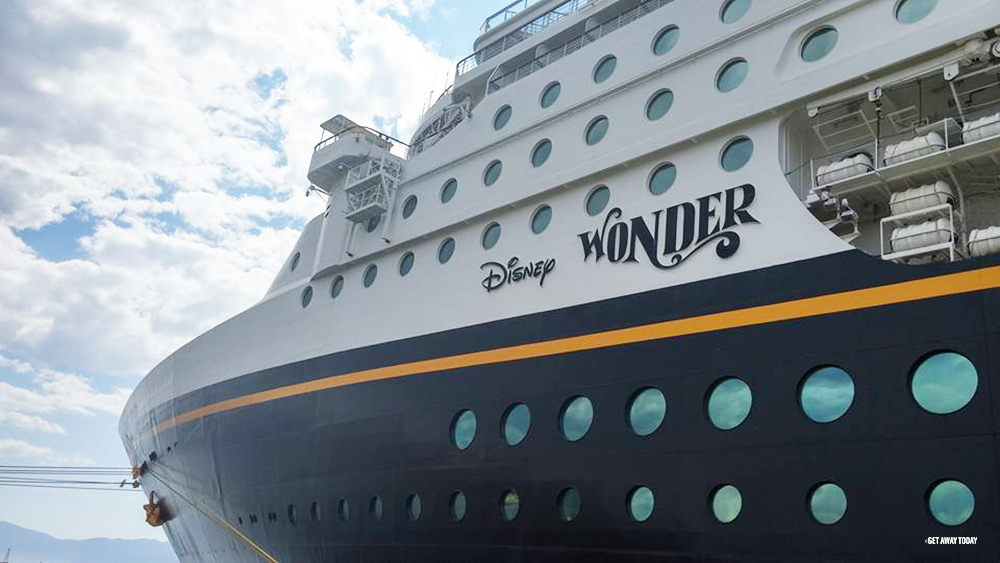 With all shows based on various Disney themes, they're fun for the whole family. With four ships in the Disney cruise line, Disney is able to focus on all the details and give the most immersive Disney experience. Cast members are personable, and the same cast members will attend to your party at every dining experience, regardless of which restaurant you choose on board.
Select room upgrades offer a bathroom vanity that's separate from the tub and toilet area, and on the Disney Dream and Fantasy, "magic porthole" rooms often sell out faster than balcony rooms! The magic portholes are live-streaming views of the ships' surroundings, plus magical visits from Disney characters.
If you really want to up the magic on your next Disney cruise, you can combine it with a visit to Walt Disney World Resort. Most Disney cruises depart from Port Canaveral, which is just 90 minutes from the Walt Disney World Resort.
6 Must Take Cruises in Your Lifetime: Family Reunion Cruise
A cruise with the whole family is definitely a must-do in your lifetime! Whether it's a Disney cruise or not, there will be so many options for your family to choose from on board and off. The cruises you can book with Get Away Today have a variety of itineraries available, from two nights to seven and beyond. You're sure to find something that works with everyone's schedule.
Additionally, a family reunion cruise is a great way to avoid the burnout that planning all the activities yourself can cause! You can just sit back and relax when it comes to coming up with activities, because the cruise line will do that work for you. From time at the pool to enjoying excellent shows on board the ship, there's something for everyone. And if the adults in the family want to enjoy activities together, most cruise lines have a kids club available to keep an eye on the little ones. No adult will have to volunteer to miss all the fun in order to watch the kids! A big perk of a Disney cruise as a family is that cast members can even take kids from the dinner shows and bring them to kids club so the adults can continue to enjoy the entertainment. That's definitely something to consider when planning a family reunion cruise.
Another obstacle lots of families face when planning a reunion is the food; who's going to plan all the meals, cook them and then clean up? On a cruise, it certainly won't be you! Taking a family reunion cruise means you won't lift a finger preparing any meals for yourself or the family, and instead you'll just enjoy all the delectable options like everyone else.
A family reunion is one of the must take cruises in your lifetime because it's a great way to see a number of destinations in one vacation. Adults and kids alike will be able to experience the beauty offered in various ports along the cruise as well as the culture, food and excursions they may not otherwise be able to fit into a traditional reunion timeframe.
6 Must Take Cruises in Your Lifetime: Romantic Cruise
Why is a romantic cruise one of the must take cruises in your lifetime? Because it's the perfect opportunity for you and a loved one to disconnect from it all! A romantic cruise offers the convenience of only having to pack for one trip, while getting to experience a variety of places, adventures, foods and culture together.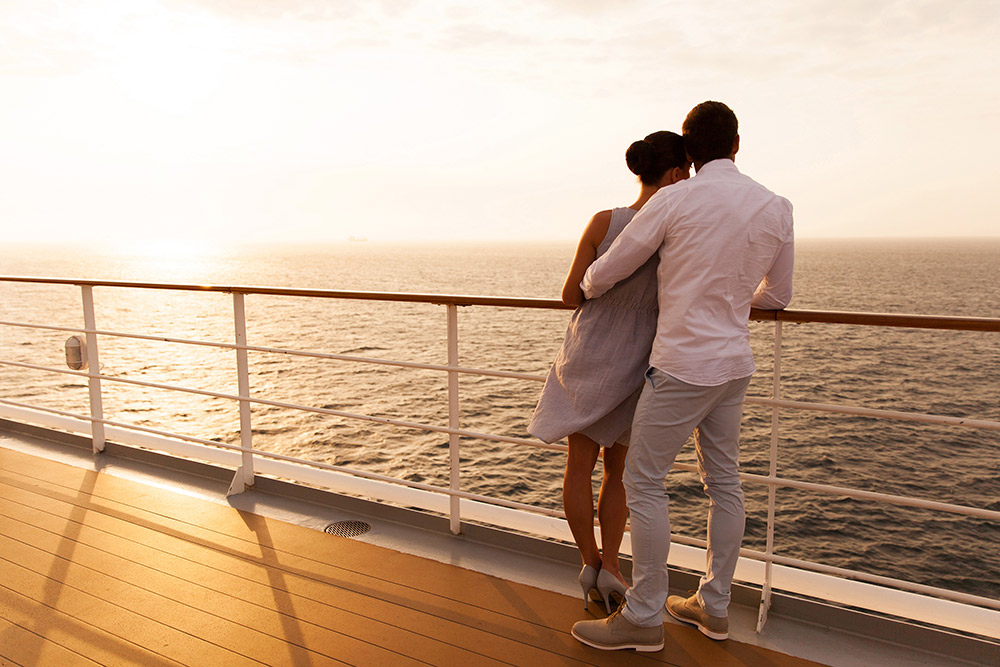 For a honeymoon, anniversary or other romantic celebration, our agents recommend a cruise to Eastern or Western Caribbean, Alaska or the Mediterranean. Picture yourselves in a Venice port, enjoying a gondola ride or romantic dinner in a restaurant with the most authentic Italian cuisine you can get. Share the stunning views of the turquoise water in the Caribbean and do as much or as little as you want when it comes to onboard activities. Or marvel at the wonders of the whales and glaciers in the Pacific Ocean.
Some cruises will offer opportunities for romance in the form of star-gazing while watching a movie on deck, or viewing fireworks shows over the water or enjoying formal dinners in your best dress. And how romantic would it be to enjoy a massage or other spa treatment together?
Book One of These Must Take Cruises
If this hasn't convinced you to book your next cruise with Get Away Today, then we don't know what will! You can always see our cruise packages online, or give our cruise experts a call at 877-510-2929.