Simple Recipe for Star Wars Blue Milk. This is a copycat to the Star Wars Blue Milk recipe, which is a treat that will be served at the new Star Wars: Galaxy's Edge at Disneyland.
You would have to be hanging out on a different planet to not know that Star Wars: Galaxy's Edge is set to open any day now (May 31st, 2019 to be exact!). To say that excitement levels are high is a galactic understatement. I can't wait to get a glimpse of the new Star Wars land at Disneyland! How about you?
There is quite a bit of information on the internet about Galaxy's Edge. Some is speculation and some comes straight from Disney's mouth, rather, their blog! The pictuers online are totally out of this world. One thing that caught my eye was the Milk Stand. Maybe because I have a bunch of kids? The milk at this stand doesn't serve 2% or even Skim, in fact, the milk served isn't even white! Only blue and green milk are on the menu. That is how you know, you aren't on planet Earth anymore.
Star Wars Blue Milk Recipe
The Disney Imagineering Exec Scott Trowbridge let us know a little bit about this mysterious blue milk. He said, "It is actually plant-based dairy-essentially rice milk--which makes it easier for everyone to enjoy. It's soft-frozen, like a milkshake." Brian Koziol, the director of Galaxy's Edge beverage department claims that it is a lot like a smoothie.
So, with those helpful nuggets of information at hand, I decided to create a blue milk smoothie that Star Wars fans could make in the comfort of their own kitchen. Because, waiting for the park to open is so hard. Get a little taste of the magic before you experience Galaxy's Edge for the first time.
Star Wars Blue Milk Recipe from Galaxy's Edge Milk Stand
2 cups Vanilla Flavored Sweetened Rice Milk
Glacier Ice Gatorade Powder
1 cup Glacier Ice Frozen into Cubes or Mickey Shapes
Blue Food Coloring
Important note about this Star Wars Blue Milk Recipe:
You must make the Gatorade ice at least 5 hours before you want to serve the blue milk. For a quick version of this recipe, you can use regular ice and then increase the amount of Gatorade Power by 1/2 scoop.
I ordered a Mickey Mouse mold from the Disney Store to use for my favorite Disney recipes. I was so excited to get it out for the very first time for this Star Wars Blue Milk recipe. If you don't have a Mickey Mouse mold, then feel free to use regular ice trays! You could also use Star Wars themed ice molds; there are a LOT on Amazon. Here are some links:
Set of 8 Star Wars Silicone Trays
Star Wars Death Star Ice Molds
And here are the Mickey Mouse ice molds.
Star Wars Blue Milk Recipe: Getting Started
Pour in blue Glacier Gatorade into the ice cube trays. Put them in the freezer to get solid.
Place 2 cups of sweetened vanilla rice milk in a blender.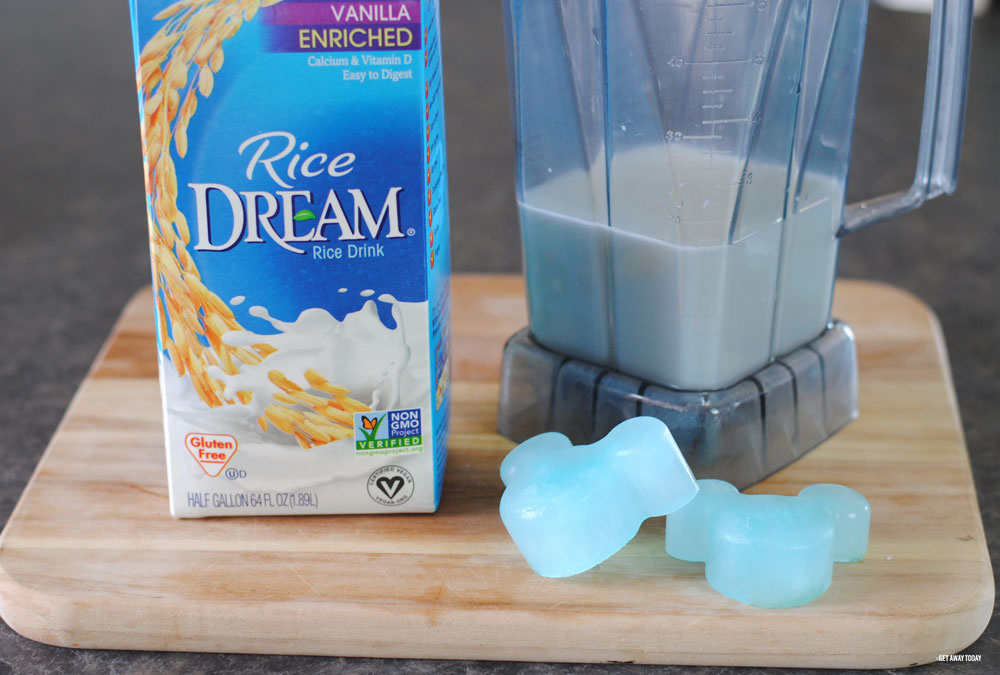 Take your Mickey ice mold from the freezer and pop out the frozen blue Mickeys!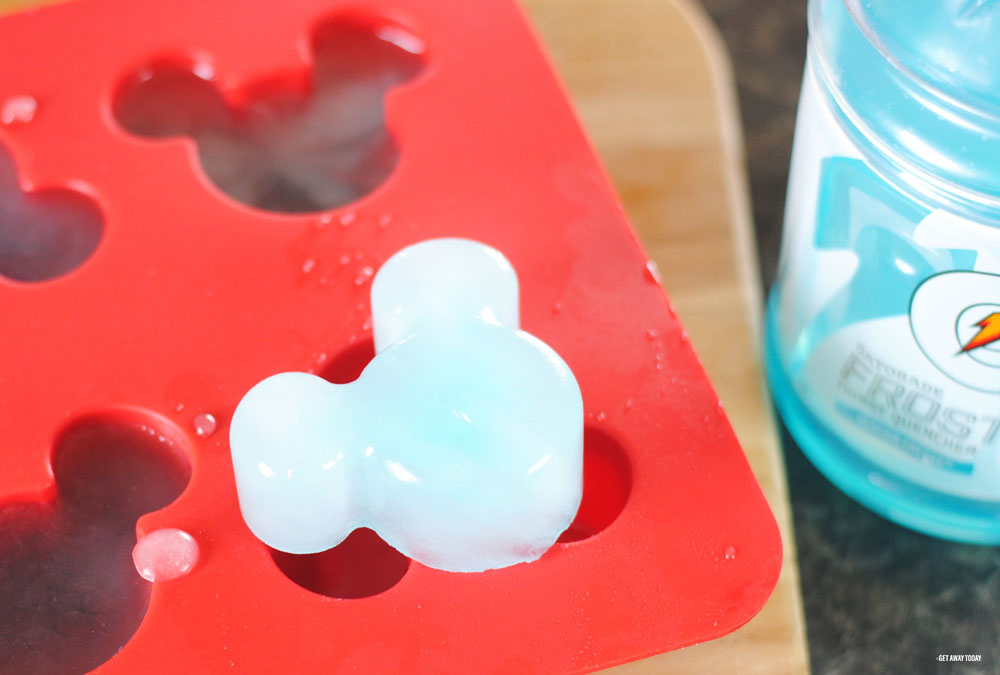 You need about 1.5 cups of ice to make the Star Wars Blue Milk smoothie consistency. That is all six Mickey heads if you are using the Disney mold. If you chose the water ice method, then just use a measuring cup with crushed or cubed ice.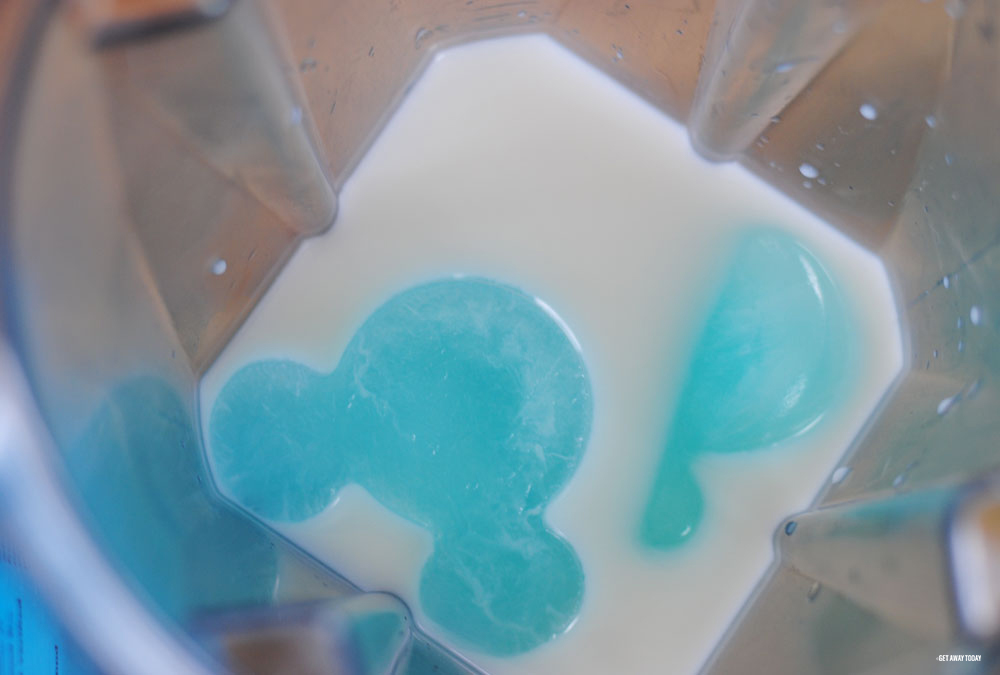 Pour one scoop of the Gatorade Glacier Ice powder into the blender. The Galaxy's Edge version of blue milk claims to have a berry flavor. This Gatorade powder has a hint of berry flavor as well, so it is a pretty good match!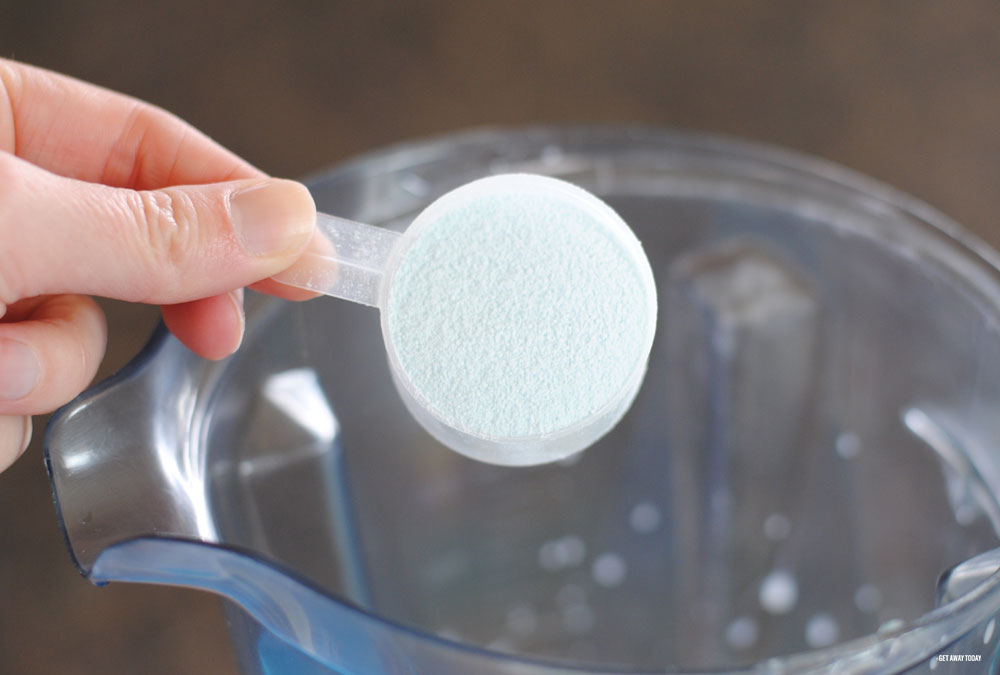 Star Wars Blue Milk Recipe: Getting the Blue Hue
Add about 4 drops of blue food coloring to the blender. I didn't think the blue milk was quite vibrant enough without the coloring! I wanted out of this world blue milk, not just milk with questionable freshness.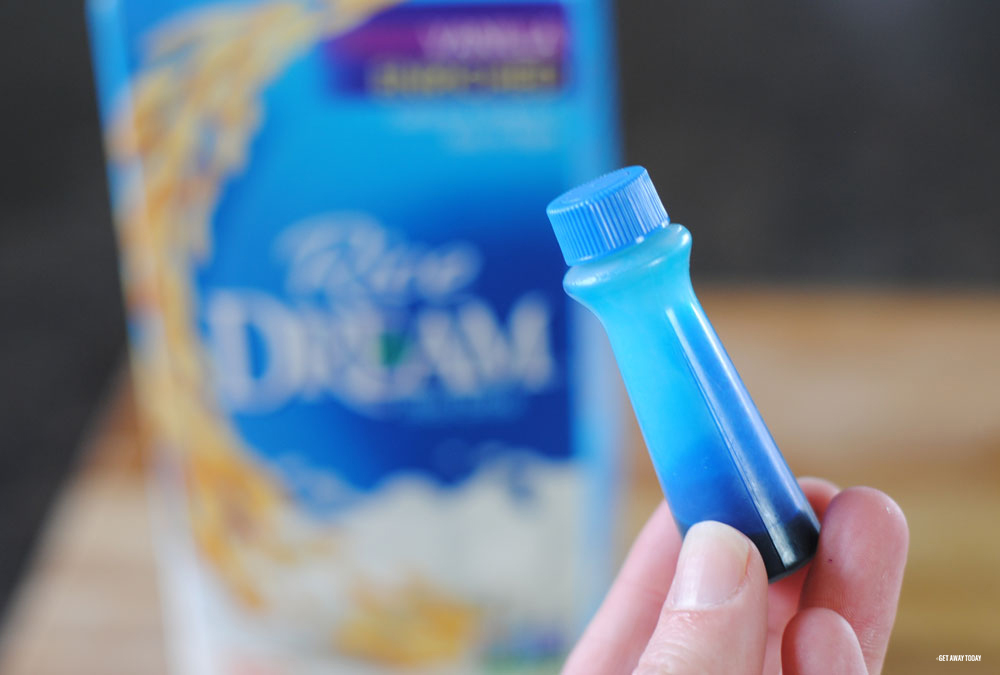 Star Wars Blue Milk Recipe: Getting Smooth
Blend everything together until it is nice and smooth. Pour into a glass and enjoy!
It is a little bit funny that Galaxy's Edge Blue Milk is not actually made of milk. Honestly, the rice milk version is a pretty good idea. Sipping on my own copycat blue milk made me realize that it would be quite refreshing on a hot day at the Disney parks. Much better than traditional cow's milk. It is a really light beverage that is sweet, but not overpowering. I think it's going to be a hit. Let me know what you think!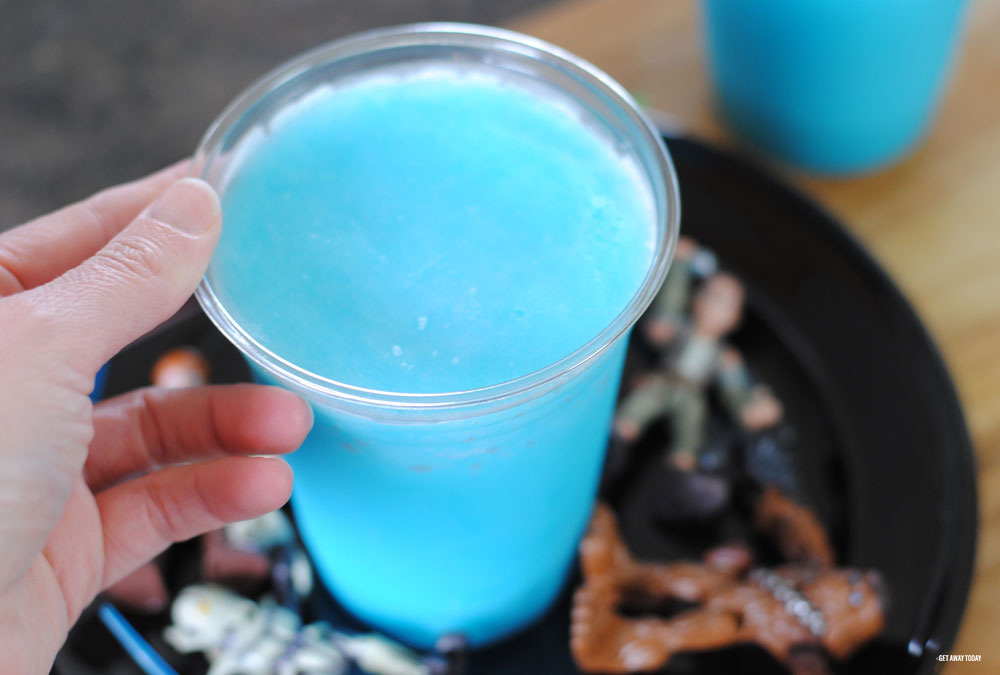 If this at home Star Wars Blue Milk recipe doesn't quite satisfy your desire to experience all things Star Wars, then get ready for a trip to Disneyland! Get your Disneyland tickets booked now to lock in the best savings, and ensure hotels near Disneyland don't fill up! Star Wars Land Disneyland opens May 31, 2019, and for travel after May 23, 2019 Get Away Today is offering Extra Day Free tickets! For the price of 4 days, you can purchase 5-day Disneyland tickets for travel until the end of 2019. Check out all the Disneyland tickets online, or call one of our agents at 855-GET-AWAY for help. We're so excited about Galaxy's Edge, and we want to help you get there as soon as possible!