UPDATED September 2019: Star Wars: Galaxy's Edge is now open at the Disneyland Resort and it is everything we hoped for and more. We spent hours exploring this all-new land to help you plan your Disneyland vacation. Today, we are sharing all of our favorite food at Star Wars: Galaxy's Edge.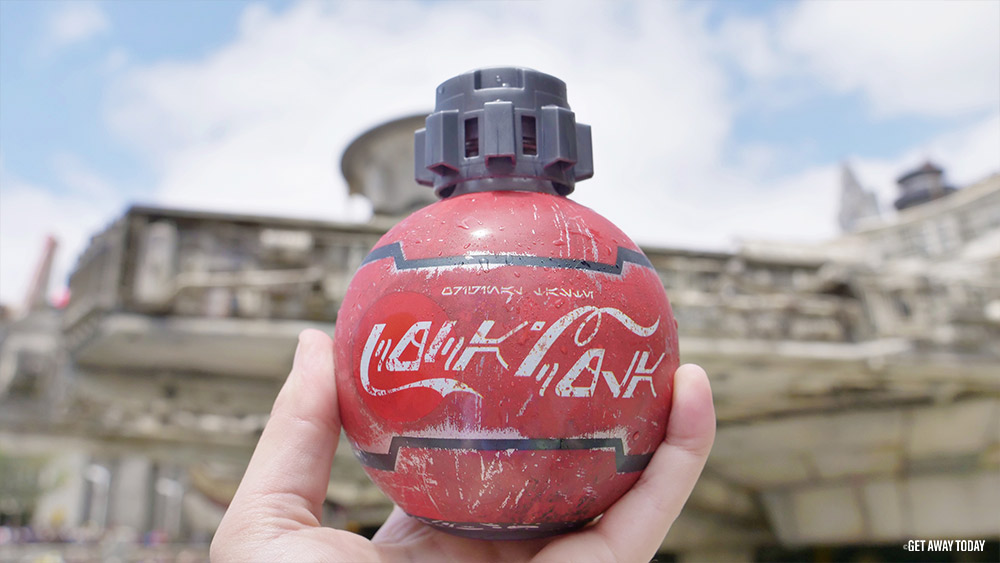 Food at Star Wars: Galaxy's Edge
Disneyland is known for having some of the best snacks and treats around. Mickey pretzels, Dole whips, churros and turkey legs are all Disneyland vacation staples. And now, with a brand new land, there is a whole new line-up of must-have treats. The food at Star Wars: Galaxy's Edge is unlike anything you've had before. As you can see above, even the Coke is different in Batuu! And not to fear, contrary to what you may have heard, TSA has confirmed that you can bring your empty Batuu bottles in your carry-on, or pack full bottles in your checked luggage.
The theming throughout Star Wars: Galaxy's Edge is incredible and that extends to the food. Plus, the new tastes are something you'll crave once you get home. We'll take you through what to expect and share what you MUST try during your visit to Batuu.

Food at Star Wars: Galaxy's Edge - Oga's Cantina
Without fail, one of the most popular spots in all of Star Wars: Galaxy's Edge is Oga's Cantina. There are a few reasons why it tops the popularity charts. One, the atmosphere is unmatched. It's also one of the only places in the entire land where you'll hear actual music. And, better yet, your DJ is none other than DJ-R3X, aka, DJ Rex, from Star Tours.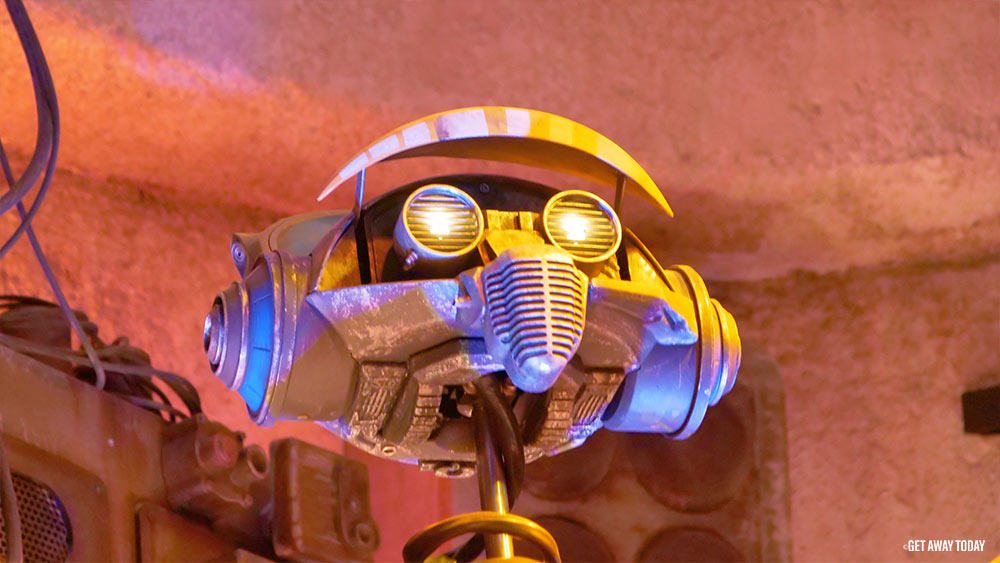 Two, and truly, maybe the number one reason for some, is it is the only place in all of Disneyland where you can purchase alcohol. And these are no regular drinks. These are libations from another planet. With this, it's important to note that there is a two-drink maximum per person. Equally important to point out is that there are tons of non-alcoholic beverages that are just as whimsical and fun, should you not drink alcohol. Some of our favorites were the Blurrgfire and Hyperdrive (Punch It!).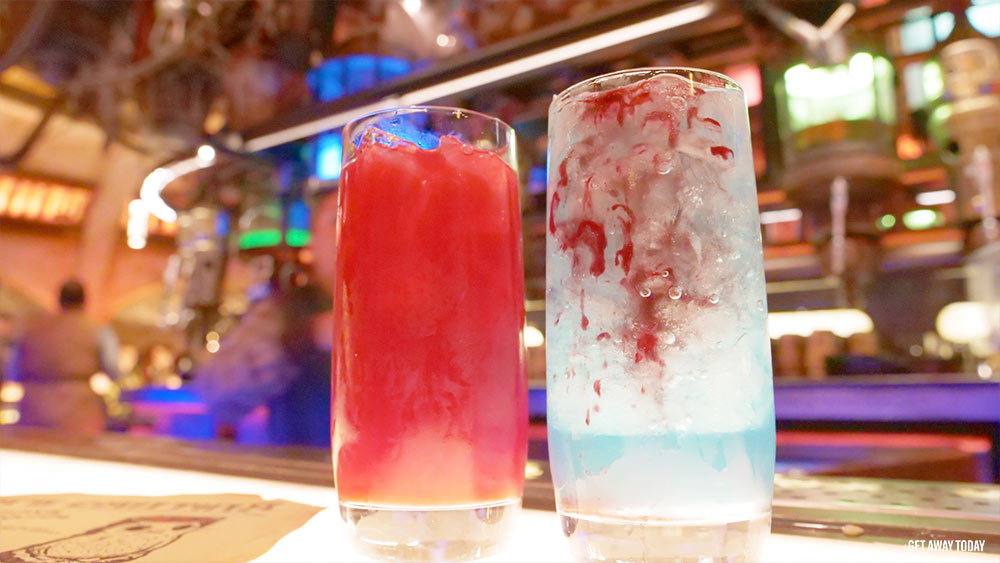 In addition to drinks, Oga's Cantina serves a couple of breakfast items in the morning and has "Batuu Bits" available throughout the day. The Batuu Bits are Batuu's version of a typical snack mix. It's a combination of sweet, salty and savory that is unlike anything you've ever had on Earth.
Even with serving alcohol, Oga's Cantina insists on being family friendly. However, with that said, the cantina is incredibly popular and always filled to capacity. That oftentimes means standing room only, which may be hard for kids. Now that Oga's has a reservation system in place, it's much easier to get in which is always a relief when traveling with kids!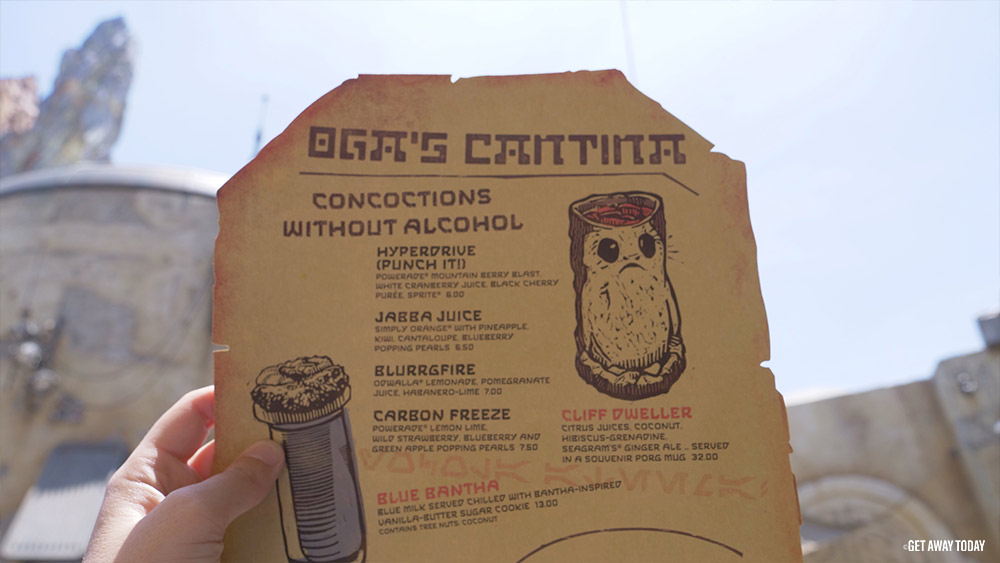 Disney, or rather the residents of Batuu, have perfected a reservation system for Oga's Cantina. Reservations can be made online or through the official Disneyland app up to 14 days in advance. Soon, reservations will be available up to 60 days in advance. Because it's really popular, we recommend getting reservations as close to when reservations open for your date. However, sometimes you can get lucky and still find an open reservation for the same day. If you are lucky enough to snag a reservation for Oga's, you should know that at least one person in your reservation must be at least 14 years old, there is a two drink maximum per person and there is a 45 minute time limit for all reservations. That's normally plenty of time to get your galactic drink on.

Food at Star Wars: Galaxy's Edge - Milk Stand
While we're talking drinks, we may as well talk about one of the most well-known beverages from the Star Wars saga: Blue Milk. The Milk Stand is pretty straight forward. Their menu consists of only two items: Blue Milk and Green Milk.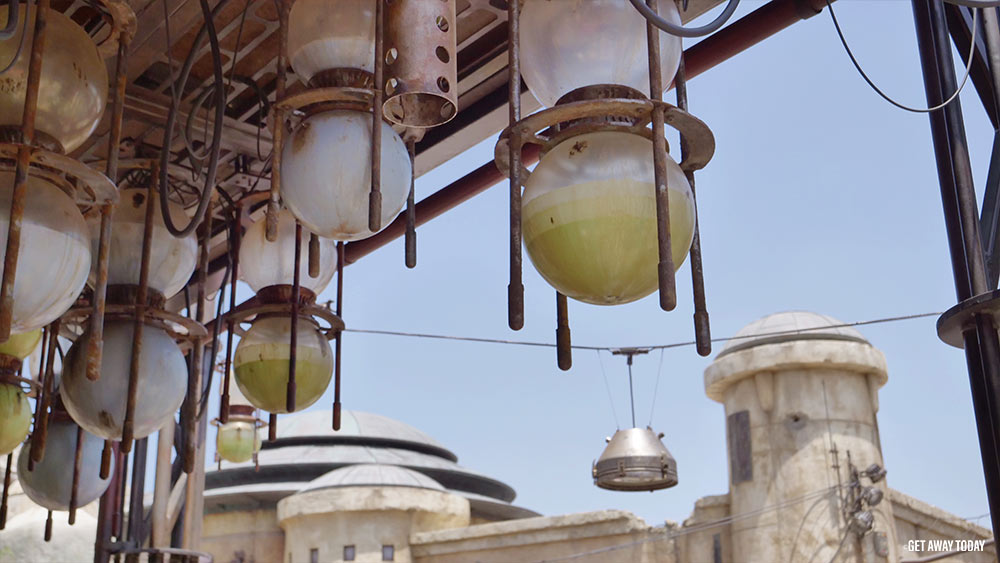 Both are vibrantly colored plant-based drinks with identical temperatures and textures. That's where the similarities end. No one has yet to pinpoint the exact flavors of the milks, but the Blue Milk has been described as "tropical," while the Green Milk has been described as "citrusy." With that said, neither has tasted like anything I've tasted before. The texture is like a mix of a Slurpee and a milkshake. It's quite refreshing, but both flavors are so strong that I would recommend sharing a single serving.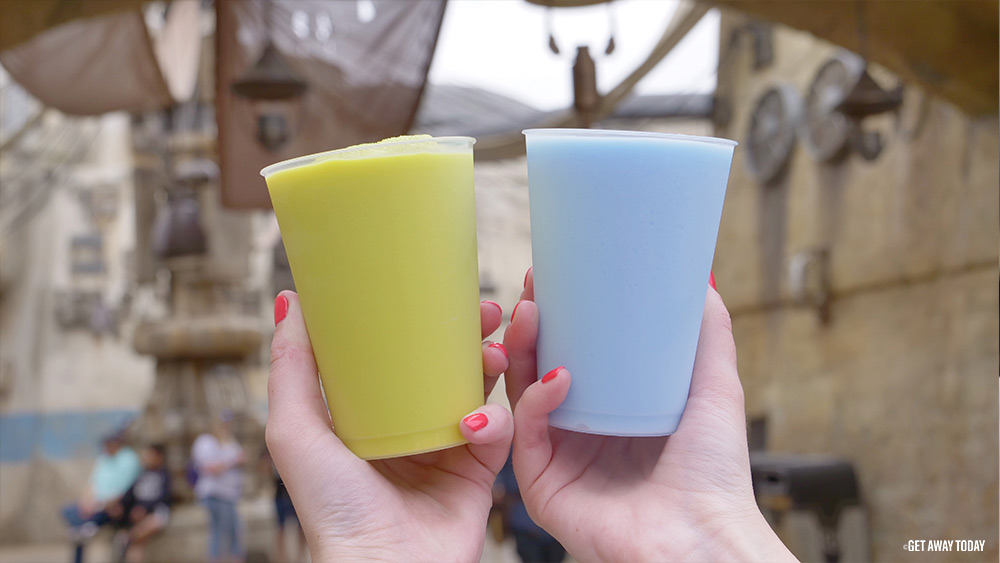 The Milk Stand has mobile ordering available and both the green and blue versions are $8, or Eight Credits as they say on Batuu, a piece.
Food at Star Wars: Galaxy's Edge - Ronto Roasters
Out of all of the food at Star Wars: Galaxy's Edge, my favorite menu item comes from Ronto Roasters. A podracer engine roasts a giant spit of meats... which are delicious AND can be ordered through your mobile phone. Here you'll find the Ronto Wrap, which is my favorite taste of Batuu. It's nothing fancy to look at, and I likely would have passed it by had I not heard good things. It's roasted pork, topped with a slightly spicy pork sausage, which is then topped with a little coleslaw and peppercorn sauce, all wrapped in a pita. It is tasty and filling. While we didn't get to try the breakfast version, we've heard it's just as good.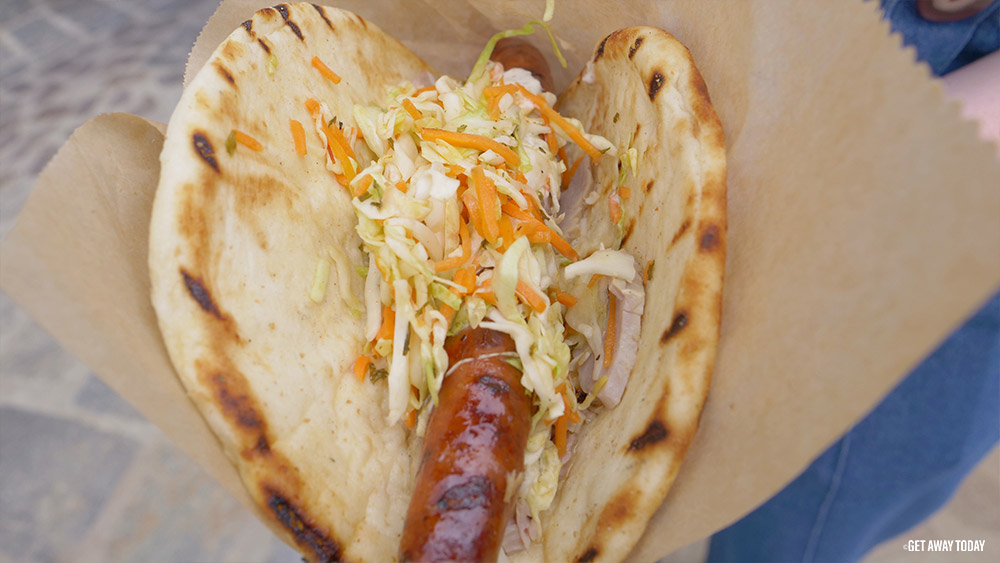 The Ronto Roasters also serves brightly colored specialty beverages and turkey jerky. We love the Meiloorun Juice, which was a mix of pineapple, lemon, blueberry, white cranberry and desert pear. The turkey jerky, while tasty, seemed like the least substantial of the food items available. The turkey jerky is around $7.50, but you only get a few small pieces of the dried meat and it would be hard to share.

Food at Star Wars: Galaxy's Edge - Kat Saka's Kettle
Much like the Milk Stand, Kat Saka's Kettle's menu is straight forward. It serves one type of flavored popcorn and assorted bottled drinks. Their "Outpost Popcorn Mix" features purple sweet kernels and slightly spicy red kernels, making it a blend of unique flavors that creates for an interesting snack. Additionally, you can also purchase it in a special MSE-6 Series Droid popcorn bucket if you want a souvenir.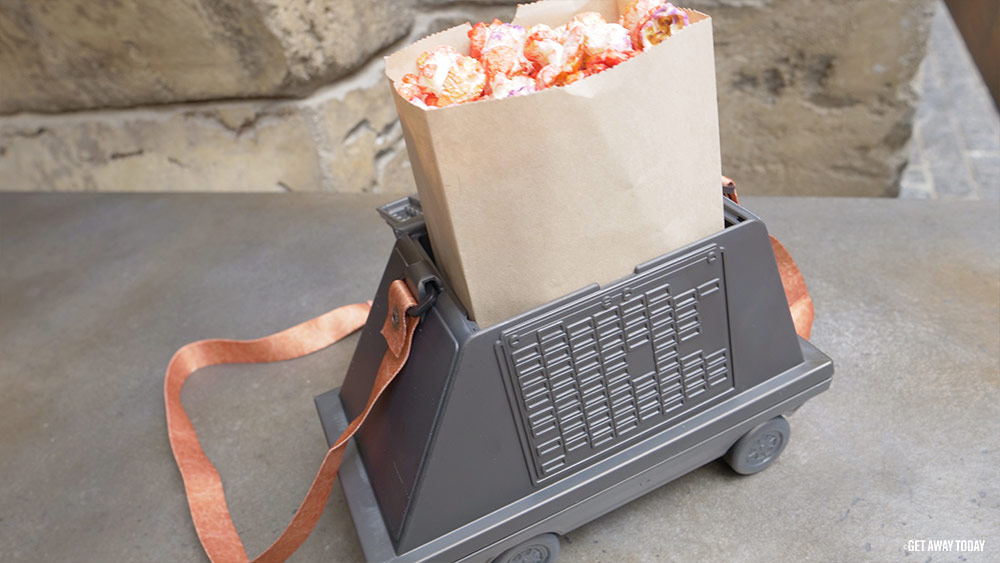 Food at Star Wars: Galaxy's Edge - Docking Bay 7 Food and Cargo
If you're looking for a truly out of this world dining experience, you'll want to head to Docking Bay 7 Food and Cargo. This is more of a cafeteria style location that also allows mobile ordering, which is awesome. Here you'll find the most substantial meals available in Batuu with a handful of menu items that are exclusive to a specific time of day. Because there are items that are only available at breakfast, some only available at lunch, and some that are only available for dinner, you may find yourself eating all three meals at Docking Bay 7 to try them all.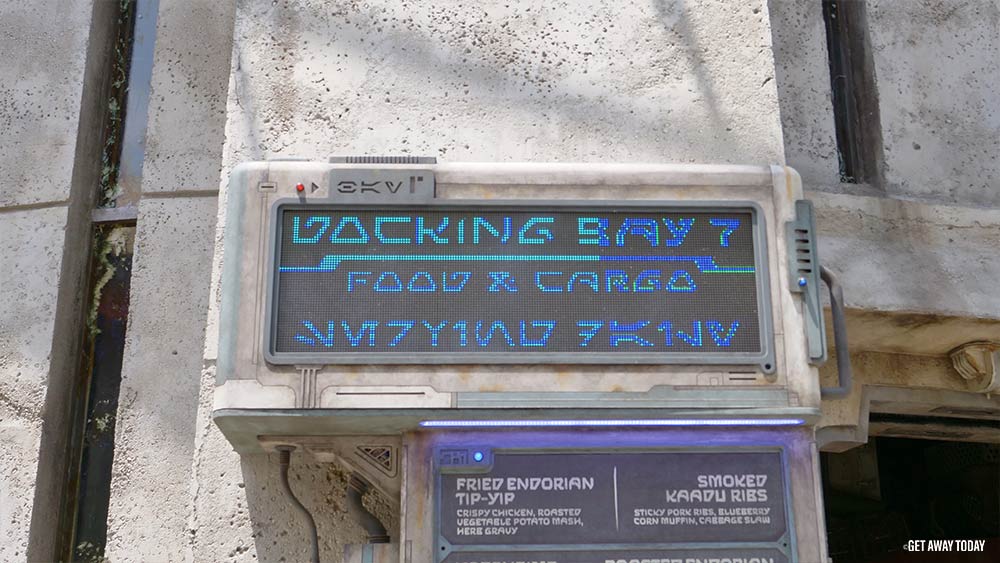 While the ingredients may sound familiar, the presentation will blow you away. You've never had fried chicken, ribs or chocolate cake like this before. Docking Bay 7 Food and Cargo also has one of the most diverse menus catering to vegans, vegetarians and nearly any other dietary restriction.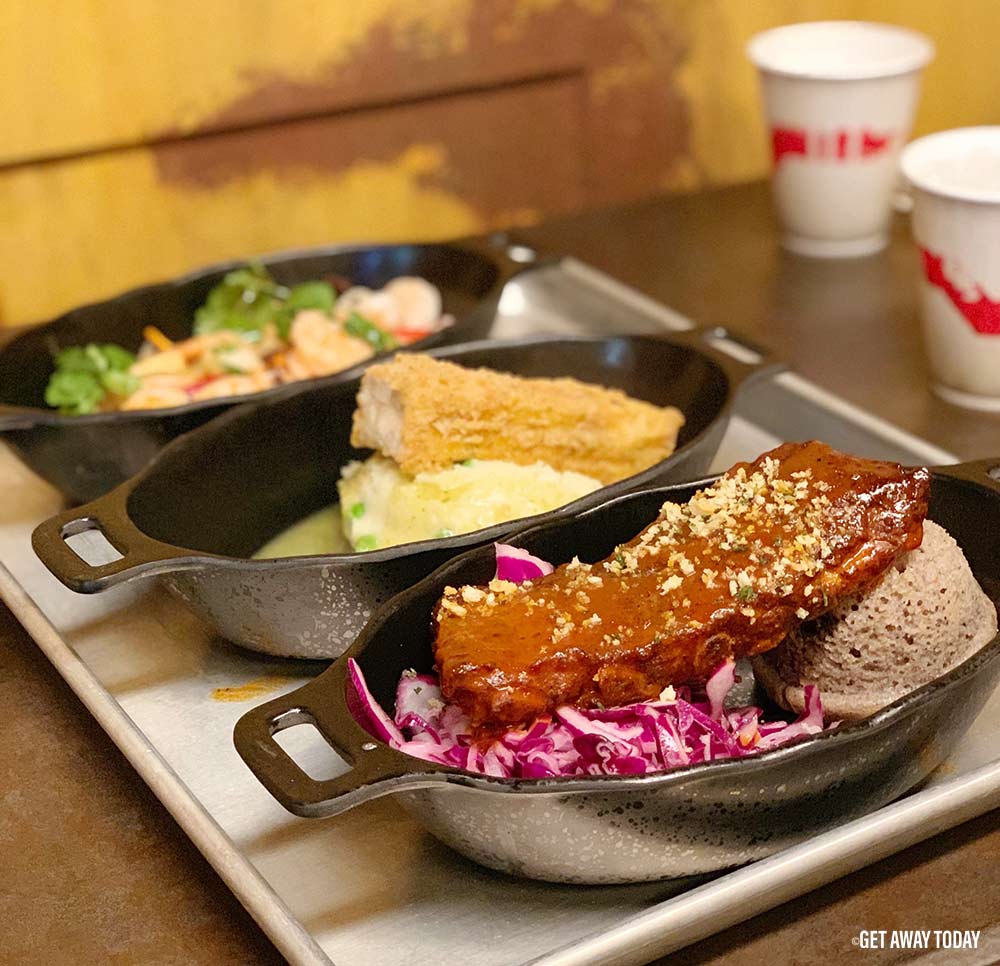 Booking Your Star Wars: Galaxy's Edge Vacation
Now that you know about all of the foods awaiting you on Batuu, let us help you get there. If you're traveling after June 24, 2019, you can use the Star Wars: Galaxy's Edge virtual queue system. You can find more information about that in How to Get Into Star Wars Land.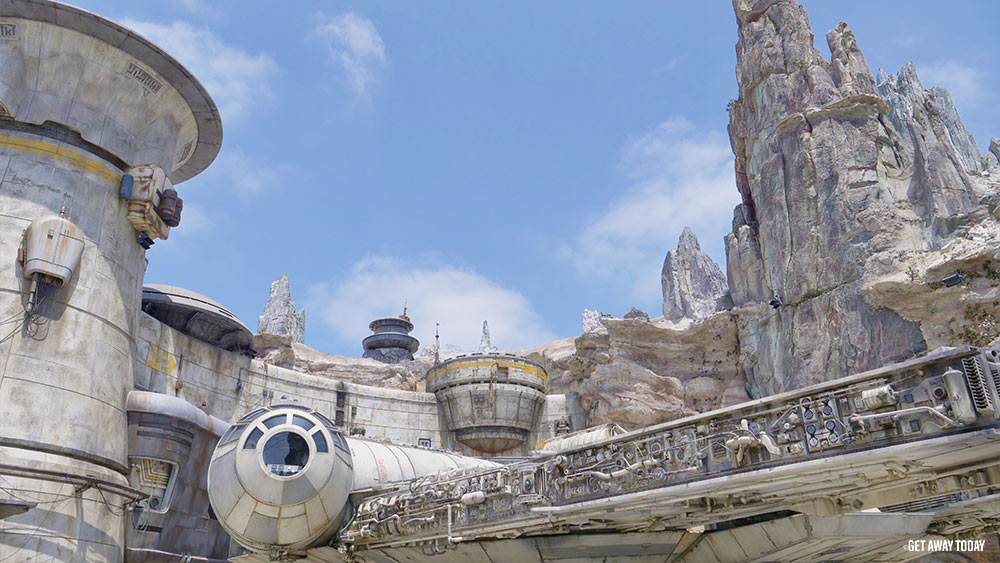 If you're thinking about booking a Disneyland vacation, we are here to help. We have discount Disneyland tickets and vacation packages available on our site. Or, you can call our vacation experts for personalized guidance. Not only will you save the most when you book with Get Away Today, you'll have someone you can trust. We check with you before and during your vacation to make sure everything goes seemlessly. We can't wait for you to experience Star Wars: Galaxy's Edge at the Disneyland Resort!