UPDATED MARCH 2019 Check out our list of fun facts about Star Wars and Disney, including things to find in the parks and more information on the future Star Wars Land, which opens May 31, 2019.
On October 30, 2012, major excitement occurred in the Force when Disney purchased Lucasfilm. George Lucas, one of the film industries' most celebrated producers, directors, editors and story tellers, was getting ready to retire. He wanted a place for Lucasfilm to continue to live in the hearts and minds of the world.
Lucasfilm is best known for its creation of movie franchises like Star Wars, Indiana Jones and its computer animation division, Industrial Light and Magic. Lucas was reported as saying, "I felt that I really wanted to place Lucasfilm in the care of someone who would protect it… Being a part of Disney has opened up an endless number of possibilities for Lucasfilm, from theme park attractions to movies, television and games. I'm looking forward to seeing all the new projects ahead."
Since the Disney acquisition, many Star Wars projects have been announced, including additional films and Star Wars inspired lands at Disney Parks. Disney and Star Wars fans are excited about Star Wars: Galaxy's Edge coming to Disneyland and Walt Disney World in 2019. In the meantime, Lucasfilm and Disney have been working together for years and creating a partnership worth celebrating. Join us as we look at seven facts about Star Wars and Disneyland, including secrets to look for in Disneyland right now.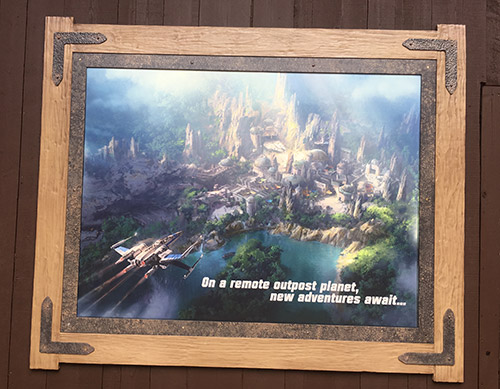 7 Fun Facts About Star Wars and Disneyland
1- George Lucas was at Disneyland on opening day! Lucas and Disney have been "connected" from the beginning. George Lucas was at Disneyland on the opening day to the public in 1955. According to his birthdate, George was only 11 years old at the time and would have, no doubt, been influenced by Disney. George Lucas was similar to Walt Disney in that he created new worlds, new characters and inspired generations. This is one of our favorite facts about Star Wars and Disneyland, since it's great to think about both geniuses visiting and experiencing the magic on the same day.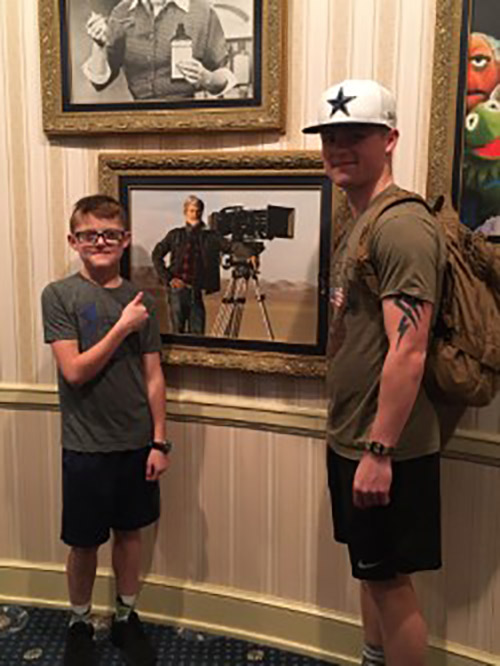 2- A boy and his dog. According to his biography, young George Lucas grew up in Modesto, California. Just like every successful professional, his childhood influenced him in many ways. George worked at his father's stationary store and was a fan of cars. He spent all of his money on cars and wanted to be a race car driver. While driving around he would take his Alaskan Malamute with him. Reported in April of 2017, George Lucas said, "The stories are all true, which is I had a large dog named Indiana…. An Alaskan Malamute, and he would ride around in a car, the front seat…When he sat in the car, he was bigger than I was. That's where I said, that would be a fun character for Star Wars." George continued, Star Wars is a space opera about "a guy who flies around with giant dog." That image was the birth of Han Solo and Chewbacca flying around in the Millennium Falcon.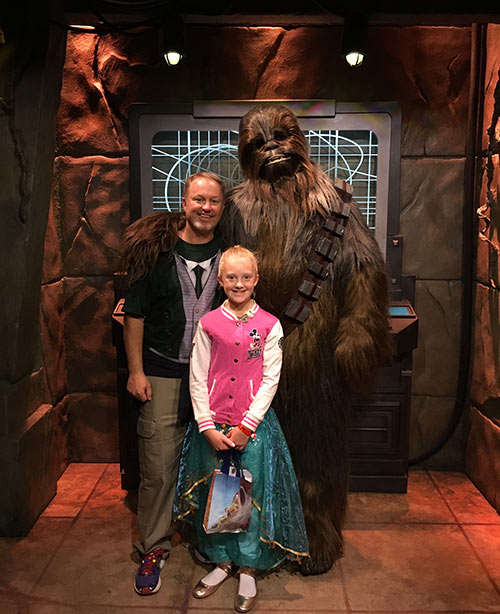 Disneyland Park Secret: Disney fans have seen a dog house at Disneyland with "Indiana" on the name plate. Look close – reports have it placed on the right side of the train tracks as the train approaches the Toon Town stop. This fun little find is easily a nod to both Indiana Jones and Lucas' old friend who inspired one of the best Star Wars friendships.
3- Captain EO. The summer of 1986 brought the best and brightest minds in entertainment together with the first ever "4-D experience" in Disneyland. George Lucas, Francis Ford Coppola, Michael Jackson and other creative forces brought together a story about a space captain that wanted to "change the world." The film featured 3D images and connected to moving chairs, lights, and theatrical smoke within the theatre. While the ride is no longer found at Disneyland, it started a revolution in 4D entertainment and was one of many Disney projects that Lucas was a part of.
4- Star Tours. The creative forces of Disney and Lucasfilm came together again in the summer of 1987 when Star Tours opened. Still a staple in Tomorrowland, the attraction transports guests to the Star Wars Universe. The original sign that appeared on Star Tours in 1987 read, "From the creative forces of Disney and George Lucas." Rex, the original pilot from Star Tours, can now be found in the cargo bay in the queue line. Disney Imagineers frequently place hints of past attractions as a nod to Disney history. Listen closely and you can hear some of his dialogue from the original ride. Rex was originally voiced by Paul Reubens, from Pee Wee Herman fame.
Disneyland Secret: Our list of facts about Star Wars and Disneyland could be composed of Star Tours secrets alone! The Star Tours "hangar" is designed to be a space port, similar to an airport, complete with baggage claim areas and security. Listen carefully for a voice that sends verbal messages to passengers. You may even hear them calling for Egroeg Sacul, which is George Lucas spelled backwards! In addition, there is an announcement to move land speeder THX 1138. THX 1138 was George Lucas' first film. THX 1138 is hidden in many Lucasfilm movies and attractions. For example, it is the license plate number on the yellow roadster in American Graffiti. We hope to see additional references in upcoming films and new Star Wars Land Disneyland!
In 2011, Disney and Lucasfilm updated Star Tours with "Star Tours, the Adventure Continues." The new adventure features C-3PO as the pilot, bringing more fun and excitement to the attraction. Star Tours continues to add additional lands and adventures as the Star Wars universe expands. Recently a new addition has been added where guests get to experience several lands from the new Star Wars films; The Last Jedi, The Force Awakens and Rogue One. And, if you're visiting between now and 2019, you'll glimpse a taste of the new Star Wars: Galaxy's Edge planet as C-3PO comments, "Yes, R2, I believe this adventure is just the beginning."
Another fun fact about Star Tours is that the C3PO and R2-D2 in the queue line are actually original film trilogy props. Make sure to snap pictures with them on your next trip!
5- Indiana Jones and the Temple of the Forbidden Eye. The third attraction to be influenced by Lucasfilm opened in March of 1995, allowing guests to go on an adventure with Dr. Jones himself. If you visited during opening month, you likely waited over four hours to experience the thrilling adventure. It's easy to see how the basis for the current Lucasfilm and Disney partnership was created early on with such great successes.
Disneyland Park Secret: Few guests know that the attraction features one of the most iconic movie props in Hollywood history. Look for the Mercedes Benz military truck near the entrance and exit of the attraction. It is the very truck from Raiders of the Lost Ark where Dr. Jones slides under the truck to save the Ark of the Covenant from the villains!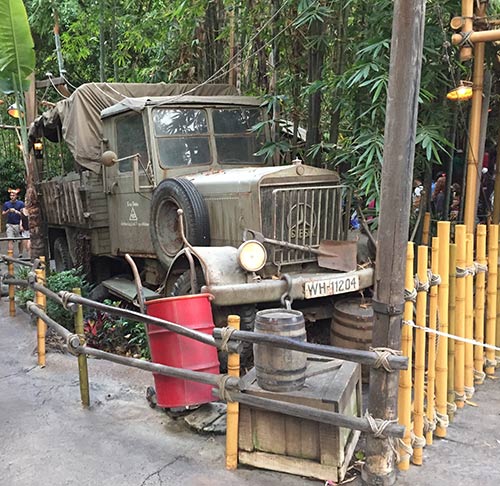 6- Howard the Duck! This is one of the more interesting facts about Star Wars and Disneyland, as it centers around one of Lucasfilm's "flop." Not all of Lucasfilm's movies were financially successful. Howard the Duck, a movie about a crime fighting duck from the planet Duckworth was released in 1986 and considered a financial flop. However, Howard has become somewhat of a fan favorite throughout the years and can now be found in Marvel Comics. Not only that, but guests can even glimpse Howard as part of the Collector's fortress in the Guardians of the Galaxy attraction in Disney California Adventure Park. Look closely for him in the introductory film and listen for his voice at the end of the attraction. In addition, plush animals can be found in the gift shop. Either way, Howard the Duck has a unique following and continues to live on at Disneyland!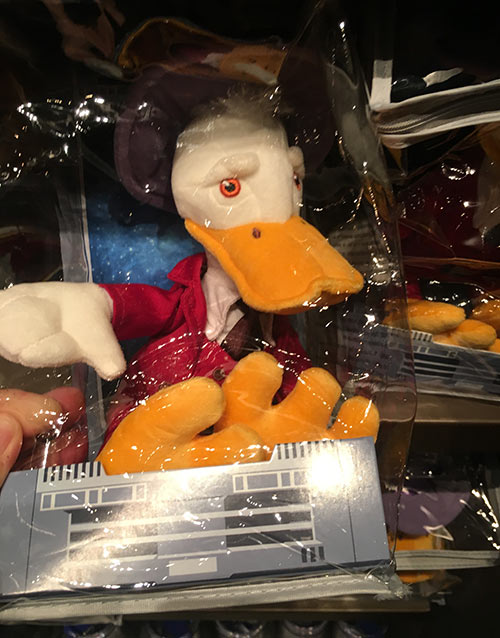 7- Batuu at Galaxy's Edge. Coming in 2019, the new Stars Wars Land at Disneyland has fans everywhere excited about the prospect of being immersed into the Star Wars Universe. A few key things to know include:
The expansion will be the largest Disneyland park expansion to date, adding 14 acres.
You'll be able to experience two attractions here, one of which will give you the chance to pilot the Millennium Falcon yourself.
Jedis, the First Order and more Star Wars characters will be found throughout the land. You'll want to have your camera – and Jedi skills – ready at any moment.
If you ever wanted to try the Blue Milk from Star Wars: A New Hope, you'll be able to here. Blue Milk is just one of the galactic delicacies we'll find at the revered cantina.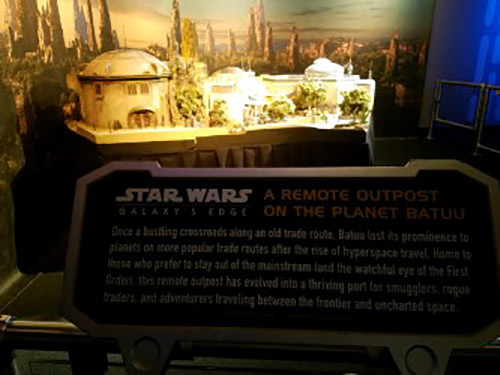 For more information, make sure to check out our in-depth blog post on everything we know about Star Wars Land in Disneyland.
These fun facts about Star Wars and Disneyland just show how exciting it is to be a fan of either right now. While Star Wars: Galaxy's Edge won't open until 2019 in Disneyland, there's still plenty of adventure to be found there now, including Indiana Jones and Howard the Duck. Plus, you'll be one of the first to get a glimpse of Batuu when you ride Star Tours!
Now is the perfect time to book your trip to the Happiest Place on Earth. Get Away Today can help make it more affordable than ever. Book online now or give our Disney experts a call at 855-GET-AWAY. Get Away Today Vacations will help you to get there and to provide your family with every detail.

Check out more articles on Star Wars and Star Wars Land below:
Chris Dallin is a Disneyland fanatic. He travels to Disney parks several times a year and continues to find hidden gems, adventure, joy, and magic in the Happiest Place on Earth. Tune into future blogs for additional ways to experience the magic of Disney Parks.