This Star Wars themed food really takes the cake! But no, it's not an actual cake. Make a batch of Star Wars Snack Mix with pretzel light sabers, Ewoks and Storm Troopers, princess buns and light and dark side chocolate, it's sure to be the best snack in all the galaxy.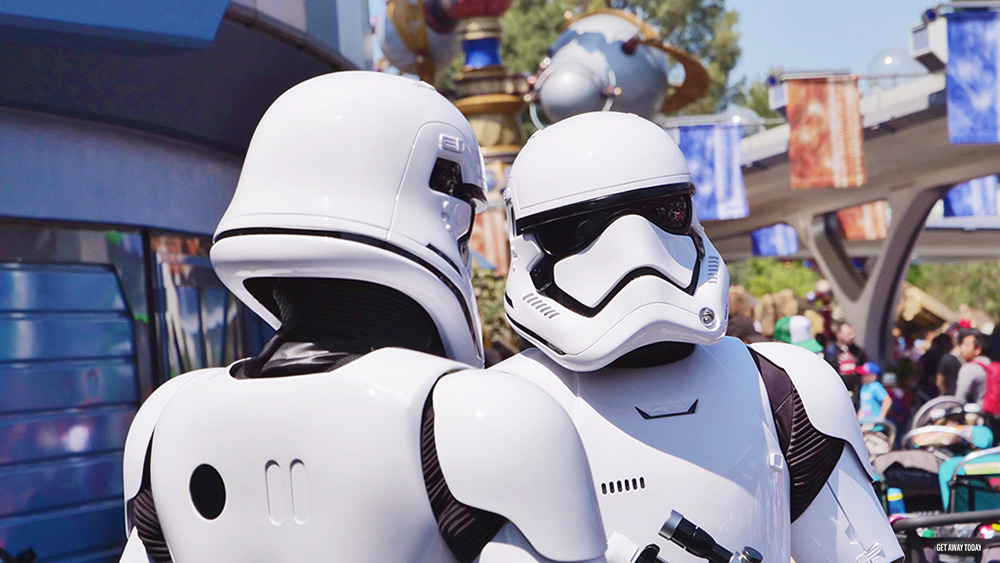 Star Wars Themed Food - Star Wars Snack Mix
There is so much buzz about Star Wars right now. Disneyland is opening the new Star Wars land in just a few short weeks with Walt Disney World set to follow with their grand opening this summer. On top of that, a new movie trailer was just released for The Rise Of Skywalker film. Countless websites are discussing secrets for the upcoming movie and anticipating the revelation of Rey's father amongst other exciting teasers. Star Wars mania is everywhere!
All of this galactic activity needs to be fueled with good Star Wars themed food. We created a Star Wars Snack Mix that is sure to be a hit on any planet! Get mixing and munching so you can enjoy a magical day at Galaxy's Edge! Or, fill a bowl with your Star Wars Snack Mix and snuggle in for a Star Wars Movie Marathon!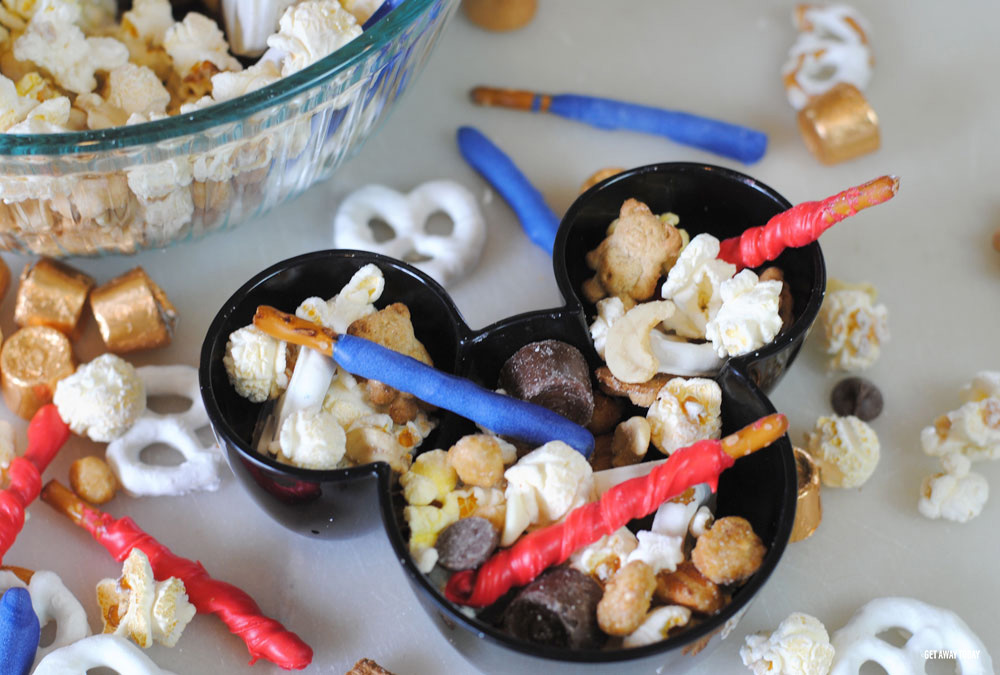 Star Wars Themed Food - Star Wars Snack Mix Shopping List:
Star Wars Themed Food - Getting Started
There are several key ingredients to this Star Wars Snack Mix that make it festive. The rest of the ingredients are just yummy filler. You can add a little bit of whatever is in your pantry for the filler ingredients! The most labor intensive part of this recipe is making the chocolate covered pretzel lightsabers. You need pretzel sticks and then a few colors of melting chocolate. You can find melting chocolate in the cake decorating isle at Walmart by the Wilton baking supplies.
Cover a baking sheet with parchment paper. Melt the colored chocolate in a microwave safe dish. Dip the end of the pretzel into the warm smooth chocolate. Cover at least 3/4 of the pretzel stick with chocolate. Lightsabers are long! Drip off the excess chocolate.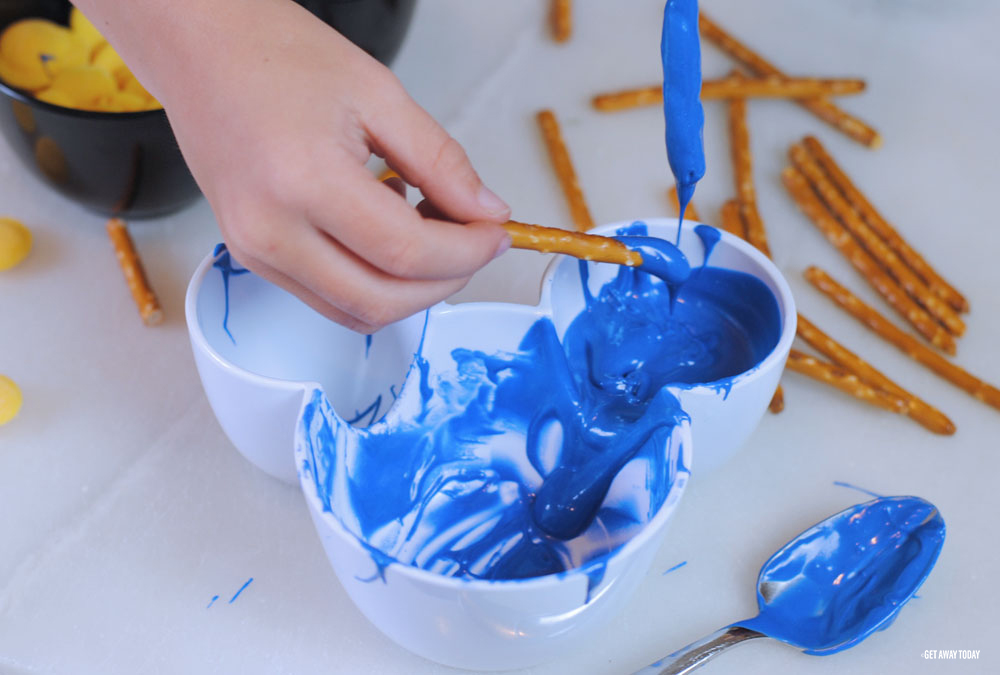 Then, place it onto the wax paper to set. Repeat the process with the next color. I think having two colors of lightsabers is perfect.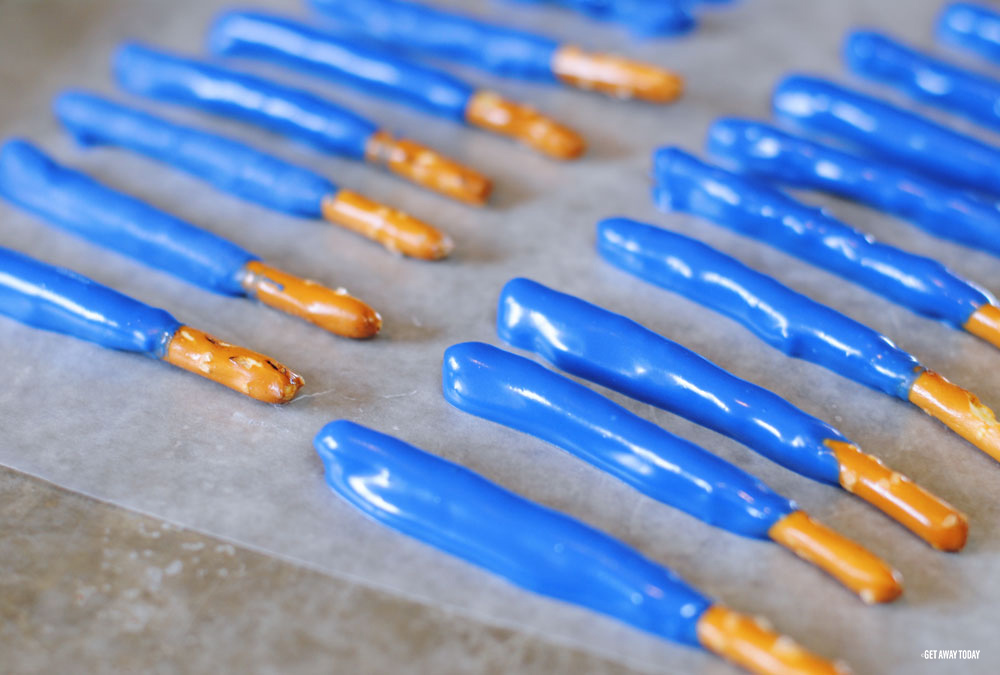 Star Wars Themed Food - Snack Mix Ewoks
One of my favorite ingredients to the Star Wars Snack mix are the Ewoks! Ewoks are one of the only cute creatures in the Star Wars movies. How creepy are most of the characters?! Woks look like cuddly little teddy bears. Add a handful of Teddy Grahams to your bowl and call them Ewoks and don't feel guilty when you have to eat them.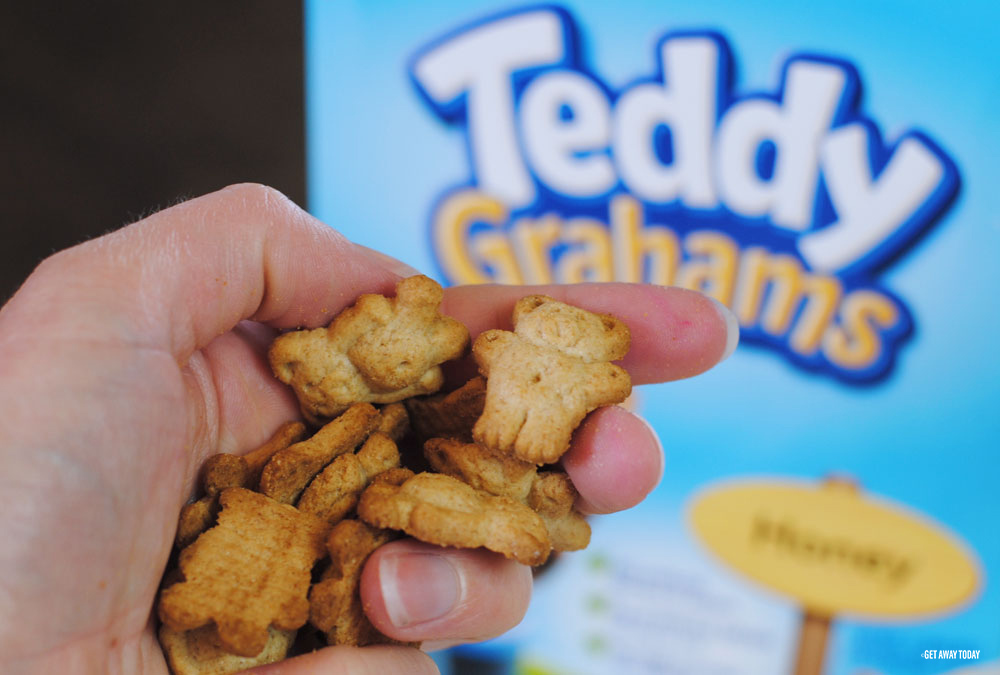 Star Wars is a constant battle between the light side and the dark side. Both need to be represented in your Star Wars Snack Mix. Put and equal about of white chocolate chips and dark chocolate chips into the mix. Unless you have a tendency to pull to the dark side...then feel free to toss in a few extra dark ones!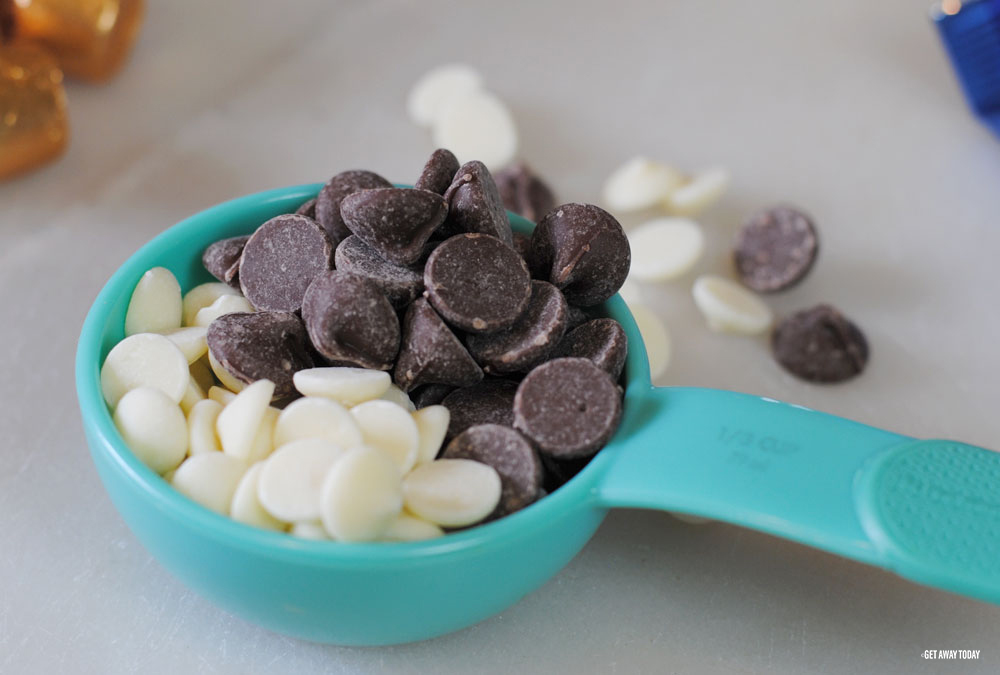 Star Wars Themed Food - Snack Mix Princess Leia
Princess Leia has grown up to be a pretty tough general, but her original bun-like princess hairstyle is still totally iconic Star Wars! Add some Rolos Princess Leia buns to your snack mix. Unwrap the Rolos before you put them in the bowl. You don't want any gold tin foil finding it's way into your tummy.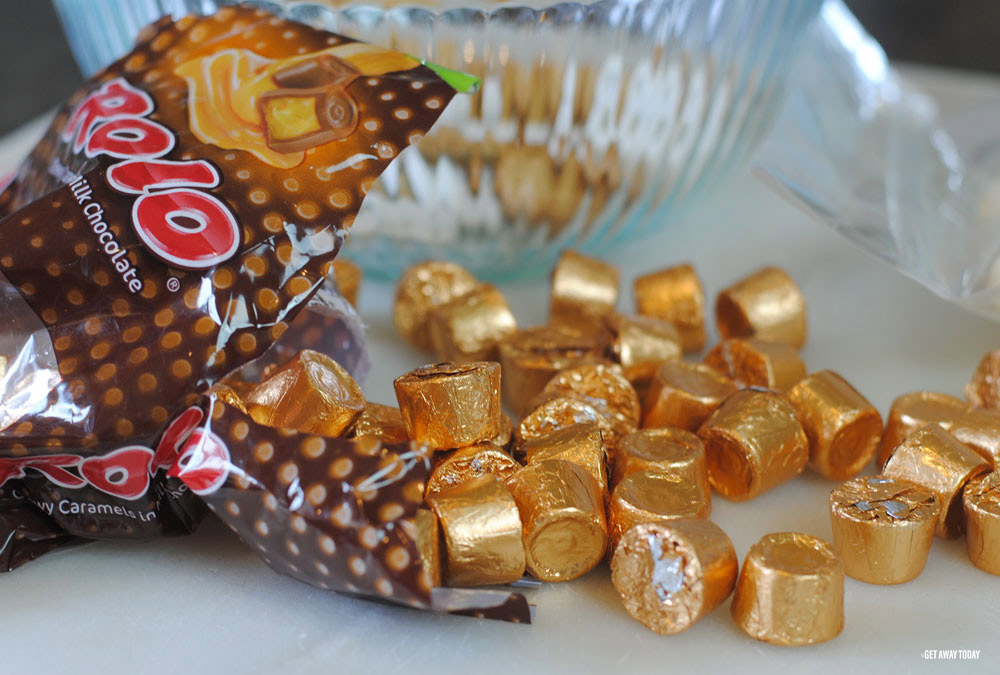 Star Wars Themed Food - Snack Mix Storm Troopers
Can't have Star Wars without a visit from the Storm Troopers. My favorite Storm Trooper is Finn. Does he still count as a Storm Trooper?! I used yogurt covered pretzels as storm troopers. You have to use your Disney imagination to see it, but they do kind of look like the troopers helmet. Right?!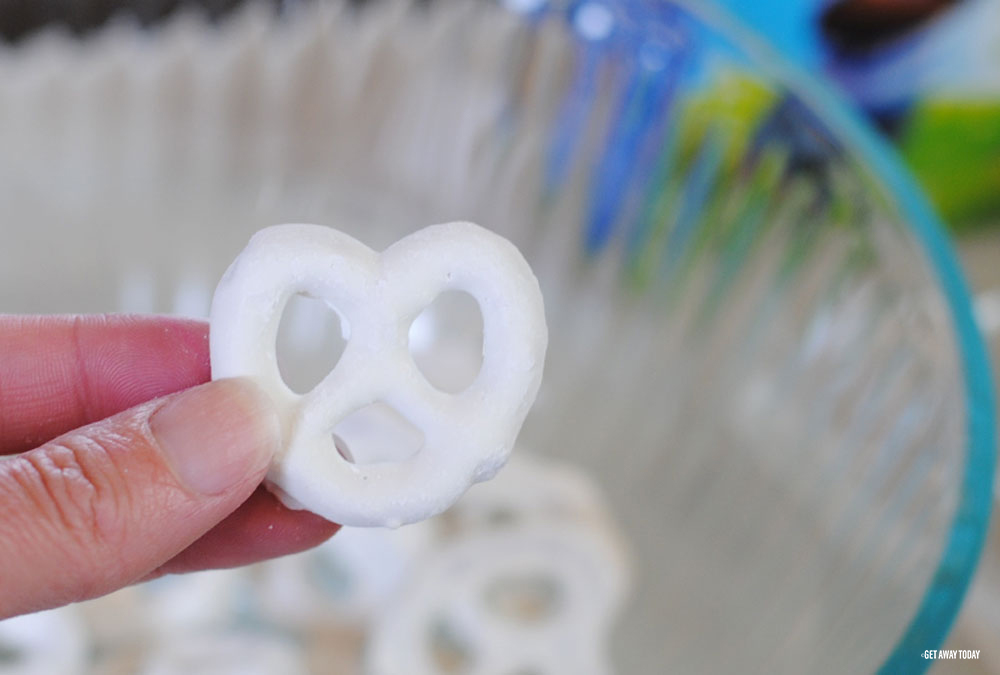 The rest of the ingredients I added are just tasty filler. I'm fond white chocolate popcorn, butter toffee peanuts, salted cashews, and sesame sticks. The ratio is not set in stone. Just dump things in until it looks right to your taste buds.
Star Wars Themed Food - Snack Mix Lightsabers
I placed the lightsabers in at the very end to ensure that they didn't get broken. Hate to have all that work go to waste.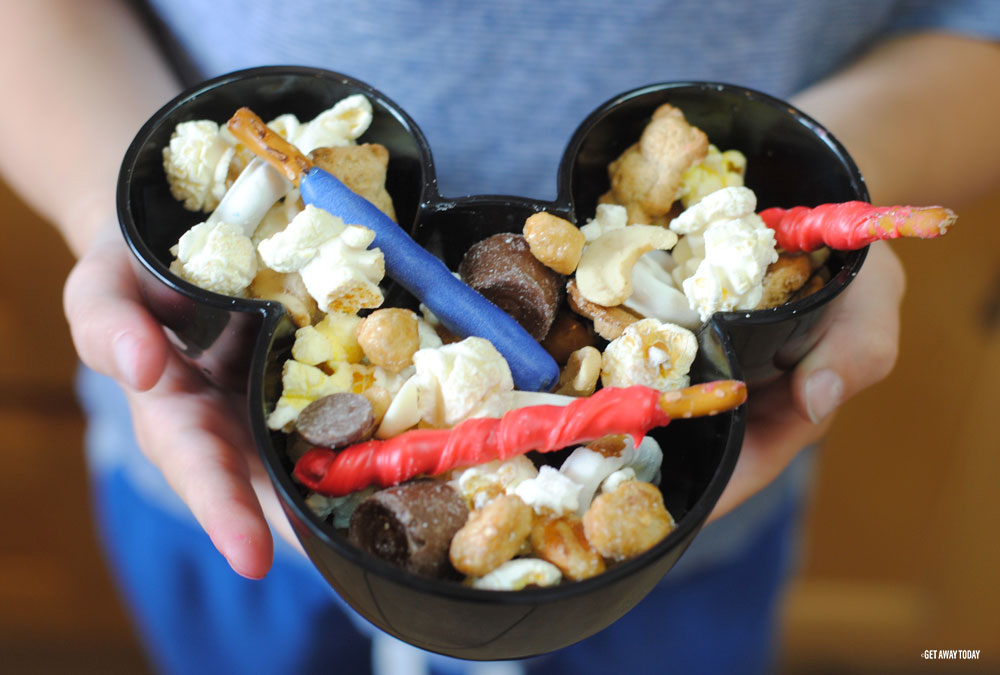 The combo of all the Star Wars themed food and extra yummies was really good! Mix all of the ingredients together and you have one out of this world snack. Where would you like to be found munching on your Star Wars Snack Mix? I think I'd like to be at Galaxy's Edge. It looks incredible. I can't wait to go exploring. No matter what part of the star system you are traveling through, having a good snack around is always a good plan.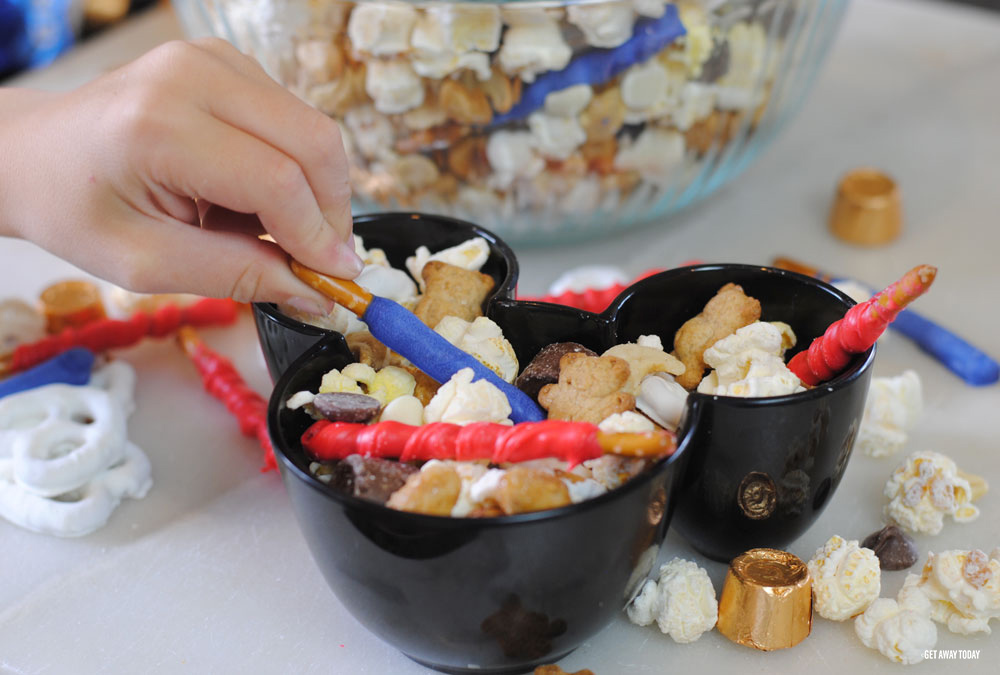 If you would like to head to Disneyland and experience more unique Star Wars themed food, then book now with Get Away Today! We expect hotels near Disneyland will fill fast since we now know Star Wars: Galaxy's Edge opens May 31, 2019 in Disneyland. You can find all our vacation packages online, or give our friendly travel agents a call at 855-GET-AWAY.