Planning on giving the gift of a vacation this year? We have an easy and fun way to announce a surprise cruise vacation!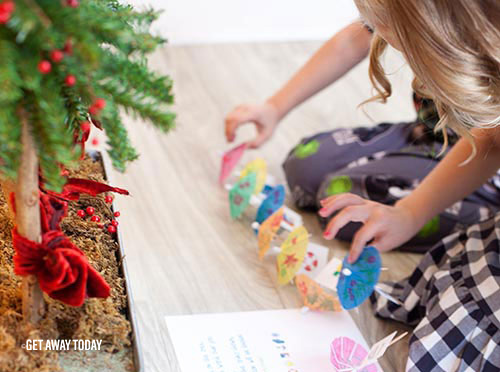 The gift of a vacation is a gift your family won't soon forget. Whether it's your family's first or fifth time visiting a destination, it's sure to be the gift of the year. Cruises have become one of the most popular destinations for families.
Cruises are great because your family can see multiple places on one vacation, but you only have to unpack once. Throw in the fun kids' clubs, amazing food, pools and family activities on board and it's no wonder families love cruises! A surprise cruise is the perfect gift for all ages and sure to be a fantastic family vacation.
One of the best parts of surprising your family with a cruise is the reveal itself. While there are tons of different ways to do it, we prefer the easiest ones! An easy, but still fun, idea is to use paper umbrellas and a special code. Here's how:
You will need:
Paper Umbrellas
Tape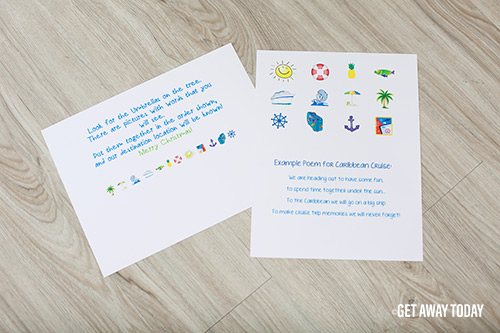 This poem is perfect for revealing a surprise cruise to the Caribbean and reads:
"We are heading out to have some fun,
to spend time together under the sun...
To the Caribbean we will go on a big ship
To make cruise trip memories we will never forget!"
You can always use the poem for different cruise destinations, too! Just change where it reads 'the Caribbean' to your own cruise destination.
After making any adjustments, download and print the symbols and instruction sheet. Next, cut around each symbol so that it is its own square.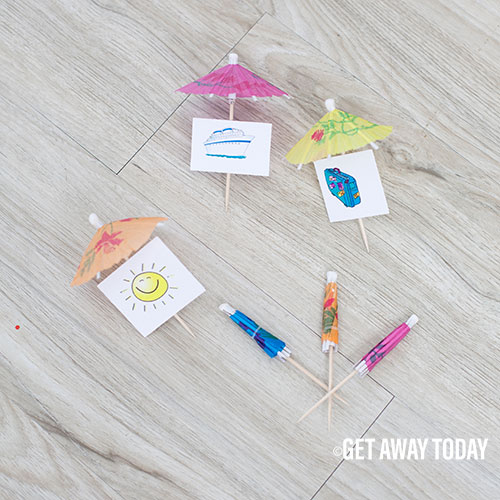 Arrange the squares in the order shown on the instructions page. Then, break up the poem into sections. Write each section on the back of a different symbol. Once the pieces of the poem are written, tape the paper squares onto the umbrellas.
Now mix up the umbrellas and either place them in your Christmas tree, or on their own little vacation trees like these: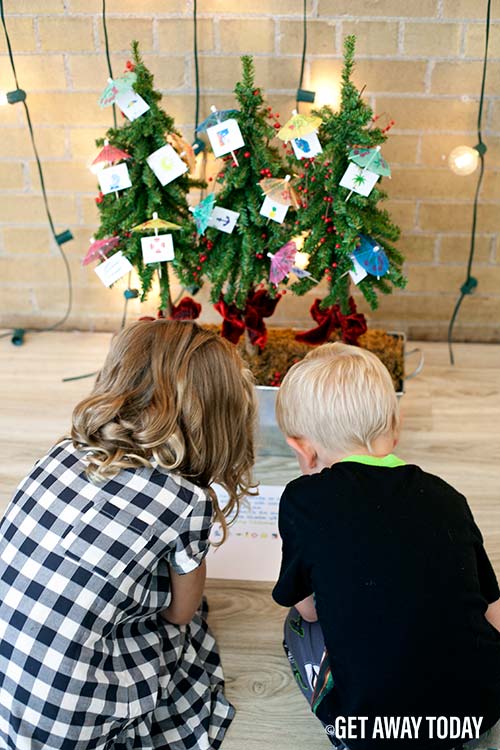 If your kids are older, hiding the umbrellas on your family's Christmas tree will be a more challenging hunt. Just make sure not to places the umbrellas until Christmas Eve or Christmas morning. You don't want your kids figuring out about the surprise cruise before the big day! Another fun idea is to wrap the vacation instructions for your family to open together on Christmas morning.
The instructions include a fun poem telling the kids where to look for the umbrellas and the order to arrange them in to reveal the destination. Once your kids have the instructions, sit back and watch the magic work.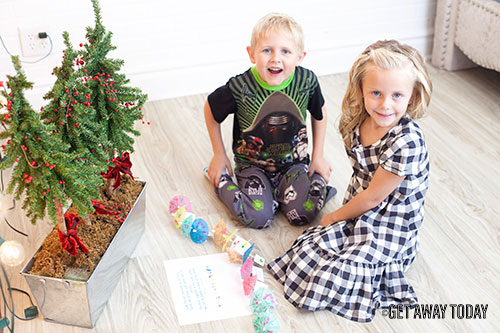 Your kids will have such a fun time finding all of the umbrellas and working together to put them in the right order. Make sure to have your camera ready for when they turn the symbols over and reveal the surprise cruise! Reactions may include big smiles, laughter or even happy tears.
A surprise cruise is such a great family gift idea! Still need a Christmas gift for your family? It's not too late to book a cruise. There's still some availability on cruises that sail over the holidays or you can book a future cruise. A future cruise means you have more time to save and the anticipation alone is so much fun! Plus, you can plan family activities for each weekend (or month, depending on how far out) to get your kids excited for the sail date.
Make this year's Christmas the best one yet and gift the gift of a surprise cruise to your family. Our online booking portal makes it easy to compare multiple cruise lines and itineraries all at once. Don't forget to book online or call our experienced cruise agents at 877-510-2929 for the best deals!

Check out these other great articles to help you plan a cruise surprise: