UPDATED APRIL 2023. Here at Get Away Today we love exploring all that Southern California has to offer. From miles of coastline, plenty of sightseeing and thrilling theme parks like
Universal Studios Hollywood
. We know narrowing down a hotel is no easy task, especially when you're adding Universal to a Disneyland or San Diego trip. Many guests choose to make a night of it in Hollywood or the Los Angeles area to avoid traffic and keep the vacation fun going. Our team visits Southern California on a regular basis to survey different attractions, hotels and all aspects of SoCal vacations so your trip can be the most magical yet. Get Away Today is your partner in travel and here to help you every step of the way. Keeping your budget in mind, we group our hotel listings into three categories:
Deluxe Property
Moderate Property
Value Property
This article reviews The Garland which falls under the Moderate category. Below we'll discuss our favorite things about the property along with everything you need to know to decide if it is right for you.
Photo Courtesy of The Garland
The Garland North Hollywood Snapshot
The Garland is a full service hotel near
Universal Studios Hollywood
. Ready to welcome families and adults alike, The Garland features onsite dining options, free trolley rides to Universal Studios and daily activities—it is a great choice for your next Southern California vacation.
Category: Moderate
Corporate Brand: Independently owned
Sleeps up To: Four guests
Transportation: Complimentary Trolley service to and from Universal Studios and Universal City Walk
Check In/Out Time: 3:00 pm / noon
Get Away Today Perks: Low price guarantee
Location:
Located in North Hollywood, The Garland is about 1 mile from Universal Studios Hollywood, 2.5 miles from Warner Bros Studios, 4.5 miles from Hollywood's Walk of Fame and many other of L.A.'s best attractions. It is an ideal choice for travelers who need a
central hotel location
in a comfortable area of Los Angeles.
The Garland Los Angeles
is about ten (10) miles from Griffith Park, the Griffith Observatory, the Hollywood Bowl and is also close to Dodger Stadium (10 miles). You will also find beaches like the Santa Monica Pier about twenty (20) miles from The Garland. You also have close access to many shopping areas including Beverly Hills Rodeo Drive just ten (10) miles away.
The Garland Hotel Rooms near Universal
Get Away Today guests who stay at
The Garland Hotel
can choose either a one King or two Queen room. You'll be greeted with vintage flair and warm tones in either room, each of which will comfortably sleep up to four guests. En suite bathroom in each guest room featuring Pasadena-based and sustainable LATHER bath amenities. A rollaway bed can be requested for an additional fee. Each room at The Garland boasts a balcony, allowing for casual indoor-outdoor living during your stay. Other amenities include a coffee maker and fridge. There is complimentary Wi-Fi, cable and an in-room video game at The Garden.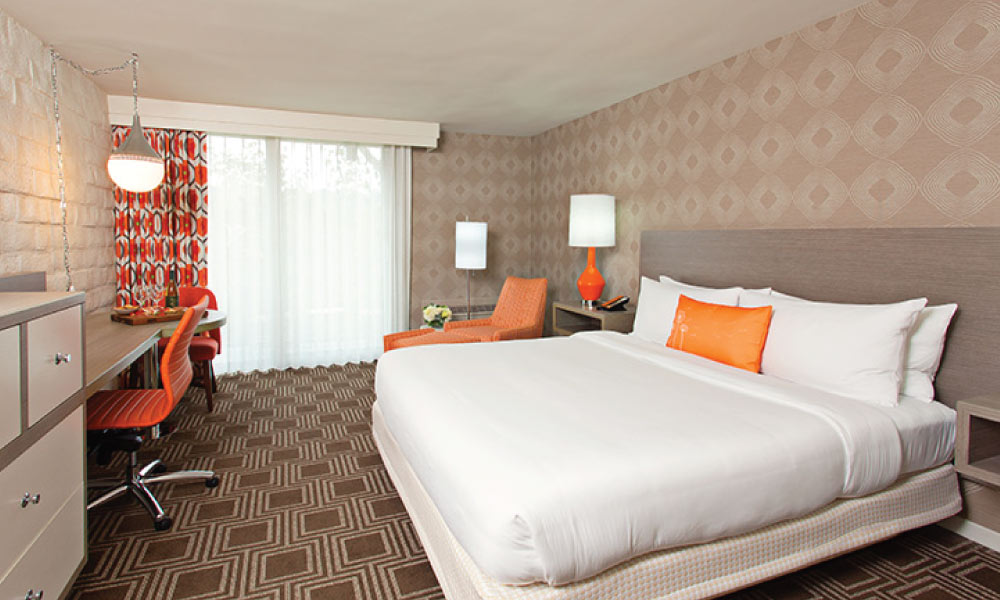 Photo Courtesy of The Garland
The Garland Hotel Los Angeles Pools & Amenities
The Garland resides on seven acres of property that caught the attention of actress Beverly Garland and her husband Fillmore Crank in the 1970s. They fell in love with the locale and decided it had to become a place where loved ones could gather. Thus The Garland Hotel was born. Onsite at The Garland is a welcoming oasis with an outdoor pool and lounge area. There is also a wading pool, an exercise room and daily fitness classes and activities. And for those who dread doing laundry upon returning home from vacation, there is access to on-site laundry. There's nothing better than returning from a trip and being able to just dump the contents of your suitcase back into drawers because everything is already clean. The Garland offers a free Trolley shuttle to take guests to and from nearby Universal Studios. The schedule is subject to change, but in the morning it typically leaves the hotel every hour, beginning at 7:30 am. Be sure to check with the hotel's front desk to inquire about catching the
Universal Studios Hollywood
shuttle, or using it for transportation to the metro station.
The Garland North Hollywood Dining
In house restaurant, The Front Yard offers seasonal LA-inspired dining for breakfast, lunch and dinner. Brunch at The Garland is available on Saturdays and Sundays, and reservations are recommended for The Front Yard. To enjoy Californian cuisine via room service or The Front Yard to-go, simply call and make arrangements. Both the general hotel menu and the to-go menu have dishes for grown ups and kids alike. The Lobby Bar in The Garland offers additional dining options, including drinks by the outdoor pool.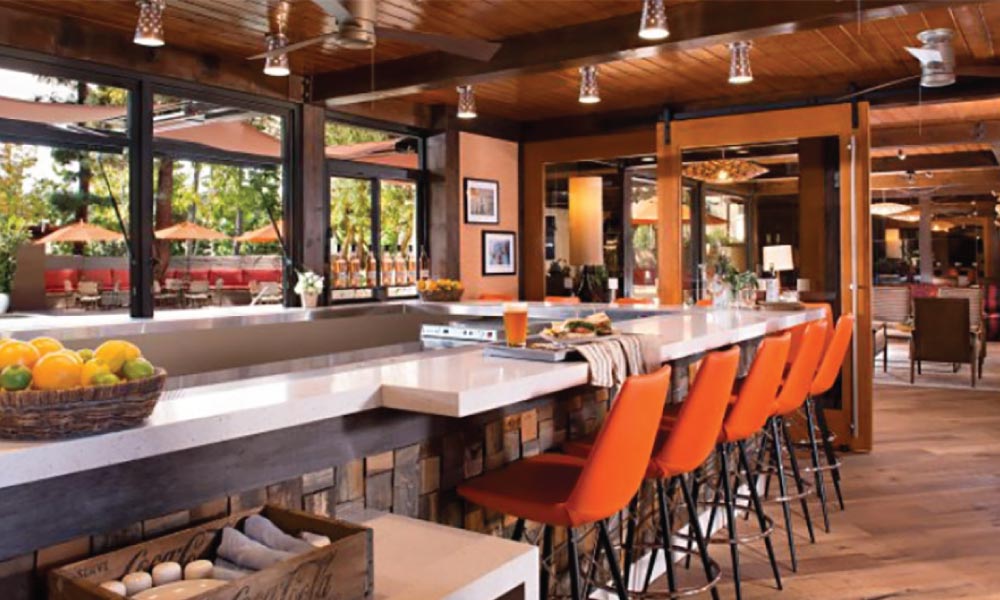 Photo Courtesy of The Garland
We Recommend…
Our most popular options for Universal Studios Hollywood includes:
Whether you stay in the Hollywood area during the first part of your vacation, or wrap up here it is easy to see
The Garland is a fantastic Hollywood chic hotel
destination near Universal. With both savings and style, your Universal Studios and Southern California vacation will be one for the whole family to remember for years to come.