Halloween Time at Disneyland is in full swing, with not-so-spooky decor and thrilling ride overlays throughout both parks. Our favorite thing about the spooktacular season has to be the sweets, though. Check our our top Disneyland Halloween Time treats in our new YouTube video!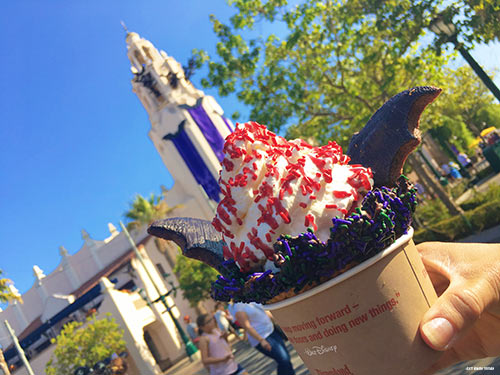 We love the food at Disneyland year-round, but there's something special about the seasonal treats found during Halloween Time. All of the sweet treats found through Disneyland and Disney California Adventure are hauntingly good, but we have a few favorites. You can't miss these top Disneyland Halloween Time treats, so check out our YouTube video below:
Mmmm, don't you wish you were snacking on one of the top Disneyland Halloween Time treats right now? We do! Before you head to Halloween Time at the Disneyland Resort, make sure to put together a list of all of your must-tries. Make sure to include the top treats we've compiled, including:
- Beignets from Mint Julep Bar. Try both the standard beignet in powdered sugar and Dreamsicle, this year's seasonal flavor. The Dreamsicle beignets are coated with an orange-cream flavor before being drenched in powdered sugar. Either version is dreamy!
- Oogie Boogie dessert from French Market Restaurant. If you love Tim Burton's Nightmare Before Christmas, you won't want to miss this dessert. You only have to worry about gummy worms in this delicious treat.
- Mickey-Shaped Macarons from Jolly Holiday Bakery. These bakery delights are spooky and delicious. You can choose from between the standard raspberry flavor or the seasonal chocolate flavor, with white chocolate on the outside and chocolate-salted caramel filling.
- Vampire Mater Bread from Fillmore's Taste-In. This Halloween treat shows off Mater in his Halloween costume. It's frightfully cute and tasty!
- Mini Candy Cone Pie from Flo's V8 Cafe. The small cream pies are a treat you won't want to miss. They embody two of our favorite things; candy corn and Cars Land! Make sure to get one early in the day as they tend to sell out.
- Bat Wing Raspberry Sundae from Clarabelle's Hand Scooped Ice Cream Shop. The bats on Buena Vista Street have invaded for the Halloween Time season, even at Clarabelle's Hand Scooped Ice Cream Shop. The raspberry-white chocolate swirled ice cream is paired perfectly with bat wing cookies and raspberry topping. We don't blame you if you don't want to share this batty treat.
- Seasonal Churros, Cotton Candy, Candy Apples and more from around the Disneyland Resort. Keep your eyes out for seasonal treats throughout the Disneyland Resort. You can find everything from pumpkin spice churros and candy corn-colored cotton candy to Halloween-themed candy apples and flavored popcorn.
If you haven't booked your Halloween Disneyland vacation yet, there's still time. The spooktacular celebration ends on October 31st and you don't want to miss it! Our discount Disneyland tickets and reduced hotel rates will make sure your wallet isn't left feeling scared, giving you plenty of reason to splurge on the Halloween Time treats. Book any of our Disneyland packages online or give our agents a call at 855-GET-AWAY.

Check out these other frightfully fun articles: