The Holidays at the Disneyland Resort is incredible no-matter what time of day you see it. However, it's especially magical at night when twinkling lights, shiny ornaments and fireworks light up the sky. To make sure you don't miss out on any of the nighttime festivities, here are our top things you have to see during Holidays at the Disneyland Resort at night!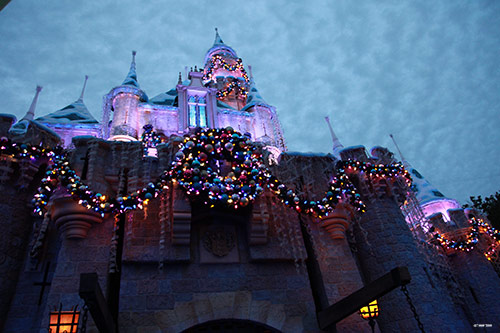 Watch our video where we explain our top six things that we love about the Holidays at the Disneyland Resort at night. With so much to see and do during the celebration, watch and find out what shows, attractions and sights are even more enchanted at night.
As you can see, the Holidays at the Disneyland Resort is more spectacular than ever before. Here are some highlights from our video that showcase everything you have to see at night during the most wonderful time of year.
Sleeping Beauty Winter Castle: The famous Disneyland castle that we all know and love is even more magical during the holiday season. Here, you can find a special enchantment ceremony that occurs one or two times per night throughout the Holidays at the Disneyland Resort. However, you can see the castle shining all night long with it's thousands of icicle lights and festive décor.
"it's a small world" Holiday: "it's a small world" gets a jolly makeover and transforms into a holiday spectacle during the celebration. At night, this attraction is illuminated with thousands of colorful lights. They do a lighting ceremony at 5:15 p.m. to see the attraction come to life. If you can't catch it, at least be sure to walk by. Plus, take advantage of the all-new FastPass for this attraction as well.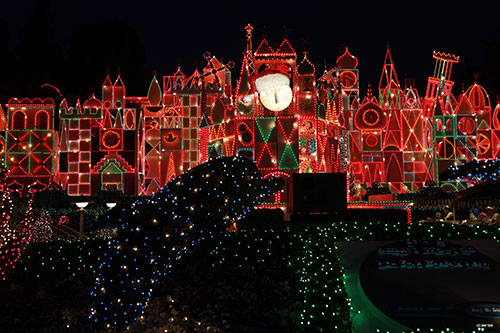 Snowfall on Rivers of America: Up to three times a night, you can catch the snowfall on Rivers of America in Frontierland. Here, you'll be able to enjoy a Jazz band play on the water while snow gently falls to the classic Christmas tune, "I'm Dreaming of A White Christmas."
Cars Land: The quaint town of Radiator Springs celebrate the holidays with festive décor, music and more. At night, Radiator Springs becomes illuminated with bright colors that dazzle all night long. If you can, try to get a FastPass for Radiator Springs Racers with a nighttime return. By going at night, you'll be able to experience this attraction like never before.
World of Color – Season of Light: In our opinion, this is one of the best versions of World of Color ever. You'll be able to enjoy tales of friendship, love and joy incorporated with some of your favorite holiday songs. Since this is a popular show, you'll want to get a FastPass for this.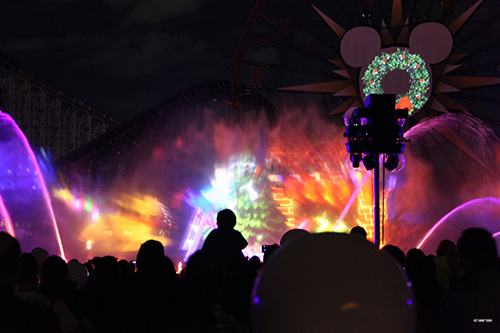 Believe… in Holiday Magic Fireworks: Get a spot in front of the castle or on Main Street, U.S.A for a holiday fireworks spectacular that ends in a magical snowfall. This is a show that you and your family won't want to miss. Plus, there is no better way to end a day at the Disneyland Resort during the holidays!
So there you have it, everything you have to see during Holidays at the Disneyland Resort at night. And if there is this much to do during the evening, just imagine how much you can see during the day! The holiday celebration is far from over, so make sure you visit the Disneyland Resort before the festivities end on January 7, 2018.
To book your holiday vacation, visit our website or call 855-GET-AWAY to speak to one of our travel experts directly. We guarantee the best price and best service, no matter what time of year you go. Plus, make sure to subscribe to our YouTube channel for more insider tips and expert information about the Happiest Place on Earth.

Check out these other great Holidays at Disneyland articles: