Here at Get Away Today, we pride ourselves on being in the know when it comes to travel. That's why we are thrilled to have been invited to the Virgin Voyage event in New York City, celebrating the unveiling of Virgin Atlantic Cruise Line. Get Away Today is launching our own new cruises website, and we are beyond excited to be able to offer a first look at Virgin Atlantic's as part of our efforts to provide guests with the latest and greatest when it comes to cruising.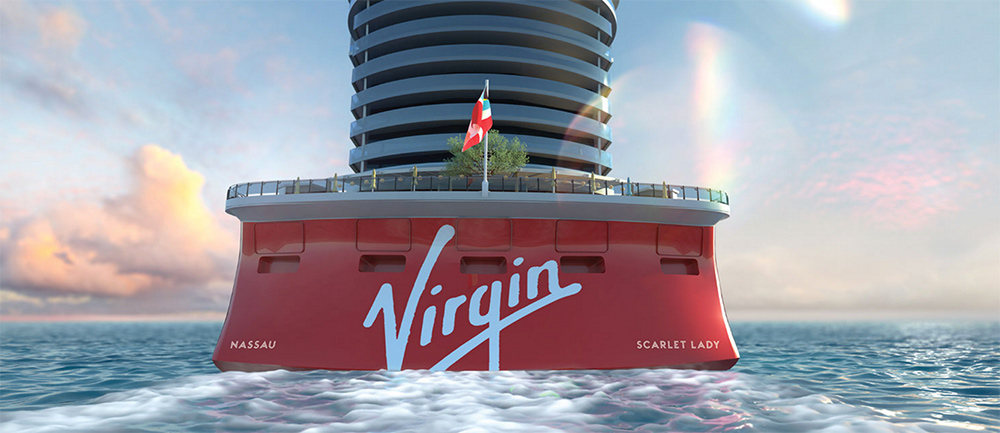 Photo courtesy of Virgin Atlantic Cruise Line
Our Executive Vice President, Jen Dunyon and Operations Manager, Wade Stocker, are meeting with the Virgin Cruise Line representatives today in New York City to get the scoop on Virgin Atlantic's newest venture- Virgin Voyages. Booking with Virgin Voyages begins on Valentine's Day 2019, with the first ship scheduled to set sail in 2020. Give us a call to start the booking process! Two more ships in the Virgin Voyages Cruise Line are scheduled to launch in 2021 and 2022.
Today we break down all you need to know about this adults only cruise line from Richard Branson and Virgin Atlantic. You can always count on Get Away Today to be knowledgeable about all the newest cruise information from our partners.
Virgin Atlantic Cruise Line - Virgin Voyages Ships
The first female ship to launch with Virgin Atlantic Cruise Line is the Scarlet Lady. She pays homage to one of the first Virgin Atlantic planes, and to Virgin's commitment to promoting gender equality across all Virgin Atlantic crews. The yacht inspired ships in the Virgin Cruise Line feature sustainably packaged foods, and a ban on single-use plastics. You can explore the world on one of Virgin's ships while also taking good care of it! According to Virgin Voyages, you can be a "rebel with a cause" when traveling with them.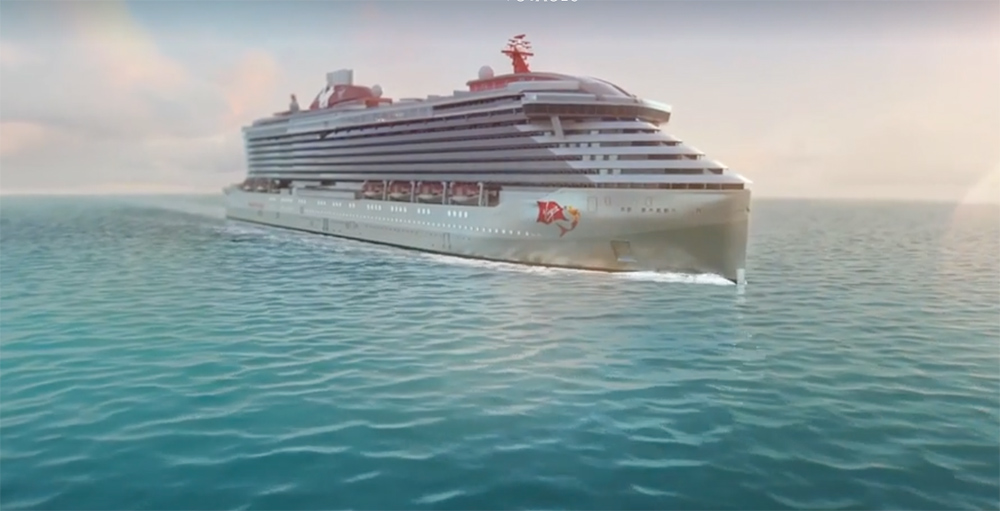 Photo courtesy of Virgin Atlantic Cruise Line
The Virgin Cruise Line has ports in Miami, Havana, Puerto Plata, Costa Maya and one top secret location! Virgin Cruise Line teases that the secret locale is comparable to Necker Island.
Virgin Atlantic Cruise Line - Virgin Voyages Rooms
There are a variety of yacht-style rooms available on Virgin Voyages, with square footage ranging from 105 to 2147. Rockstar Suites are the largest available, featuring luxury at its finest. Reserved for elite guest, they feature both indoor and outdoor living spaces. Enjoy a private hot tub, a rain shower, and access to Richard's Rooftop, a private lounge onboard. Rockstar Suites can sleep up to four guests.
Sea Terrace Suites feature sleek and modern furniture. Mood lighting makes the space cozy and the perfect place to relax after enjoying all the cruise ship has to offer. Sea Terrace Suites also have indoor and outdoor living space, and can sleep up to four guests.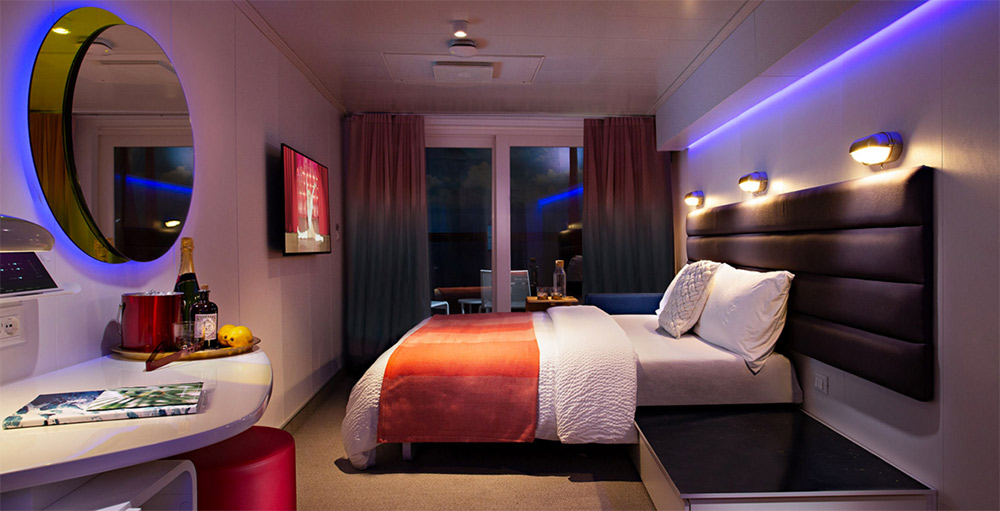 Photo courtesy of Virgin Atlantic Cruise Line
Sea View Suites are up to 190 square feet, and offer window seats so you can enjoy beautiful ocean views from your room. The rain shower, mood lighting and technology available in all suites make them an ideal place to take a night off from the ship's shows and stream a movie in bed. Sea View Suites sleep up to three guests.
Insider Suites are the coziest option available, ranging in size from 105-177 square feet. Again, modern technology, sleek and comfortable furnishings and 24-hour room service may just entice you to stay a little longer below deck. Insider suites can sleep up to four guests.
Virgin Atlantic Cruise Line - Virgin Voyages Amenities
With a background in music, there's no doubt Richard Branson's newest venture aims to entertain. On Virgin Voyages, you will find a variety of shows, bars and live DJs. The Manor, named after Richard Branson's first recording studio, is a 70s-punk style night club with three bars and a comfortable lounge area, which will draw you out of your room. Virgin Voyages will also offer gigs from some of the best as-of-yet "unknowns" in the industry, so you can say you were there when they made it big.

Photo courtesy of Virgin Atlantic Cruise Line
Also on board Virgin Atlantic Cruise Line ships is a poolside Aquatic Club, group fitness classes, a spa and a tattoo studio! Fitness classes include yoga, boxing and spinning. Or take a run around the onboard deck track if you need to get energized, or just make room for another delicious meal.
Virgin Atlantic Cruise Line - Virgin Voyages Dining
Virgin Voyages offers 24-hour room service, so with just a swipe on the room provided tablet you can have something tasty delivered to your suite. On board the ships are 20 plus eateries to choose from with no cover charge. Food fare ranges from Mexican to vegetarian, and Korean to Italian. With nearly everything else in between, there is bound to be something for everyone. Also, be sure to check out their food truck inspired dining options on board as well!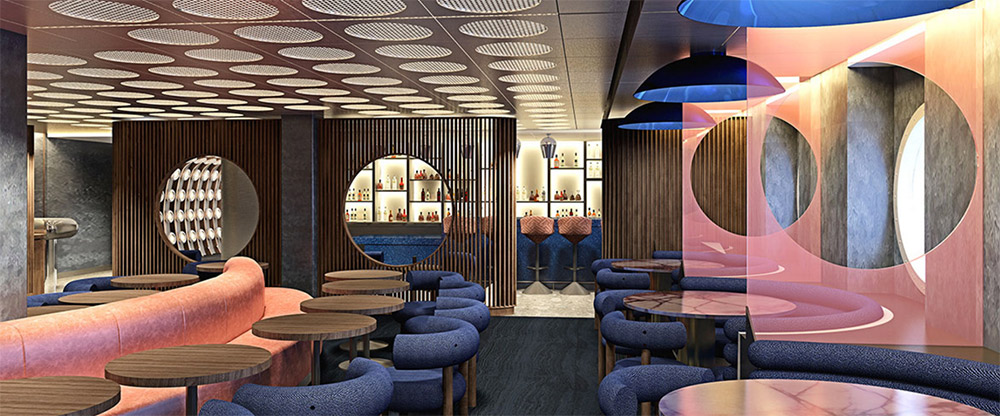 Photo courtesy of Virgin Atlantic Cruise Line
Virgin Atlantic Cruise Line - Virgin Voyages Overview
From the man who transformed music in the 70s comes a cruise line for adults that is sure to thrill. The Italian designed ships, with sleek furnishings and state of the art technology, start taking reservations on Valentine's Day 2019. Virgin Voyages are sure to change the way you sail. Think Rock Star meets yachtsman. Think big city meets small town. All this and more on board Virgin Voyages from Virgin Atlantic. Get Away Today is looking forward to working with Virgin Voyages to offer guests new experiences on the seas in 2020!
Cruise Specials and Promotions from Get Away Today
Although you will have to wait until 2020 to set sail with Virgin Voyages, Get Away Today has cruise specials you won't want to miss RIGHT NOW! Our seasoned cruise experts are ready and waiting to get your cruise booked, whether it is for 2019 or beyond. Take a look at some of the current specials and promotions offered with Get Away Today.
Kids Sail Free on Royal Caribbean
Combine the best of Royal Caribbean with 60% off your 2nd guest and kids sail free. Plus, get up to $100 to spend at sea when you book by February 28, 2019.
Photo courtesy of Royal Caribbean Cruise Line
Get free pre-paid gratuities for up to four guests on select Princess itineraries for travel April - October 2019 when you book by February 28, 2019.
Save big with our Carnival Cozy Winter Sale. 2 - 5 day cruises starts at $269 per person and 6+ day cruises start at $509 per person when you book by February 28, 2019.

Photo courtesy of Carnival Cruise Line
Up to 6 Promo Offers on Norwegian
Get up to 6 bonus offers on balcony and mini-suites on select sailings. Choose free beverage, specialty dining or internet packages, excursion credits, airfare credit or more when you book by February 18, 2019
If you're ready to set sail now or next year, the cruise agents at Get Away Today are here to help you take advantage of the savings! With our new, updated cruise website you will be able to easily navigate the booking process. If you have questions, feel free to give the Get Away Today cruise line a call at 877-510-2929.