Update:
 As of this date the details of Frozen Fun at Disneyland have changed - check our 
Everything Frozen at the Disneyland Resort
 article and follow us on Facebook and Instagram for the most up to date information! 
One of the most popular attractions at the Disneyland Park is the new Frozen Royal Reception where families get to meet Queen Elsa and Princess Anna. It is located in Fantasyland in the cottage where Rapunzel used to live before she found a new home at the Princess Fantasy Faire. The outside of the cottage is covered in a blanket of white sparkly snow. A cute animated Olaf entertains guests who are waiting in line with clever jokes and comments from his cozy spot on the roof.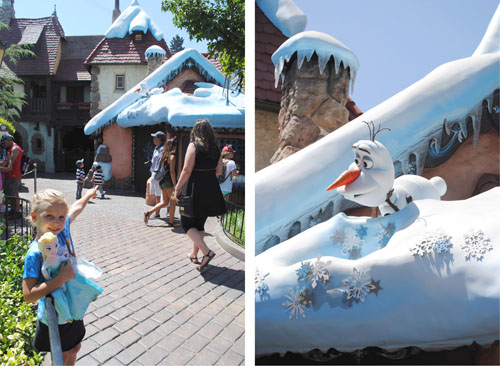 Unlike all the other princess meet and greets in the park, you must obtain a ticket to reserve a time to see Elsa and Anna. You cannot get in line without a ticket. The tickets are distributed each morning just outside the Frozen Royal Reception cottage. The ticket is similar to a FastPass, but is is not qualified as one, just like the tickets distributed in Disney California Adventure Park for the World of Color show. They are free and you'll need to have your park entrance ticket with you to get a Frozen experience ticket. That means you can't send Dad to pick up tickets for your family. I was told that the tickets have been sold out within the first few hours after the park opens each day, so get there early! Your ticket will display a time for you to return and get in the line to meet the princesses. You must display your pass to get in line and then again as you enter the Frozen Cottage. The average wait time in line is about 45 minutes to an hour, which is way better than the previous 2 - 4 hour wait times!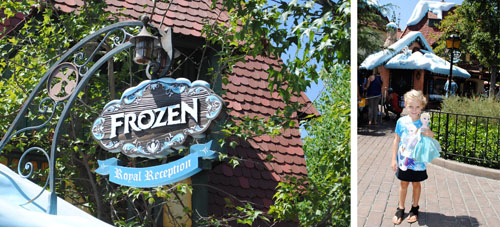 Here is a photo of where you can pick up your pass in the morning. I was told they distribute them under the two umbrellas. Remember to be there as early as possible to get your ticket.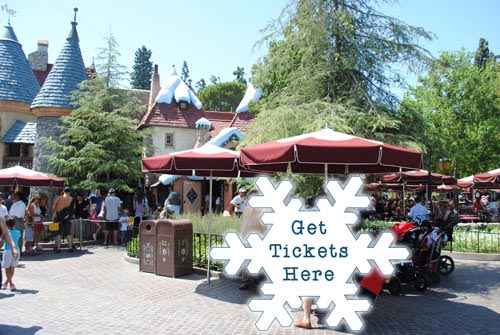 When we visited the park, the ticket process was only a few days old, and we didn't know to get a ticket in advance. The good news was that, even though we weren't able to meet the real Anna and Elsa personally, we were still able to have a lot of Frozen fun at Disneyland. And so can you!
There are several shops around the park that sell Frozen merchandise. Due to extreme popularity, each guest is limited to five items. We found a darling Elsa/Anna doll. One side is Queen Elsa and the other side is Princess Anna. It is two princesses in one! My daughter loves it and it made up for missing the real ones.
You can also catch a glimpse of the Frozen stars in the pre-parade down Main Street. Ten minutes before Mickey's Soundsational Parade begins, the Frozen float makes an appearance. Just note that it is not part of the parade, so you have to be there early to see it! Anna saw my daughter's Frozen shirt and was very cute to point her out and wave. Both princesses were very attentive and cute with our group. It is well worth the effort to see them. If you are short on time, this might be a better option than waiting for the meet and greet in Fantasyland.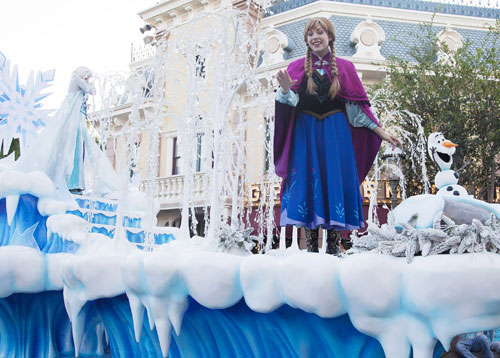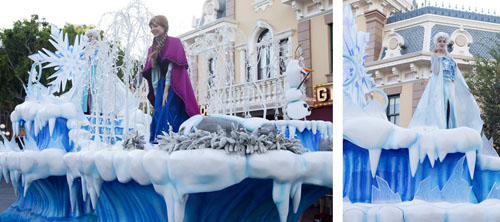 Even more Frozen fun can be had at Downtown Disney with the opening of Anna & Elsa's Boutique!
This thrilling boutique is located inside Studio Disney 365. The right hand side of the front of the store is dedicated to all things Frozen - clothes, toys, accessories and more.


UPDATE: As of October 6, 2014, Studio 365 has been completely transformed into Anna and Elsa's Boutique!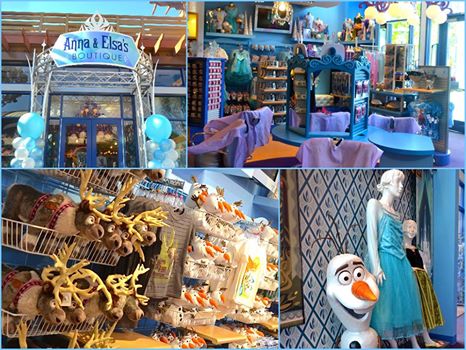 Photo credit: Brittany Aldana
You can find a wide variety of Frozen themed merchandise, have your pictures taken at a number of photo ops - including with Olaf, who loves warm hugs!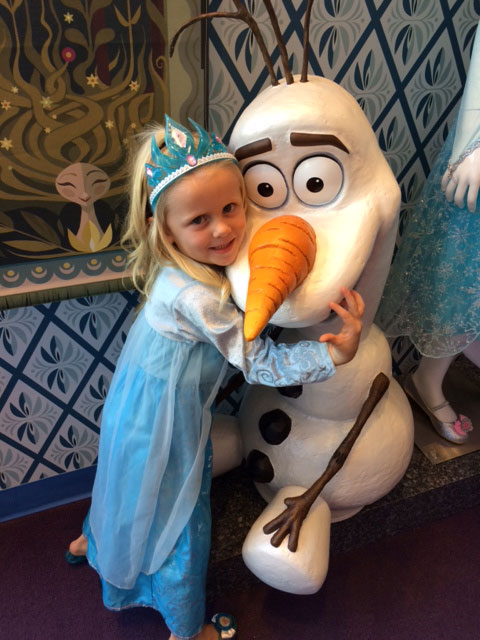 You can even call 714-781-STYLE (7895) to schedule a transformation with new styles:
Elsa - Elsa inspired coronation hairstyle with a blue color streak, makeup, nail polish and choice of tiara
Anna - Anna inspired coronation hairstyle with a green color streak, makeup, nail polish and choice of tiara
Olaf (for boys) - Olaf inspired hairstyle with "snow" glitter hair gel and choice of Olaf t-shirt
Olaf (for girls) - Olaf inspired hairstyle with a top hat headband, orange color streak, shimmering make-up and nail polish
Cool as Ice - Choose two color hair streaks with your hairstyle, face gem shimmering make-up and nail polish
As of the boutique opening, the Elsa and Anna transformations were $35 each and Olaf was $19. Prices are subject to change at any time. Availability is limited, so you'll want to make your reservations ASAP - up to 60 days in advance by calling 714-781-STYLE (7895).
Or, if you want to save in advance and have some dress-up fun before your vacation, you can get our discounted
Anna and Elsa inspired gowns
! They're comfortable, durable and machine washable - plus, similar dresses start at $60 a piece in the park.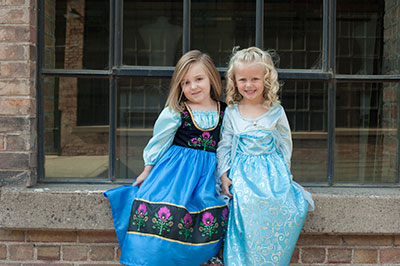 If you're traveling during Holidays at the Disneyland Resort, you'll miss the Frozen pre-show because Mickey's Soundsational Parade is replaced by A Christmas Fantasy Parade. BUT, it's the only time of year you'll be able to watch World of Color - Winter Dreams, which is hosted by everyone's favorite snowman, Olaf!
I hope this information helps as you plan your Disneyland vacation so you can have a lot of Frozen Fun! Of course, with Get Away Today the fun begins as soon as you book your vacation and our
Disneyland packages
can't be beat. Book online or call our Disney Experts at 855-GET-AWAY for any of our 
discount Disneyland packages
!
Check out these other great articles:
8 Things You Didn't Know You Can Do at Disneyland
15 Ways to Reduce Wait Times at Disneyland
Frozen Fun Round-Up for Frozen Fun at Home