Star Wars: Galaxy's Edge is an immersive 14-acre land inside Disneyland® Park in Anaheim, California. This is where Star Wars fans of all ages can live out their own Star Wars adventure on Batuu – an isolated planet located at the edge of the galaxy. Here, you can discover the mysterious village of Black Spire Outpost and interact with smugglers, bounty hunters and misfit adventurers alike. A Galaxy Far, Far Away is closer than you think!


Don't wait to book your galactic getaway to A Galaxy Far, Far Away! With our Extra Day Free Ticket deal and interest-free Layaway Plan, your Star Wars: Galaxy's Edge vacation is just a parsec away. Plus, combine our discount Disneyland® tickets with our Extra Night Free hotel specials to save even more.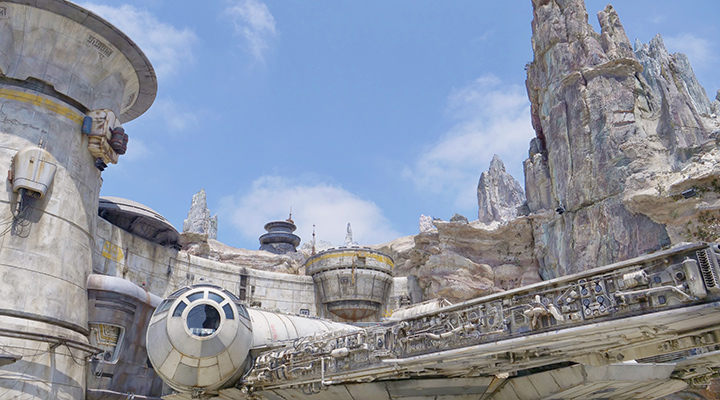 Millennium Falcon: Smugglers Run
Board the most infamous ship in the galaxy! At Millennium Falcon: Smugglers Run, you and five guests will go on a high-speed adventure guided by Chewbacca and Hando Onaka. Whether you're a pilot, engineer or gunner – every role is vital on your quest to steal a shipment of coaxium. Depending on how well (or poorly) you do, you might have an intergalactic bounty put on your name!
Star Wars: Rise of the Resistance
Join the Resistance on a secret mission against the First Order. Here, you will encounter familiar characters from the Star Wars sagas like Stormtroopers, Kylo Ren, BB8 and more. This ground-breaking technology puts you right in the action making Star Wars: Rise of the Resistance an attraction unlike any other.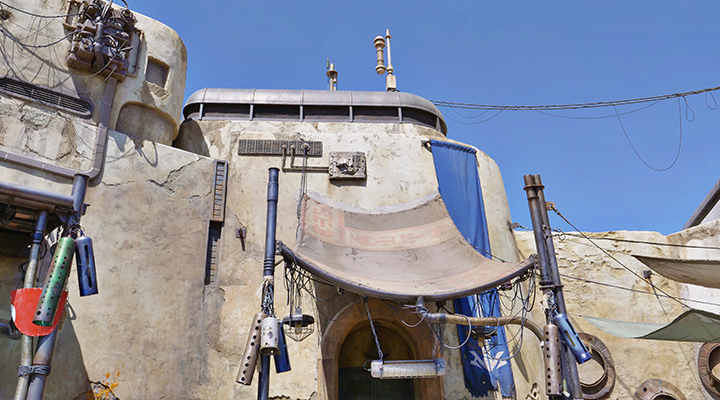 Savi's Workshop – Handbuilt Lightsabers
At Savi's Workshop – Handbuilt Lightsabers, join with other Batuu visitors to build and customize your own legendary lightsaber. Under the guidance of a group known as the "Gatherers" you'll be able to construct your one-of-a-kind lightsaber and become one with the Force. Choose between various lightsaber themes like Peace and Justice, Power and Control, Elemental Nature and Protection and Defense. No matter what lightsaber you create, be sure to keep it a secret in order to avoid being discovered by the First Order.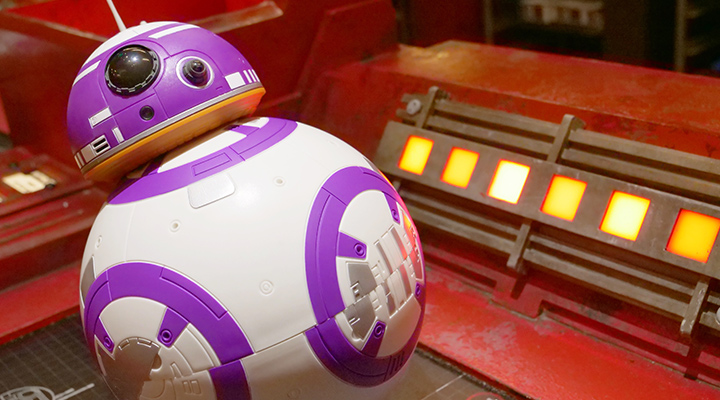 Droid Depot
The Droid Depot has the droid you're looking for. Build your very own indispensable sidekick at this machine-driven depot. At Mubo's workshop filled with various parts, scraps and manuals, you can pick between the popular BB-series or R-series units. Design, build and activate your droid in this unforgettable interactive experience.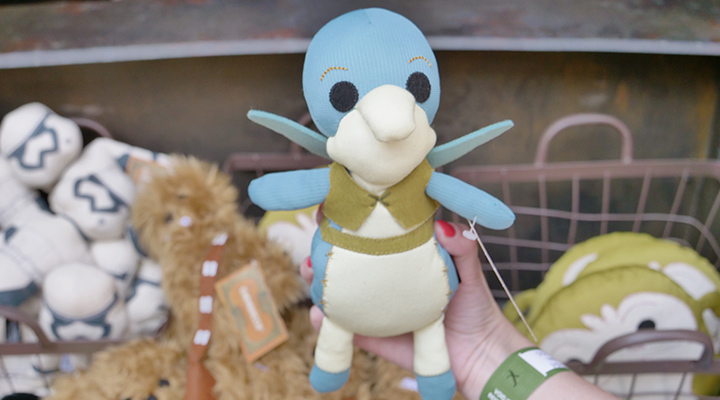 Toydarian Toymaker
In this humble toyshop, guests can discover all manner of artisanal playthings and handmade collectibles, made by Zabaka the Toydarian. At this quirky workshop, you'll be able to discover crates, toy making supplies and crafts in her cluttered storefront. If you look closely, you might even be able to see Zabaka's silhouette in the back window of her workshop creating whimsical trinkets for you to treasure forever.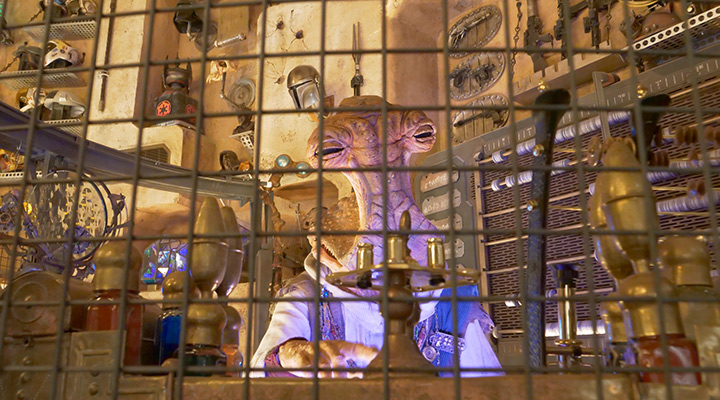 Dok-Ondar's Den of Antiquities
Shop for mysterious and unique galactic artifacts from around the galaxy collected by Dok-Ondar – a legendary antiquities dealer. At Dok-Ondar's Den of Antiquities, you'll feast your eyes upon unique jewelry, kyber crystals and even a collection of famous lightsabers. While no one knows how Dok-Ondar acquired these treasures, we do know that this mysterious shop is filled with mystical objects you're sure to enjoy.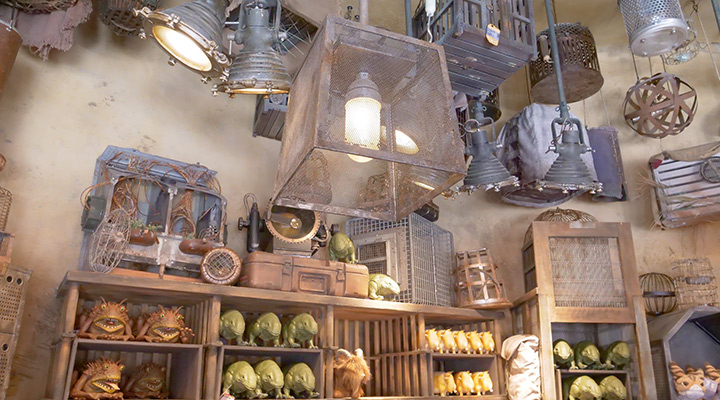 Creature Stall
Discover exotic creatures and critters from across the galaxy – and even take home a new friend! At this eclectic shop, guests can stumble upon some of the galaxy's rarest species. Peer into cages and crates filled with hard-to-find intergalactic species as you explore Bina's store for your own unique companion.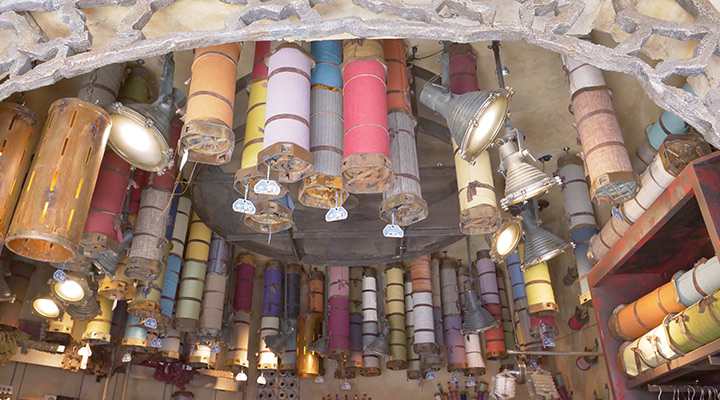 Black Spire Outfitters
At this colorful apparel stall, you can browse through an eclectic selection of stylish and functional clothing. Whether you're traveling to Cantonica or want to blend in with Batuu locals, Black Spire Outfitters provides a variety of garments suitable for different worlds.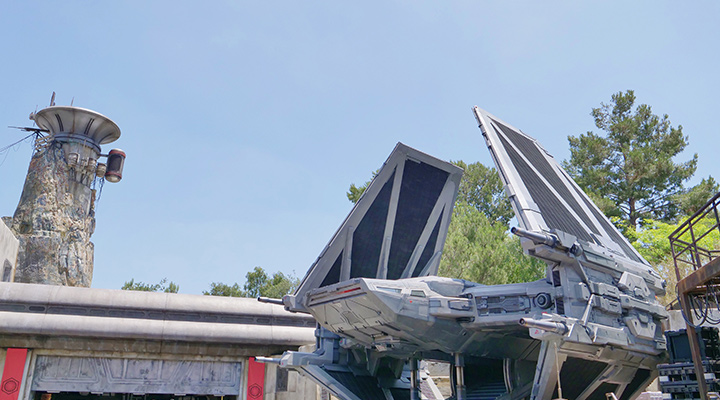 First Order Cargo
While visiting Batuu, discover the spaceport hangar that serves as a temporary base for the First Order. First Order Cargo will allow guests to purchase uniforms, gear and other supplies to show their support for the Supreme Leader. As First Order officers try to recruit locals and visitors, you'll have to decide your role in the battle between light and dark.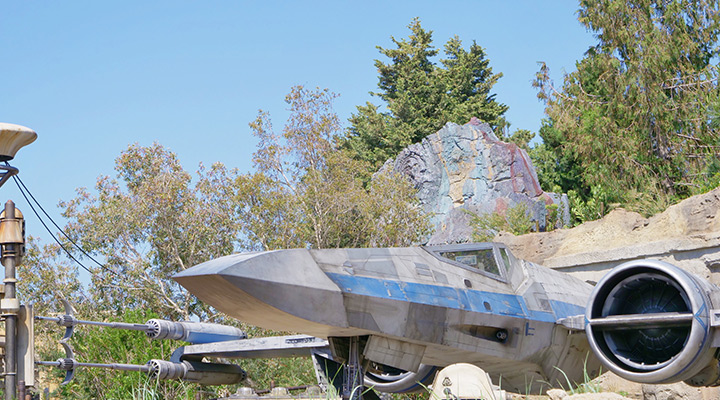 Resistance Supply
At Resistance Supply, guests will interact with members of the Resistance and sympathizers who oversee the shop. Here, you can purchase Resistance uniforms, training supplies, badges, helmets and more. Because the Resistance needs all the help they can get, they'll be happy to see other freedom fighters visiting Batuu.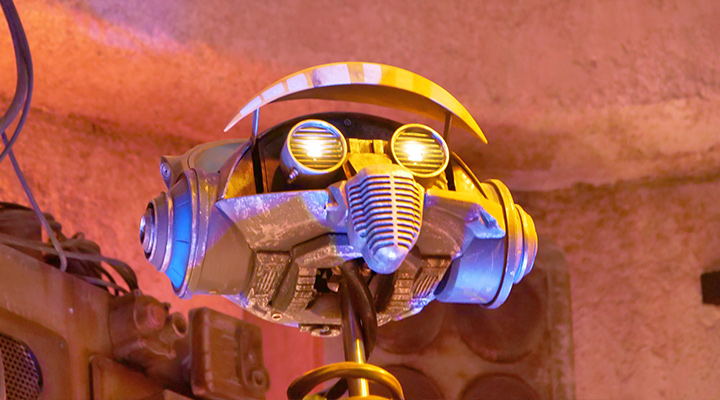 Oga's Cantina
What would a smuggler's planet be without a cantina? At Oga's Cantina, you can grab a drink, catch up on the latest gossip and even chat with R-3X the Catina DJ – a former Starspeeder pilot on Star Tours. This unique atmosphere allows guests to partake of unique concoctions suitable for all ages.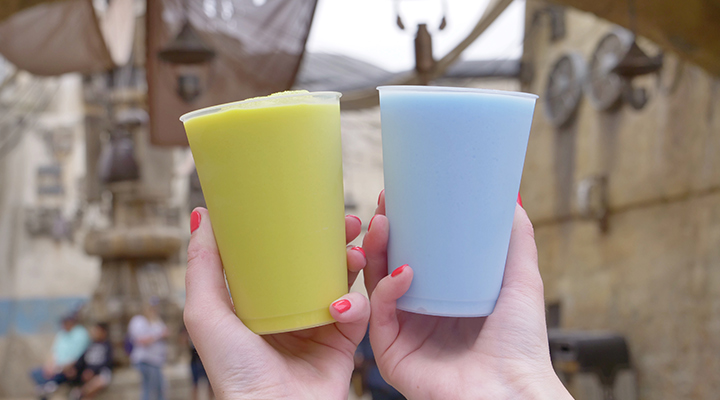 Milk Stand
Direct from Bubo Wamba Farms, longtime fans of the Star Wars franchise can finally sip galaxy's most exotic delicacy – blue milk! Guests who visit the Milk Stand at Black Spire Outpost will be able to quench their thirst by choosing between either blue or green milk, a frozen drink favorite among the natives of Batuu.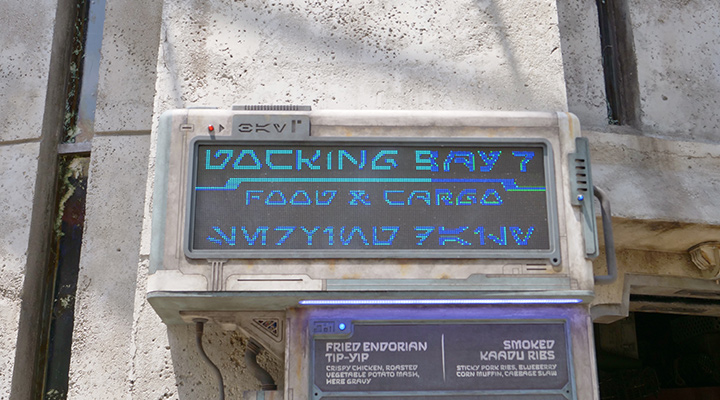 Docking Bay 7 Food and Cargo
Chef Strono "Cookie" Tuggs has landed on Batuu and brought his traveling diner "Tuggs' Grub" with him. Inside a working hangar bay, guests can try unusual dishes that bring exotic flavors to life. Enjoy plates like Fried Endorian Tip-Yip and Felucian Garden Spread. A cookbook filled with recipes from around the galaxy, guests who visit Docking Bay 7 Food and Cargo won't be disappointed.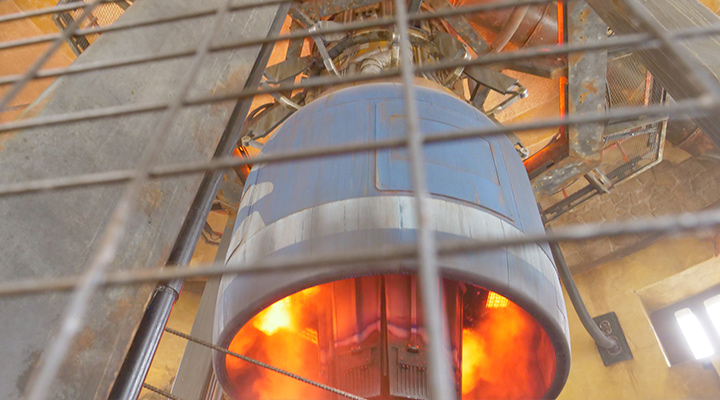 Ronto Roasters
Ronto Roasters is home to the most mouth-watering sandwiches in Black Spire Outpost. Using a recycled podracing engine to fire up a barbeque pit, guests will be able interact with a former smelter droid, 8D-J8 as they order their food. Grab a Ronto Wrap filled with a variety of spices, roasted pork and grilled sausage and enjoy a cool Meiloorun Juice to drink.
Kat Saka's Kettle
At Kat Saka's Kettle, guests can try a Saka family specialty - Outpost Mix. This popcorn snack will combine savory and sweet flavors, with a hint of spice. This popular treat is beloved among locals and is sure to be a favorite for you too!
Discover all of this and more when you visit Star Wars: Galaxy's Edge at the Disneyland® Resort .
You won't want to leave on your intergalactic adventure without the right resources, which is why we have all the information you'll need in order to make your Star Wars: Galaxy's Edge vacation out of this world.
With so much to experience at Star Wars: Galaxy's Edge, you won't want to miss out on any of the fun – which means now is the time to start planning your vacation to the Disneyland® Resort. By booking early, you'll be able to get the best availaibility on hotel and ticket reservations. To book, feel free to browse our website or call 855-GET-AWAY to speak to one of our Star Tours travel agents directly.