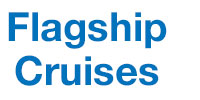 Patriot Jet Boat Ride - Provided by Flagship Cruises & Events
The Patriot is the newest and most thrilling tour San Diego has to offer! Climb aboard and hold on for this exciting 30-minute thrill ride on San Diego Bay. You will be thoroughly entertained as the waves splash, the music plays, and the wind roars on this tour of a lifet...More
The Patriot is the newest and most thrilling tour San Diego has to offer! Climb aboard and hold on for this exciting 30-minute thrill ride on San Diego Bay. You will be thoroughly entertained as the waves splash, the music plays, and the wind roars on this tour of a lifetime! It's a blast on the bay while cruising on the Patriot. It departs from 990 N. Harbor Dr. next to the U.S.S. Midway, home of Flagship Cruises & Events. With two turbo-charged engines over 1,400 hp each, 139 passengers will zip past the Coronado Bridge and zoom around San Diego Bay. The Patriot will provide thrilling 360-degree turns and spinning on a dime creating an exciting raw power tour of a lifetime!
---
Details:
Individuals 13 and older will require an Adult ticket, while individuals ages 4-12 will need a Child ticket for the Patriot Jet Boat Ride. Children 3 and under are not able to participate in the Patriot Jet Boat Ride. Additionally, anyone under 40" (100 cm) is not able to ride. All children must be accompanied by an adult. Due to the nature of this ride, service animals are not permitted on board for the safety of both the passengers and the animals.
Inclusions:
Your Patriot Boat Ride provided by Flagship Cruises & Events is approximately 30 minutes. This boat ride will include music, 360 degree turns and fast speeds for an adventure of a lifetime. The Patriot Boat Ride departs from 990 N. Harbor Dr. next to the U.S.S. Midway, home of Flagship Cruises and Events. Passengers must be ready to board 15 minutes prior to departure. Get Away Today is not responsible for any Patriot Boat Ride cancellations due to weather or any other outside circumstance. Please be aware that the Patriot Jet Boat Ride might get you wet, so please dress accordingly. Ponchos are provided.
Redemption Instructions:
Your Patriot Jet Boat Ride voucher will be sent to you via e-mail to the e-mail address you provided at the time of booking. Reservations are not required, but strongly recommended. To make a reservation, please call 1-800-442-7847. You must bring your voucher and Photo ID with you to the Patriot Jet Boat Ride.
Expert Tips:
Looking for more tips and insider information for your next San Diego vacation? Make sure to follow our blog, Packed with Fun and follow Get Away Today's social media channels.