UPDATED FEBRUARY 2020 Dining at Disneyland doesn't have to be expensive. We've compiled three different daily menus for your Disneyland vacation, without cutting anything out. By making the right choices, you can easily feed a family of four for less than $100 a day at Disneyland. And, you won't have to leave the Disneyland Resort to do it!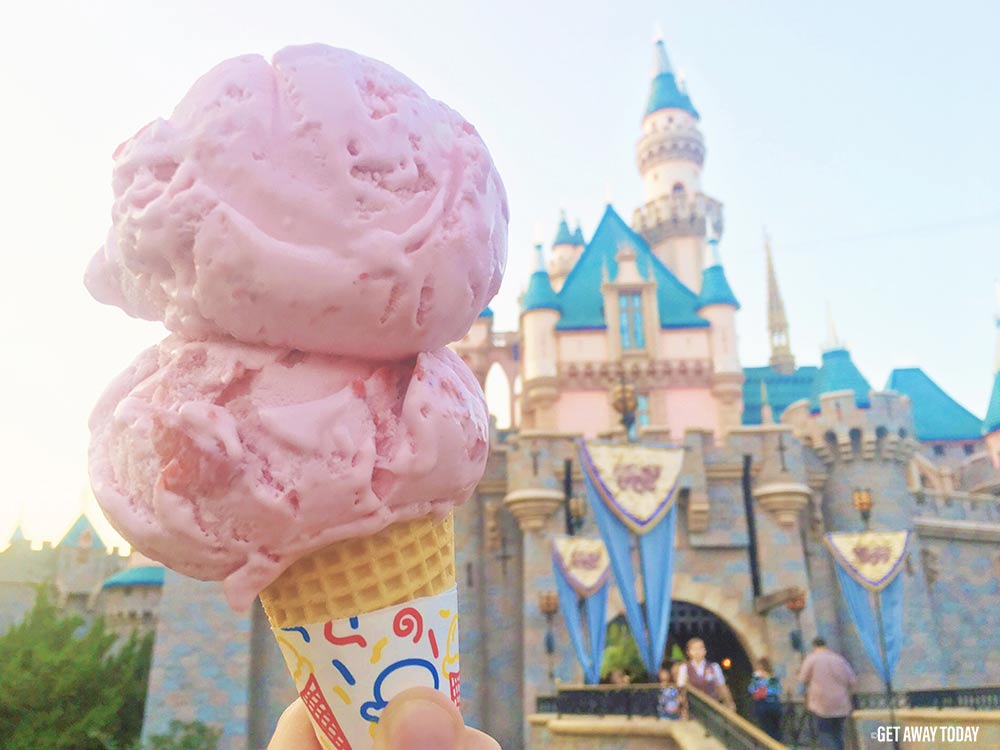 How to Feed a Family of Four for Less Than $100 a Day in Disneyland
We make your Disneyland adventure as affordable as possible from the moment you book. We also give you all of our tips and tricks to help you save the most during your vacation, including how to save on food. Today, we've put together three daily sample menus that show you just how easy it can be. And, best of all, you won't be missing out on anything - including precious resort time.
First, we'll go over our top tips on how to feed a family of four for less than $100 a day at Disneyland. We implement these tips into our sample menus which include current menu prices.
Tips for Feeding a Family of Four for Less than $100 a Day at Disneyland
Stay at a hotel with a free breakfast. By having one of your meals covered each day, you'll save a bundle. Keep in mind that not all free hotel breakfasts are created equally. Look for breakfasts that are listed as full or hot, to be sure that there is at least one protein to make the most of your free breakfast. Click HERE to view all our partner hotels near Disneyland with complimentary breakfast.
If your hotel doesn't have a free breakfast, pack a few easy on-the-go breakfast items.This will save you both time and money.


Photo courtesy of the Hyatt House
Bring snacks into the parks. You can bring any food items into Disneyland, and we highly recommend doing so. Granola bars, fruit snacks, jerky, trail mix, etc. all make great pick-me-ups while at the parks.
Drink water. And only water. You can bring your own water bottle and refill it at any of the drinking fountains. Or, you can get a free ice water at any quick service restaurant whether you order food or not.
Share. Portions at Disneyland are large, so take advantage of sharing both meals and snacks.
Don't allow yourself to get hungry! Skipping meals or even snacks can have negative consequences like over ordering or over eating later.
Take advantage of the Downtown Disney District restaurants. Now that the area is secure, you don't have to spend extra time going back through security to get into the parks. Many of the most popular table service restaurants in Downtown Disney offer an Express version. These are quick service restaurants with many of the same menu items available at a lower price.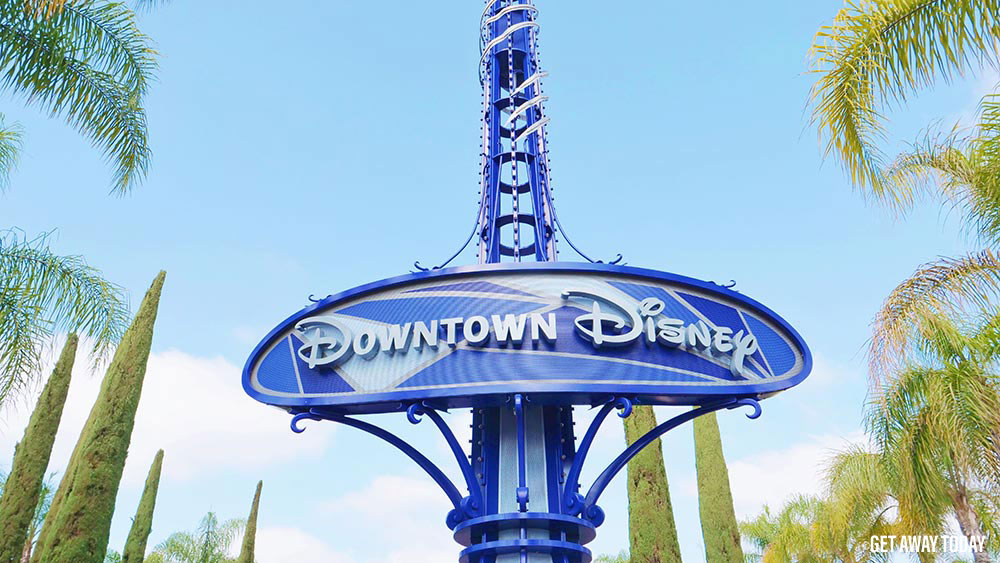 Keep in mind that these sample itineraries can easily be adjusted depending on your family's personal tastes and needs. You could go even cheaper on some meals. Some families like to pack sandwiches for lunch. You can do that too. These are guidelines to inspire you to make it work for your family!
You could also leave the park and eat at one of the nearby restaurants across the street. I don't recommend leaving the Resort for meals simply because you're paying good money to be in and enjoy the parks! Not to mention, if you leave the security check points, you need to spend the extra time to get back through security. When you look at it that way, each time you leave the parks, you're spending money to save a few bucks. In my opinion, I would much rather enjoy the atmosphere - and food - at Disneyland!
With all of that in mind, below are three doable and delicious meal plans that will feed a family of four for less than $100 a day at Disneyland.

Examples of Feeding a Family of Four for Less than $100 a Day at Disneyland
Menu 1:
Breakfast: Full breakfast at hotel = FREE
Snack: Two churros to share ($5.25 each) = $10.50
Lunch: A whole cheese or pepperoni pizza from Alien Pizza Planet = $39.99
Snack: Mobile Order two Dole Whips to share from Tiki Juice Bar ($5.99 each) = $11.98
Dinner: Four sandwiches from Earl of Sandwich ($8.99 each) = $35.96
Total spent: $98.43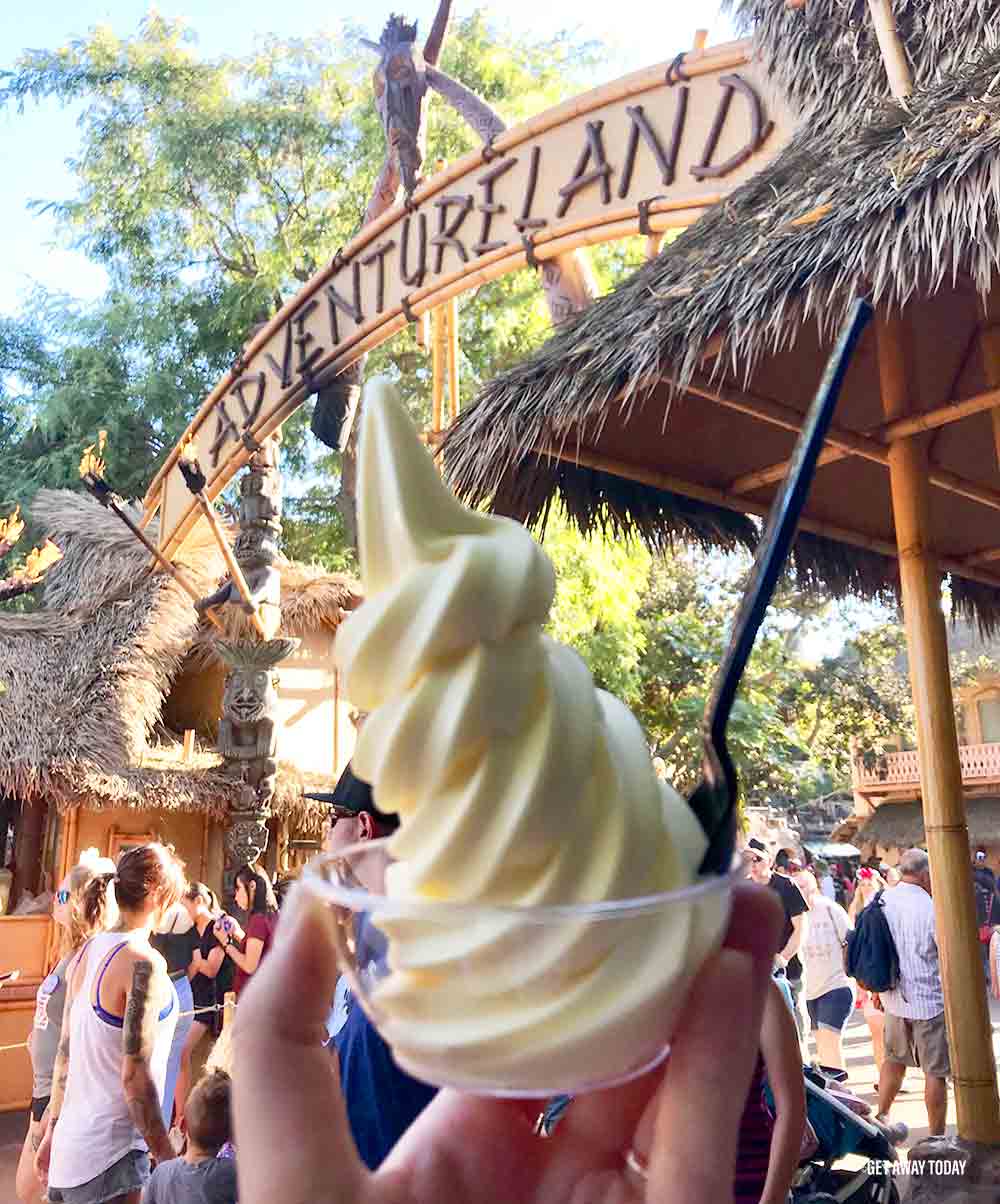 Menu 2:
Breakfast: Full breakfast at hotel = FREE
Snack: A box of Granola bars brought with you = $3
Lunch: Salad or sandwich from Hungry Bear Restaurant ($10.99-$14 each) = up to $56
Snack: 6-pack of Mickey beignets (regular or seasonal flavor) from the Mint Julep Bar = $8.49
Dinner: Two Ka-Cheese Burgers ($12.49 each) and two Kids Chicken Fenders ($7.99 each) from Flo's V8 Cafe = $40.96
Snack: Chocolate square from Ghirardelli and sourdough bread from Boudin Bakery = FREE
Total spent: $96.41 to $108.45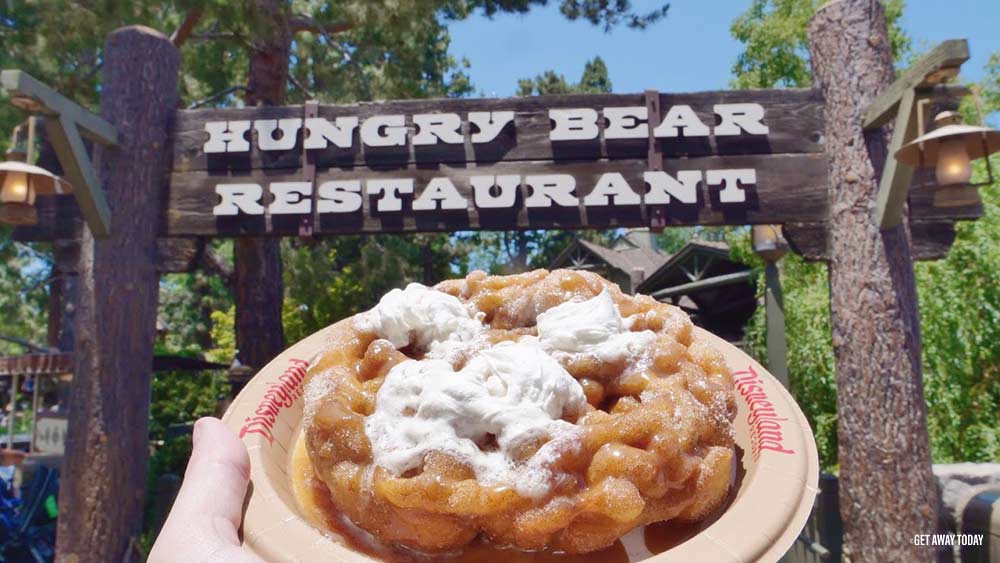 Menu 3:
Breakfast: Full breakfast at hotel = FREE
Snack: Popcorn box from Main Street, U.S.A. (or any cart in any park) = $5
Lunch: Two New Orleans Platters ($11.99 each), one Classic Beans and Rice ($7.59) and one Bayou Pasta Salad ($6.99) from Jazz Kitchen Express = $38.56
Snack: Four single scoop ice cream cones from Ghirardelli ($5.95 each) = $23.80
Dinner: Daily Soup ($6.50), Caesar Salad ($10) and two kids' Turkey Sandwich meals ($8 each and comes with Dannon Danimals Smoothies, sliced apples and drink) from GCH Craftsman Grill in Disney's Grand Californian Hotel & Spa = $32.50
Total spent: $99.85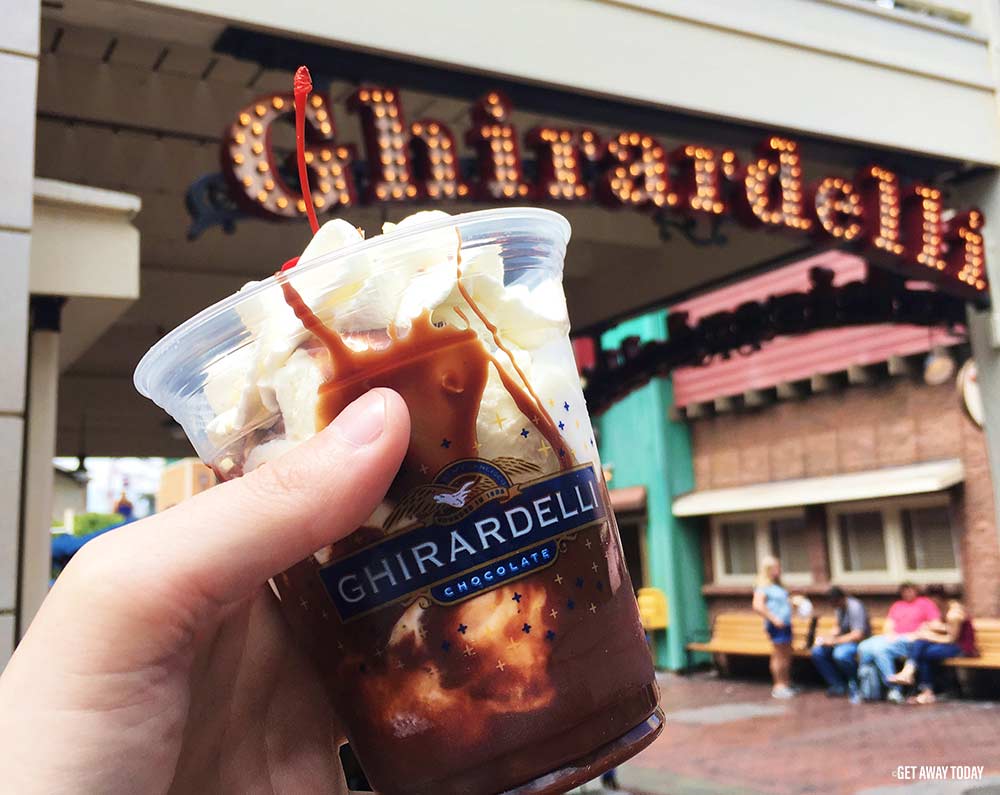 Again, these are just samples to give you an idea of how you can make feeding your family at Disneyland affordable. I promise, you can do it and may even surprise yourself with how satisfied you are!
Now, what if for some reason you choose to stay at your favorite hotel, and it does NOT include free breakfast? We have two sample menus to help you feed a family of four for under $100 at Disneyland, even if you eat all three meals in the Resort (and snacks!).

Menu 1:
Breakfast: Downtown Disney Starbucks (1st location: by The LEGO Store; 2nd location: by World of Disney Store) - 2 Coffees, scone and banana bread = $8.90
Snack: Two churros to split = $10.50
Lunch: Daisy's Diner in Toontown - 3 personal pizzas = $25.47
Snack: Frontierland Fruit Cart - 2 orders of Mango (tahini optional) = $7.40
Dinner: Galactic Grill - Kids' Meal Nuggets (includes Dannon Danimals Smoothie, sliced apples and a drink), Kids' Meal Turkey Sandwich (includes Dannon Danimals Smoothies, sliced apples and drink), Veggie Wrap, Fried Chicken Sandwich = $36.76
Snack: 1 cream cheese-filled pretzel and 1 regular Mickey pretzel = $10.38
Total Spent = $99.41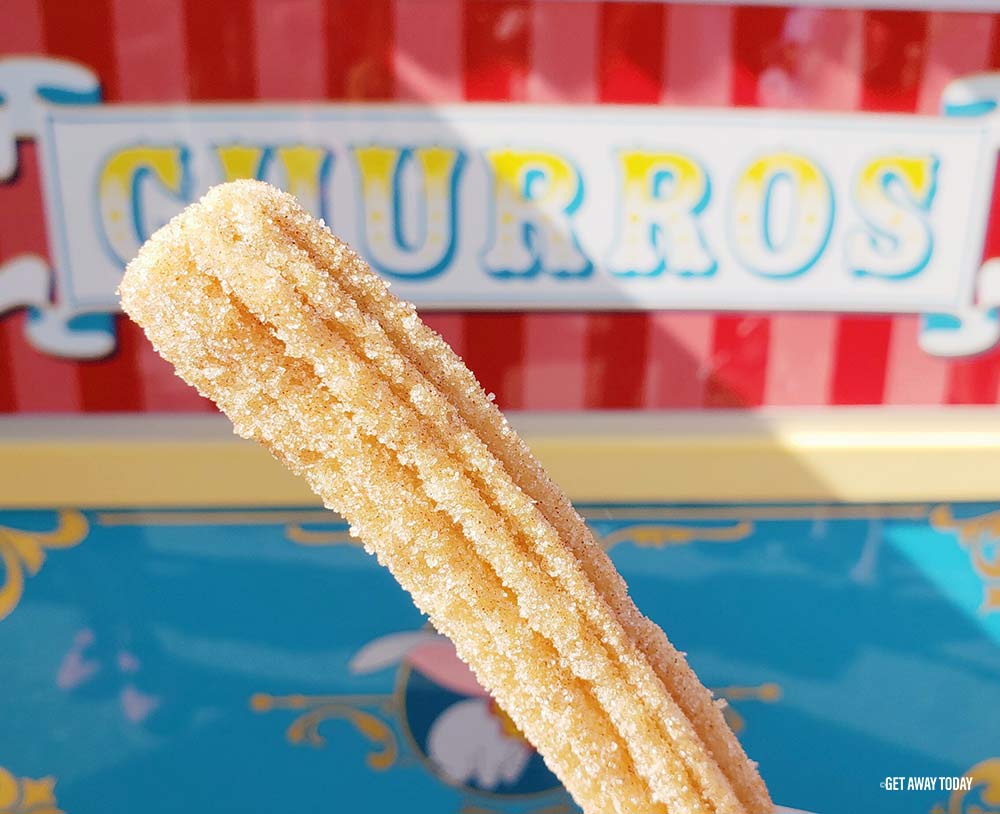 Menu 2:
Breakfast: Downtown Disney Jamba Juice - 2 bowls = $15.98
Snack: Cars Land Cozy Cone Motel in Disney California Adventure Park - Flavored popcorn to share = $5.59
Lunch: Angry Dogs on Pixar Pier in Disney California Adventure Park - 4 Slightly Annoyed Dogs (plain hot dog) with chips = $29.96
Snack: Bengal Barbecue in Adventure Land at Disneyland Park - Share 1 Safari Skewer and 1 Tiger Tail Breadstick = $8.98
Dinner: Downtown Disney Splitsville Luxury Lanes - Share 1 cheese pizza and edamame appetizer = $26
Snack = 2 Dole Whips from Tiki Juice Bar (mobile order) = $11.38
Total spent = $97.89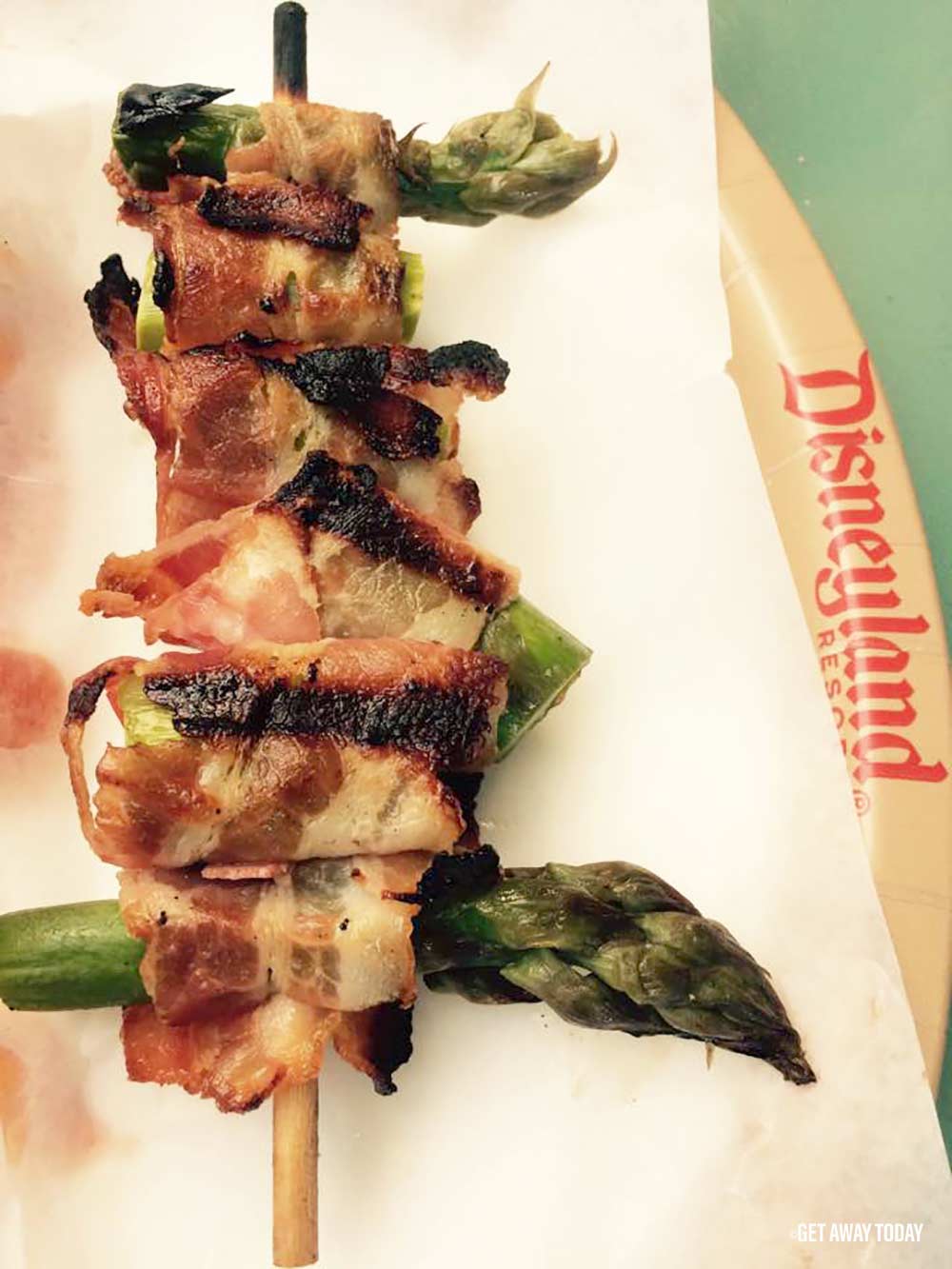 Even if you decide not to bring in your own snacks or sandwiches, you can still keep your food budget around $100 per day for a family of four in the Disneyland Resort! With these menus, it's nice to see how far your dollar can go, and how helpful it is to start the day with a complimentary hotel breakfast.
A couple of my other favorite restaurants with large portions (great for sharing one meal!) include the Pacific Wharf Cafe and Royal Street Veranda. Both serve delicious soups in giant sourdough bread bowls. Another favorite is the Bengal Barbecue with savory skewers, large breadsticks, fruits and a hummus sampler. All items are sold a la carte, making it easy to keep spending in check.
One thing I should point out is that, even though you won't be able to keep your entire food budget under $100 for the day, Character Dining is an awesome choice for Disneyland. If you look at it as maximizing your time with having the characters come to you, I think it is a great value. For an even better value, book as late of a breakfast as possible, and use it as an early lunch. That way, you'll likely eat enough that you may only need a couple of hearty snacks or one light meal for the rest of the day. If you watch your spending on the other days, you could could still keep a 3-Day Disneyland trip at $300 for a family of four.
Regardless of where you decide to eat at Disneyland, there are affordable options all around. I hope this helps you make some choices for your next vacation! Be sure to leave a comment with your favorite Disneyland food saving tip below. And when you're ready to book your next vacation, let our Disney experts help! You can book any of our Disneyland packages online or call our agents at 855-GET-AWAY.

Check out these other great articles: