UPDATED JANUARY 2019 With Disney's announcement of all of the new Frozen Fun coming to Disneyland in 2015, we knew a Disneyland vacation to meet all of Frozen characters would be the perfect gift! To make your Frozen inspired gift giving a little more magical, we've put together three ideas with free printables.

Elsa and Anna Package and Letter

What princess (or prince) wouldn't want to receive a gift and letter from the coolest sisters in Arendelle? Especially when the letter is an invitation to come visit them at Disneyland! To make the announcement seem a little more regal for your princess, we suggest wrapping an Anna or Elsa dress with some Frozen inspired accessories. We offer discounted Anna and Elsa dresses that are comfortable, affordable and of course, adorable!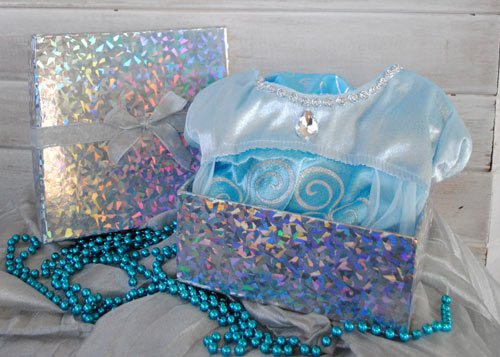 First, she'll be thrilled to get a new gown, and then even more thrilled when she notices the letter announcing your Disneyland vacation hidden underneath the folds of fabric!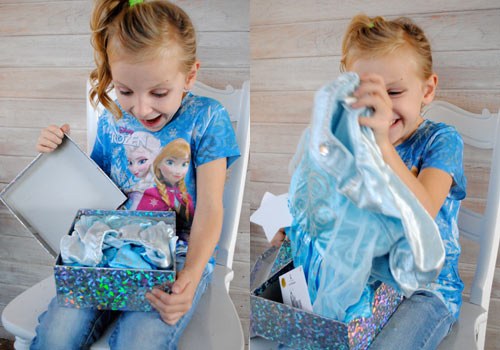 Look at how darling the whole presentation is: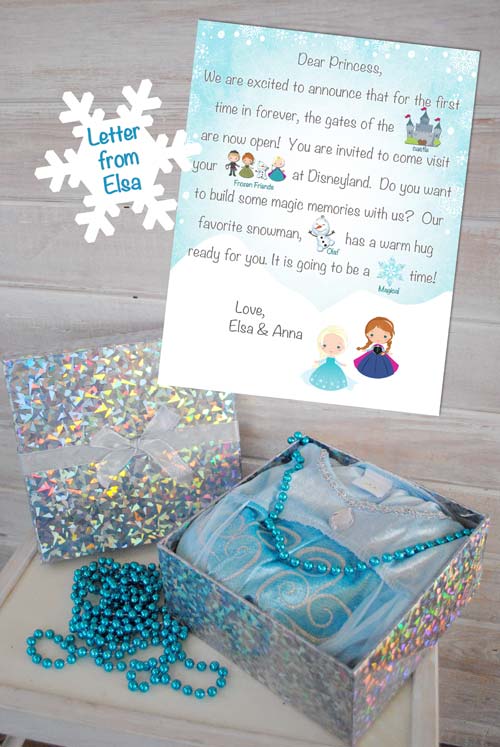 As our gift to you, download your free Anna and Elsa letter here: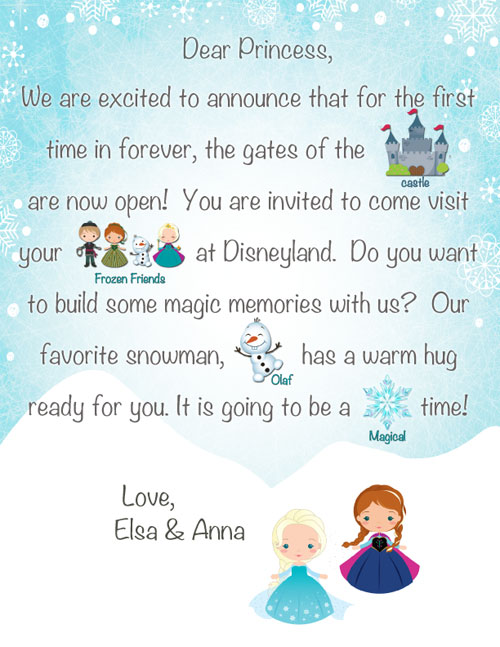 Warm Hugs from Olaf

A warm hug always feels good, but it feels even better when it's from Olaf and he's inviting you come play with him at Disneyland! This gift presentation idea is super easy and equally darling. All you need are some marshmallows, our free printables and a box. You can make the surprise a little more magical by including an Olaf plush, like this one we found on Amazon.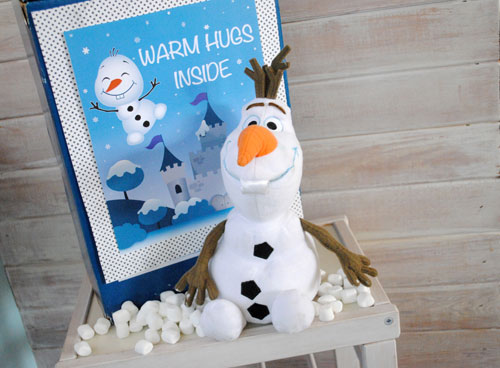 To start, print off the "Warm Hugs Inside" printable below:




Next, glue or tape it to the outside of your box. Then, you'll print your Olaf Disneyland vacation announcement printable here: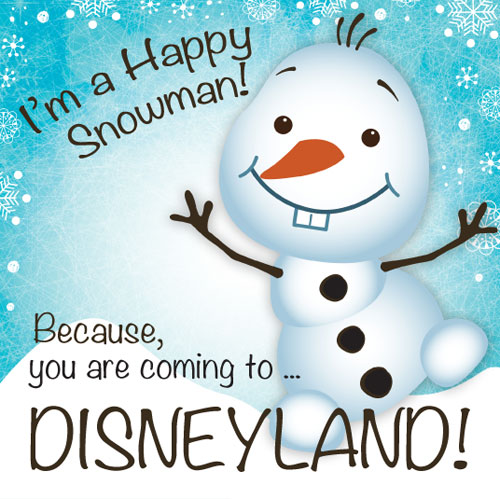 Next you'll fill your box with the letter, warm hugs (aka marshmallows) and your Olaf plush if applicable.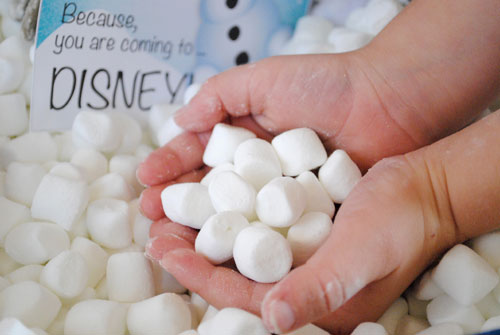 You can choose to make your family search for your letter within the warm hugs, or you can make it obvious and put the letter on top. It's completely up to you!




We're pretty sure you'll be the one getting a warm hug after this Disneyland vacation surprise!

Frozen Balloon Surprise

This is one of our favorite ways to give a Disneyland vacation. Not only is it so easy, it is magical! All you need is a large box (wrapped however you'd like), a mylar helium-filled balloon of your family's favorite Frozen character (or characters) and our free printables.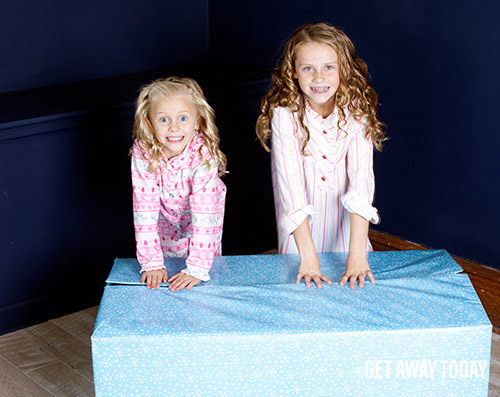 Since Olaf is a hit with the whole family, we chose an Olaf balloon. Once you pick up your balloon(s), you'll print the vacation announcement and tape it to your largest balloon.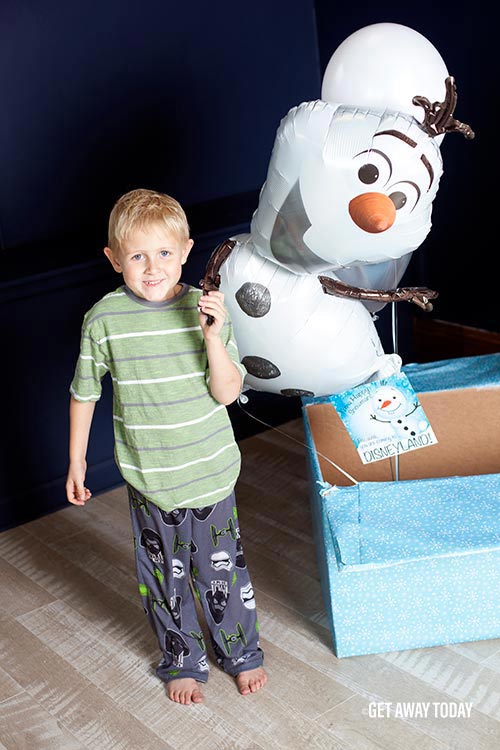 Next, you'll put all of your balloons inside your box and seal it closed. You can wrap your box before or after you insert your balloons. We wrapped our box before stuffing it with balloons and used the "Warm Hugs Inside" printable to decorate the outside. When your family opens the box on Christmas morning, they'll be so surprised as their favorite Frozen characters magically float out of their gift and invite them to Disneyland!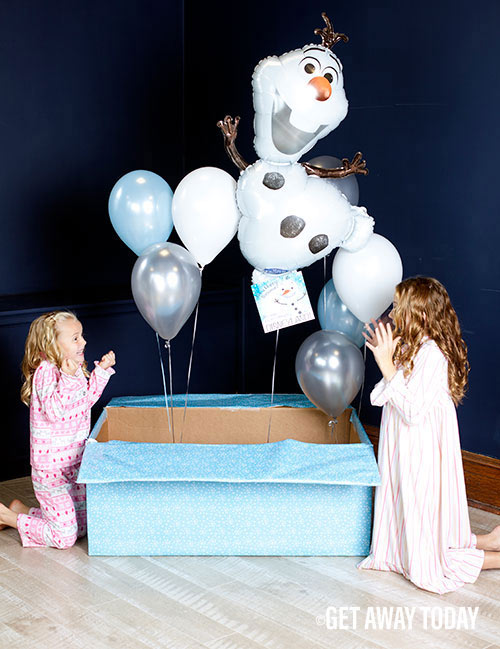 The balloons are fun because your family will get excited all over again each time they see Olaf (or Anna, or Elsa, or Sven, etc.) floating in your family room!

If you haven't booked your family's vacation to experience all of the new Frozen Fun at the Disneyland Resort, you'll want to do it now! The best specials will go quickly and you can lock-in your low price for just $175 down. Choose from our 3rd and 4th night free Anaheim area hotel offers, or save up to 25% at the Disneyland Resort Hotels for select dates January - March. All of our Disneyland vacations can be booked online, or you can call any of our Disney Experts at 855-GET-AWAY.

Check out these other great articles: