Character Dining at the Disney Parks is one of my favorite family activities. There are so many benefits to sharing a meal with the Disney characters. The best part is that you have one-on-one time with each of your favorite characters and you don't have to wait in any lines! If you are like me, you'll want to squeeze the most value that you possibly can out of the experience. I put together five tips that will help you maximize your time at the restaurant and allow you to truly enjoy the entire experience.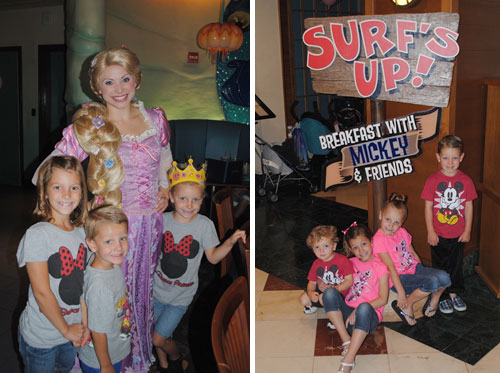 Dress Your Best

One of the most exciting things about Character Dining is the amazing photo opportunities. You will have a chance to get family pictures with your favorite characters. Each of the dining options highlight a specific group of the Disney cast. If you are visiting Ariel's Grotto, the princesses will be your dining guests. If you have breakfast with Mickey and Friends at the Paradise Pier, then Mickey Mouse and his crew will be visiting your table. FYI - this is the ONLY Character Dining experience where you'll meet Mickey! There are a total of five distinct Character Dining options: Goofy's Kitchen, Ariel's Grotto, Surf's Up with Mickey and Friends, Chip 'n Dale's Critter Country Breakfast, and Breakfast in the Park with Minnie & Friends. Pick your favorites!

I have found pictures turn out so cute when your family is dressed in Disney attire. If you are visiting the princesses, then let your little princess wear a beautiful gown or a princess shirt. Have her wear a crown and arrange her hair in a fancy up-do. Or, if you are heading to Goofy's Kitchen, wear matching Disney shirts or put on a Goofy hat. Take the time to really dress your best for the experience. The pictures you take at the meal will be treasured forever.



Bring an Extra Camera

Speaking of photographs, get ready to snap a photo per second. All the Disney characters are so much fun to interact with. There is hardly a moment that goes by that you won't want to capture on film. I love having two cameras available. There are times when both my husband and I are taking photos from different angles at the same time.

The second camera acts as a backup too. Without a second camera available, it would be heartbreaking to have a memory card get full or a battery die during the experience. Use the motto, "It is better to be safe than sorry" and have that extra camera handy. Most people have pretty amazing cell phone cameras these days. Just make sure your battery is fully charged and you have storage available on your hard drive. You will not be disappointed in the pictures you get from the experience. The more the merrier!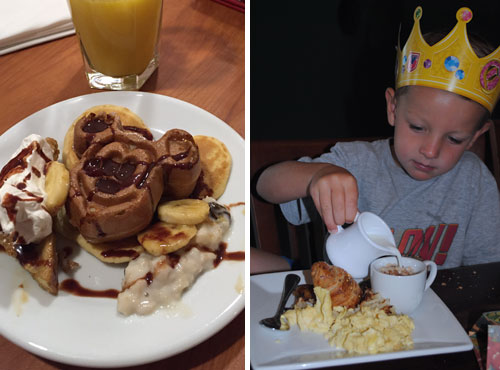 Come Hungry

Just like everything Disney creates, the food at the Character Dining restaurants is over-the-top and amazing. You will want to come with very hungry bellies. Disney knows how to cater to families. The meal options are all centered around both children and adults. For kids, there is macaroni and cheese pizza at Goofy's Kitchen, miniature tea sets with cereal and milk at Ariel's Grotto, and Mickey Mouse waffles at Breakfast with Mickey and Friends. The food is kid-friendly and there is plenty of it. Even your most picky eater will find something to love.

Don't worry, the adults are not forgotten. My husband ordered a fabulous prime rib at breakfast. There is warm baked bread, fresh fruits, decadent desserts and delicious healthy salads. No one will leave hungry, I guarantee it.

Make Reservations in Advance

If you have a limited time at the parks, you will want to make reservations for your dining experience in advance. The most popular times do fill up. With a little bit of advance planning, you can arrange the perfect meal times for your family.

For booking a time at any of the Disney Character Dining locations you can call (714) 781-DINE or you can make a reservation online at the Disneyland website. You can reserve your spot up to 60 days in advance. They will require a credit card to hold the reservation, but you will not be charged anything unless you fail to show up at your allotted time.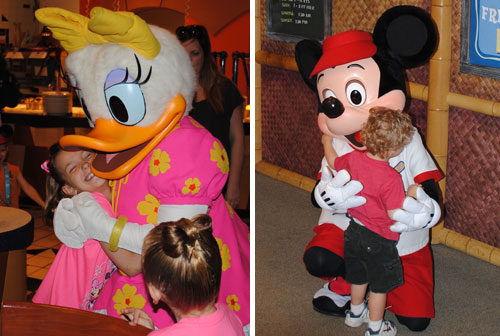 Buy Discount Tickets with Get Away Today

Buying Character Dining meal vouchers in advance with Get Away Today saves you a lot of money. I love saving money. The meal vouchers cover the price of your meal PLUS taxes and tip. My family of six saved about $50 by purchasing our vouchers in advance. That is an awesome benefit. If you choose e-tickets, you'll need to pick up your meal tickets when you get your park tickets - at any of the Disney ticket booths or at one of the Disney hotels at check-in. Otherwise, your tickets will be sent to you with the rest of your vacation package. Either way, you'll need to make sure you have your tickets in hand before you get to the restaurant. You'll just present your tickets as your form of payment - no surprise charges!

I hope these five tips help make your Disney Character Dining experience is as amazing at it can be. Have fun and get ready to squeeze the most value out of the experience as possible. If you're still looking for the perfect Disneyland vacation for your family, all of our Disneyland packages can be booked online, or by calling our Disney Experts at 855-GET-AWAY.


Check out these other great articles:

15 Can't Miss Disneyland Resort Diamond Celebration Updates
Why You Need to Stay at a Disneyland Resort Hotel
How to Meet Mickey Mouse at Disneyland