The Staybridge Suites by Holiday Inn Anaheim Resort is a favorite hotel among our guests. With great perks and free amenities, it's easy to see why. Read on for our top 7 reasons why we love the Staybridge Suites by Holiday Inn Anaheim Resort.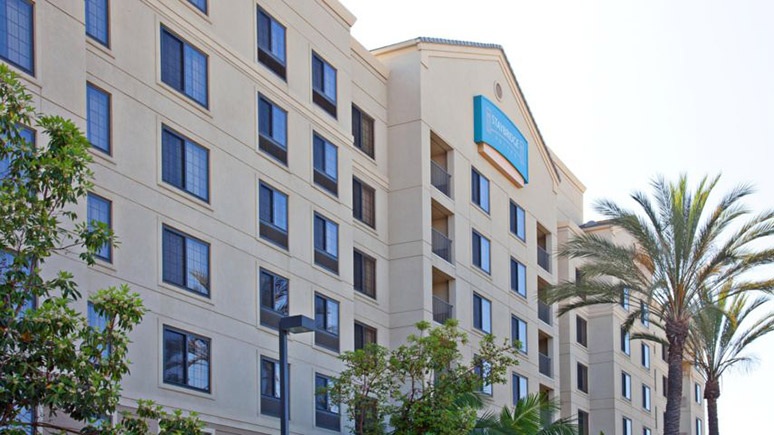 At Get Away Today, we pride ourselves on partnering with the best hotels in the Southern California area and beyond. Today, we wanted to spotlight one of those hotels – the Staybridge Suites by Holiday Inn Anaheim Resort. Guests love this hotel and we wanted to share the reason why we love it, too. Enjoy!
Why We Love the Staybridge Suites by Holiday Inn
Variety of suites. This may be our favorite thing about the Staybridge Suites. The hotel offers so many room types, all the way from a studio suite with one queen and sofa bed to a two-bedroom suite with one king, two doubles and a sofa bed. That means families of up to eight can fit in a single suite here, instead of needing several rooms. And let's be honest, the extra space provided by the one-bedroom and two-bedroom suites is nice for any size family!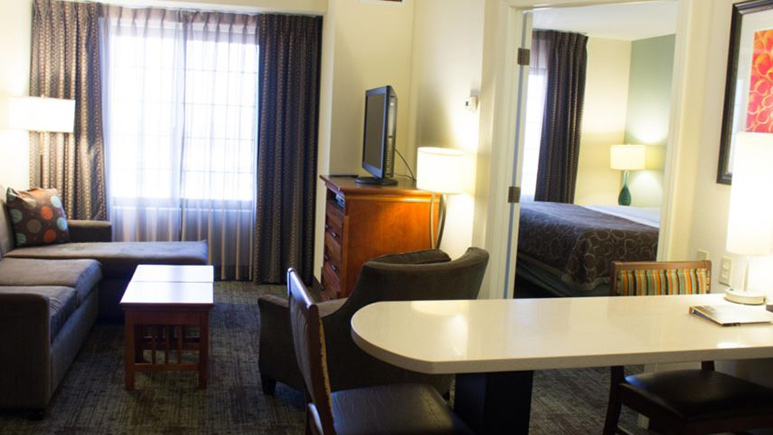 Full kitchens. Not only does the Staybridge Suites by Holiday Inn offer suites of every size – they also offer full kitchens in every single suite. That's right, even the studio suites have a full kitchen. If you've ever traveled with a food allergy or on a tight food budget, you know how important a kitchen is. Your family will love the kitchens found at the Staybridge Suites, since they offer everything you need to make, enjoy and store any meals during your Anaheim vacation.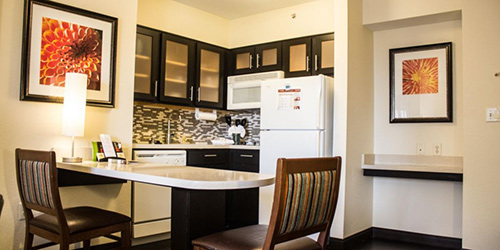 Free breakfast buffet. If you don't want to spend time cooking breakfast, you're in luck. The Staybridge Suites by Holiday Inn holds a hot breakfast buffet every morning. It won't cost you a thing and will give your family energy to start the day off right. And really, who doesn't need waffles, scrambled eggs and bacon every morning?
Free Manager's Reception. The Staybridge Suites also offers another great amenity known as the Manager's Reception. On select nights, guests can unwind with soft drinks, beer, wine and snacks at no cost. The best part is that the "snacks" are typically things like nachos and burgers, which means they can easily be enjoyed as a meal at no cost to you. Currently, the Manager's Reception is held on Monday, Tuesday and Wednesday nights. This is subject to change, so just make sure to check on the current nights when making your reservation.
Free parking. As if free breakfast and a free Manager's Reception weren't enough, the Staybridge Suites by Holiday Inn also has free parking for all guests. This is a huge savings since many hotels in the Anaheim area charge $10 or more per night for parking.
Large pool. The Staybridge Suites has one of the largest pools in the Anaheim area, with a shape that may remind you of your favorite mouse. The pool is heated throughout the year and there's also a whirlpool that's perfect to rest your feet in after a long day at the parks. Don't forget the lounge area and BBQ, either. Both are great for enjoying summer nights in Anaheim.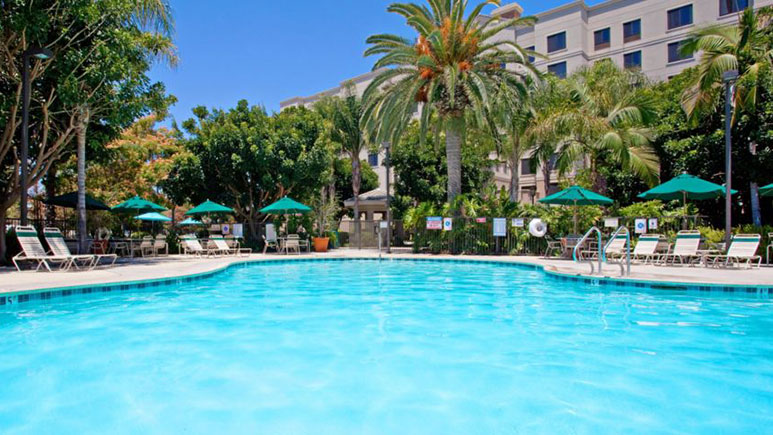 Location. This last perk is a big one; location. The Staybridge Suites is only a mile from the Disneyland Resort. It's impressive that the hotel still offers so many free amenities while being close to the park. This distance is a little long to walk, which is why the hotel works closely with the Anaheim Resort Transit (ART) to provide easy and fast transportation between the park and hotel.
In case you still aren't persuaded, below are a few recent reviews from guests who loved the Staybridge Suites by Holiday Inn just as much.
Staybridge Suites by Holiday Inn Reviews
"We had a great stay at this hotel. We got a 2-bedroom suite for 6 of us and it was perfect. The room was clean and well maintained. Even though it was near a freeway there was very little noise. The kitchen was well equipped. The breakfast was great. A lot of options and variety. One of the best parts of this hotel was the shuttle...it only came to and from this location. No multiple stops. It is worth the daily price. We've stayed at other hotels that make 3 or 4 stops and run out of seats. The pool area is great there are bbq's, a bar and plenty of lounge chairs and towels… We'll be staying here every time we go to Disney!"
Jennifer B.
"My family loved this hotel. Great customer service from Jimmy at the front desk. Very good breakfast and the nightly Manager's Receptions were also good. The room was very clean and we enjoyed having a full size refrigerator along with the stove top and microwave oven. We would stay here again!"
Jeff H.
"Staybridge exceeded our expectations. The rooms were very comfortable, and roomy. Beds were so nice. Full kitchen a bonus. A/C was well working and needed. This staff is so kind and helpful, immediately made our day on check-in. Helpful finding new places to eat too. Loved the pool, great setting. Thank you so much!"
Allison Q.
"This was by far was the best hotel my family and I have stayed in. We were instantly welcomed by front desk staff. Mon - Wed they have a social hour in eve's which were great and we met a lot of other families from all over. Jimmy made us feel very welcome and helped answer any questions we had. He was very personable and my husband and him carried on a conversation like they were old friends. Even their breakfast times worked for all of us heading out for our exploring and very social as well. ALL the hotel staff were very pleasant and would ask how we were doing… Honestly it was home away from home and we thank everyone at Staybridge for making this vacation very memorable!"
Danielle E.
There you have it – why we love the Staybridge Suites by Holiday Inn Anaheim Resort. Have you stayed here before? Let us know in the comments below.
The best part is that you have access to reduced rates at the Staybridge Suites with Get Away Today. In fact, you can even get a 4th Night Free on select dates. That's a savings unheard of! Especially when you combine it with all of the free amenities and our discount Disneyland tickets. Give our agents a call at 855-GET-AWAY or book online now.

Check out these other hotel spotlights and reviews: