Looking to buy a wand on your next Universal Studios Hollywood? You'll want to visit Ollivanders in the Wizarding World of Harry Potter, filled with wands and secrets from the films.
We've been busy getting all of the insider tips, tricks and secrets for your Harry Potter vacation. Many families will be drawn to Hogwarts to experience Harry Potter and the Forbidden Journey and to the Butterbeer cart for a taste of quite possibly the most magical beverage ever created.
But, the true Harry Potter fan will make sure to pop into Ollivanders to see an actual wand ceremony. Although similar to the Ollivanders in Florida, there are some distint differences between the two. Here are 7 secrets every true Harry Potter fan needs to know about Ollivanders at Universal Studios Hollywood:
1. The Ollivanders at Universal Studios Hollywood has two show rooms, but you will probably only see one. Everyone will enter into one main chamber stacked with wands. When your wand keeper is ready, a panel will move allowing your group to be escorted into your ceremony room. The wall will then close allowing the next group to come through before being escorted into the other room next door.
2. The entire wand ceremony lasts about five minutes, and the attraction only can allow about 20% of the park capacity in any given day. It has to be that way to keep it the intimate experience it is intended to be.
3. There are approximately 40 wand keepers, each with a different style and flare. The wand keepers rotate through 45 minute sets, so you could go through the ceremony multiple times even in the same day and have a unique experience each time.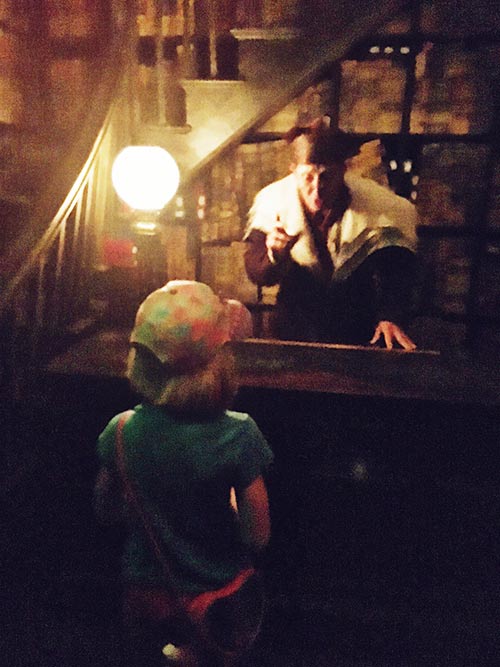 4. The wands from the Ollivanders ceremony contain magic that is only accessible inside the Wizarding World of Harry Potter. These interactive wands work magic on 11 different windows found in the land. Look for the mark indicating that you've found a magic window, point your wand, and watch the magic happen. Find them all for an adventure.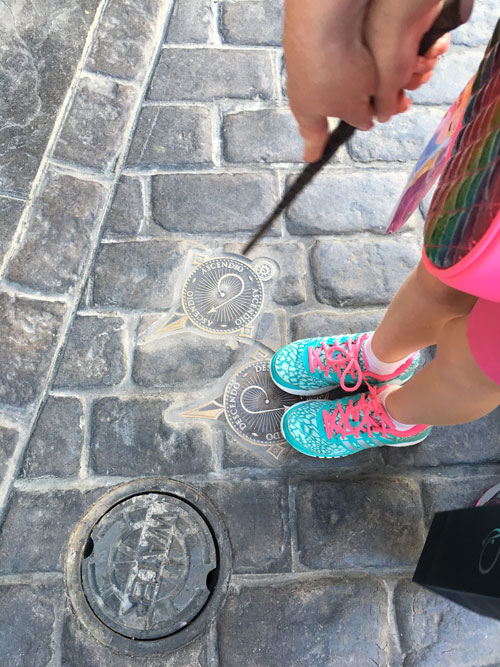 5. Ollivanders moved to Hogsmeade just for Universal Studios. If you've read the books or seen the movies, you know that Ollivanders is technically located in Diagon Alley where most of the back-to-Hogwarts shopping occurs. However, Ollivanders is such an immersive and incredible opportunity, that it couldn't be left out of the west coast's version of the Wizarding World of Harry Potter, so it moved to Hogsmeade. Visitors to the Wizarding World of Harry Potter in Florida know that there are actually two Ollivanders on the east coast. The original opened inside Hogsmeade at Islands of Adventure. Then, a second location opened in its proper home, the heart of Diagon Alley, after Diagon Alley opened in Universal Studios Florida. Visitors to Florida can visit both Ollivanders locations with a Park Hopper ticket and a ride aboard the Hogwarts Express.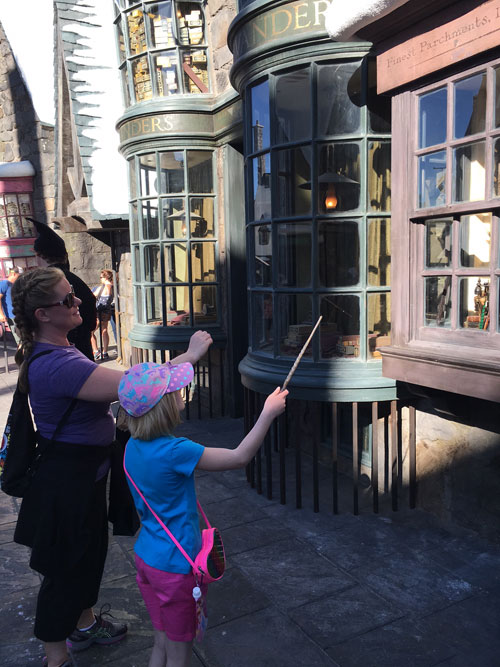 6. You can better your odds of being chosen by a wand by wearing wizarding gear. Many wand keepers seem to be especially partial to Griffyndor. You can also increase your chances by staying near the front, and well, being a kid, or at least young at heart.
7. The wand may choose you, but if you choose to keep it, you'll have to pay for it. Harry had to pay for his wand too, right? All of the wands are priced at just under $50 and if you are chosen, you are sure to remember it forever.
When you're ready to enter the Wizarding World of Harry Potter, we're here to help! Make Anaheim your home base and use our Disneyland/Universal Studios Hollywood combo ticket to save. Or, stay at the nearby Sheraton Universal or The Garland. Either way, you're sure to make memories that you'll treasure forever. Book online or call our agents at 855-GET-AWAY.

Check out these other great articles: