If you're looking to honor Walt Disney on your next Disneyland vacation, there are so many things you can do! But, it may not be what you think. Read all about these eight Disney places that aren't Disneyland. They may not be in Disneyland, but they'd be perfect to add on to your next Disneyland vacation!
8 Disney Places That Aren't Disneyland
Walter Elias Disney is one of the most recognizable, successful and inspiring people in recent history. He was one of the first to develop a connection between art and commerce. He holds the record for the most Academy Awards and nominations, with 22 awards from a total of 59 nominations. Many are aware of Walt's legacy with the Walt Disney Company, Disney Parks and Walt Disney Animation Studios.
If you want to see Disneyland from Walt's eyes, you can take a "Walk in Walt's Footsteps" tour at the Disneyland Resort. However, you can take it a step further and also visit some of the places that Walt frequented in Southern California. Check out the list below of eight Disney places that aren't Disneyland that you can visit to honor Walt himself. For the ultimate experience, plan an extra day or two of your Disneyland trip to explore the history of the magic. You'll be able to walk where he walked and experience some of the same things he did as he built Disneyland and the Walt Disney Company.
8 Disney Places That Aren't Disneyland:
Griffith Park Merry-Go-Round. – 4730 Crystal Springs Drive, Los Angeles.
On Sundays, Walt would take his two girls, Diane and Sharon, on daddy daughter dates to the Griffith Park Merry-Go-Round. The Merry-Go-Round was built in 1926 and still features an original military band organ. It was there that Walt would watch his girls enjoy the carousel and think of a place where parents and children could enjoy something similar together. As he sat on his bench each Sunday, Walt came up with the idea for Disneyland. He petitioned Griffith Park for an entertainment enterprise. But, we all know that Disneyland ended up in an orange grove in Anaheim instead. Your family will love visiting this Disney place in California, since it's truly where the magic began.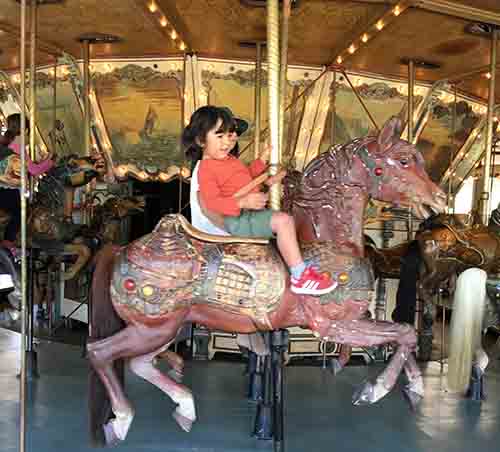 Table #31 at Tam O'Shanters – 2980 Los Feliz Boulevard, Los Angeles.
Tam O'Shanters is a sandwich and dinner establishment not far from the Walt Disney Animation Studios. Walt would often visit the restaurant for lunch and dinner during his time in California. He enjoyed the place so much that he had his own table. Ask the wait staff for table #31 and you will be sitting at Walt's favorite table! The walls and halls are decorated in his memory, with Disney animation art and surprises from the Disney studio.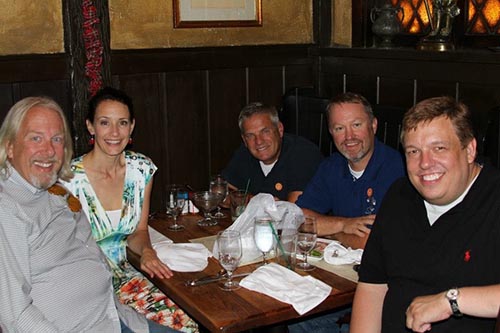 LA Steamers at Walt's Barn in Griffith Park – 5202 Zoo Drive, Los Angeles.
Walt did not have a lot of time for hobbies and personal interests, but he made time for model railroading. As a matter of fact, Walt built a barn in his backyard to support his very own model railroad. The tracks went around his yard, complete with tunnels, bridges and whistle stops. Walt was obsessed with scale and making sure that every detail was included in his model railroad. His home was located on Carolwood Drive in the Holmby Hills area of Los Angeles and so he named his railroad the Carolwood Pacific. The children would flock to his home every weekend for the chance to ride the famed railroad.
In honor of Walt, a foundation led by his daughter Diane, moved Walt's barn to Griffith Park. Every Sunday, the LA Steamers meet to operate their own model trains on small railroad tracks and every third Sunday, Walt's original barn is open to the public. Walt's barn has become a memorial for Walt and you can find many Disney fans stopping by to pay homage to him.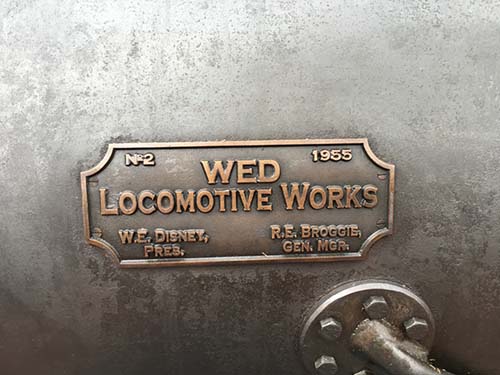 Walt Disney Animation Studios - 500 South Buena Vista Street, Burbank.
The Disney Studios are not always open to the public, but from time to time, D23, the Disney fan club, arranges for tours and opportunities to visit. The area is historic, complete with original buildings that Walt Disney built with the proceeds from Snow White and the Seven Dwarfs. Check in with the D23 website for details about tours and opportunities. Few pictures are allowed on the Disney Studios lot, but the Disney Archives, Disney Legend Plaza, and many other historical places can be viewed on the exclusive tour. Did you know that the Walt Disney Animation Studios are technically Walt and Roy's fourth studio offices? The first were in Kansas City, the second near his uncle's home in Los Angeles and the third were on Hyperion Avenue in Los Angeles.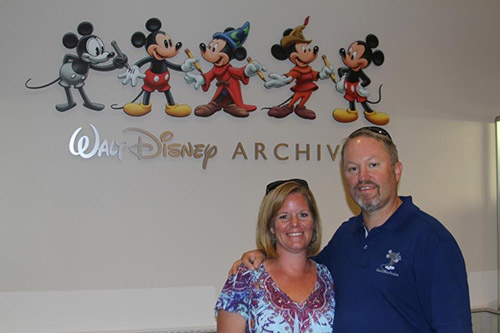 The Disney Studios sign was made famous in the Disney movie The Reluctant Dragon. An example of the Disney Studios buildings can be seen in the background along with what is most likely one of the coolest street signs in America. The sign articulates where different studio departments are located. The "In Between" is a cast member café located on the studio lot. At the time it was a revolutionary idea to have a campus for employees to work, eat, socialize and contribute to the creativity of Disney movies and projects.
The El Capitan Theatre – 6838 Hollywood Boulevard, Los Angeles.
Next on our list of eight Disney places that aren't Disneyland is the El Capitan Theatre in Hollywood. The majority of Disney films have premiered here. The theatre is open nearly every day and they create a special experience for everyone who sees a movie in the original Hollywood theatre. There is typically a pre-show, the addition of 4D options or special surprises. Seasonal movies have become quite popular, like the Nightmare Before Christmas around Halloween time. If you go to see this Halloween favorite, expect snow in the theatre and an experience unlike any other. In addition, most movie showings start with an organist playing the original antique Wurlitzer organ. With over 2,500 pipes it is an impressive example of theatre organs. The environment and the detail give the audience a taste of the glitz and glamour of old Hollywood.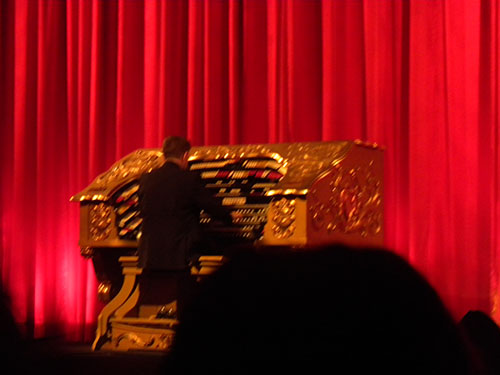 The Hollywood Walk of Fame – Downtown Hollywood, Los Angeles.
The Walk of Fame recognizes the talent of Hollywood, including many Disney stars. Not surprisingly, Walt has two stars on the Hollywood Walk of Fame. One for TV located at 6745 Hollywood Boulevard, and one for film at 7003 Hollywood Blvd. Not far away are Mickey Mouse at 6809 Hollywood Blvd and Disneyland at 6874 Hollywood. Just recently, Minnie Mouse received her own star and you can watch the ceremony here.
Hollywood Sign – 2800 East Observatory Road, Los Angeles.
Walt Disney arrived in Hollywood in the summer of 1923, a year hailed for Walt and his brother Roy beginning business in "Tinseltown." Ironically, the original Hollywood sign was erected in 1923. Originally the sign read "Hollywoodland," but the "land" was later dropped and the iconic sign lives on. Many Disney fans think it is perfect that Walt and the Hollywood sign arrived at the same time, which is why it's on our list of eight Disney places that aren't Disneyland.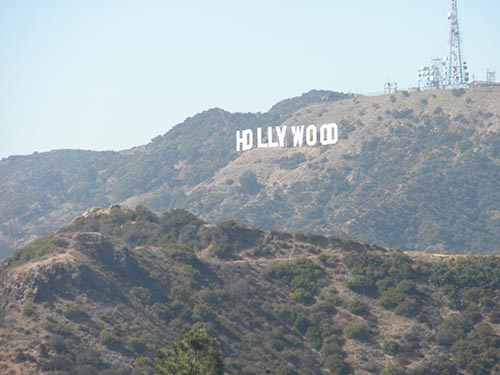 Aunt Charlotte and Uncle Robert Disney's home – 4406 Kingswell Avenue, Los Angeles.
When Walt arrived in Los Angeles, he had a bit of a hard time trying to figure out his next move. His uncle, Robert Disney, encouraged him to continue to pursue film making that he and Roy had started in Kansas City. Walt would visit Uncle Robert's home for this sage advice, a home that still stands to this day. A small group is even taking actions to make it a national historic place!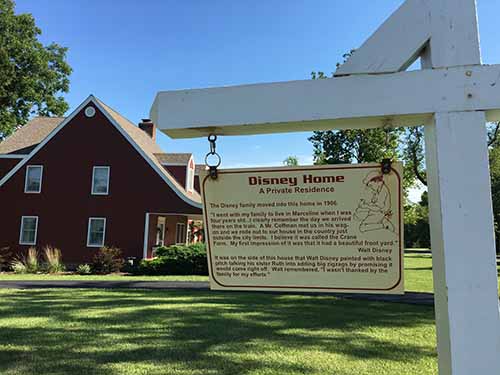 Disney Brothers Cartoon Studio – 2719 Hyperion Avenue, Los Angeles.
Remember that third studio location we mentioned before? This is it! The Disney brothers started the studio with the creation of Oswald the Lucky Rabbit and a few other Disney icons way back when. While the building no longer stands, your family can visit the sign that memorializes the location.
Mickey's of Glendale – 1401 Flower Street, Glendale.
Walt originally opened a research and design studio to make the new attractions for Disneyland. The company was called WED enterprises, with WED being his initials (Walt Elias Disney). Look closely on a few Disneyland attractions you may just see the WED mark every once in a while. Periodically, and if you are lucky, the Cast Member store of this design studio will open to the public. Which means you'll have access to Disney Imagineering products for purchase! The area is typically not open to the public, so you'll want to watch for these exclusive openings and any tours that may open up.
Disney Places Beyond Southern California:
After you visit all of Walt Disney's favorite places in Southern California, try visiting some of his favorite places around the nation. While these Disney places may not be in Southern California and definitely aren't Disneyland, you could easily plan your next vacation around them! Here are a few ideas:
Disney Family Museum – 104 Montgomery Street, San Francisco, California.
The Disney Family Museum is filled with Disney memories, family heirlooms, original Disney maps, drawings, and plans for iconic movies and attractions. You can even find the original "Lilly Belle" that once steamed around Walt Disney's home.
Walt Disney's Birthplace – 2156 N. Tripp Ave, Chicago, Illinois.
Walt Disney's birthplace has been purchased by a private entity and funded by many individuals and organizations. Visitors will soon be able to visit the home that Walt's father built in Chicago and the place that Walt was born. Which is why it will be a great Disney place to visit in the near future!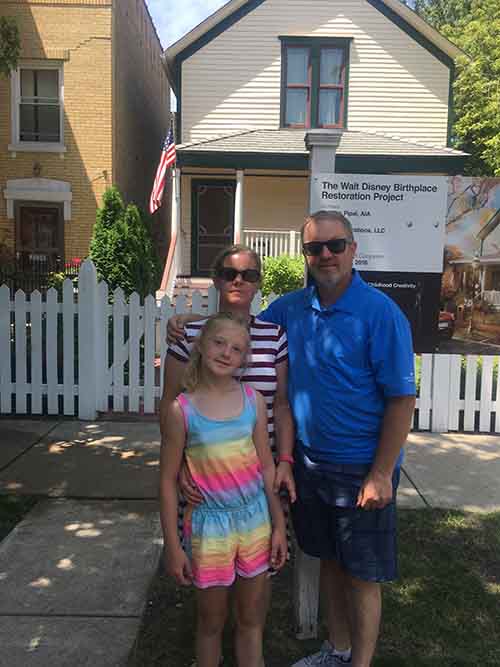 Walt's Boyhood Home – Main Street, U.S.A., Marceline, Missouri.
Walt commented in many interviews that his experiences in Marceline had more influence on him than any anything else. Walt was responsible to watch his little sister Ruth at that time, where they would often sit under a tree and look for bugs. Walt called it "Belly Botany" because they would crawl around looking for bugs in the grass. A short walk down Main Street will show you just how much influence Walt's boyhood home had on Disneyland.
Walt's First Office – Laugh O Gram Studios 1127 East 31st, Kansas City, Missouri.
This is a great place to see if you want to follow the footsteps of Walt's career. The studios have honored Walt by featuring a large mural of Walt's business card at that time. There are even a group of fans trying to preserve the area who have started a non-profit organization called "Thank You Walt Disney."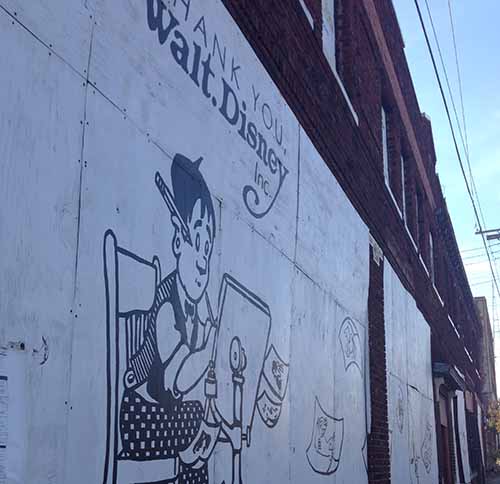 It is always a fun time to walk in Walt Disney's footsteps. Developing a list of things to see on your next adventure gives you an opportunity to find out about an American icon, but also gives you an opportunity to find out more about yourself. Plus, visiting any of these eight Disney places that aren't Disneyland could be the perfect add-on to your Disneyland vacation.
Get Away Today can help you plan your Disneyland vacation, including fun outside of the parks. We can guide you to a vacation that is fit for every member of your family. Discount Disneyland tickets, affordable hotel accommodations, and expert tips and tricks are just a few of the things Get Away Today can help with. Book online now or give our agents a call at 855-GET-AWAY.

For more Disney facts, check out the articles below:
Chris Dallin is a Disneyland fanatic. He travels to Disney parks several times a year and continues to find hidden gems, adventure, joy, and magic in the Happiest Place on Earth. Tune into future blogs for additional ways to experience the magic of Disney Parks.