The Disneyland Resort is full of all kinds of secrets and tiny details that you always want to be on the lookout for. Today, we're looking at 8 Disneyland Toontown secrets you won't want to miss on your next trip.
The history of Disney is filled with legend and lore. As the story goes, Micky Mouse set up his home in Toontown – not far from the Disney Studios – after he was introduced to the public on November 18, 1928 with his successful Steam Boat Willie short film. When Walt Disney and his Imagineers were trying to find a location for Disneyland, they were having some troubles. Griffin Park, Burbank and many other spots were just not working out.
So, the legend goes that Mickey suggested Walt build Disneyland next to his town with one condition; Toontown had to be protected and kept secret. Years later, after Disneyland had proven to be a success, Mickey and his friends made a landmark decision. The decision was to open their doors to non-toon guests, officially opening Toontown to the public in 1993.
Mickey's Toontown is full of silly gags, Disney history and even secrets that make a visit worthy of any toon or non-toon's attention. It's also a great stop for families, complete with play areas, photo-ops and plenty of silliness. There's even Gadget's Go Coaster, a rollercoaster that is kid-size and the perfect amount of fun. Since there's so much to see and do, we put together a list of the top Disneyland Toontown secrets for you to look for next time.
8 Disneyland Toontown Secrets
Walt Disney's window. Many know about windows of Main Street, U.S.A., where you can find odes to those who have contributed to Disneyland's history. A few favorites include Iwerks and Iwerks, the father and son who contributed to Mickey Mouse and film techniques. There's also Marc Davis and X. Antecio, Imagineers who contributed to Pirates of the Caribbean and the Haunted Mansion.
When these details became popular, many guests wondered where Walt's window was. But instead of being added to Main Street, Walt's window was added to Toontown's Main Street. You'll have to look close for it, but the window reads: "Laugh O' Gram Films: W.E. Disney, Directing Animator." After that window was added to Toontown, many more were added in homage to the Disney brothers throughout the different Disney Parks.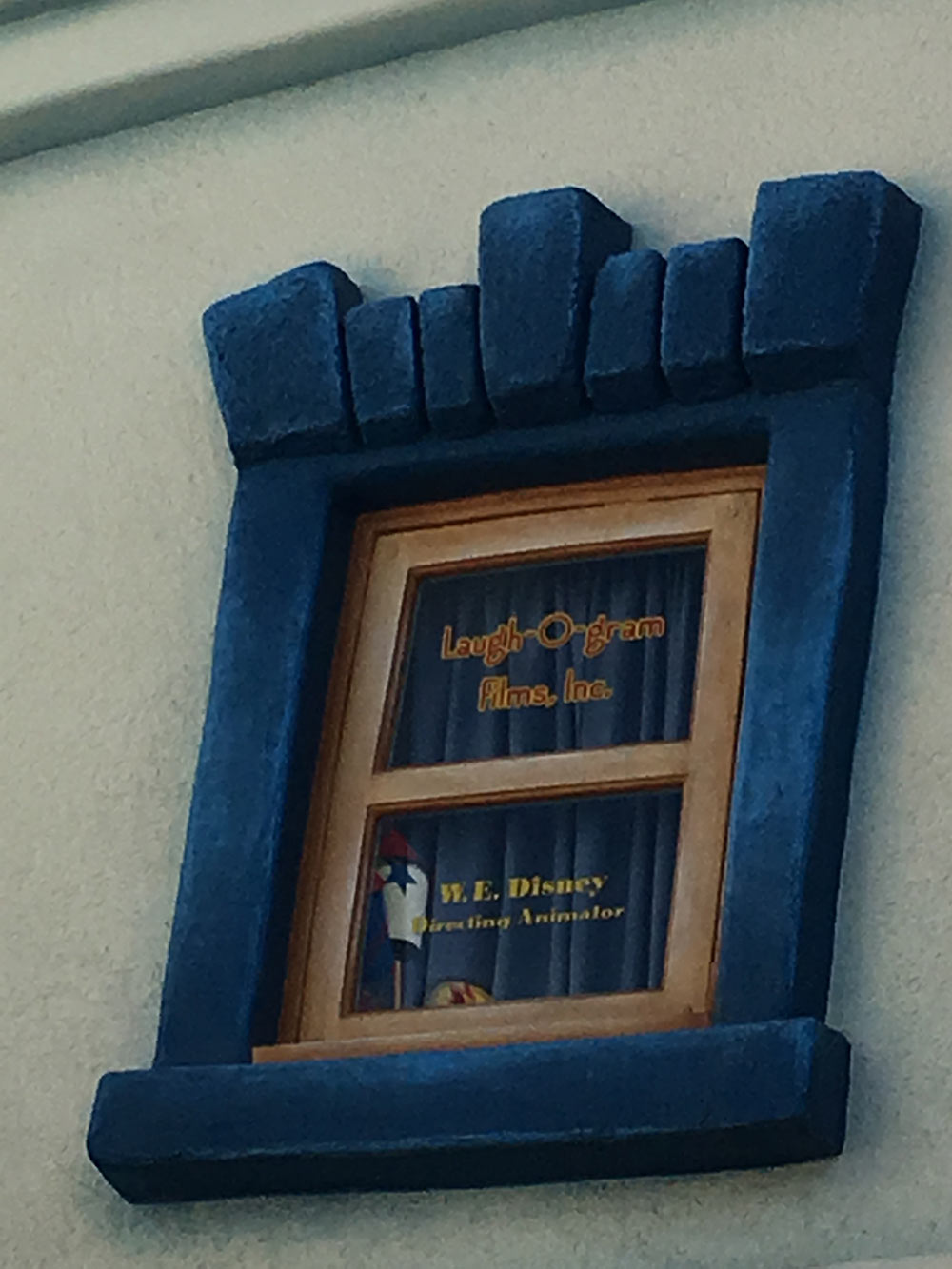 Home to Mickey and friends. Toontown is home to many of the classic Disney characters, including Mickey, Minnie, Donald, Goofy and more. One of the best Disneyland Toontown secrets is that you can visit many of them in their houses here, instead of trying to find them walking through the park!
Vanity license plates. Toontown's citizens think vanity license plates are all the rage. Look closely for references to Disney's past, including "BB Wolf", "Anim8ed", "MR TOAD", "1DRLAND" and many more.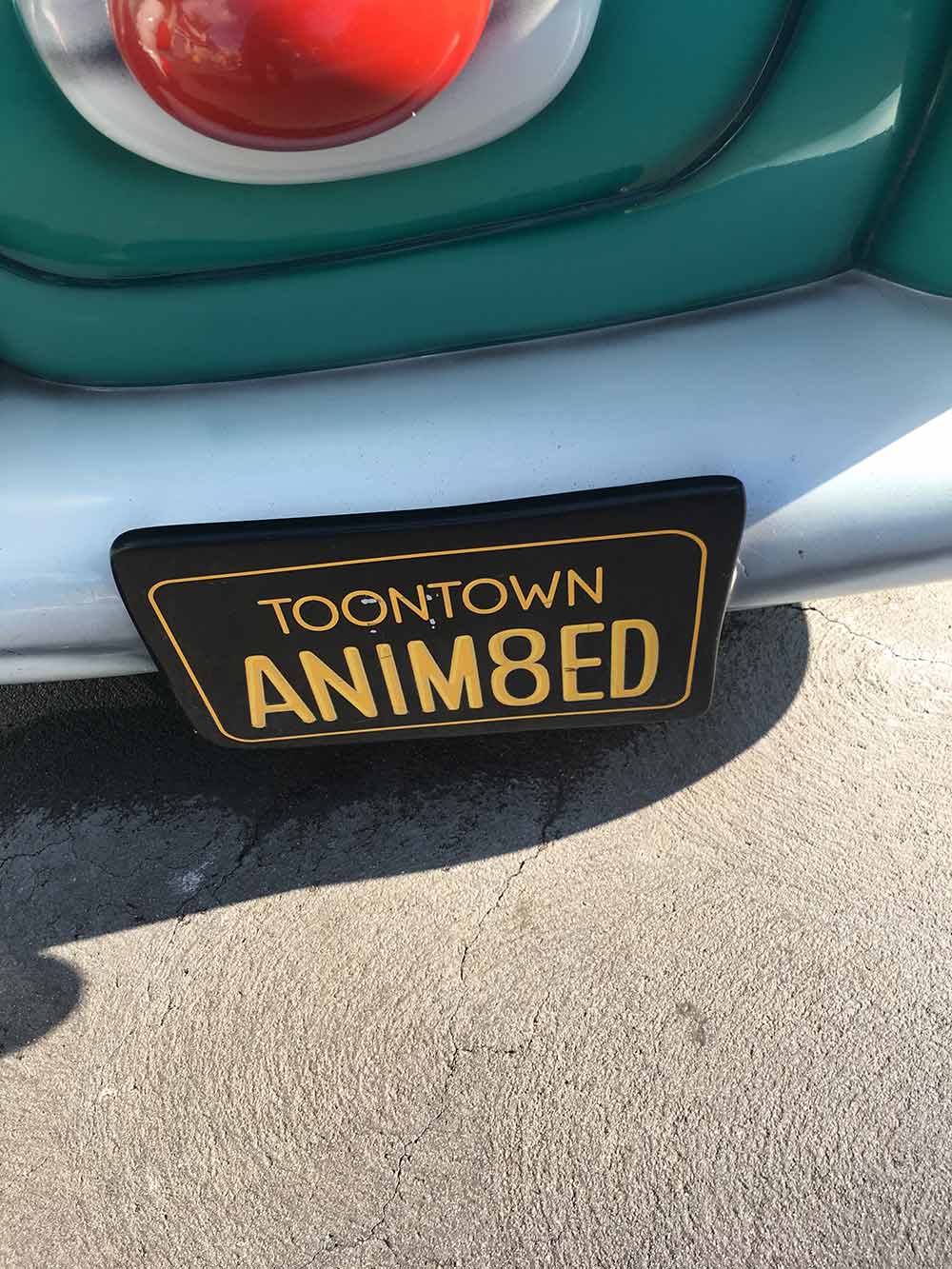 Roger Rabbit's Cartoon Spin extras. The attraction is based on the popular movie, Who Framed Roger Rabbit, and follows the clash of worlds between "toons" and humans. You'll want to look closely for a few fun extras when you ride this crazy ride, the first being doors in the queue line. About halfway through the line, a large metal door makes up part of the wall. Knock on it an da gorilla will appear to share a secret with you. Or, knock on another door and Jessica Rabbit herself will sing to you. Aptly named characters are also prominent in the ride and our favorite has to be "Bullina's China Shop." While you're driving your taxi cab through, be careful to avoid all the china! Lastly, make sure to watch the walls for all kinds of references to Disney's cartoon animation past.
Talking manhole covers. Everything is different in Toontown, including the manhole covers! One of the least expected Disneyland Toontown secrets, this one is fun for the whole family to try. Look for the cover in front of the Five & Dime in Toontown and jump on it for a great surprise. Speaking of talking manhole covers, you'll want to explore as many of the "props" of Toontown as possible. You'll find things like talking boxes, bending jail bars and more. Don't miss the TNT plunger in front of the Gag Factory, either. You never know what sound you'll set off when you push on it!
Mickey's silly symphony of toons and tunes. Located near the entrance of Mickey Mouse's house is a beautiful fountain. Everything is not what it seems in Toontown, so take a closer look. Kids of all ages can jump into the fun of playing instruments here. There are brass buttons you can jump on to evoke musical responses and more. The best part is when people create an entire symphony by each contributing their own tune from the instrument of their choice. This attraction definitely pays homage to the early Silly Symphonies produced by Walt Disney.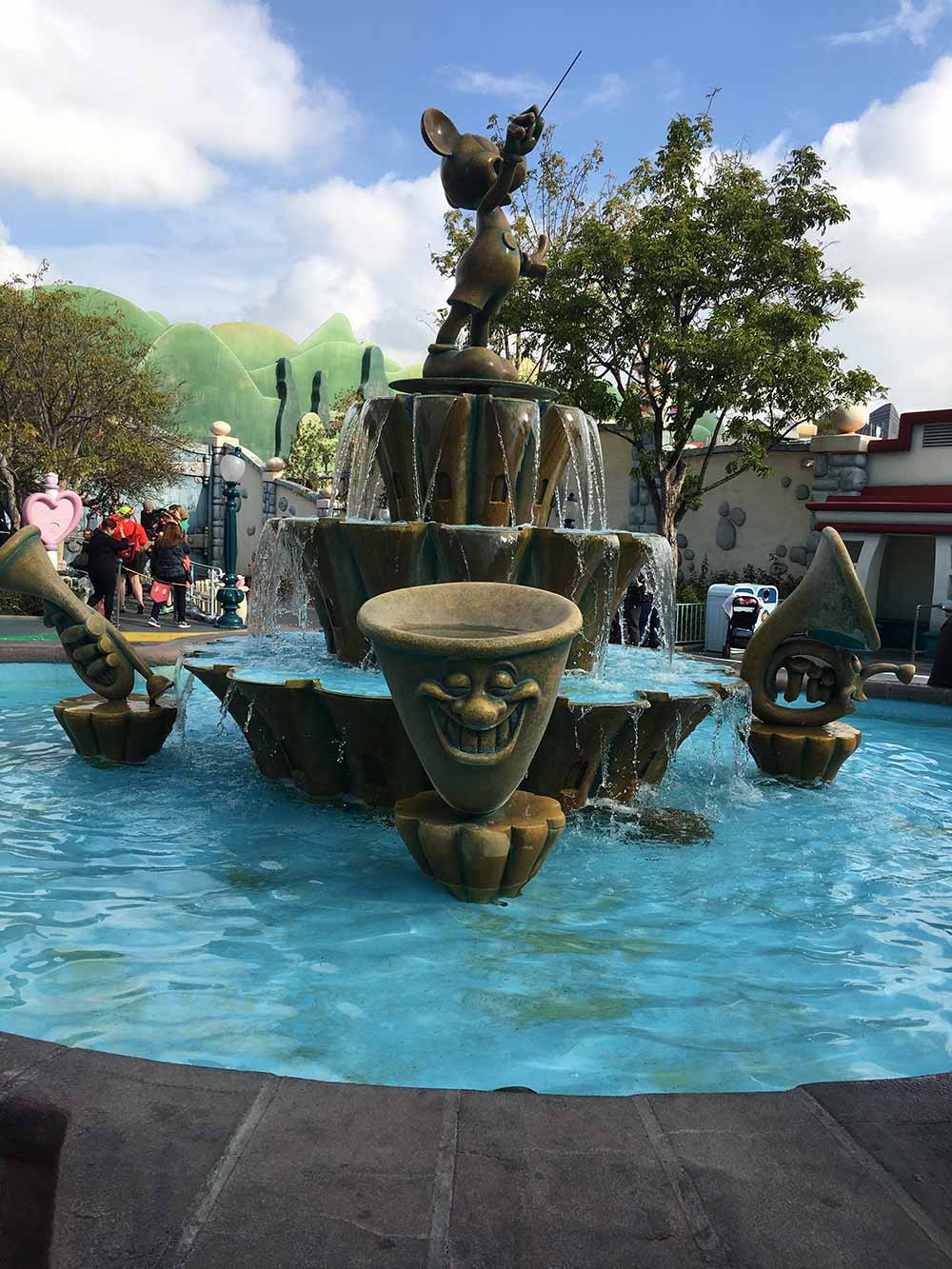 Join a toon conversation. Grab the local "Toon-Phone" to listen in on a conversation between your favorite cartoon characters. You'll find the phone near the Gag Factory. Make sure you get a fun picture with the phone, too!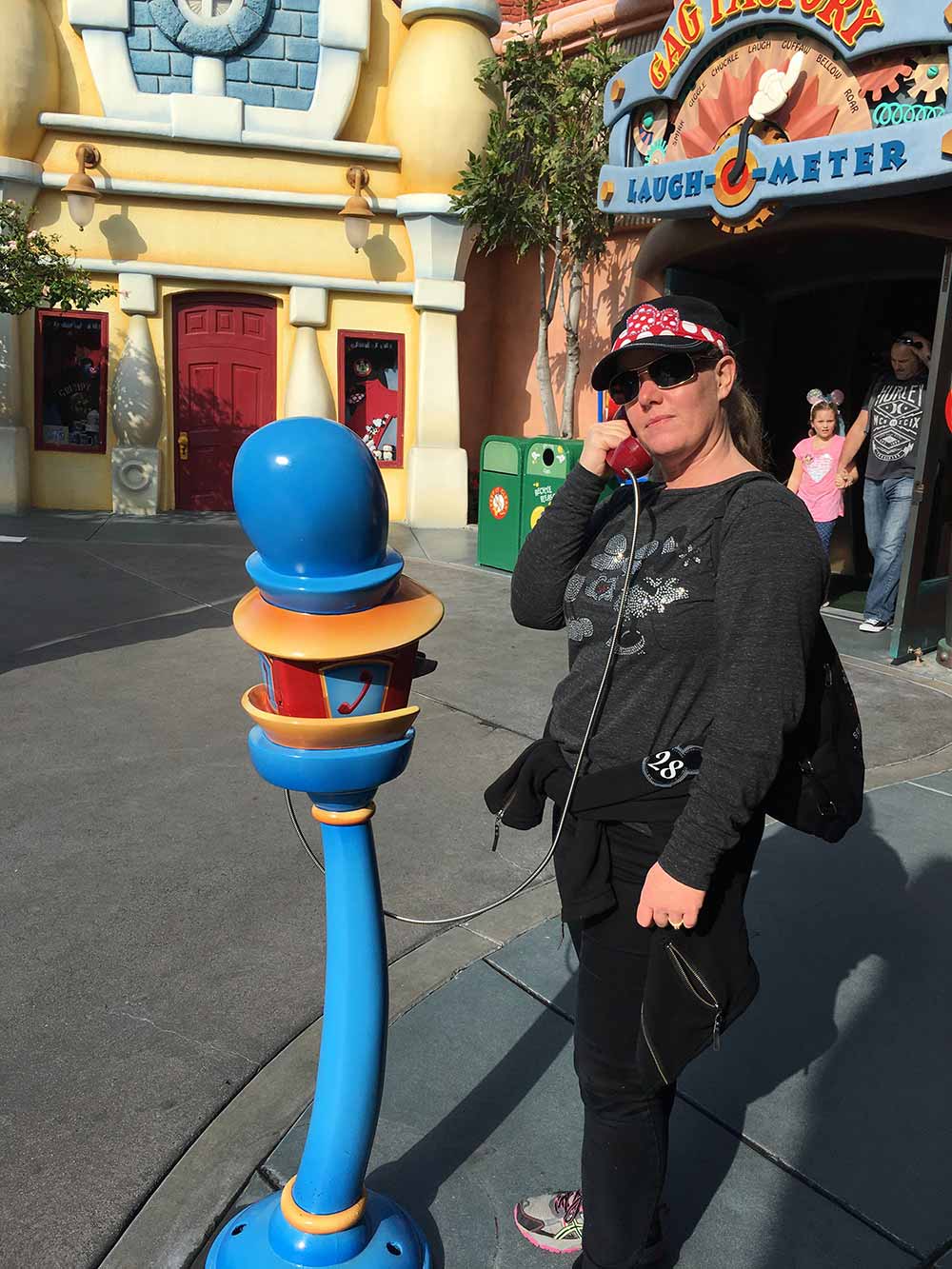 Cast Member secrets. Disney's Cast Members are committed to ensure that you and your family have a magical experience at Disneyland. We highly suggest you ask them for details as they are always apt to share. Here are a few Disneyland Toontown secrets a Cast Member shared with us:
You can find a cookie recipe on the refrigerator of Minnie's house; Minnie's Famous Chewy Cheesy Chip Cookies.
Are you a fashionista? Minnie loves to order her clothes from "Jessica's Secret" – a magazine that you can also find in Minnie's house.
Every city has a town seal for formal documents. Toontown is no different, except that their seal pictures a real seal from Mickey's cartoon "Mickey and the Seal".
Similar to other mountains of the Disney Parks, you can find secrets hiding in the mountains surround Toontown. The peaks make out a W, D and I – letters that honor Walt Disney Imagineering.
There you have it, all 8 of the top Disneyland Toontown secrets. How many did you know? Let us know in the comments below!
And did you know you can save on your next visit to Mickey's Toontown? We offer discount Disneyland tickets, reduced hotel rates and expert tips that will make sure you have the most magical trip yet. Book any of our Disneyland packages online or give our Disney aficionados call at 855-GET-AWAY.