World of Color at Disney California Adventure wows audience with a multi-dimensional emotional experience! "In our business, dreams have a way of coming true… Color does brighten things up, doesn't it?" – Walt Disney. Walt Disney started his career in Kansas City, Missouri where he developed comic strip advertisements for businesses along with ads that would promote advertisers in movie theaters. Walt and his brother Roy developed a motion picture short series that featured a live action girl that explored adventures in a cartoon land, known by many as the "Alice Comedies." During this time, Walt created his first cartoon character, Julius the Cat.
With only $40.00 in his pocket and an "Alice Comedy" reel, Walt boarded a train in Kansas City to try and do something in a young western movie town called Hollywood. A bronze statue memorializing this moment is featured near the square in California Adventure.
Soon thereafter, Walt created his second cartoon, Oswald the Lucky Rabbit. Both Julius and Oswald were a disaster financially and legally, but they taught the young company that a successful entertainment enterprise needed a niche, and something unique to make it in the film business.
Soon thereafter, Walt lost Oswald the Lucky Rabbit in a business deal along with all of his animators. Down on his luck, he sketched a cartoon mouse that he wanted to call Mortimer Mouse. His wife Lillian told him that Mickey sounded friendlier. Walt's partners, Ub Iwerks, a cartoonist, and his brother Roy O. Disney went to work to try their luck with the new cartoon character. They created a "Mickey short" that they called Plane Crazy, a silent film that featured Mickey Mouse's adventures in flight. It was ready to be released in theatres, but then, a new technology was revealed that allowed sound to be coordinated with film. They scraped the short because of the lessons that they had learned earlier, and created another short film called "Steam Boat Willie" that debuted to fanfare and success, on November, 28, 1928, Mickey Mouse's birthday. The rest, they say, is history and the reason why Walt was often quoted as saying, "Remember that it all started with a mouse!"
Today, the Disney Company has created homage to those early days in Hollywood in the form of Disney California Adventure. If you are looking, you can spot many great examples on Buena Vista Street – named after the address of the Disney Brother's first studio in Hollywood.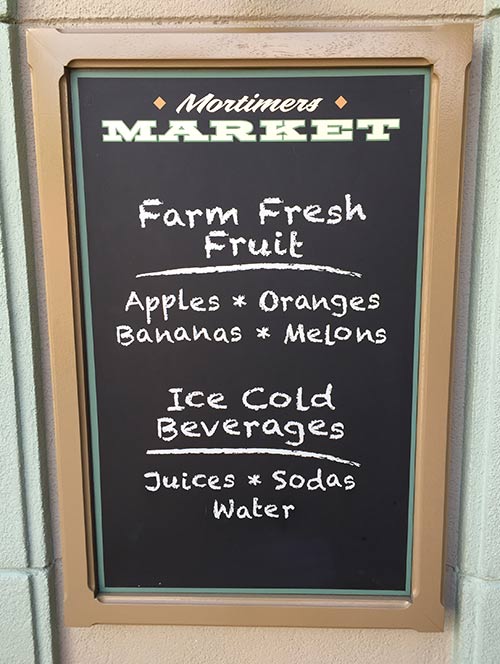 Mortimer's Market pays homage to what may have been Mickey's name, but later became Mickey's enemy: Mortimer. Keep an eye out for many other early Disney references, including the Fiddler, Fifer, and Practical Cafe, a throw to Disney's Three Little Pigs. Also look for the Bounds Sisters Coffee House, as Bounds is Walt's wife's, Lillian's, maiden name. See Oswald's gas station below, a nod to Walt's second cartoon character. Also, keep an eye out for Julius Katz on Buenta Vista Street, a reminder of his first cartoon character!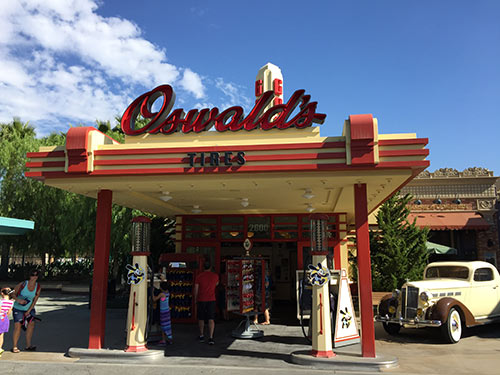 The Disney Company continued to break new ground and created many firsts, including the first cartoon in color, which created the Silly Symphony shorts that fans still love today. Then, despite his detractors and naysayers, Walt and Company created the first full length animated motion picture, Snow White, which maintains a spot in the top 10 most successful films of all time (adjusted for inflation). Disney also provided one of the first full colors TV shows, known as Disney's Wonderful World of Color, which came out the same year that the first full color TV set was sold.
As the first in sound and the first in color, the Disney Company continues to push the limit and wow audiences with amazing new technologies and entertainment because they know that audiences want the newest and most exciting experience available.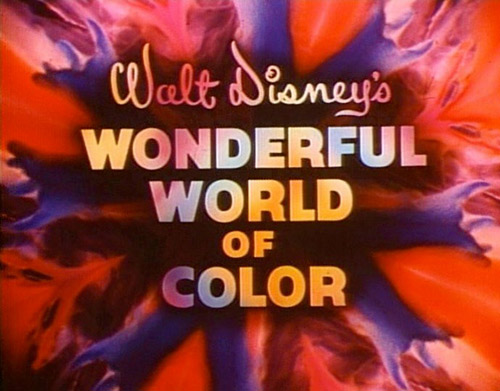 Yet another new way of telling stories was pioneered by Disney, and has come full circle. The World of Color is a water show located on the Paradise Bay at Disney California Adventure. The show pays homage to Walt Disney's Wonderful World of Color. An all-new version of the water show debuted earlier this year as part of Disneyland's 60th Anniversary Diamond Celebration. World of Color - Celebrate! features the Disney story, the early cartoons from Kansas City, the creation of Disneyland, and the promise of an amazing future with many more exciting attractions yet to come. It is incredible.

World of Color uses a submersible platform that is bigger than a football field, with more than 20,000 points of control and revolutionary lighting that combines nearly 1,200 fountains with color- making it one of the largest show systems every built.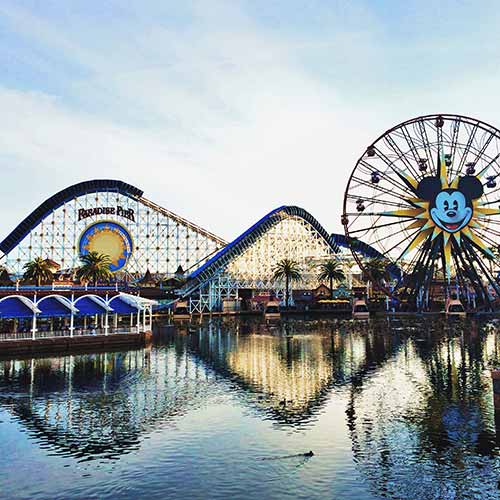 A view of the World of Color platform from atop Mickey's Fun Wheel. Near show time, the entire platform lifts out of the water for a nightly performance.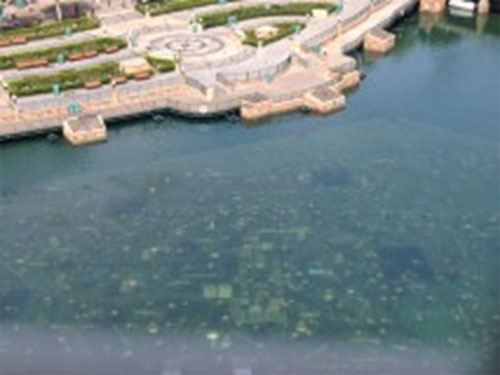 The initial cost was over $75 Million; it features a 380 foot wide water screen used for digital projection and incorporates light, stage additions, fire, and sound to provide a platform for optimal story telling.

World of Color's rear projection system near Mickey's fun wheel are located in the small kiosks in the foreground.
The show's flexibility has made it possible to add and subtract special sequences including an Independence Day celebration, a New Year's Eve show. During Christmas time, Olaf, from Disney's Frozen hosts a Christmas celebration, complete with holiday songs and memories. In addition, World of Color celebrates upcoming films and Disney projects like: Tron, Pirates of the Caribbean, Brave and Star Wars.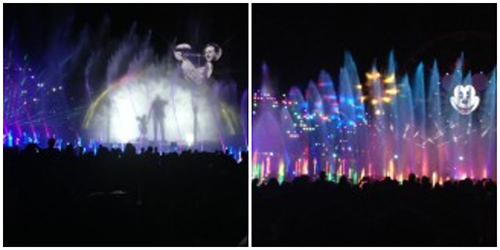 How to view World of Color:
As Disney's way to ensure that every guest has a great experience at World of Color, guests need a ticket (FASTPASS) to enter the World of Color viewing area. You can pick your World of Color FASTPASS near the Grizzly Rapids attraction in California Adventure. (Look for the gigantic bear with a life jacket.) Special note: By picking up your World of Color FASTPASS, it does not make you wait to pick up an additional FASTPASS for another attraction. Also be sure to check your Disney Park Guide to ensure that you attend the World of Color show that fits your schedule. Oftentimes, the later show has less of a crowd.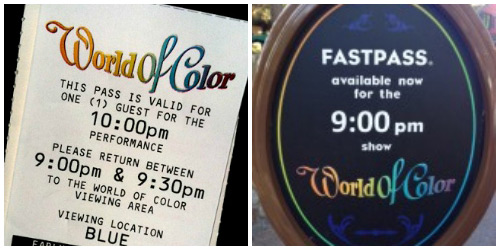 Mickey's Fun Wheel Challenge:
As part of the World of Color experience, Disney has created a game that you can play on your mobile device. While at the park and waiting for World of Color, go to www.funwheelchallenge.com and connect to the local wifi available. It is not a smart phone app, but powered through the Wi-Fi system. Similar to other match games, match the colors that you see on your phone. Now here is the magic part: If you win, you can control the lights and colors on Mickey's Fun Wheel for a short period of time! It is so much fun that some kids and teenagers are sad when the show starts. But that soon leaves when the magic of World of Color shoots water into the air well over 100 feet!
World of Color is a standing only show (Disney provides areas for guests in wheelchairs) and is recommended that you get in line early. This way shorter guests can get better viewing areas near the front of the color section your FastPass will assign. At the appointed hour, go to World of Color viewing area (in the front of the Arial's adventure attraction on the water front of California Adventure) and look for the lamp that features your color, a cast member will meet you and direct you to your viewing area.

Special viewing/dining opportunities:
Ask your Get Away Today Vacation Specialist about the special viewing/dining opportunities at Carthay Circle Theatre Restaurant and Arial's Grotto. Most of the time, they provide the best viewing opportunities with your dinner reservations.
The Orange Fountain:
Early plans of original World of Color featured a small orange fountain that was meant to represent the magic of Walt Disney, show creators kept it in and it appears at the very end of the show. After everything is off, the orange fountain remains on for a couple seconds as it bows to the audience as if to say good night and thank you.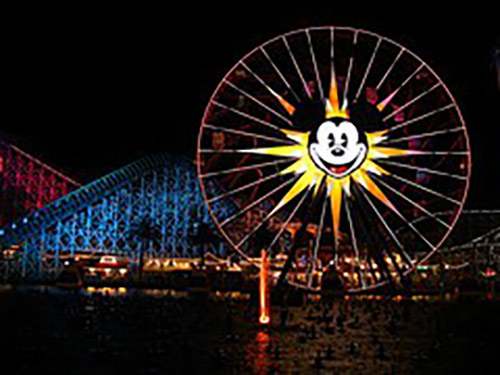 From a rocky beginning to the world's most celebrated family entertainment company, Disney provides world-class service based upon lessons from the past. World of Color is a fun way to celebrate Disney with your family and friends. Walt Disney said it best, "Around here, however, we don't look backwards for very long. We keep moving forward, opening up new doors and doing new things." That certainly is the case with World of Color. It continues to grow and inspire while bringing back fond memories.
Book your trip to the Disneyland Park today to catch the limited time World of Color - Celebrate! You don't want to miss the new innovations and magic that has dazzled guests keeps kids young and old coming back time and time again. Book your Disneyland package online or call our travel experts at 855-GET-AWAY.
Check out these other great articles: