Our Best Western Raffles Inn review breaks down everything you need to know about this family favorite Anaheim hotel. Find out about the rooms, location, amenities and more in our Raffles Inn review.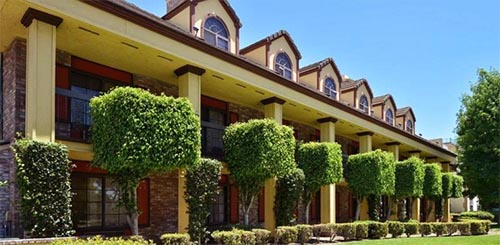 Photo courtesy of Best Western Raffles Inn
Best Western Raffles Inn Review
Don't book your hotel for your Disneyland vacation until you've read our Best Western Raffles Inn review. We'll walk you through everything you've been wondering about the Raffles to make sure it's the perfect hotel for your vacation. It's our job to help make your Disneyland vacation the best it can be, and nothing affects your trip as much as choosing the right hotel. It sets the tone for your entire trip.
Our team tours all of our Anaheim area hotels on a regular basis. Many of our staff members stay at these hotels on their personal vacations as well. When we say we are your vacation experts, we are speaking from first hand experience. Today we are focusing on one of our most popular value options for the Disneyland Resort area, the Best Western Raffles Inn. Read on to get the details on everything there is to know about the rooms, location and more.
Best Western Raffles Inn Review - Rooms:
One of the most appealing aspects of the Best Western Raffles Inn is the wide variety of room types. There are four different room types that we offer; standard rooms, kid suites, queen suites and family suites. While none of the rooms here are anything fancy, they are clean, affordable, and have some great in-room conveniences. All of these room types come with a microwave, mini fridge and coffee maker, which is incredibly convenient while traveling. In addition to the in-room amenities, you'll find similar decor between all of the room types. But there are some distinct differences.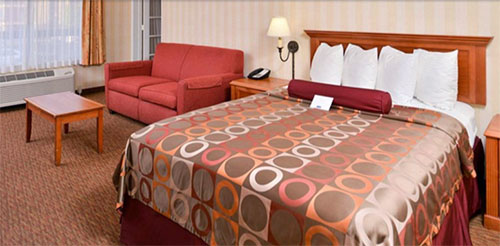 Photo courtesy of Best Western Raffles Inn
The standard rooms come with either two queen beds or one king bed. Most of the standard rooms have two queen beds. These rooms generally only sleep up to four guests comfortably and roll aways are not available. It's also important to note that the Raffles charges an additional $20 per extra adult per night for their standard rooms. Standard rooms allow up to two adults without extra adult charges, so if you have more than two adults traveling in your party, you may want to consider upgrading to one of their suites. None of the suites require an additional charge for extra adults.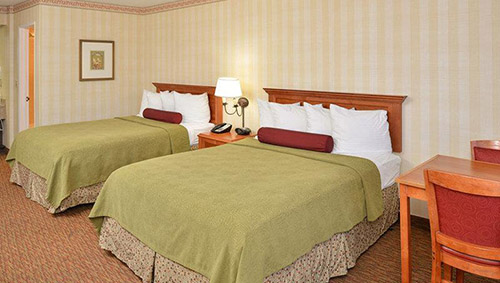 Photo courtesy of Best Western Raffles Inn
The queen suite is the next level of room type. It is the standard suite layout that you'll find at most suite properties with a bedroom with two queen beds and a separate living room area. There is a sofa bed in the living room area, so these rooms sleep up to six with bedding.
If you're traveling with small kids, you may want to consider the kid suite. This room type also sleeps six, but instead of two queen beds, this layout features one queen bed in the main bedroom and a set of bunk beds and a sofa bed in another room. There is a flatscreen TV in each of the sleeping areas. Not only do kids love the bunk beds, parents will love having a little peace and quiet in their own room.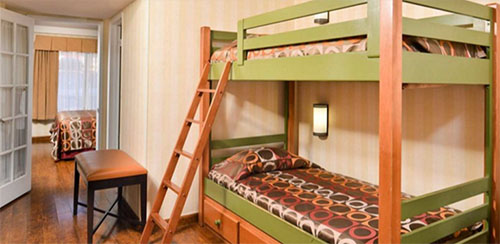 Photo courtesy of Best Western Raffles Inn
The final room type available at the Best Western Raffles Inn is their family suite. The family suite is a similar layout to the kid suite, but instead of having only one queen bed in the main bedroom, there are two queen beds. There is also a separate kids' bedroom that features bunk beds and a pull out sofa. Each of the bedrooms have their own flat screen TV, but more importantly, they each also have their own bathroom. The family suites are the only room type at the Raffles that have two bathrooms and sleep up to eight comfortably.
Best Western Raffles Inn Review - Amenities:
As you know from our review on the rooms, the Raffles has a lot of in-room amenities. While this is your basic value property, the Raffles has some other amenities to offer as well. The Raffles Inn offers an outdoor pool and hot tub. Although small, the pool is heated year-round and the hot tub feels great after a long day of walking at the parks.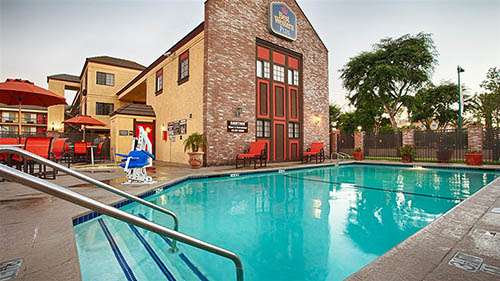 Photo courtesy of Best Western Raffles Inn
The Best Western Raffles Inn has limited parking, so they only allow one car per room, regardless of room type booked. Parking at the Raffles is normally $15 per day, but Get Away Today guests get free parking. That can really add up!
Best Western Raffles Inn Review - Dining:
One really nice feature about the Best Western Raffles Inn is that although they don't have an in-house restaurant, they serve a free breakfast each morning. The breakfast is a deluxe continental, which means that you'll find your standard continental breakfast items like fruit and cereal, with some hot items too. One of the most popular offerings is the make your own waffle station. Once again, you won't find anything super fancy at the Raffles, but you will find more than you need at a great value.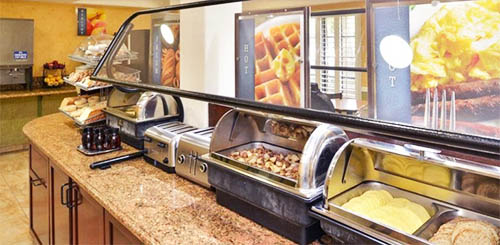 Photo courtesy of Best Western Raffles Inn
If you're thinking of going back to the hotel for dinner, there are many restaurants within just a few minutes walk. You are almost next door to a Denny's, and just a few minutes walk to a Carl's Jr., Taco Bell and Roscoe's House of Chicken and Waffles. If you're looking for a special night out, you're also directly across the street from a Ruth's Chris Steakhouse. There are so many options.
Best Western Raffles Inn Review - Location:
The Raffles Inn is just under a mile from the security check point into Disneyland. While it's approximately a 20 minute walk, many families choose to use the shuttle, especially after a full day of walking. You can pre-purchase your ART (Anaheim Resort Transit) tickets at a substantial discount through Get Away Today.
In addition to Disneyland, you are really close to the Anaheim Garden Walk. The Garden Walk is about a 15 minute walk from the Raffles and features shopping, entertainment and dining. There you'll find the House of Blues, Bubba Gump's, California Pizza Kitchen and so much more. It's a really fun place to spend some time on your Disneyland vacation.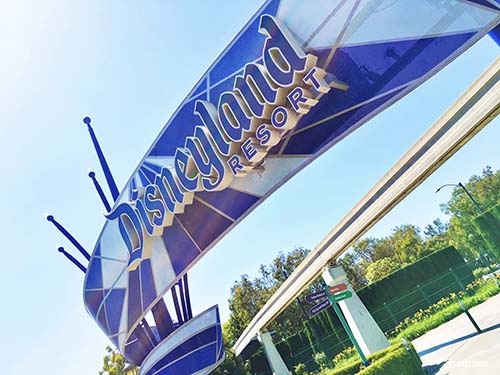 I hope our review of the Best Western Raffles Inn was helpful to you! One other reason you may want to consider booking your stay at the Raffles through Get Away Today is our exclusive 3rd night free offer. This special is only available on certain room types and on select dates. You can find all of our rates and specials for the Raffles online, or you can call our agents at 855-GET-AWAY. Either way, if you find that 3rd night free special, you'll want to book it immediately to lock-in your low price.

Check out more Anaheim area hotel reviews: