This Copycat Disney Chocolate Covered Bacon Recipe Bacon is going to rock your world. The combination of salty bacon with sweet rich chocolate is unreal. Go on and get cooking.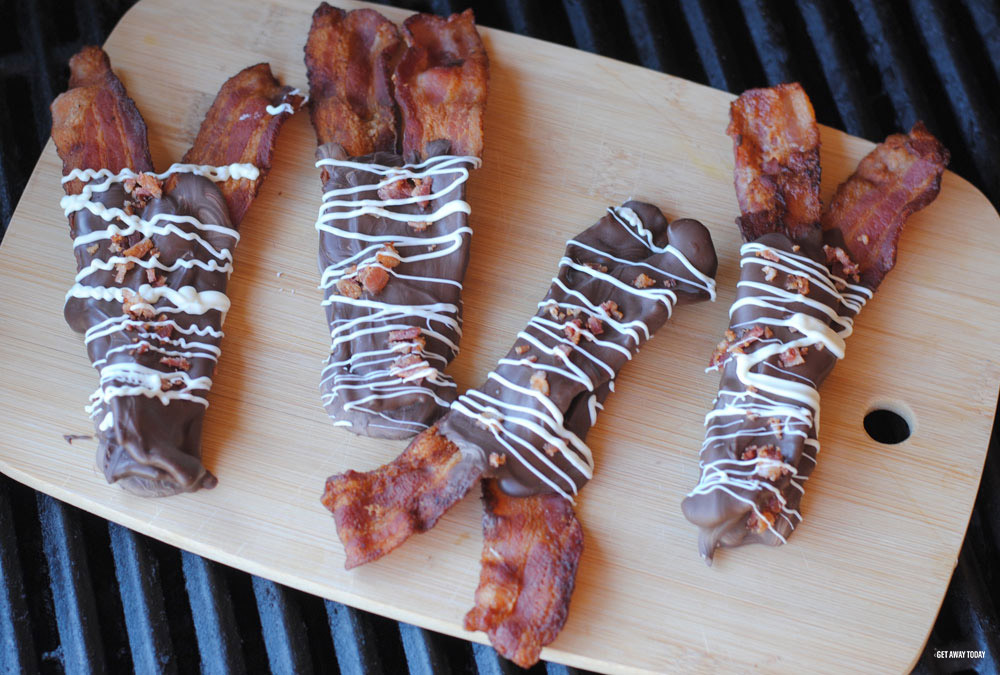 Copycat Disney Chocolate Covered Bacon Recipe
Disney confectioners have crafted some pretty incredible snacks over the years. Pumpkin Spice Churros, Dole Whip Donuts, Warm Jack-Jack Cookie Num Nums, Sugar Dusted Coconut Matterhorn Macaroons, Juicy Turkey Legs and Mickey Mouse Beignets are just a few of the tasty food offerings at the Disney Parks.
Most people claim to visit Disneyland and Walt Disney World primarily for the attractions, but a select few will admit that the festive food is the main draw. Can't blame them. The snack options are pretty incredible. Since stomach size is limited, it's nice to know what food is worth using up valuable space on. You can trust me on the chocolate covered bacon recommendation. Are you ready for a flavor combination that sounds so wrong that it is right?! That is right Disney lovers, chocolate covered bacon is available at the Disney parks and it is pure magic.

Copycat Disney Chocolate Covered Bacon Recipe
You can pick up a sample of this awesome dessert at Kona Island, the quick-service snack and coffee bar in Disney's Polynesian Village Resort in Walt Disney World. Disney offers three varieties including dark chocolate bacon, dark chocolate chili bacon and dark chocolate cinnamon pecan bacon. All three flavors sound delish! The best part is that each slice is only $4.00. That isn't bad considering standard theme park pricing. Which flavor sounds the best to you? So far, fans are giving all three pretty solid thumbs up!
I decided to whip up a batch of copycat Disney Chocolate Covered Bacon to see if all the positive buzz was justified. After an afternoon of delicious research in my kitchen, I can honestly say that it's one of the best snacks I've made to date. And, I've made a lot of Disney snacks.
Want to give it a go? The process is pretty simple. Follow along!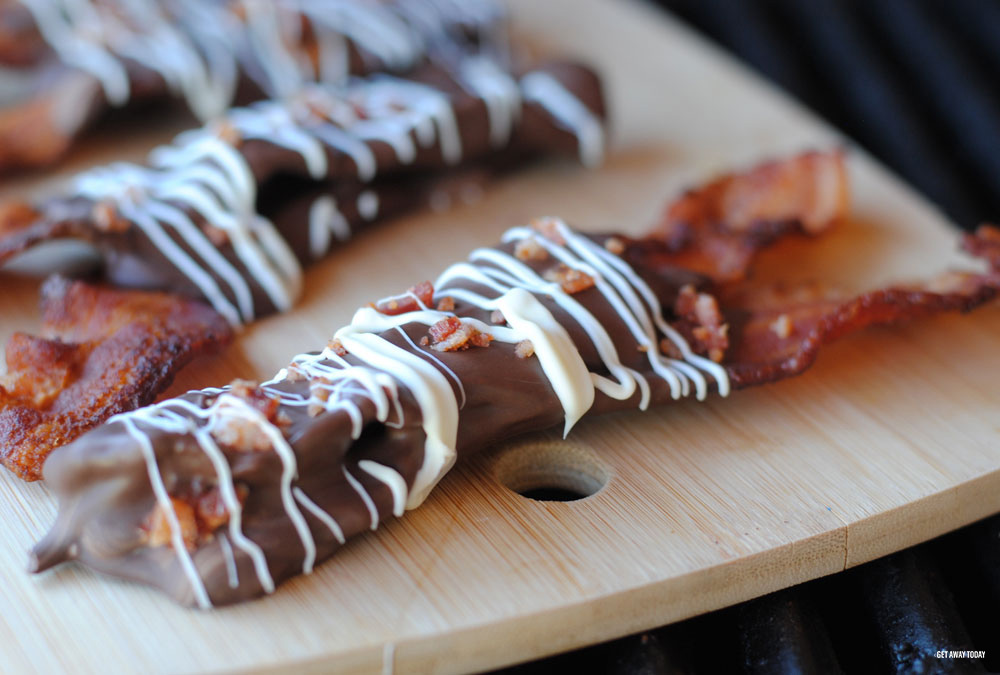 Copycat Disney Chocolate Covered Bacon Recipe
Start by cooking a package of thick, quality bacon. Bacon really is a product that requires splurging on quality. Get the good stuff.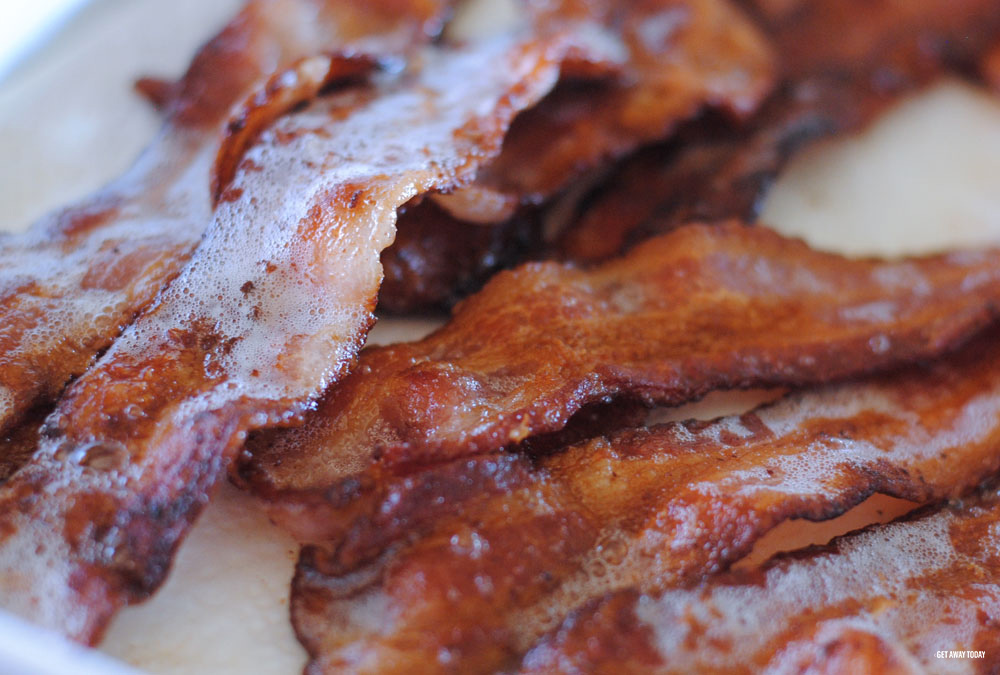 Once your bacon is hot and crispy, transfer it onto a tray to cool. I like to line the tray with paper napkins to soak up any excess grease from cooking. Let the bacon cool.
Then, melt about 16 oz of dark melting chocolate in a microwave safe dish. My favorite melting chocolate is the Ghirardelli brand. It has the best taste and consistency for dipping! Quick Disney side note: You can get a free sample of Ghirardelli chocolate at Disney California Adventure Park at the mini Ghirardelli square at Pixar Pier. It is one of my favorite Disney park secrets.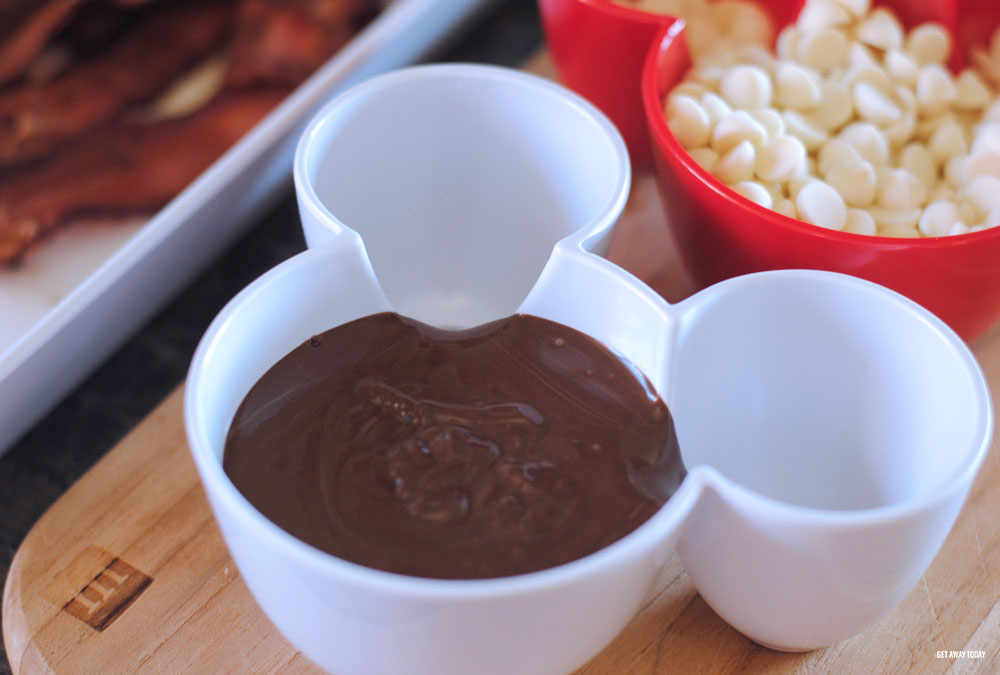 Copycat Disney Chocolate Covered Bacon Recipe - Dipping
Take two slices of bacon and stack them together and then dip a good portion of one end into the melted chocolate. I wanted the chocolate on mine to be thick and yummy, so I used my spoon to scoop a big dollop onto the bacon after dipping.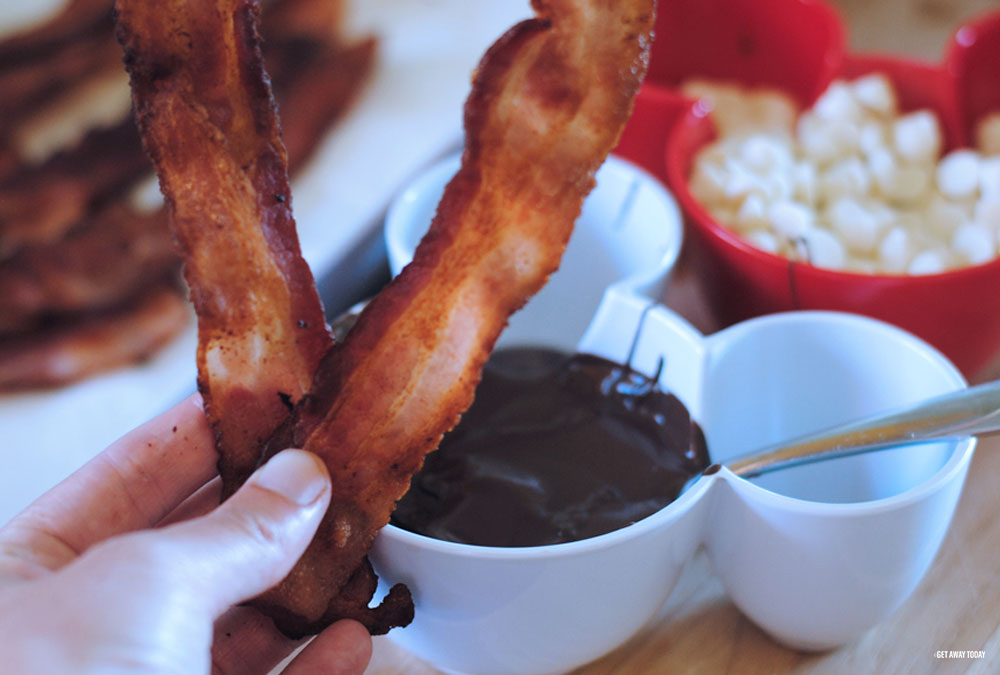 Lay it on a rack covered with wax paper to cool.
Continue covering bacon in chocolate until you have all but one slice of bacon left. Leave this slice for toppings! Use a knife to cut the bacon into tiny bits. Sprinkle the bits onto the chocolate covered bacon while it is still soft.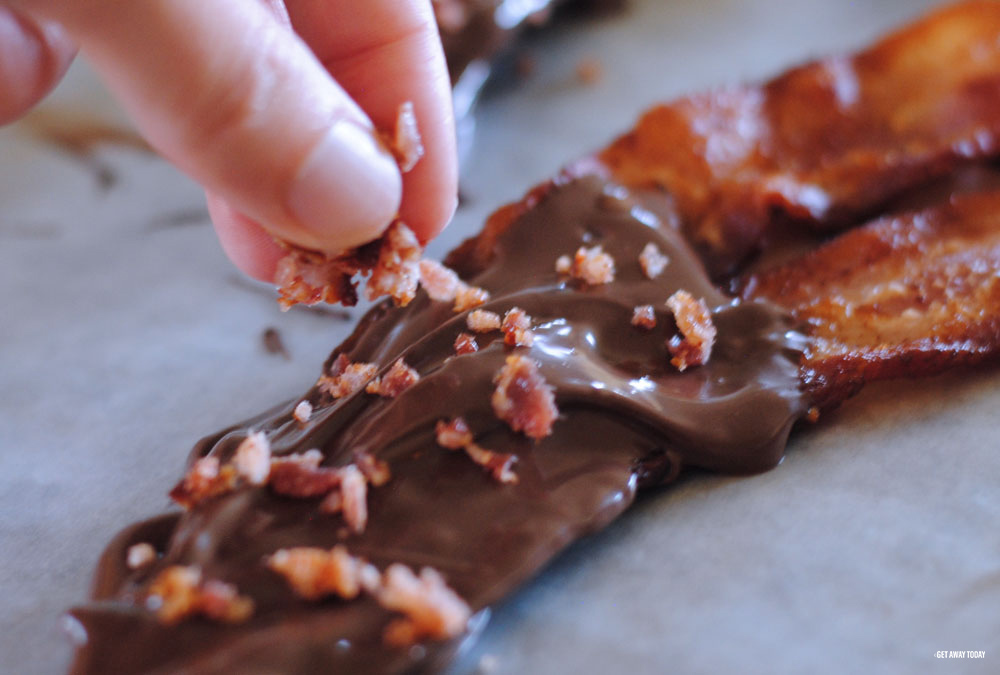 Copycat Disney Chocolate Covered Bacon Recipe - Drizzling
Then, melt a small portion of white chocolate in a dish. Use a spoon to drizzle the white chocolate in stripes over the top of the chocolate covered bacon! It looks so pretty.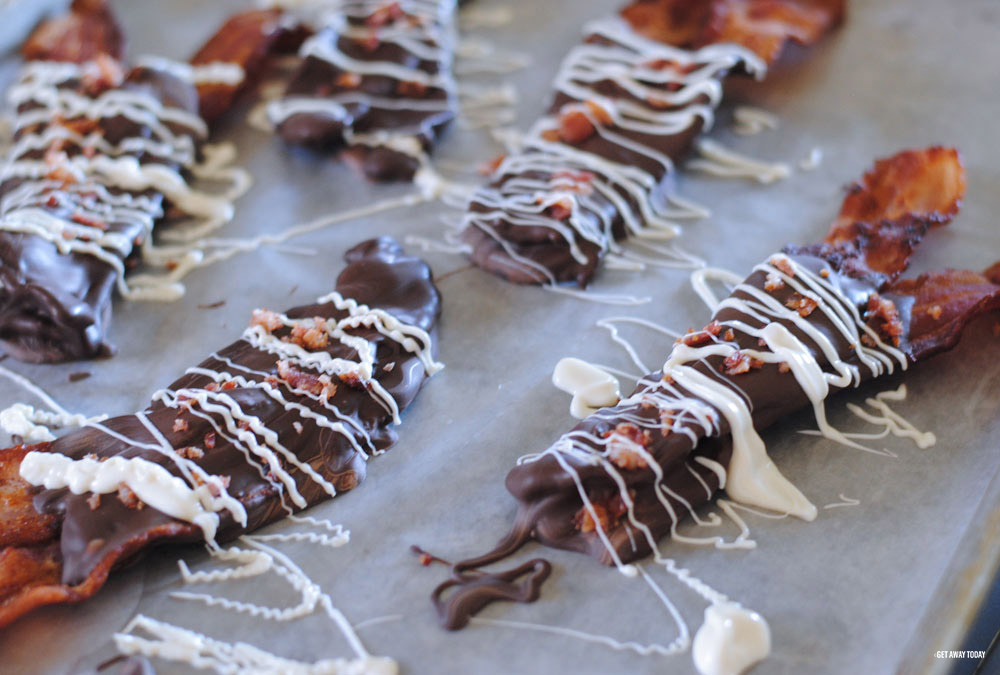 The chocolate does not take very long to set up. Once it has hardened, you can peel the chocolate covered bacon off of the wax paper and serve!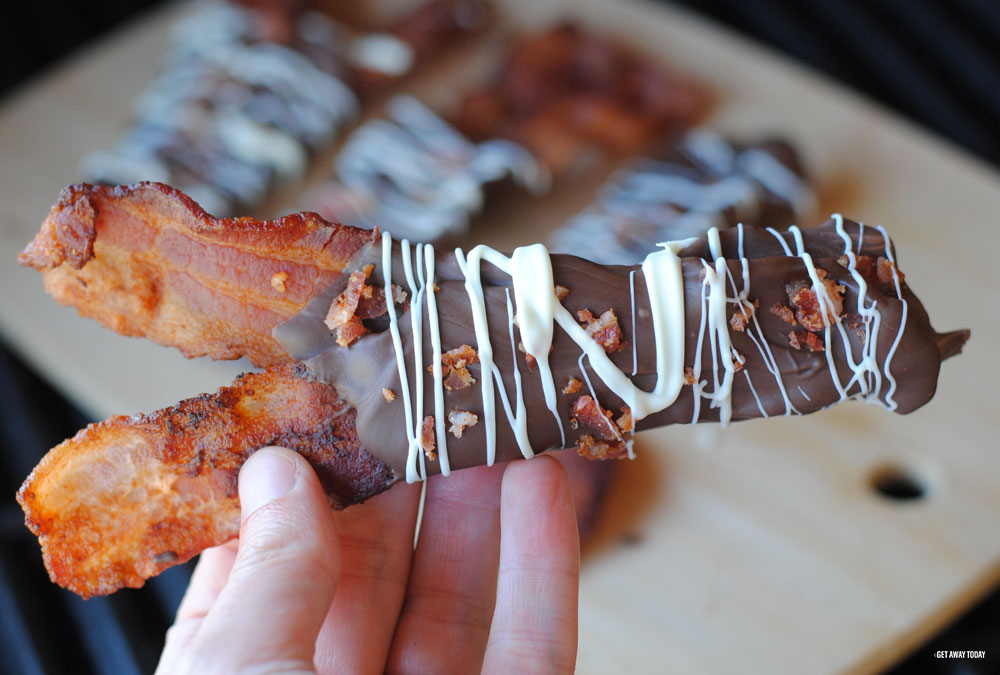 I'll be honest, I was a little bit nervous about trying it. I shouldn't have hesitated! The salty bacon flavor was seriously perfect with the rich dark chocolate. The balance of taste was right on. I can see why it is so popular at the Disney Parks!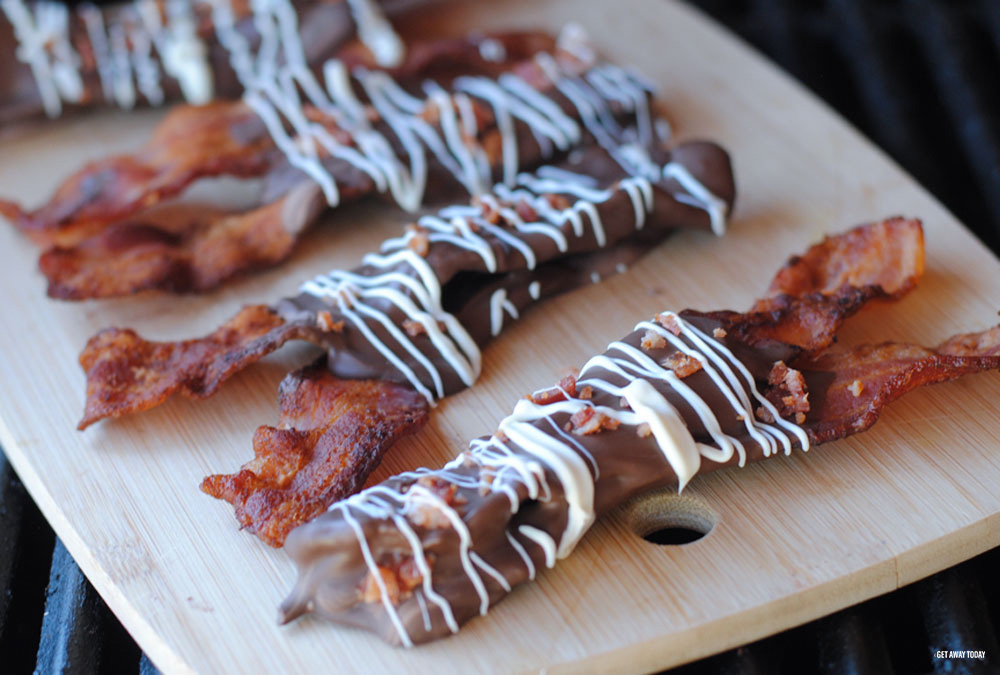 Give it a go and then let us know what you think!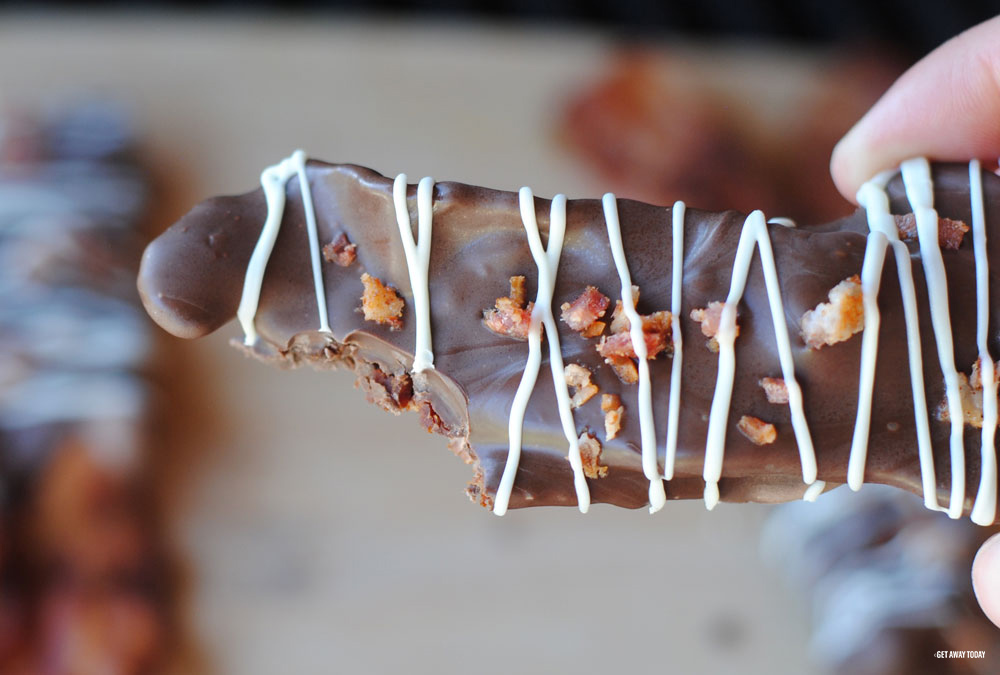 If you want to try this treat for yourself at Walt Disney World, we can help you book your trip! And, of course, we can recommend a few other things to experience in addition to the chocolate covered bacon. View all our vacation packages online, or give us a call at 855-GET-AWAY. Whether you're heading to Orlando, California or beyond, we're here to help!