Chewbacca's Chocolate Caramel Wookie Cookies recipe is the best in the Galaxy. They are easy to bake and make a perfect treat for the Star Wars fan in your life.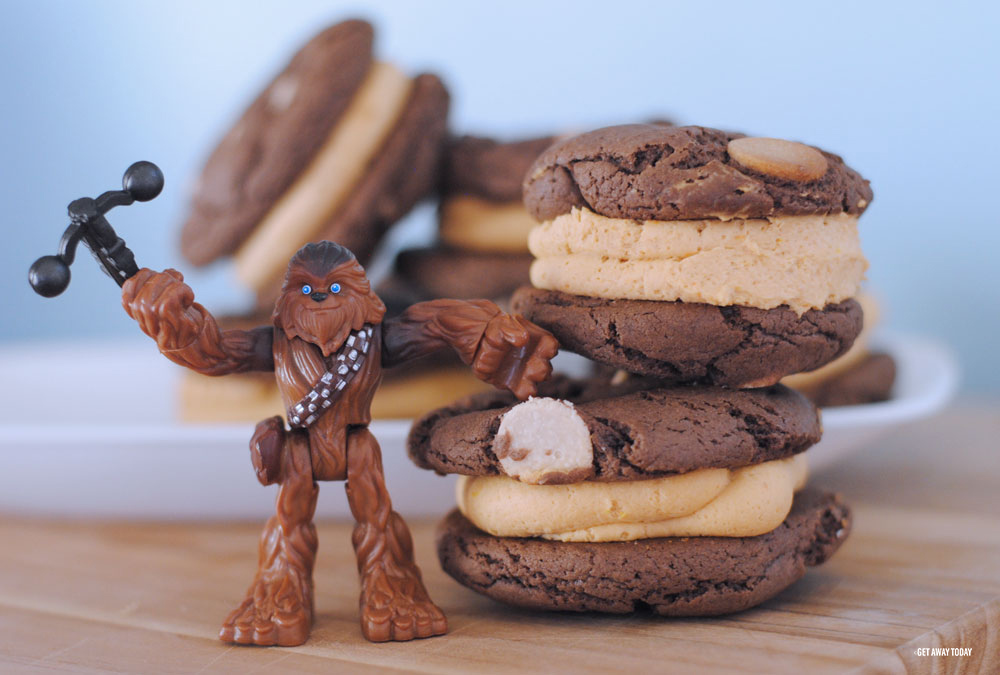 Chocolate Caramel Wookie Cookies
Star Wars is extremely popular right now! Disney just opened the brand new Star Wars Galaxy's Edge at Disneyland and it is incredible! Throughuot Black Spire Outpost on Batuu, guest can encounter both new and familiar creatures, droids and aliens. Get your camera ready for a picture with Chewbacca, Rey, Kylo Ren and troops of Stormtroopers!
One of the most popular characters from the Star Wars saga is Chewbacca. He is classic! Chewbacca came to Batuu aboard the damaged Millennium Falcon. He made a deal to loan Hondo Ohnaka the Millennium Falcon for a few smuggling runs in exchange for the parts needed to fix his ship. You can see Chewbacca at the Millennium Falcon: Smugglers Run and the Resistance Encampment! Be on the lookout. With his crazy brown fur and totally obnoxious voice it is hard to miss him.
I have seen a few recipes online for Wookie Cookies and decided it was time to make my own! Keeping the earthy coloring and animal wildness of Chewbacca in mind, these Chocolate Caramel Wookie Cookies were created. They are chunky and soft with just the right amount of sweetness that we all know Chewbacca has.

Choclate Caramel Wookie Cookies - Perfect For Any Occassion!
You can make some pretty cool Chocolate Caramel Wookie Cookies at home to celebrate any festive Star Wars occasion. They are perfect for birthday parties, movie marathons, Disneyland vacation countdowns, and so much more. Chewbacca's Chocolate Caramel Wookie Cookies are soft and they have just the right amount of chocolate vs caramel flavor.
Chocolate Caramel Wookie Cookies - Recipe
Chocolate Fudge Cake Mix
2 eggs
1/2 cup vegetable oil
1 cup caramel baking chips
cooking spray
1 package butterscotch jello pudding
2 cups heavy whipping cream
Choclate Caramel Wookie Cookies - Supplies
Chocolate Caramel Wookie Cookies - Getting Started
Gather your supplies. Preheat the oven to 350 degrees.
Open the cake mix and pour the powder into a mixing bowl. Add two eggs and 1/2 cup of vegetable oil. Mix the contents together until the cake mix is moist. You don't really want to over-mix the dough.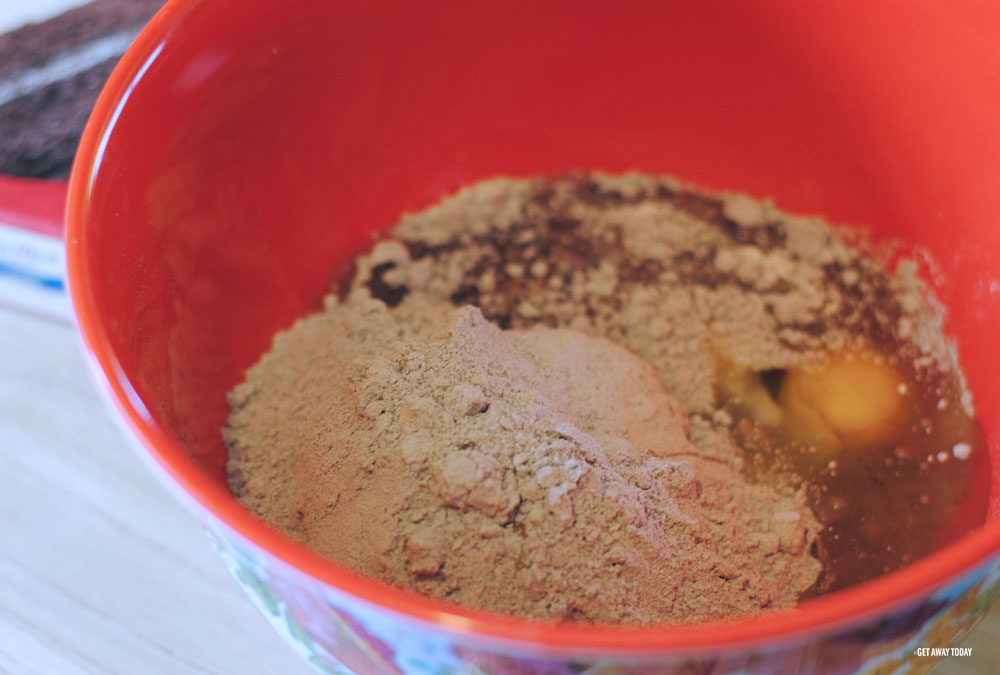 Add 1 cup of caramel baking chips. I just discovered these this week at the grocery store and I am in love! Ghirardelli knows how to make goodies. This is their most recent addition to their baking line and it might just be my favorite! Stir in the chips until they are mixed thought the dough.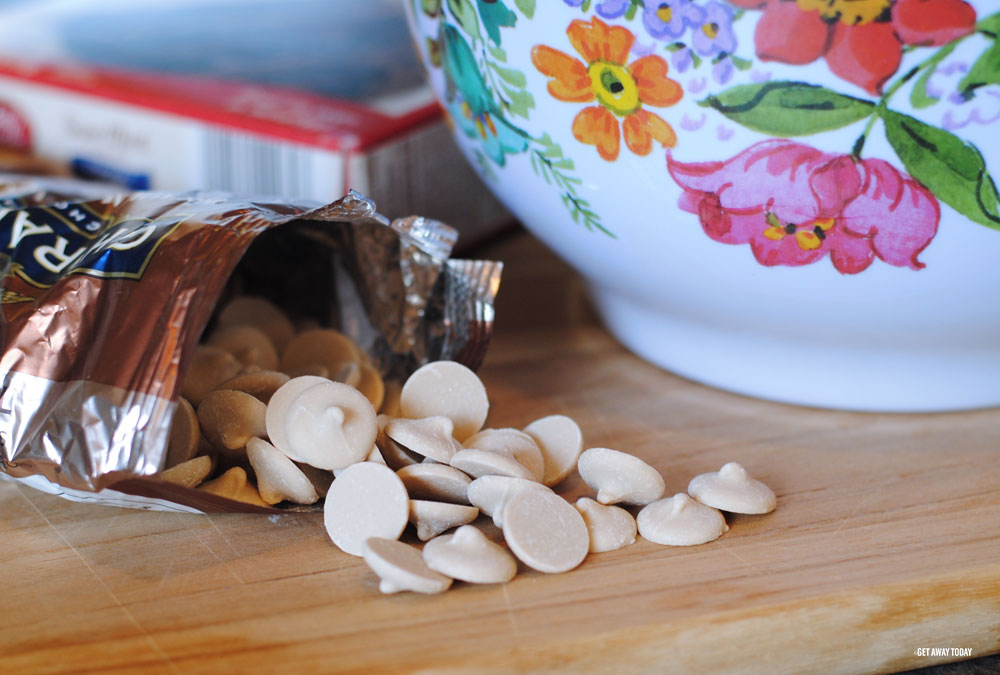 Spray the cookie sheet with non-stick spray. Roll the dough into about 1 inch size balls. Place them on the cookie sheet. I fit twelve cookies per tray. The dough is a little bit sticky. That is ok! If you have time, you can cool the dough in the refrigerator for about 30 minutes to make handling easier.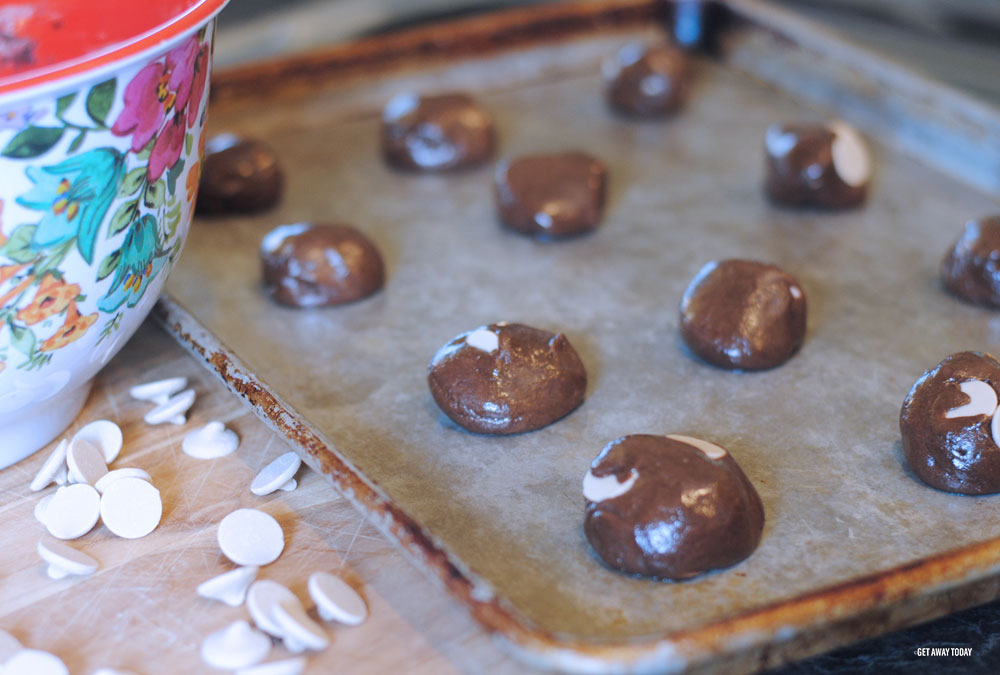 Chocolate Caramel Wookie Cookies - Baking
Bake the cookies for 9 minutes. Carefully remove them from the baking sheet and place them on a cooling rack to cool.
Repeat the process until all of your delicious chocolate caramel Wookie cookies are baked and cool!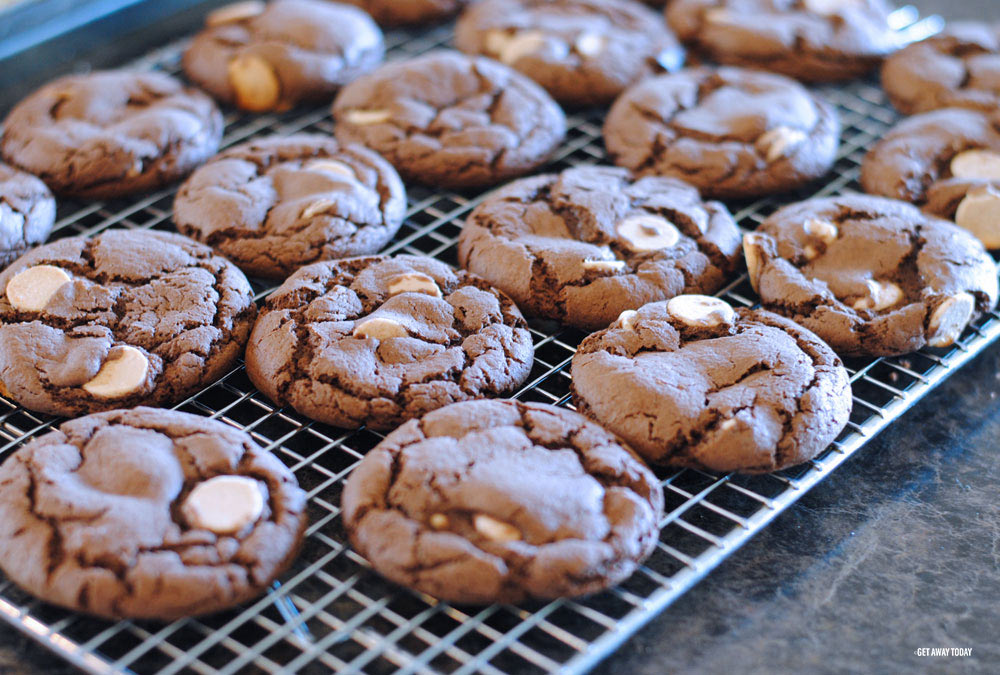 Chocolate Caramel Wookie Cookies - Filling
Now it is time to make the filling! Pour 2 cups of heavy whipping cream and a packet of butterscotch Jello pudding into a bowl. Stir the two ingredients together and dissolve the pudding power for a few minutes. Then, whip the cream until it is firm. Do not over-mix the cream. You want it to be a little bit smooth and soft.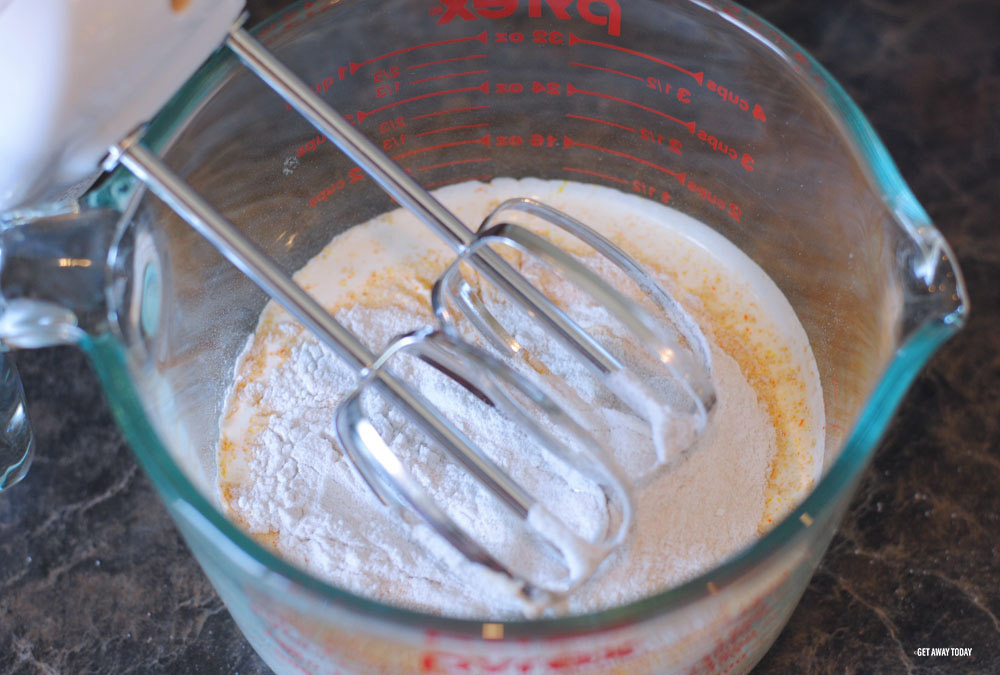 Put the filling into a plastic frosting bag that has been fitted with a large round tip.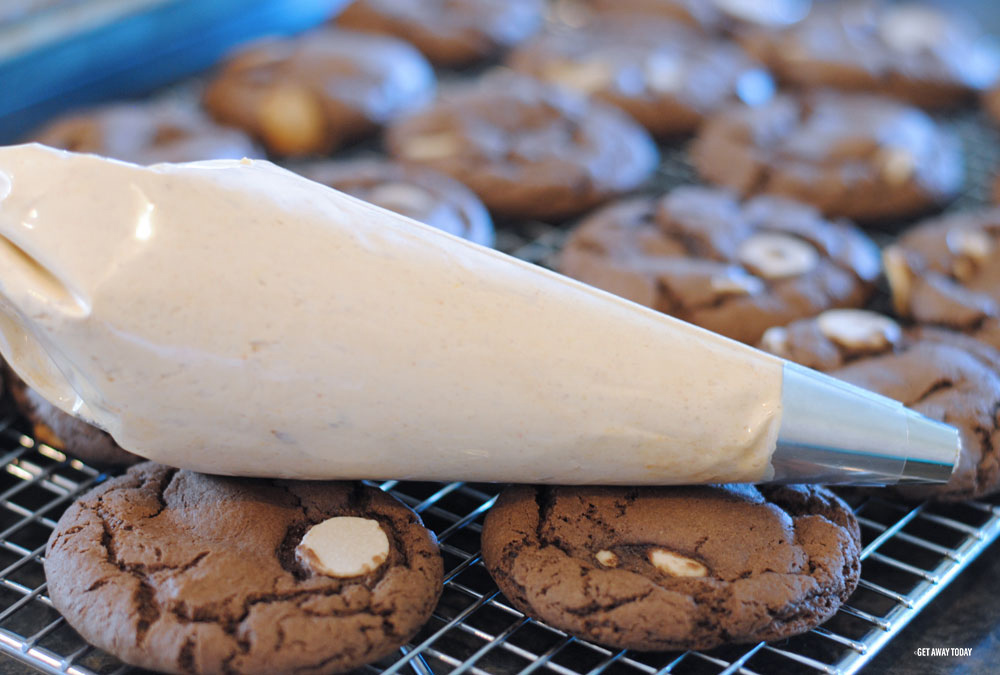 Spiral the filling onto the back of a cookie. Start in the middle and work to the outside of the cookie. You want a nice thick filling layer, so squeeze it on good!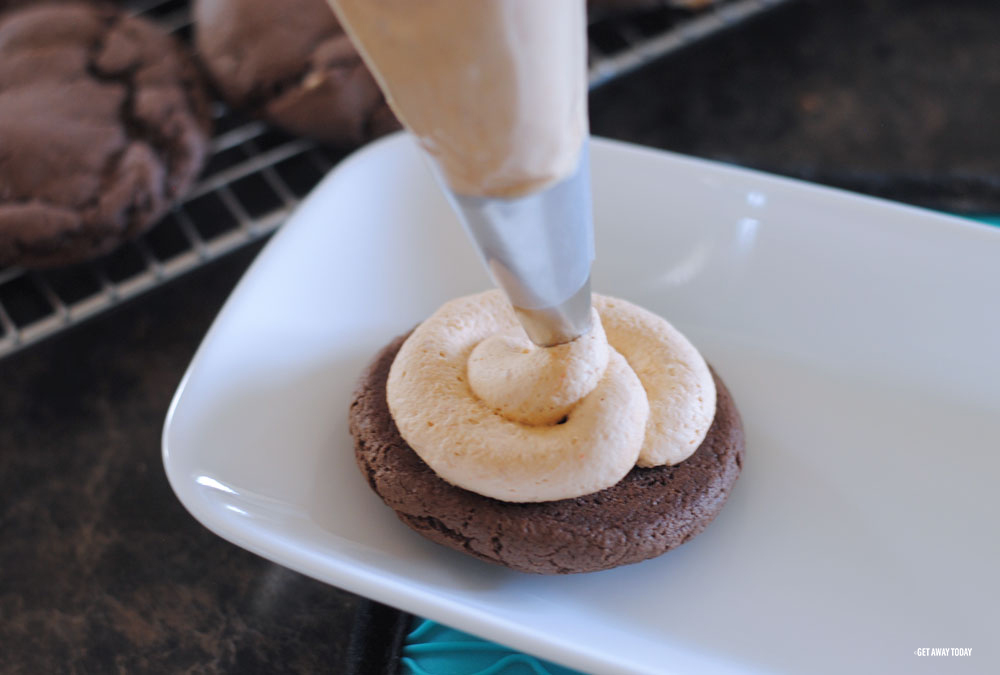 Place a second cookie on top of the filling. That is one tasty looking chocolate caramel Wookie cookie!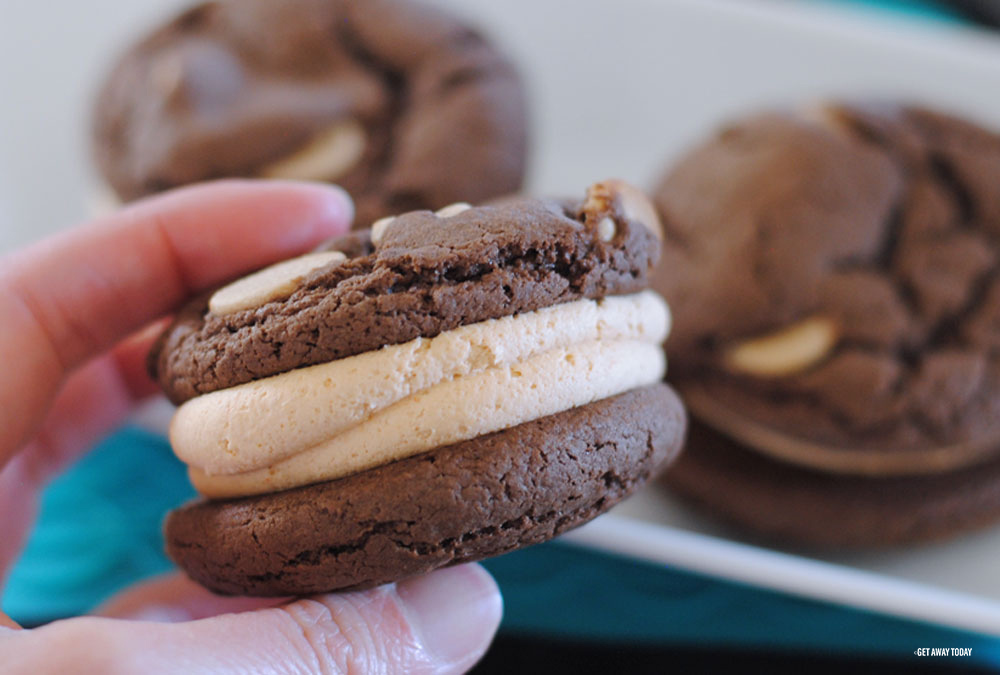 Store the cookies in the fridge if you aren't going to eat them right away. That isn't usually a problem. Enjoy.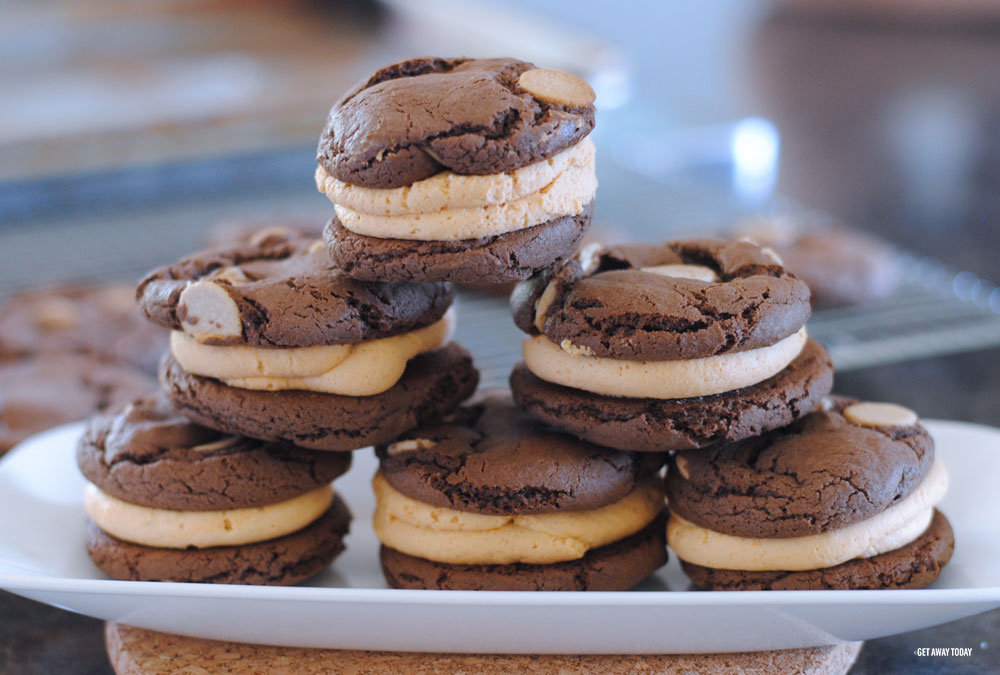 You probably won't find these chocolate caramel wookie cookies in the new Star Wars Land at Disneyland, but it's still worth a visit! You'll find so many other delicious dishes and treats that are completely out of this world. You can actually read a review of the food at Star Wars: Galaxy's Edge from our staff. If you want to try it for yourself, let us help plan your Disneyland Resort vacation. For just $175 down you can book your next trip, and pay up until 5 days before you travel. See our discount Disneyland vacation packages online, or give us a call at 855-GET-AWAY.