These Lion King Rice Krispy Treats are easy to make an totally cute. Serve them at a Safari Party or Lion King Movie Event. They are just like the yummy treats served at
Disney's Animal Kingdom Park
.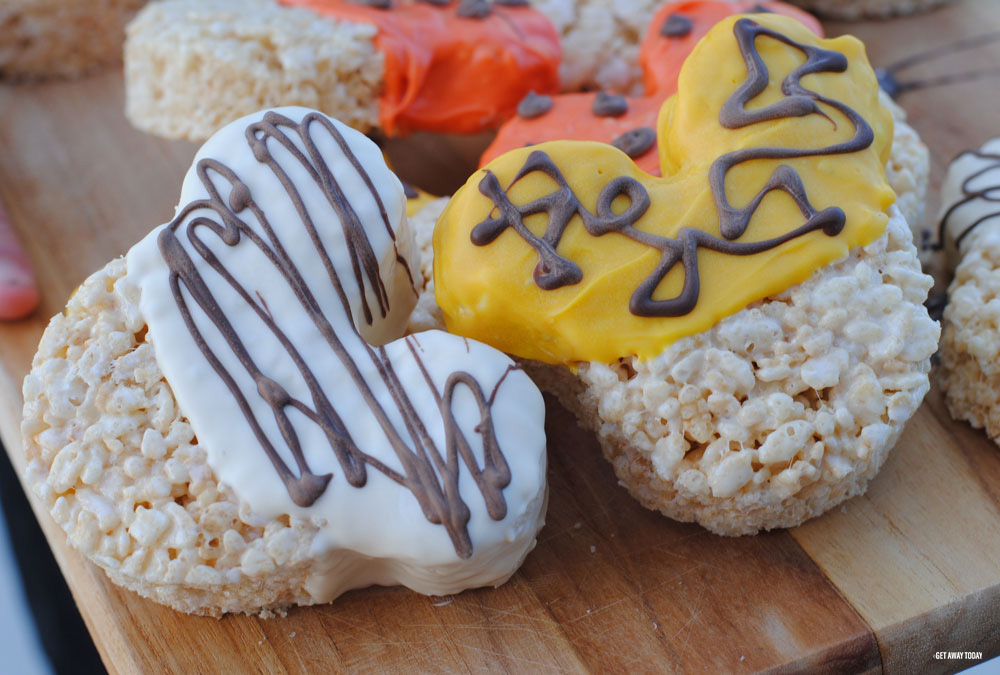 Lion King Rice Krispy Treats
The new Lion King movie is coming out this summer and I am excited to see it! I have a niece who loves all things Disney and she keeps me up to date on the new trailers and posters that are released to advertise the show. The little Simba cub is adorable! All of the live action movie remakes have been incredible. I think my favorite so far was Cinderella...but how can you not love a story with Prince Charming? What is your favorite?
In anticipation of the Lion King live action film coming out on July 19th, Disney's Animal Kingdom Park in Florida is celebrating all things Lion King all summer long! There is a whole lineup of new treats and souvenirs for guests to enjoy! One of the classic Safari treats is the Lion King Rice Krispy treat. You can pick your favorite animal print chocolate coating!
I thought it would be fun to make some Lion King Rice Krispy Treats at home. It is an easy and cute treat that looks totally impressive! They are fit for a (Lion) King! Are you ready to give it a try?

Lion King Rice Krispy Treats Copycat Recipe
Lion King Rice Krispy Treats - Prep 'Em
Rice Krispy Treats are ridiculously easy to make. Melt one stick of butter in a large microwave safe bowl. Then pour a whole bag of marshmallows into the bowl on top of the melted butter.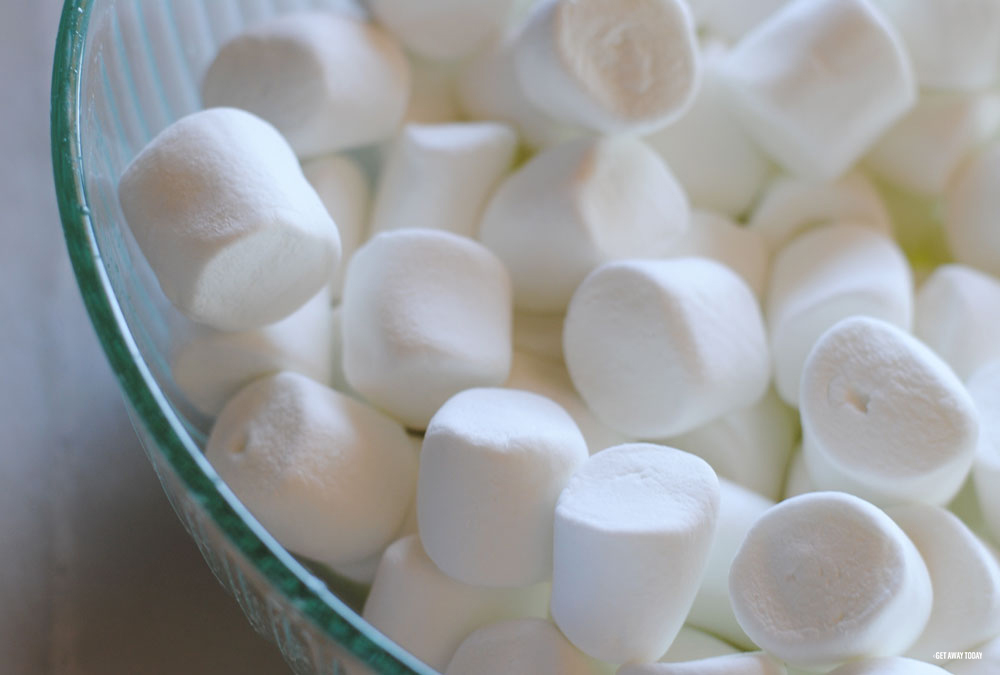 Put the bowl back into the microwave for one minute. Stir and melt for an additional minute. The marshmallows should be large and gooey.
The trick to making a really good Lion King Rice Krispy Treat is to no over cook the marshmallows. When you cook them too long the sugar gets hard. You just want to do enough that the marshmallows are soft. When you stir them, they will continue to melt.
Add 8 cups of Rice Krispy cereal.
Lion King Rice Krispy Treats - Mix 'Em Up
Cover the cereal with the marshmallow fluff. Make sure the marshmallow is covering all of the cereal evenly. Butter a large 9X14 inch baking pan and then scoop the cereal into the pan. Press it down firmly. I like to put butter on my hands so the marshmallow fluff doesn't stick to my fingers!
Let the treats cool in the refrigerator for about 30 minutes. Then use a spatula to remove the entire block from the pan. Place it on a cutting board.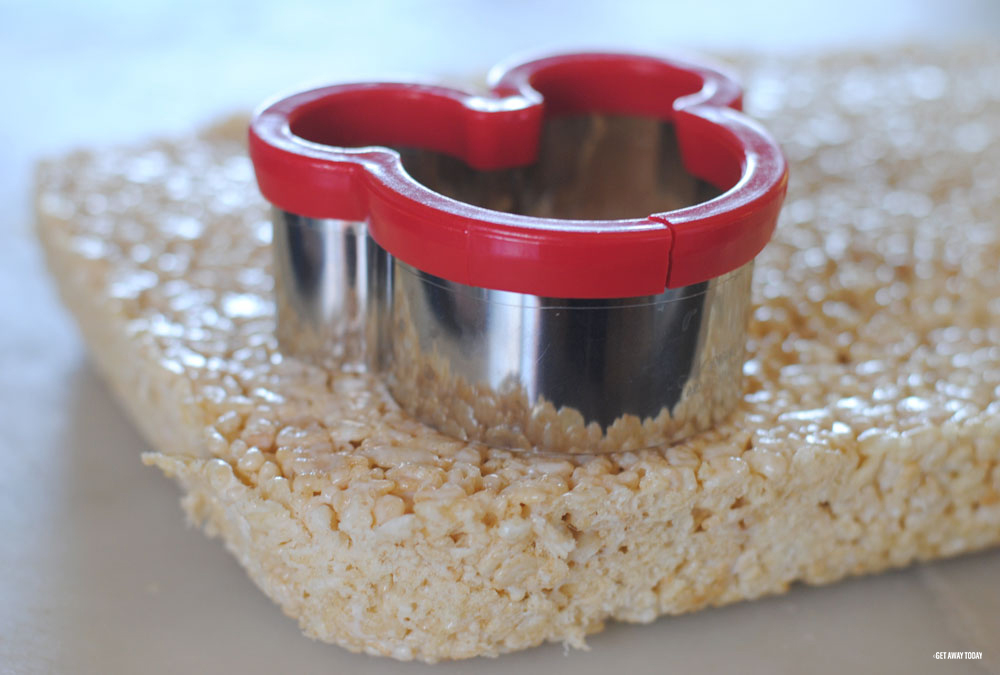 Lion King Rice Krispy Treats - Cut 'Em Out
Use a cute Mickey Mouse shaped cookie cutter to make the individual Lion King Rice Krispy Treat shapes. Feel free to eat the scraps!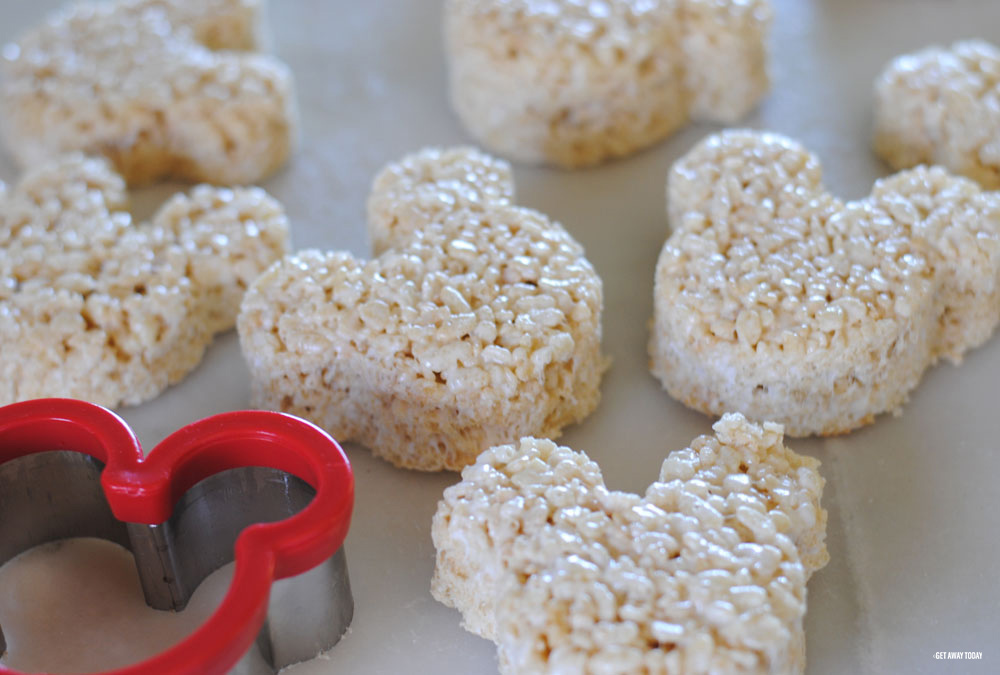 Lion King Rice Krispy Treats - Decorate 'Em
You will need orange, yellow, white, and brown chocolate to decorate with. Melt about 1/2 cup of each color. It is easier to work with one color at a time. I started with orange and covered those and then moved on to yellow and white. The brown chocolate goes last!
Melt the chocolate in a microwave safe dish for about 1 minute. Stir until it is smooth and all the little bits are melted.
Cover a cookie sheet with wax paper. Scoop the melted chocolate onto the top half of the Mickey shaped Rice Krispy treat. Spread it around the top and down the sides of the treat. Then, place it on the wax paper to set.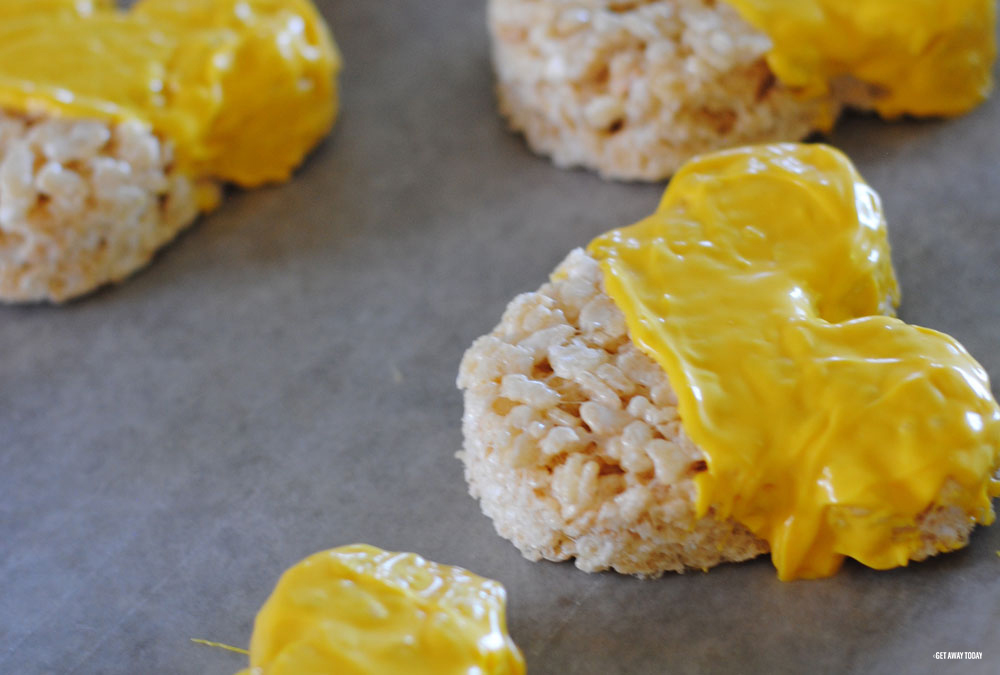 Once the base layer is on each of your treats, you can decorate the tops with the brown chocolate.I found it was easiest to put the chocolate into a frosting piping bag with a small round tip. Beware, it comes out fast!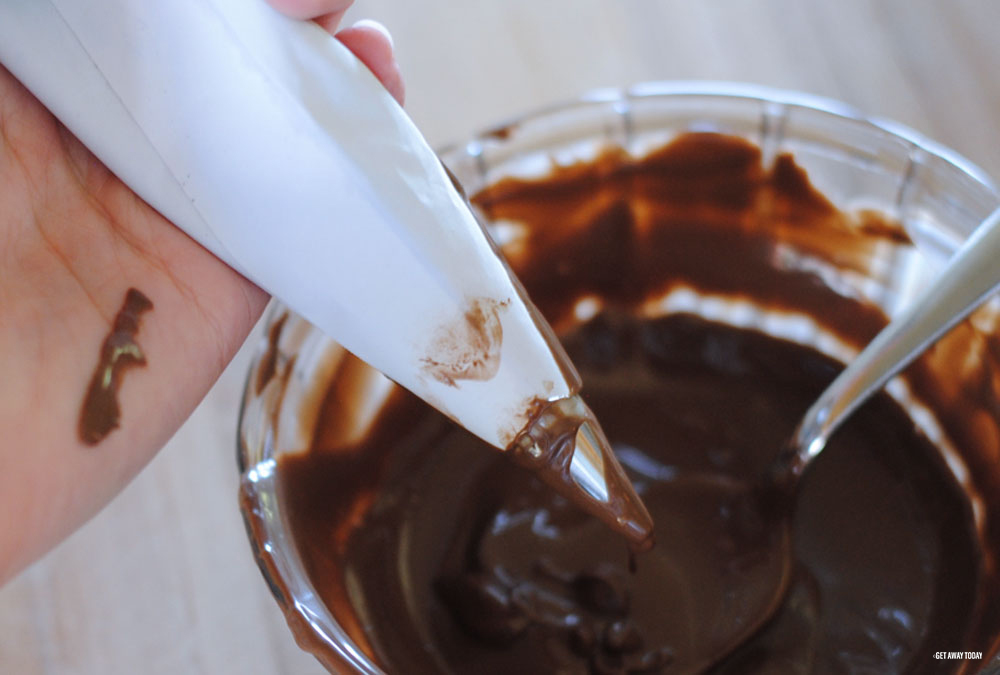 I added stripes to the white to make zebras, dots to the orange for tigers, and crazy squares to the yellow to make giraffes (or lions!) depending on how you look at it.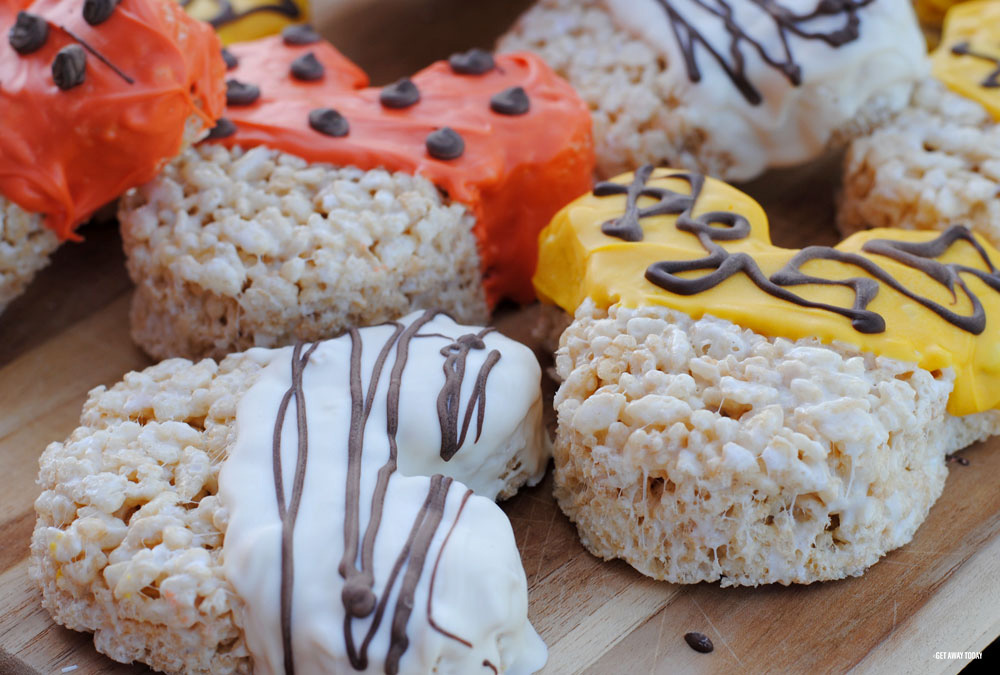 I think they are so festive and fun! Don't they look like they belong at Disney's Animal Kingdom?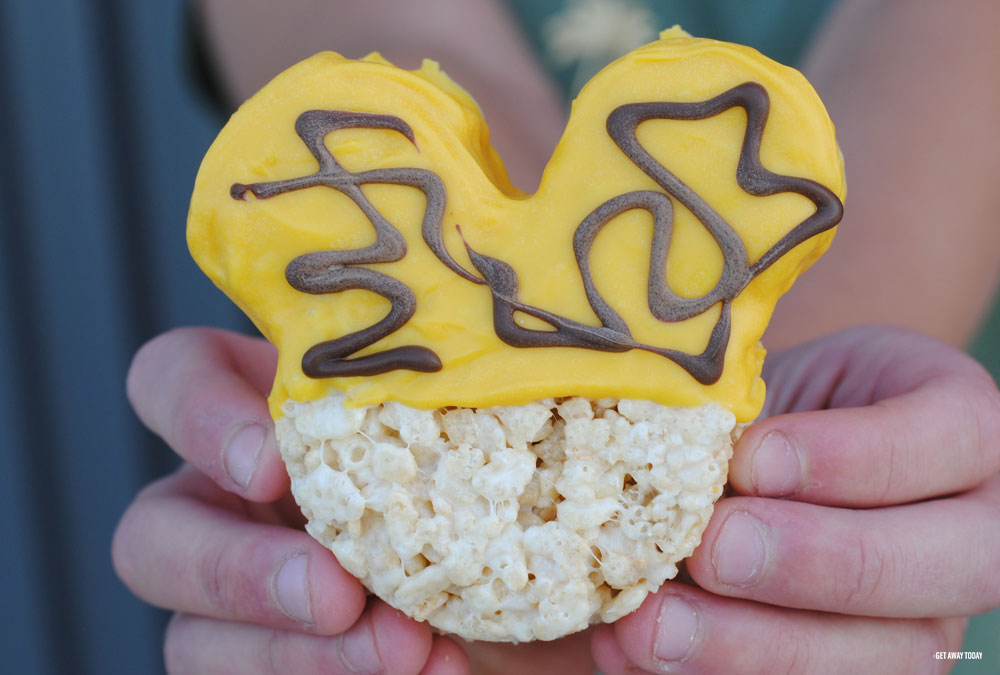 You can find these fun Lion King Rice Krispy Treats at Zuri's Sweet Shop located at Harambe Market. They are served fresh at the display counter or you can buy a whole box of packaged treats in the store. So fun!
Visit Walt Disney World
If you'd like to try these Lion King rice krispy treats straight from the source, Get Away Today can help! We have in-house Disney World agents to help you plan the best Florida vacation so you can enjoy Disney's Animal Kingdom, as well as the three other Kingdoms in Walt Disney World. You can see discount Walt Disney World packages online, or call an agent directly at 855-GET-AWAY. Our mantra when it comes to vacation planning is Hakuna Matata.