This Super Hero Training Camp is the perfect activity for your Super Hero Party. Set up five fun activity stations to train your little heroes in the art of team work, balance, speed, accuracy and effort.
Who doesn't wish for super hero powers at some point in their life? How fun would it be to be able to fly or walk through walls? I know that the power to make food materialize out of thin air would come in handy at about 5:00 every night, when I am faced by a pack of hungry children.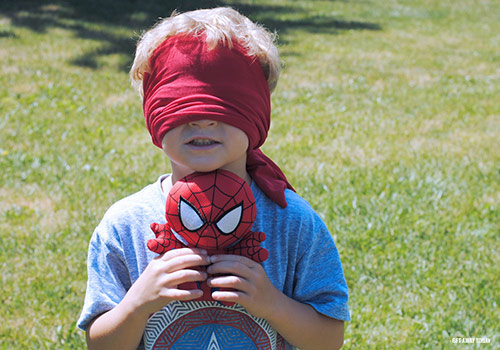 You can help your crew build up their own super powers with this Super Hero Training Camp activity. I love it when my kids are active and outside. This program fits both of those requirements and adds on the awesome bonus of teaching them life skills! What mom doesn't feel super with that triple threat combo?
You could set up your Super Hero Training Camp in the backyard to help beat the evil villain "Summer Boredom" or incorporate it into a fun super hero themed birthday party or event. It will keep the kids busy and having fun! Use these five training stations to get your imagination flowing. What other ideas do you have to share? Let us know in the comments below.
Super Hero Training Camp: Long Jump Station
This Super Hero Training Camp station is all about pushing your limits. There are times in life when you feel like you are giving it your all, but then you dig down deep and discover even more effort and determination inside. The long jump is perfect for demonstrating this phenomenon.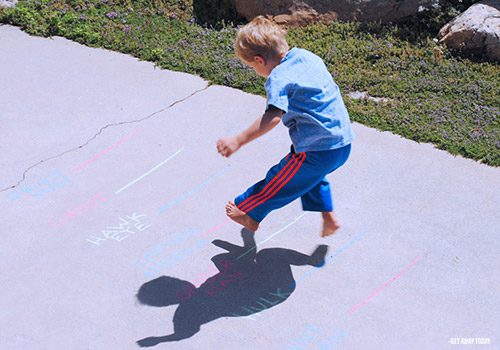 Use sidewalk chalk to mark lines on the sidewalk or a patio space. Make at least six lines that are about 10 inches apart. Name each line after your favorite super heroes.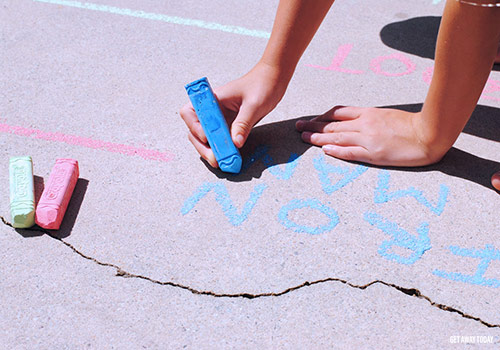 Let each trainee take a turn doing a standing long jump. Use the chalk lines as markers to show how far each person can jump. They get to "be" the super hero that is represented by the line they jump to. For example, if they jump to the line that is labeled Hulk, then they get to be the Hulk during their time at the Super Hero Training Camp!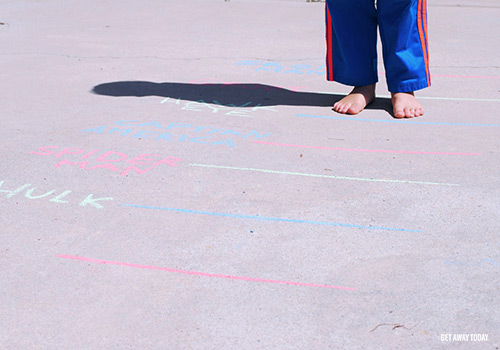 Now, encourage everyone to take a second turn and see if they can reach the line that is farther than their previous jump record. Make sure they have a goal in mind of where they need to jump to beat their previous record. It is amazing to see how often the second jump is longer and stronger than the first.
Super Hero Training Camp: Speed and Agility Training Station
This training station will get their little super hero hearts pumping. You can't expect to be as fast as a speeding bullet without training for it!
Set up cones in a line. Use a stop watch to time each participant as they run through the cones and back. Make sure they weave in and out of each cone as they go along. You can also split the participants into two teams and make this a relay race. The first team player runs the course and then tags the next person in line to begin their turn. Play continues until each person has run through the cones. The team with the fastest combined time wins!
Super Hero Training Camp: Balance Plank Station
Being a hero takes more than just being strong. It also requires balance. How many times does a battle against a bad guy end up on a roof top? Way too often!
Place two buckets upside down onto the grass for this Super Hero Training Camp station. Lay a thick and sturdy board across the tops to make a bridge.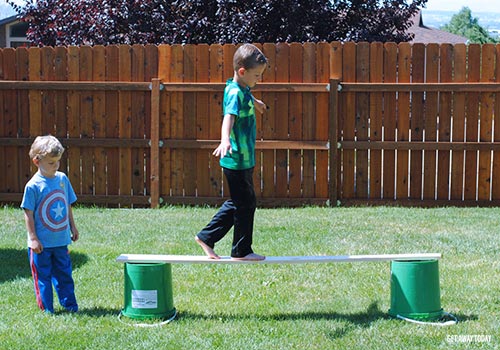 Then, let your heroes walk across the bridge. You can add higher levels of difficulty by using a blindfold, or squirt them with water guns as they cross! It takes a lot of effort to stay focused when being attacked.
Super Hero Training Camp: Thor's Hammer Throw Station
I think Thor is one of the most likable super heroes around. He is handsome, royal, muscular and a gentleman! That is a pretty good mix. Thor also has an awesome hammer.
For this Super Hero Training Camp station, you will need spray paint and a rubber mallet. Use the spray paint to draw circles onto the grass. Cover a small area with about six or eight circle targets.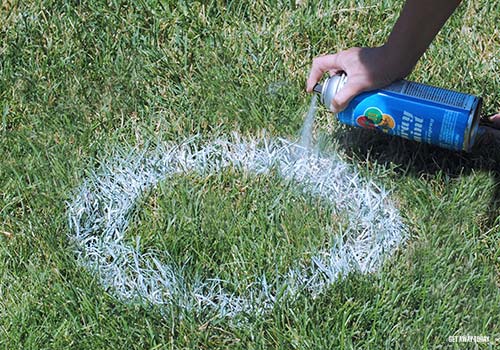 Line the kids up away from the throwing zone. You don't want any injuries! Then, one by one, let the little heroes practice throwing the hammer at the targets.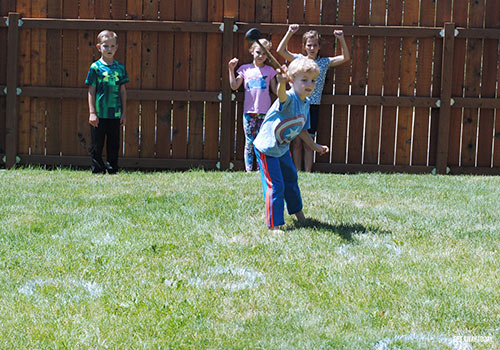 If they hit the target they get a point. If they land the hammer inside of the target, they get two points! Each player gets five shots with the hammer.
Super Hero Training Camp: Team Work Station
Sometimes super heroes have to work together - even when they don't want to! Think Captain America and Iron Man. This activity is to help the kids learn how to work together and trust each other.
You will need a blindfold and a small super hero plush. If you don't have a little super hero stuffed toy, that's okay! Be creative and find something else for the participants to rescue. Next, put your players into teams of two and blindfold one player. The other player will not be blindfolded, but will only be able to give directions.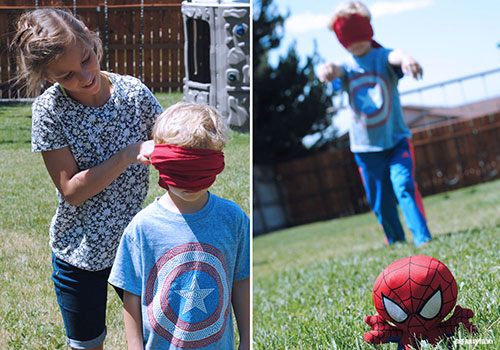 Place the super hero plush somewhere in the yard. It is stuck and needs help! The blindfolded team member must listen to directions from his or her teammate to find the toy. The two players must work together to complete their task.
I hope you have fun with these Super Hero Training Camp activities. If you want to be trained by a "real" super hero, then head on over to Summer of Heroes at the Disneyland Resort. Until September 10th, kids can sign up for a special super hero training activity with Hawk Eye and Black Widow! How cool is that?! Make sure to register when you are in the park to secure your spot in the Avenger Initiative.
If you haven't booked your Disneyland vacation, have no fear. You can get the best price on Disneyland tickets and hotel rates when you book with Get Away Today. Book any of our Disneyland packages online or give us a call at 855-GET-AWAY. Our travel heroes are prepared to help you with the best Disneyland vacation ever!

Check out these other great articles: