You can make your own Spiderman and Hulk inspired donuts with these Disneyland copycat super hero donuts. They're sure to make headlines at your house!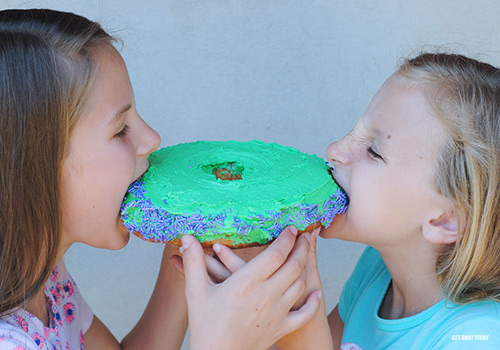 Big things are happening at the Disneyland Resort this summer! One of the biggest and best is the Summer of Heroes event at Disney California Adventure. Park visitors get to rub shoulders with some of the most popular Avengers, Guardians of the Galaxy and more. It is one super party and you do not want to miss out on the action!
Just like any good party, the food at the park is pretty amazing. Disney knows how to take everything to the next level of spectacular. There are some fantastic food options at Summer of Heroes and you will want to sample it all. Some of the most popular are the breakfast (or dessert) offerings. A day at Disney California Adventure starts early so you are going to want a breakfast of champions. Or, at least a breakfast that looks like some pretty awesome super heroes!
The Gamma Sized Donut and the Spider Bite Donut pack quite a punch. The Gamma Sized Donut is Hulk sized and could easily be a snack for two or three. Filled with blackberry currant jam and covered in a green frosting, it is delicious.
The Spider Bite Donut is regular sized, but big on taste with a spicy kick. The donut is filled with cinnamon jelly and rolled in Red Hots to give it some Zap and Pow!
You can make your own version of these fun super hero donuts at home with this tutorial. These donuts are filling-free. My kids aren't huge fans of the filled donuts, so we changed them up just a bit to be more kid friendly. It is really the design that makes these donuts such a hit.
Disneyland Copycat Super Hero Donuts
Fresh plain or glazed donuts
Super sized "Texas" donuts
Super hero powers (optional)
If you are feeling really ambitious, you could fry up a batch of your own donuts! I decided to go the easy route and purchased donuts from our local bakery. They make pretty killer donuts, so it was a good decision. The Spider Bite Donuts are standard size while the Gamma Sized donuts are supposed to be huge! My bakery sells "Texas donuts" that are about three times the size of a regular donut. They were perfect for this project.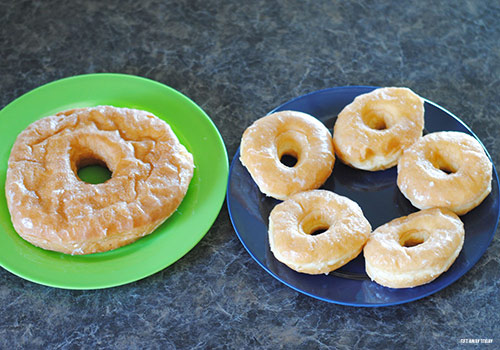 Make a batch of buttercream frosting. My recipe is pretty basic. It calls for 1 cup butter, 3 to 4 cups powdered sugar, 1 tsp vanilla, 1 tsp milk and a pinch of salt. Mix it all together until it is nice and creamy. Separate the frosting into bowls. This frosting was perfect to cover six super hero donuts and one large hulk sized donut. You need mostly red and green frosting and just a little bit of blue.

Drop the food coloring into the frosting bowls and stir it until the frosting is the desired color. It took quite a bit of red fooding coloring to get the frosting looking red and not pink.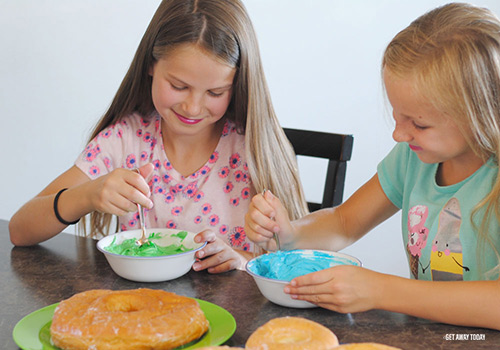 Next, put about a cup of Red Hots candy into the blender and blend it up so the candies are cracked in half.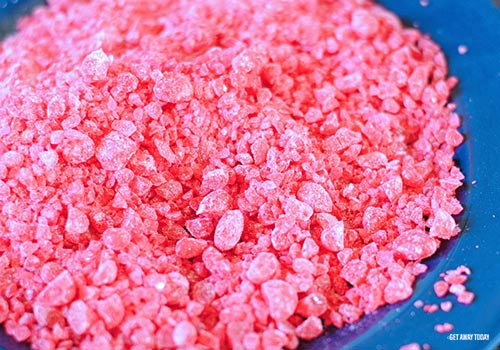 Frost a regular donut with red frosting. Cover the top and halfway down the side. Then, roll it in the crushed Red Hots candy. The candies should cover the sides of all your super hero donuts.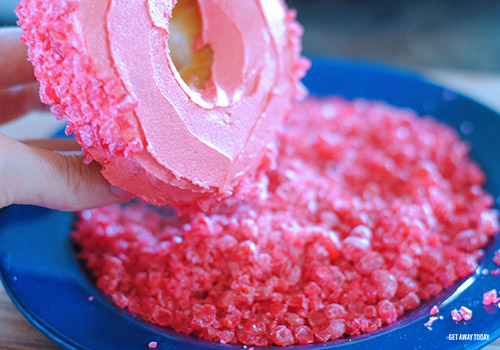 When the donuts have been frosted and covered in the spicy candy, it is time to add the spider web! Place the blue frosting into a frosting bag that has been fitted with a small circle tip.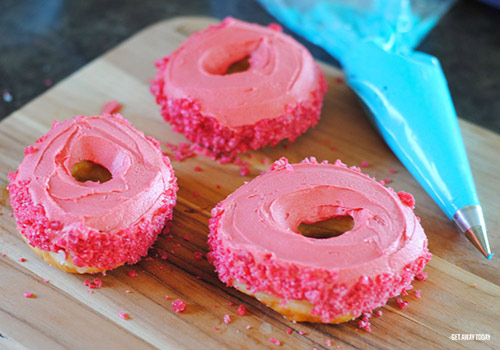 Start at the outside edge of the donut and scallop the frosting around in a circe, coming out to the edge about six times.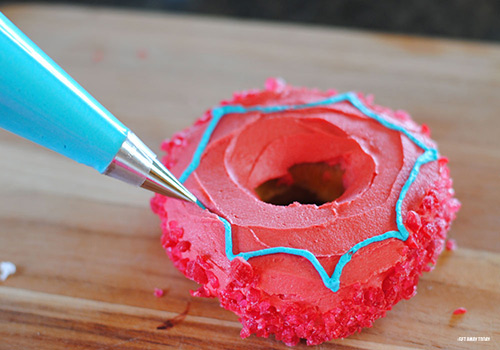 Then, repeat the scallops inside of the outside ones, twice. This will give you three rows of spider webbing. Frost all of the super hero donuts and you are done with your Spiderman treat!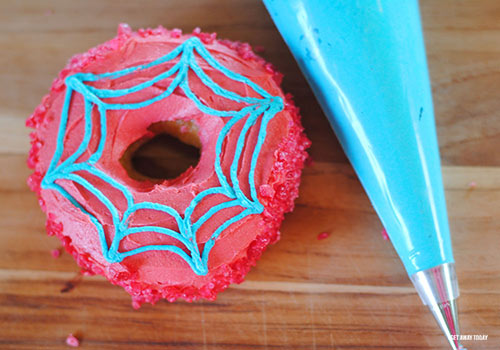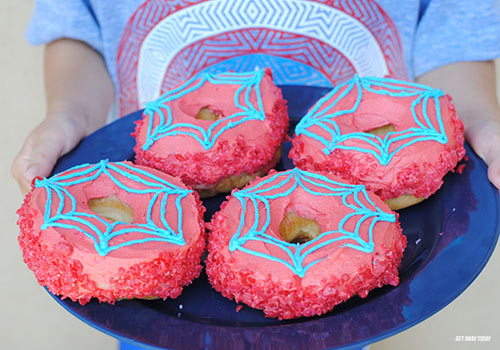 The Gamma Sized Donuts are the easiest of super hero donuts! Frost the top and sides of the super sized donut with green frosting. Then, cover the edges in purple candy sprinkles.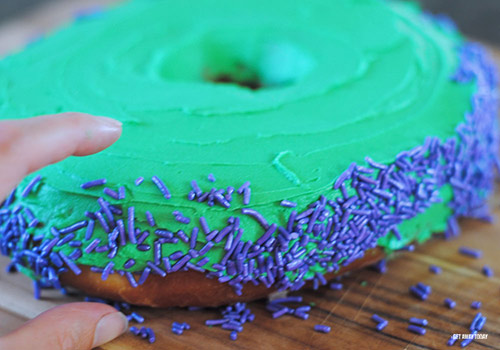 These Hulk-sized super hero donuts are so fun to eat. My kids were waiting at the edge of their seats to sink their teeth into it. The mere size of the donut makes it an adventure!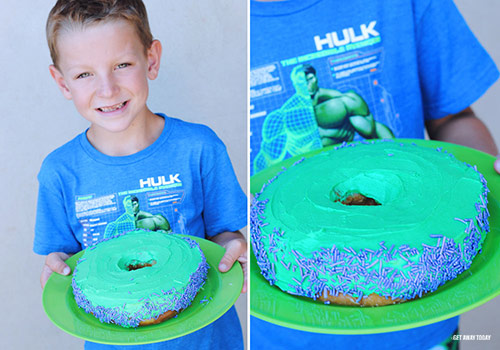 I hope you enjoy making your super hero donuts! They are a big hit at the Disneyland Resort and I am confident they will be a success at home too. Wouldn't they be a great addition to any super hero birthday party or activity? I think so.
These super hero donuts would also be perfect to announce your summer vacation to Disneyland! Especially since your family will have the chance to meet their favorite super heroes when you visit Disney California Adventure by September 10th. Summer of Heroes, the Main Street Electrical Parade, returning classics and more can be found at Disneyland this summer. For the most savings, book your Disneyland package online or over the phone by calling 855-GET-AWAY.

Check out these other great articles: