UPDATED JANUARY 2019 With a mix of elegance and eccentric, Cruella knows how to make a fashion statement that is sure to make tails wag. Embody her this Halloween with our classy and wicked Cruella De Vil costume tutorial.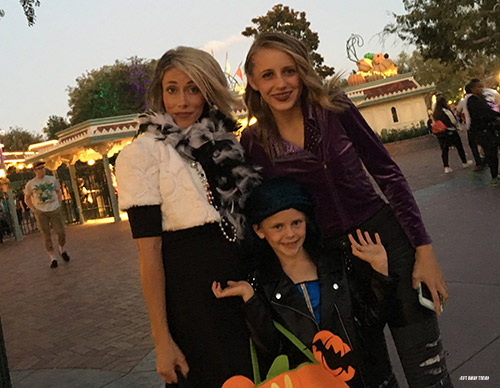 Cruella de Vil, Cruella de Vil, if she doesn't scare you...no evil thing will! Cruella is one wicked woman. Her name says it all. Anyone who could hurt a puppy has to be a villain. However, what she is lacking in character, she definitely makes up for with her classy wardrobe. Being rich has its perks. Cruella wears her wealth in furs and is always sporting a black and white ensemble. Use our easy tutorial to create your own Cruella de Vil costume.
This Cruella de Vil costume is comfortable enough to wear during a party or even a visit to Mickey's Halloween Party at Disneyland. It won't hold you back from racing a car on Radiator Springs Racers or barreling down the Matterhorn in a bobsled.
Cruella has always been one of the most popular villains at Disneyland during Halloween Time. She works the crowd with her snobbish attitude like a pro. If you are traveling to the parks during Halloween Time, be sure to keep an eye out for her and keep a close watch on your puppies!
Materials for Your Cruella de Vil Costume:
You will need a few items to pull off this dressy Cruella De Vil costume. Start with a black dress. I am willing to bet that most people have a cute black dress in their closet already. You could also go chic and wear black dress pants and a black silky shirt. Whatever you feel comfortable in!
Next, add the fur. Cruella loves puppy fur because it is soft and cuddly. I chose a soft minky type fabric for the fur cloak for that exact reason. It is soft and cuddly, not itchy like a lot of the fur fabric options! Use the McCall pattern 7257 for this part of the costume. You will need to purchase the fur outer layer and then red satin for the lining. Follow the directions on the pattern to make the shrug. It is quick and easy. Beware when you are cutting the white fabric...it sheds. Your sewing room will be full of fluff!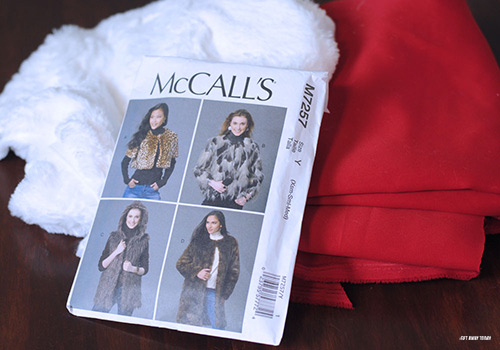 The finished product looks like this: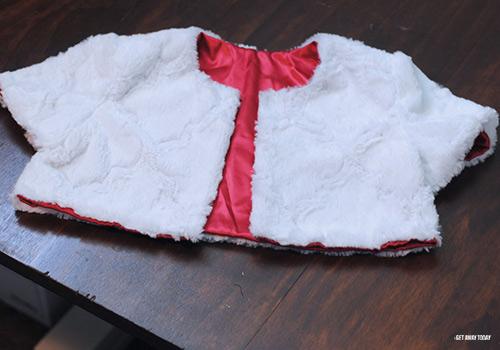 Once your fur layer is complete, you can accessorize. Red satin opera length gloves can be purchased on Amazon or at your local craft store. It's amazing how classy silky gloves will make your Cruella de Vil costume feel.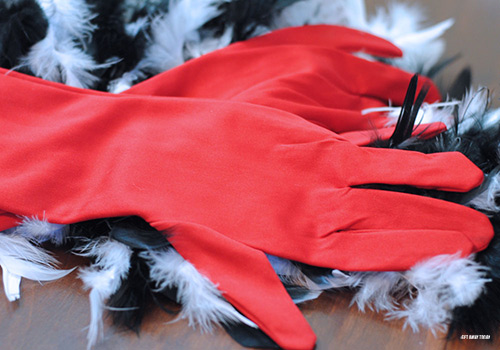 Add a black and white boa scarf next. The boa has the same effect as the gloves, instantly making you part of the social elite. Pearls are also a great addition for your Cruella de Vil costume.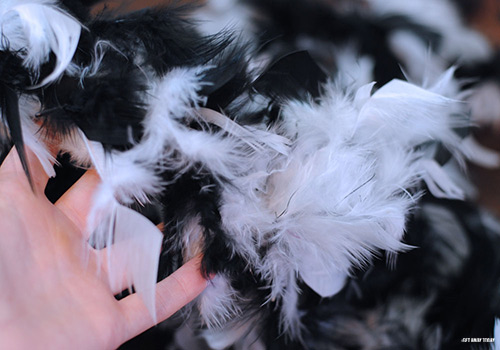 Lastly, grab a few bottles of hair paint. You will need black and white. Color one half of your hair black and the other half white. Cruella also has bright red lips. Or, blood red if you are in the sprit of Halloween.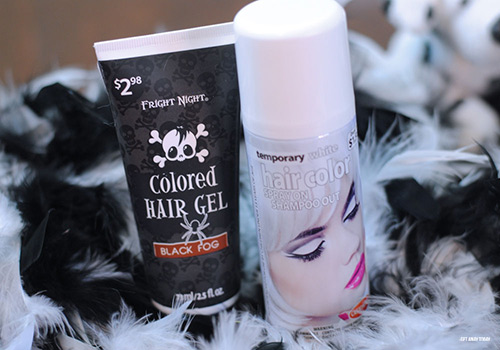 If you are posing for some pictures, don't forget your little Dalmatian puppy. It's the cutest finishing touch to your Cruella de Vil costume. Just make sure not to become as obsessed as Cruella.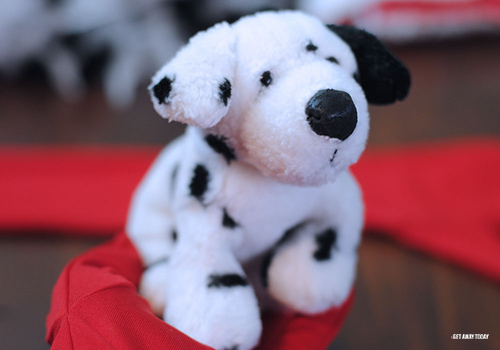 This Cruella de Vil Costume is classic and timeless. It is quick to put together and isn't too scary if you are celebrating with children on Halloween. The villain can be found in Disneyland during Halloween Time and has even made a few appearances on the Disney Descendants movies, showing just how rotten to the core she is. No matter where you celebrate Halloween, Cruella's unique style will be recognizable by everyone. I hope you have fun transforming into the evil character this Halloween.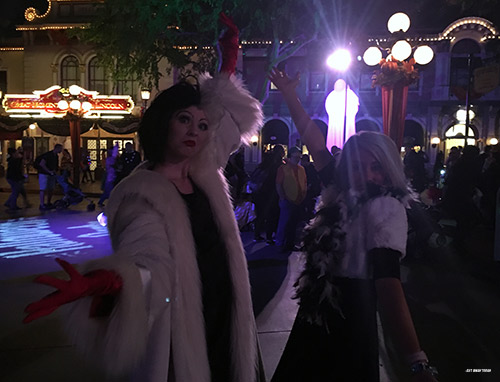 You could always take a last minute trip to Halloween Time at Disneyland right now, but you'll have to be quick as the ghoulish fun is ending soon. Another option is to start planning for Halloween Time 2018. You only have to put $175 down on your vacation with our Layaway Plans - giving you plenty of time to save and plan the most frightfully fantastic vacation yet. Book any of our spooky Disneyland packages online now or give our Disney experts a call at 855-GET-AWAY.

Check out these other Halloween costume tutorials: