Create Disney Frozen Rice Krispy Treats at home with this easy and festive tutorial. There is so much Frozen Fun to be had during the Holidays at the Disney Parks!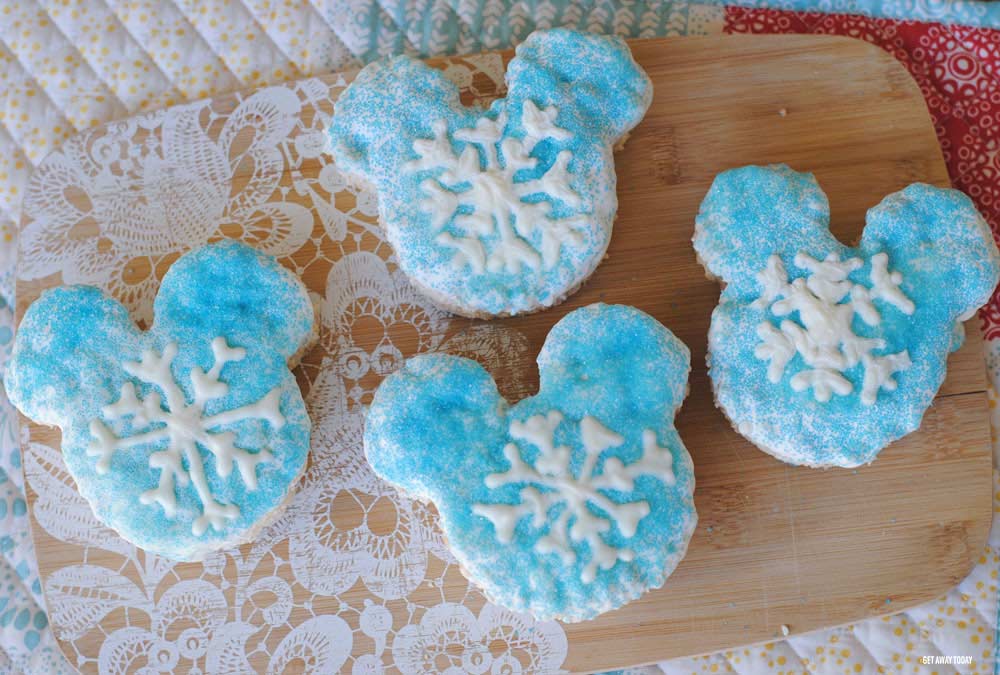 The Holidays at the Disney Parks are in full swing. It's the Merriest Place On Earth this time of the year. If you have never experienced The Holidays at Disneyland, you are seriously missing out. Everything sparkles with Christmas cheer. One of the best perks about visiting Disney during the end of year festivities is all of the delicious food and treats! Santa's bakery can't even compete. It is all drool worthy.
Disney Frozen Rice Krispie Treats
This year, Frozen II is set to come out in theaters during the Holiday season. Disney has created some darling Frozen treats to celebrate. I'm sure your little crew is as excited as mine to see what happens in the next installment of Elsa and Anna's story. They are such darling sisters.
I decided it would be fun to create a recipe and tutorial on how to make Disney Frozen Rice Krispie Treats that are available now at the Parks! You can make them to create some Disney magic at home or to snack on during the Frozen II movie.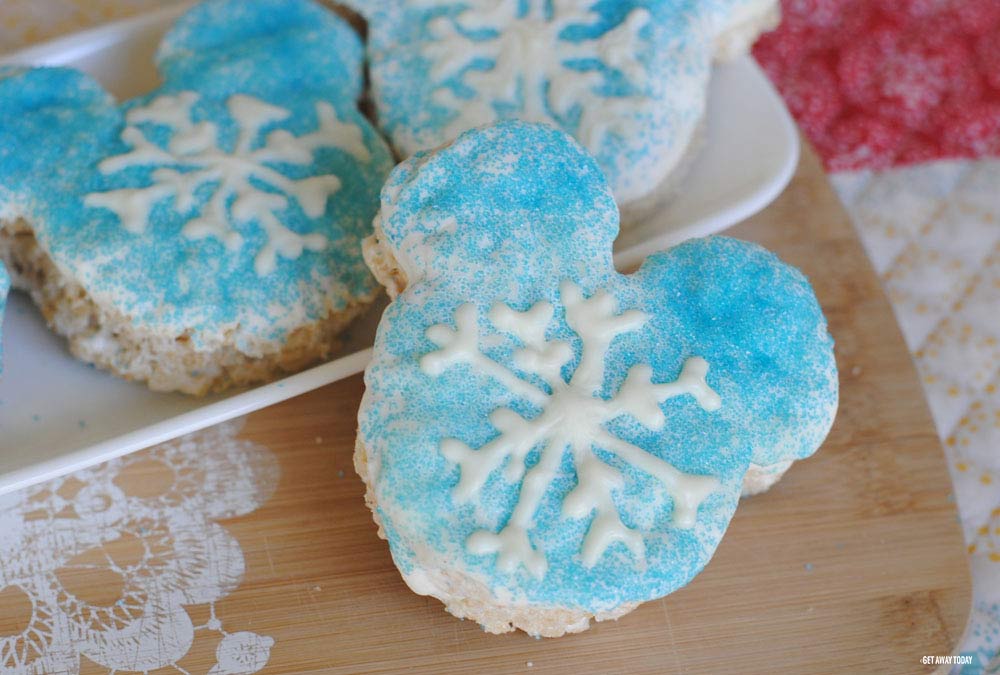 Disney Frozen Rice Krispie Treat Copycat Recipe
1 package marshmallows
1/2 stick butter
6-8 cups Rice Krispie Cereal
Rice Krispie Treats are one of my favorite desserts to make with kids. They require very little skill and don't require cooking over a stove or using a hot oven. Grab your little helpers and lets get started.
Disney Frozen Rice Krispie Treats - Melting 'Mallows
First, dump the entire bag of marshmallows into a large microwave safe bowl. Make sure to use fresh marshmallows. They puff up and cook better than stale ones! Cut 1/2 stick of butter into small squares and spread then on top of the marshmallows. The butter is what makes Rice Krispie Treats yummy!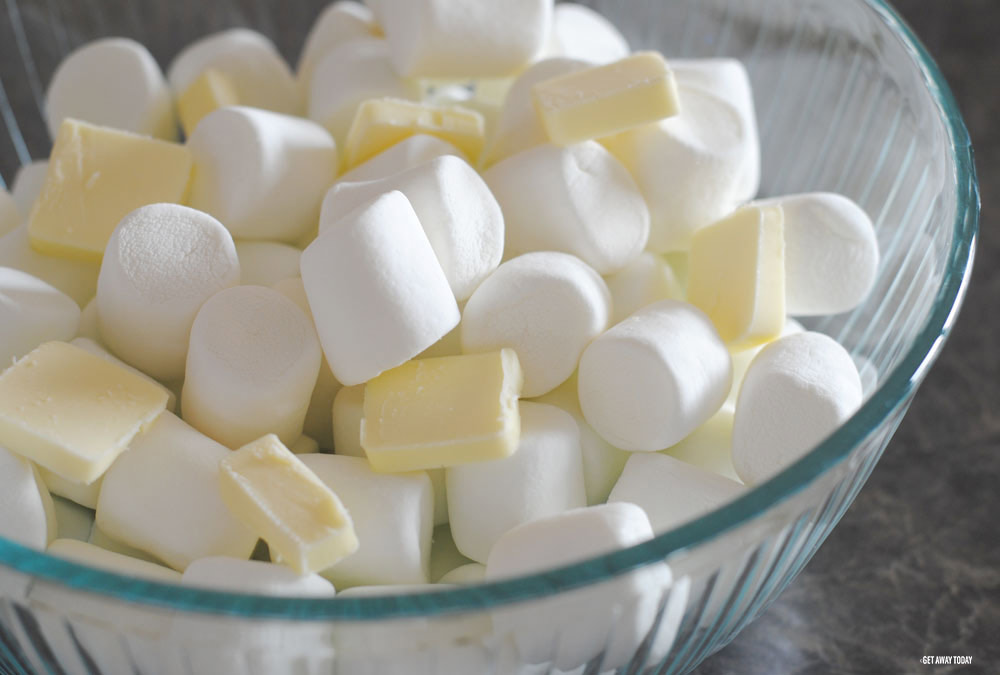 Place the bowl in the microwave and start the cook time for one minute and 30 seconds. Then, pull the bowl out. The marshmallows should be nice and fluffy. The butter won't be totally melted, but don't worry about that. It will melt when you stir.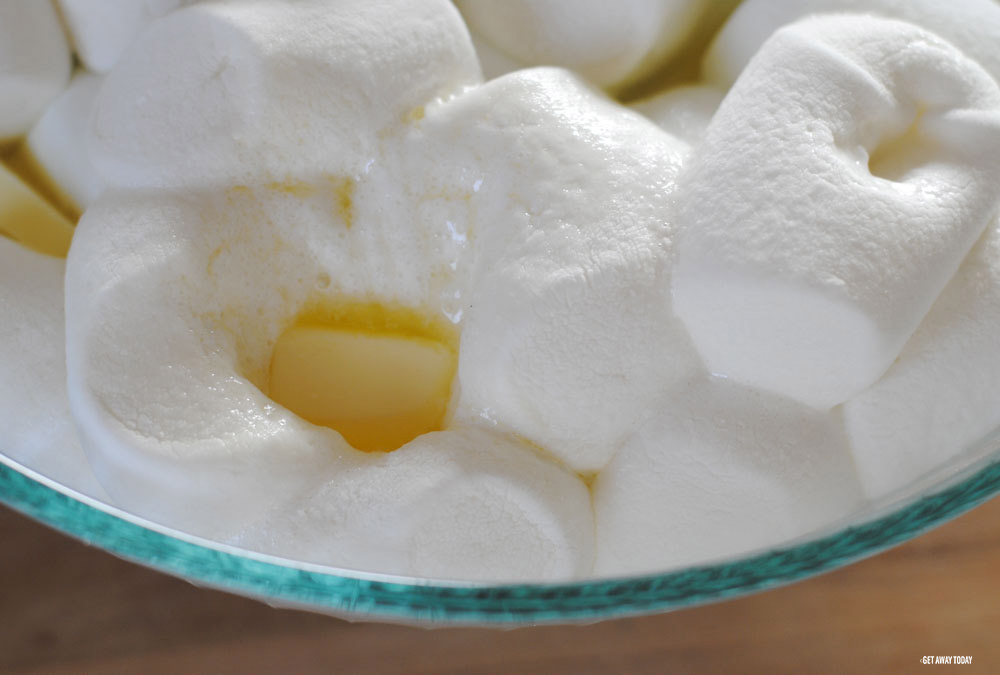 Use a big wooden spoon to stir the marshmallows and butter together. Then pour about 6 cups of cereal into the bowl.
Disney Frozen Rice Krispie Treats - Mixing 'Mallows
Mix the cereal and melted marshmallows together. I like to add another cup or two of cereal. This part of the process is personal preference. You want the Rice Krispies to be well covered and not dry.
Scoop the mixture into a 9X14 inch baking pan. Make sure to coat the pan with butter or cooking spray so the treats don't stick to the pan. Then, press the treats so they are packed firmly in the pan. I like to use my little rolling pin to really get it nice and tight.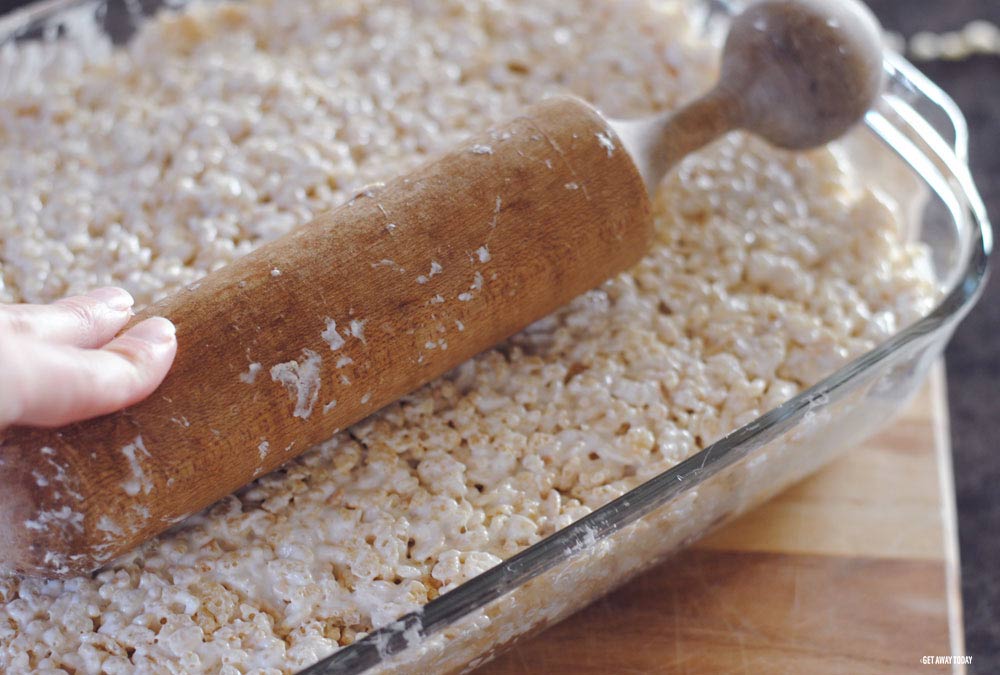 Disney Frozen Rice Krispie Treats - Let it Cool
Let the pan of Rice Krispie treats set up at room temperature for about an hour. Or, you can slide them into the fridge for about 20 minutes if you want to speed up the process!
Use a knife to loosen the treats from the sides of the pan. And then slip the treats out of the pan onto a cutting board.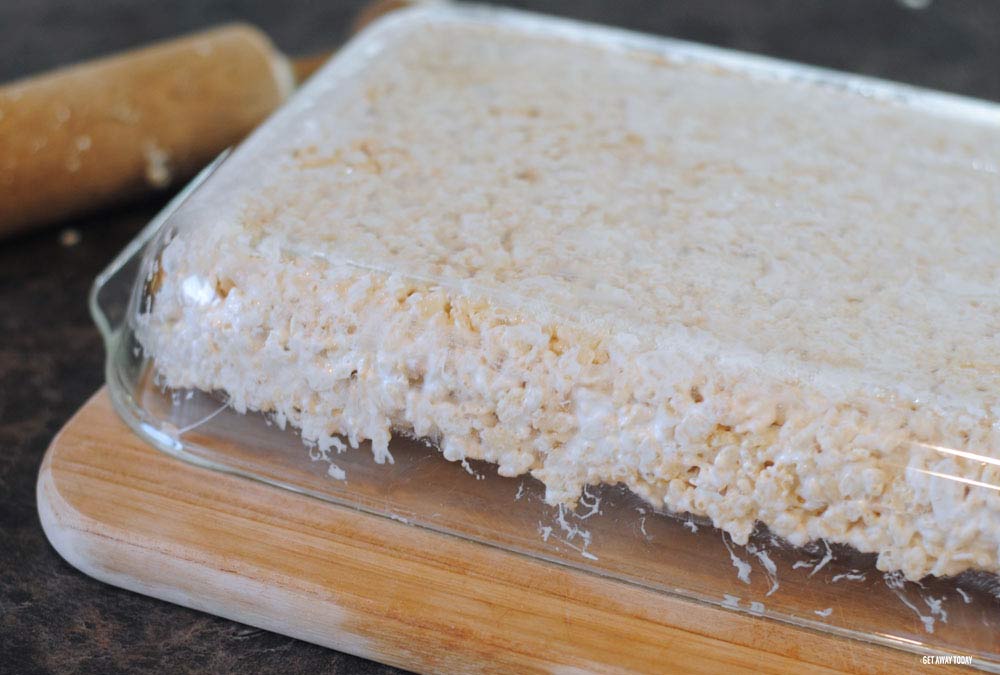 Disney Frozen Rice Krispie Treats - Make Shapes & Decorate
Use your adorable Mickey Mouse cookie cutter. Press the cookie cutter into the Rice Krispie treat bar to create individual Mickey silhouettes! Place each one on a cookie sheet that is lined with wax paper.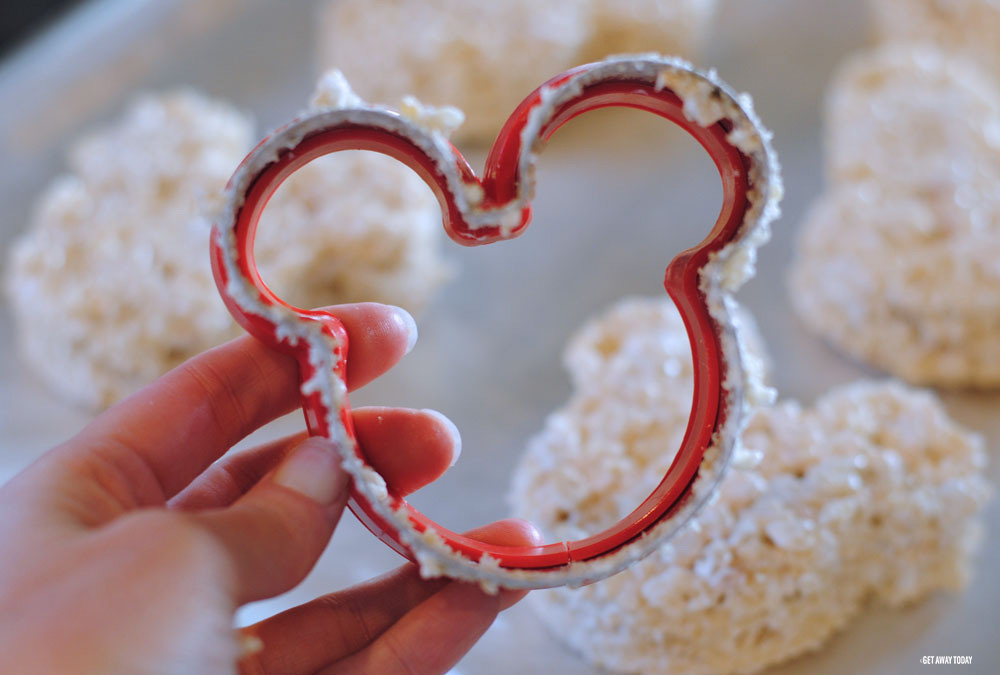 Place the bag of Ghiridelli White Chocolate Melting Chips in a small microwave safe bowl. Melt them for 1 minute in the microwave. Stir the chips until they are all melted completely.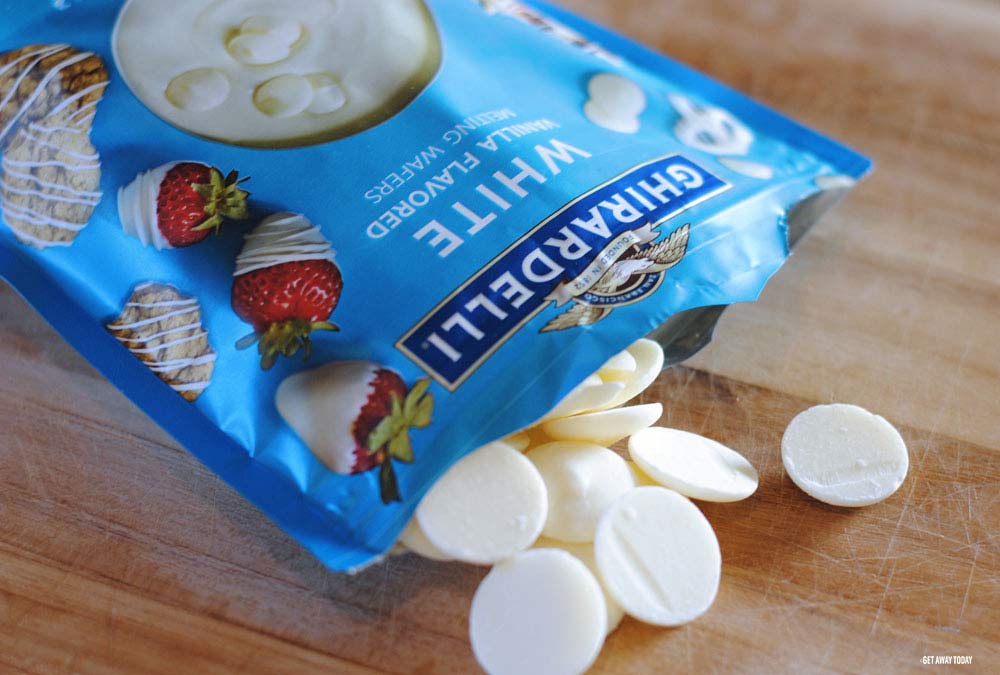 Dip the front side of a Mickey treat in the melted chocolate and place it back on the wax paper.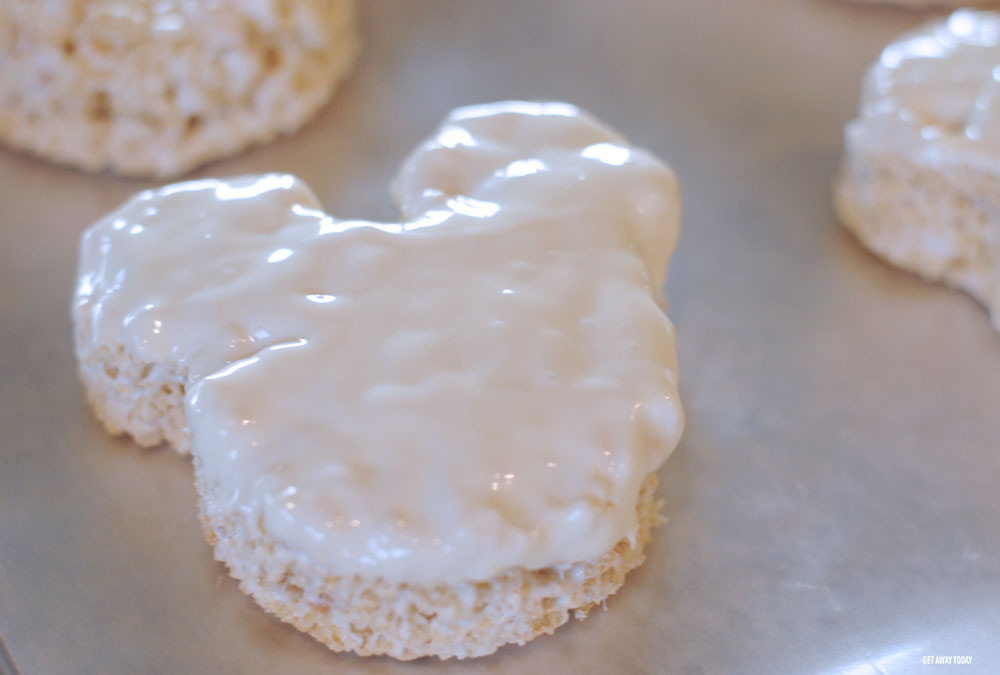 Sprinkle a pretty solid layer of ocean blue sanding sugar over the chocolate. I did this step after each Mickey that I dipped. I wanted to be sure to get the sugar on before the chocolate began to set up.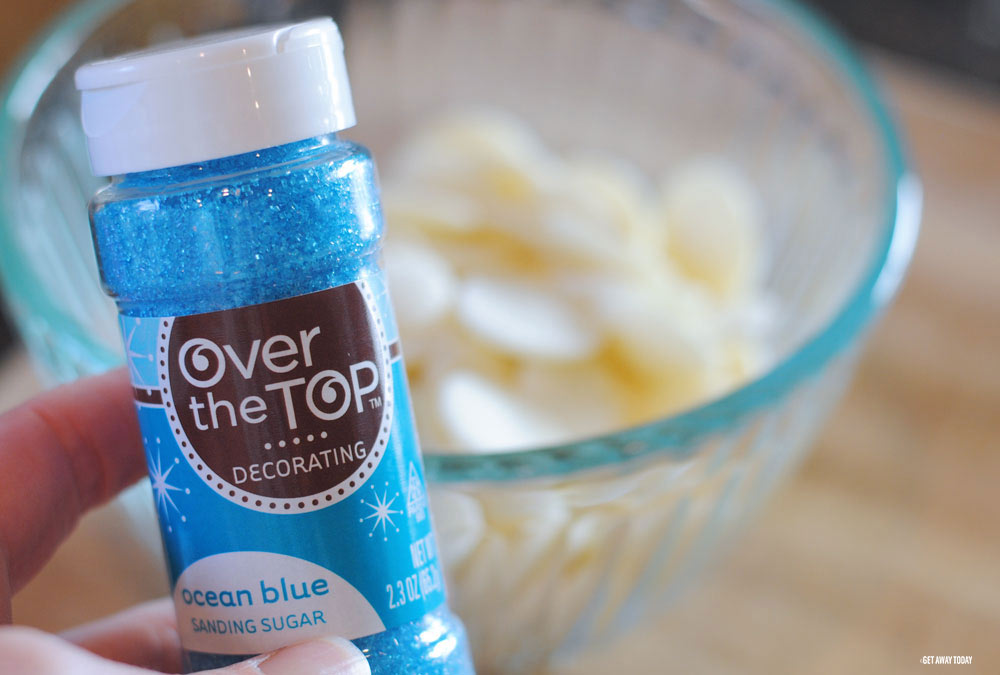 Once all of the Frozen rice krispie treats are dipped and covered with sprinkles, use the remaining melted chocolate to decorate the top with a snowflake. Scoop the chocolate into a plastic piping bag that is fitted with a small round tip.
Draw a big "cross" and a slightly smaller "X" on the treat.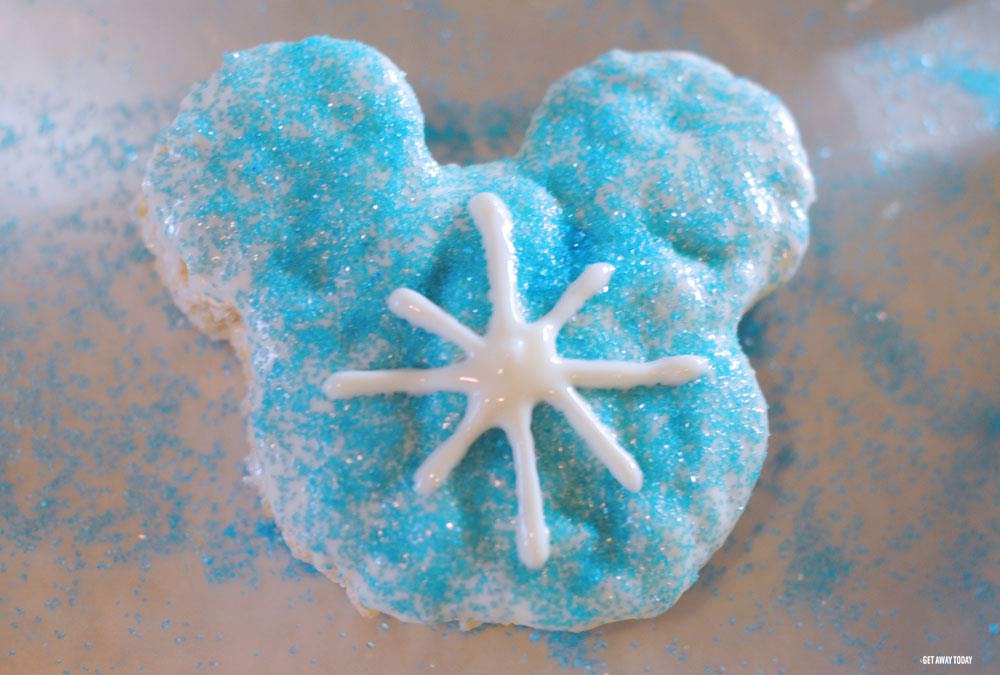 Then, add a little "V" shape on the end of each line.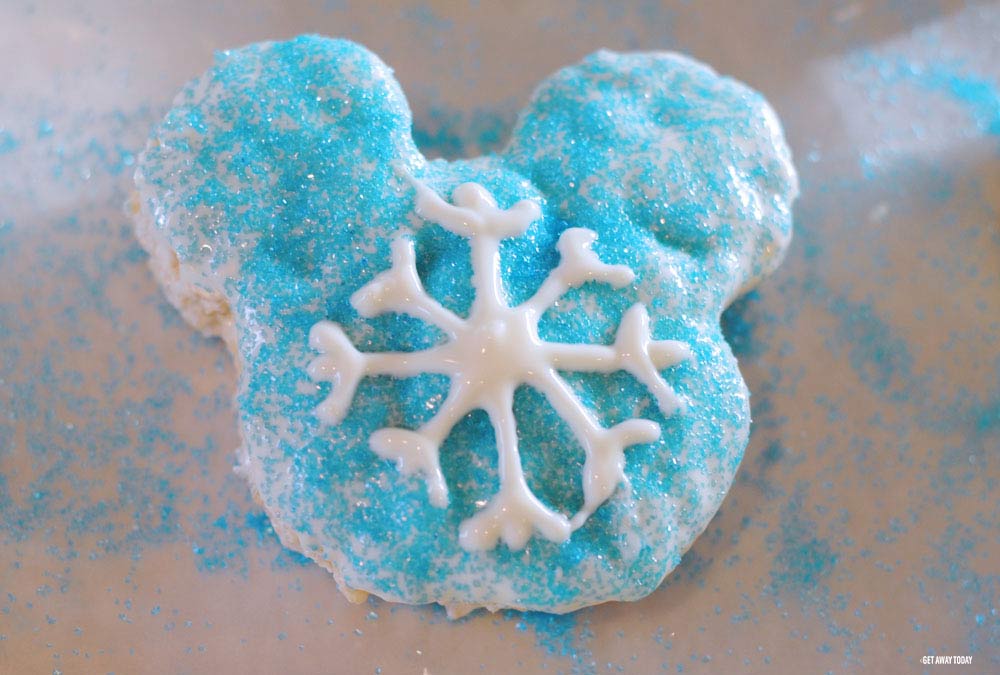 Then, I put another row of "V" shapes on the lines that are part of the cross. Just in the middle of the line.
The chocolate is a little bit runny, so just go slow and be careful. No snowflake is alike. So, don't get too worried about making them perfect!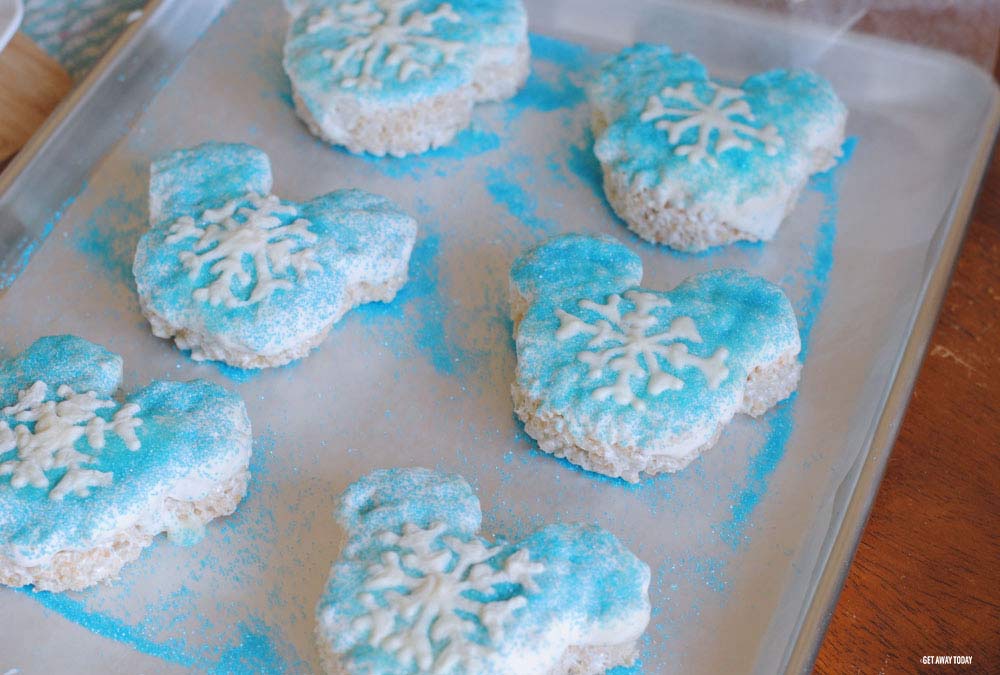 Your festive Disney Frozen Rice Krispie Treats are ready for sampling!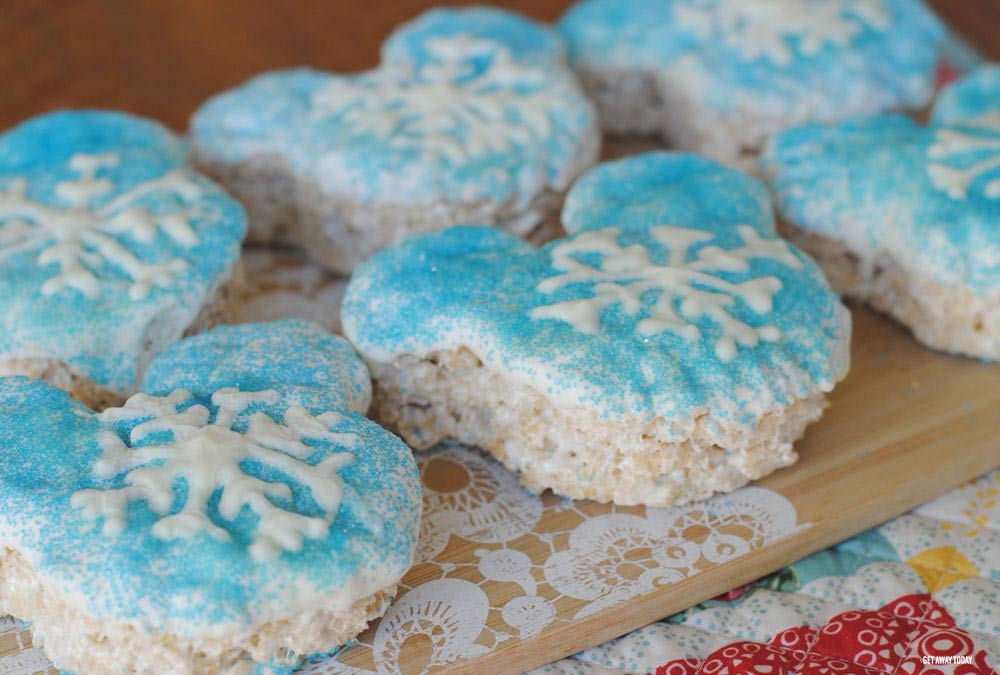 I love how easy they are to make. Disney Frozen Rice Krispie Treats are such a fancy magical dessert that anyone can create. Make sure to check out all the fun Frozen foods at the Disney Parks this Holiday Season. What is your favorite?
If you're ready to sample these treats and more at the Disneyland Resort, book now with Get Away Today! Whether online or over the phone at 855-GET-AWAY, our travel experts will make sure you can let go of vacation worries!