Disney pin collecting and trading adds a fun activity to your already MAGICAL experience at both Disneyland and Walt Disney World! For kids and grown-ups alike, it can be a low-cost activity that provides memories and souvenirs from each Disney vacation you take.
Disney Pin Collecting and Trading
Here at Get Away Today, we have a number of novice and avid Disney pin collectors. For today's tips on Disney pin collecting and trading we turned to Shelley, who has been collecting and trading Disney pins for years, for all her best advice when it comes to this activity.

Disney Pin Collecting - Getting Started
Before you head to Disneyland or Walt Disney World, you'll first want a small cache of Disney pins. Be sure to purchase official Disney pins, marked as such with a Disney logo imprinted on the back of the pin. You can purchase pins from The Disney Store, or Disney online. Additionally, you can purchase lots of assorted pins on eBay. Most sellers are after positive ratings, so they almost never sell "unofficial" Disney pins. They know that if they do so, you may return your purchase and/or give them a bad review. Shelley has been purchasing big lots of pins from eBay for years and has never encountered a problem. The best part about purchasing a lot of Disney pins on eBay is that you get a lot more for your buck!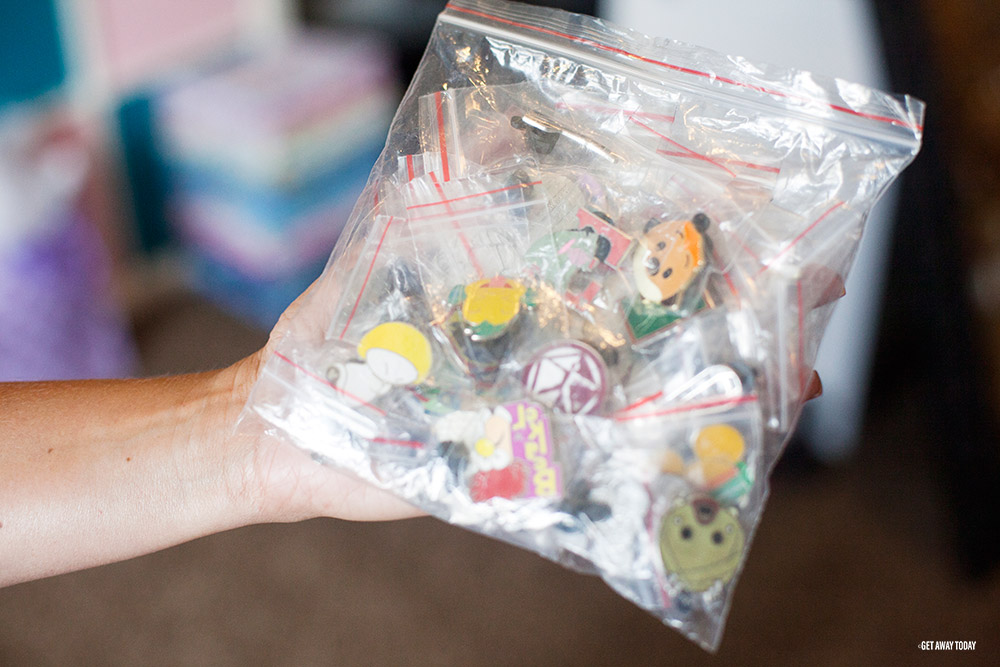 Once inside Disneyland Resort or Walt Disney World, many fun pins can be found for sale at the wide variety of vendors and kiosks throughout the parks. There are also pin stores and kiosks dedicated to selling pins and they offer a much larger selection of pins and pin-related items such as lanyards. Of course, if you purchase your Disneyland package with Get Away Today, you'll get our lanyards free when you check-in to your Anaheim area hotel.
Disney Pin Collecting - What to Focus On
With so many varieties of pins, how do you know where to start? One of our novice pin traders simply purchased one lot of Disney pins on eBay that came with 25 pins, and divided them (plus a few extra purchased from The Disney Store) between her two kids on their first Disneyland trip. They entered the Parks with no rhyme or reason to Disney pin trading, and let the kids explore all their options. Throughout the trip, the kids decided for themselves which types of pins they wanted to focus on trading for or purchasing to add to their collections.
The best way to think about pins is to search for what you like and what appeals to you, such as pins with the five classic characters: Mickey, Minnie, Pluto, Goofy, and Donald or perhaps Princesses, Villains, Theme Park and Ride pins, etc. You can also watch for Hidden Mickey pins. These usually come in fun sets, such as villains in the shape of bowling pins, characters in the shape of caramel apples, or cars and stars. Hidden Mickey pins have a Mickey head icon "dot" somewhere on the pin. Hidden Mickey pins are pins that started as Disney Cast Member (employee) lanyard pins, so they can't always be purchased in the stores.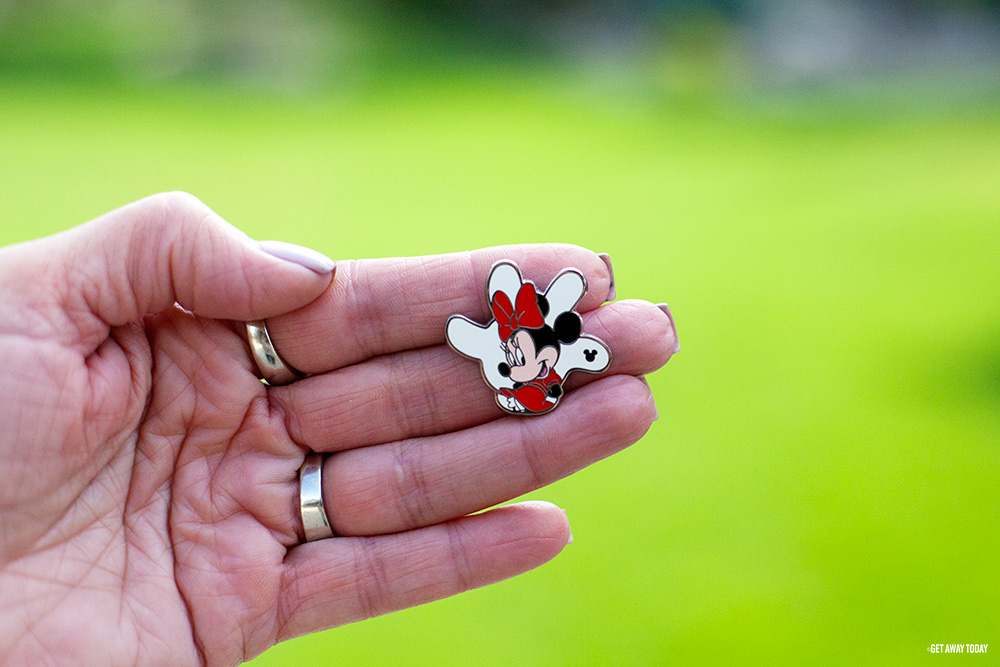 Have fun looking at the many pin options! It's hard to choose which ones you'd like to collect, but eventually something will "stick out" to you.
Disney Pin Trading - Getting Started
Pin trading is a fun activity to do while you are in the Disney parks, hotel shops and kiosks in Downtown Disney. Expert Get Away Today Disney pin trader Shelley trades for the pins that she likes. Once she finds a Disney pin that appeals to her, she searches for other pins that may have come with it in a matching set of five, seven or even more. The thrill of the hunt adds to the Disney pin trading fun! You'll have a goal in mind and will have a sense of satisfaction when you trade to complete a set.

Disney Pin Trading - With Cast Members
Disney Cast Members wearing lanyards or pin holders will trade with any guest who has a Disney pin to trade (remember, official Disney pins have an imprinted Disney logo on the back). Simply ask the employee, "May I see your pins, please?" If you see a pin you like, then you can trade them for one of yours. Not only is this a fun way to add to your collection, but it can be a great opportunity to teach your kids about using manners!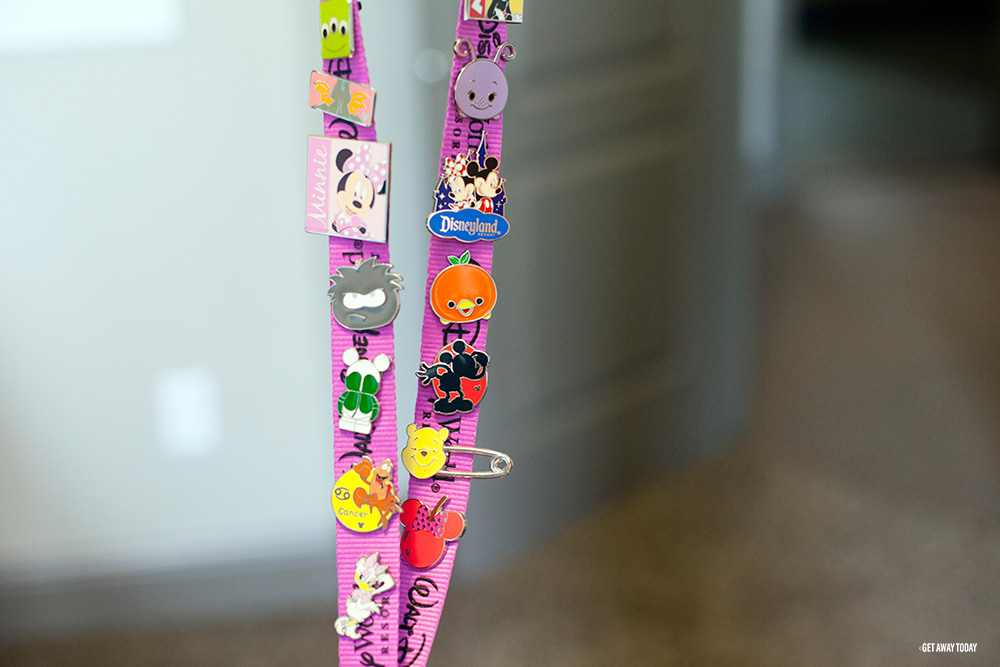 When trading with Disney Cast Members, there are a few things to keep in mind:
You can't give them a duplicate to any pins already on their lanyard.
You can trade up to two pins per Disney Cast Member.
You must be giving them an official Disney pin in order to trade. The Disney trademark is marked on the back of the pin.
Disney Pin Trading - In Stores
You can also find pins to trade in most of the stores and some kiosks in the parks. Simply ask the Cast Member at the check out counter if they have a pin board you can look at. If they have one, they will show you. It can be a pin board, or box, or sometimes they are on a Disney plush character. This is especially helpful for parents of young children who may constantly ask for items in the stores. Instead of spending additional money on an item not in the budget, you can encourage your kids to trade a pin they already have for something on the store pin board. Often, the stores have pins that relate to their land; a pirate themed pin in New Orleans Square or a super hero pin by Guardians of the Galaxy, for example. It's not a guarantee, but it's worth a shot! Also, when you're trading from a store's pin board or pin box, it's a great opportunity to see if other Disney guests are trading, too. You'd be surprised how many conversations are started between guests who bond over their love of Disney pin trading.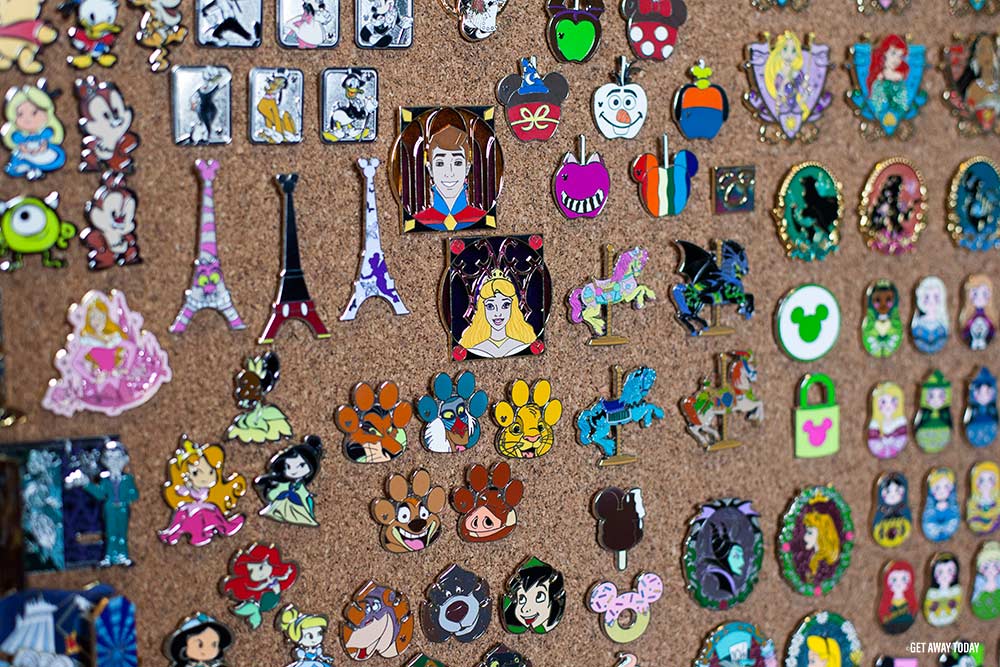 Disney Pin Displays - In the Parks
You can display your pins as you walk through the park on a lanyard around your neck, or on a backpack, a hat or even on your clothing. However, we warn you to be careful because soemtimes the backs of the pins can come lose and you run the risk of misplacing one. One Get Away Today pin trader likes to stick her Disney pins on a lanyard, but keep the lanyard tucked in her fanny pack. This way they're all secure, but easily accessible for trading.

Disney Pin Displays - At Home
When you book a Disney vacation with Get Away Today, each member of your travel party receives a Get Away Today lanyard. These are perfect for displaying some of your pins when you get home! Not only will your pins be safely tacked up, but you'll have your Disneyland ticket on display as well (it can hang in the pouch attached to the Get Away Today lanyard).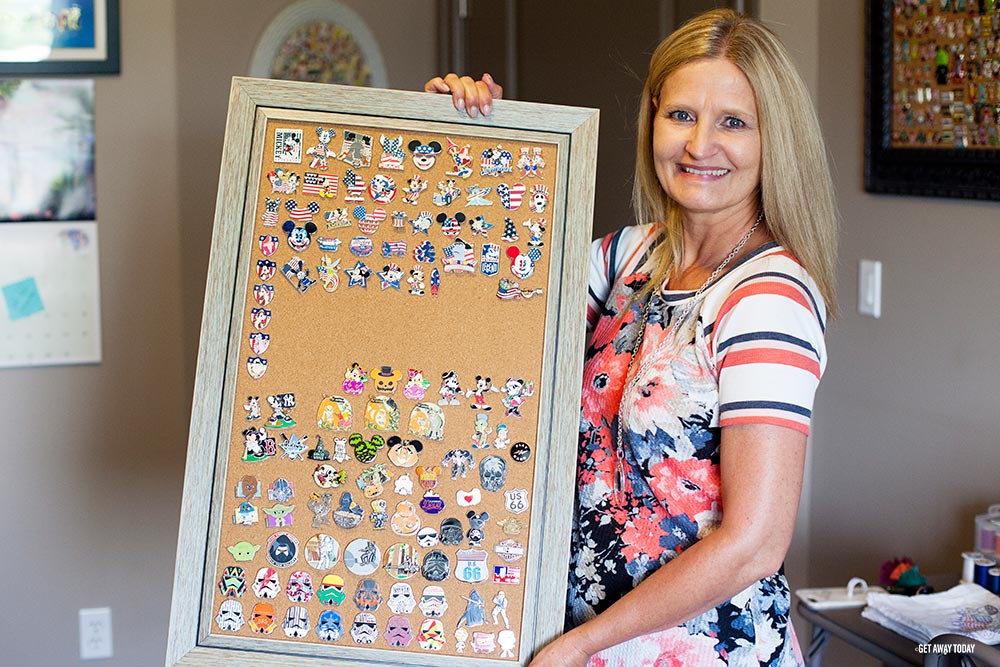 Shelley, our resident Disney pin trading expert, likes to display her pin collection(s) on pin boards in her house. This way she can organize them according to sets, themes or characters. She looks for unique cork boards at Hobby Lobby and other crafty stores. She suggests taking at least one Disney pin with you when shopping for a cork board to ensure they're the right thickness for your pins. You want to be sure the pins stick in securely.
Booking Your Disney Pin Collecting Trip
We hope this post with Disney pin trading tips helps you get started or further your own collection! Let us know your experience with Disney pin trading, or what your favorite pin is. To participate in this unique Disney vacation experience, book now with Get Away Today. With our flexible Layaway Plan, you can book for as low as $175 down, and make payments up until five days before your travel. Check out all our discount Disneyland and discount Walt Disney World vacations online, or give us a call at 855-GET-AWAY. Happy trading!