Heading to the Disneyland Resort? You'll want to check out our list of the best free things at Disneyland. After all, there's nothing better than free magic!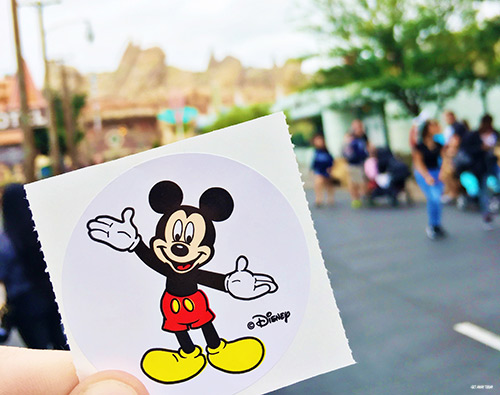 Disneyland is one of the most popular family destinations, no matter what time of the year you're traveling. We realize that a trip to the Happiest Place on Earth can be expensive, but feel like you get so much for the price! You get even more when you take advantage of all the free things at Disneyland. That's right, there are free things at Disneyland! Check out our list below of all the free things you can take advantage of on your next trip to Disneyland:
Celebration buttons. These are one of my absolute favorite free things at Disneyland. Whether it's your first time to the park, your birthday, anniversary or you're just celebrating being in the park, you need to tell it to the world! There's no better way to do just that than by wearing one of Disney's celebration buttons. You can get these from City Hall or almost any shop within Disneyland and Disney California Adventure. Just ask the Cast Member at the desk for a celebration button and you'll be pinning one on your lanyard or shirt in no time. Let the Cast Members know what you're celebrating and they'll personalize the button, too.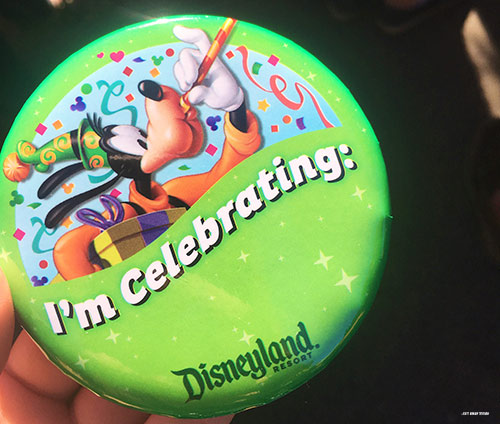 Disney stickers. Keep an eye open for Disney Cast Members walking around the park with stickers. We all know that kids love anything to do with stickers, especially Disney stickers. Some Cast Members may ask that you answer a few questions, but others will have the stickers to give freely.
Water cups. Staying hydrated is always important, and even more so when you are in Disneyland. We always suggest bringing a water bottle to refill as much as needed throughout the day. If you forget, don't worry. You can get free water cups from every restaurant in Disneyland. This is also great if you prefer refilling your water bottle with ice cold water. The water cups could be considered one of the healthiest free things at Disneyland.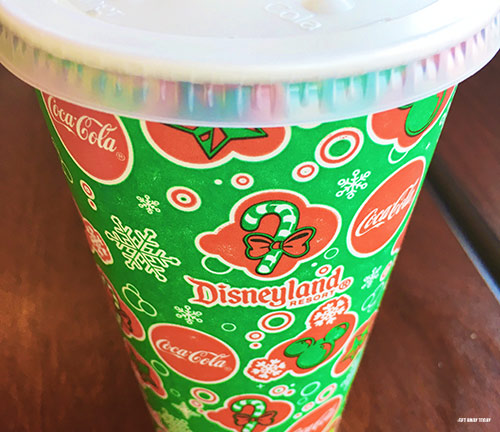 Character autographs. Meeting your favorite Disney character is always a moment that deserves to be remembered. You can do that with photos of the special encounter and by getting an autograph, of course. Character autographs are free and the perfect souvenir to help your little ones remember their Disneyland trip. If you'd prefer not to purchase an autograph book, you can download our free printable autograph book here.
Buffet dining for two and under. If you have children two and under, now is the time to go to Disneyland! On top of free admission for littles ones two and under, they can also enjoy dining at the buffet for no charge. That means you could book a character dining at Minnie and Friends or Goofy's Kitchen without having to pay for your littlest.
Bread from Boudin Bakery. Feeling like a taste of San Francisco? Then head to the Pacific Wharf in Disney California Adventure. You'll be able to tour the Boudin Bakery and watch as bakers turn lumps of dough into the delicious bread you have in your hands. It's probably one of the yummiest free things at Disneyland!
Jungle Cruise map. Adventurers who enjoy the Jungle Cruise will love this freebie. All you have to do is ask the Cast Member at the end of the Jungle Cruise. You'll be provided with your own map of the dangerous and hilarious voyage you braved! It's definitely one of the most unique free things at Disneyland.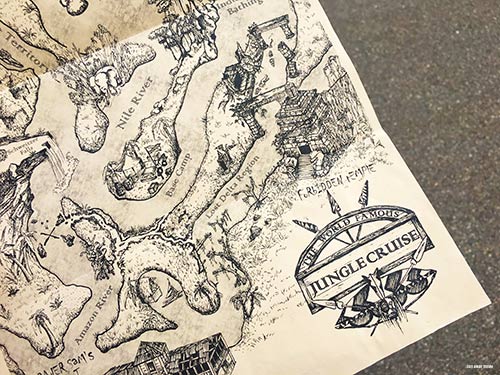 Chocolate square from Ghirardelli. Nothing is better than the Ghirardelli's sweet chocolate. Except when you get it free, of course! You can get a free chocolate square from the Ghirardelli Soda Fountain and Chocolate Shop in Disney California Adventure. Everybody is welcomed with a free piece as they enter the shop. The smells alone may convince you to try one of their decadent sundaes, but the chocolate square itself won't cost you a penny.
Autopia driver's license. Do you love racing around the iconic ride in Disneyland? It just so happens you can find one of the free things at Disneyland here. Once you've driven around Autopia, just ask a Cast Member for your driver's license. They now offer two options; one that includes your picture and costs or one that doesn't include your picture, but won't cost a thing. Even without your picture, an Autopia driver's license is a pretty great souvenir!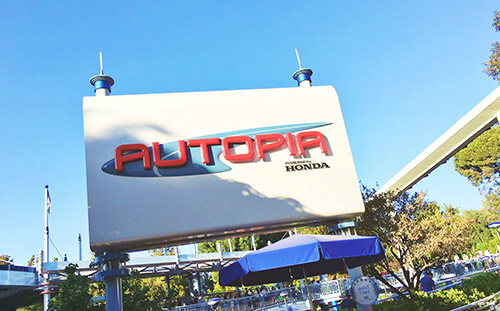 Animation Academy drawing. If you're looking for free things at Disneyland that are perfect for those dreaming of being an artist, this is it. Visit the Animation Building at Hollywood Land in Disney California Adventure to find this freebie. You'll be able to learn how to draw a Disney character from a Disney artist! Your Disney masterpiece is yours to keep and makes a beautiful – and free – reminder of your Disneyland vacation.
Buzz Lightyear Astro Blasters picture. We all love making funny faces or coordinating gestures with our ride members when we know a ride is going to take a picture. While most of those pictures have to be purchased afterwards, there is one that you can get for free. The Buzz Lightyear Astro Blasters ride will take your picture towards the end of the ride, once your total score has been calculated. You can then email the picture to yourself at the kiosks provided free of charge. It's a great way to remember both your funniest face and your high score on the ride!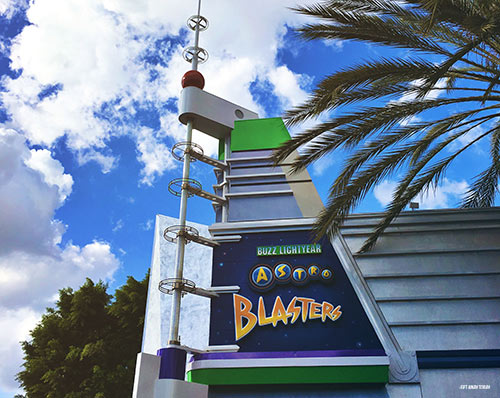 Mardi Gras beads in New Orleans. Do you ever stop to listen to the musicians performing in New Orleans Square? You should, because they're apt to toss a few Mardi Gras beads to their most enthusiastic listeners. I don't know how many times I've watched little kids try to dance off among each other to see who can get the next set of beads!
Summer of Heroes freebies. It's important to note that you can only get these free things at Disneyland until September 10th as part of Summer of Heroes. As part of the celebration of all things super, Disney has added some free fun to Disney California Adventure. Located at the Hero Action center in Hollywood Land, you'll be able to take a quiz to find out which super hero you are most like. You'll be given a free sticker announcing your true super hero self and a collectible comic book. The free things at Disneyland for Summer of Heroes don't end there though. Your entire family can get their face painted with a super design for no cost. Your little ones will love not only having a sticker, but also having their face painted to match their super hero idol!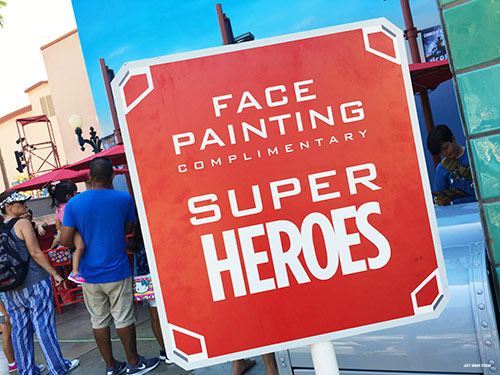 The magic of the parks can't be beat, especially when you take advantage of all the free things at Disneyland. Do you have a favorite? Or is there something we forgot in our list of free things at Disneyland? Let us know below!
Your Disneyland tickets themselves might not be free, but you can get the best price on them when you book with Get Away Today. Combine them with our reduced hotel rates and you're in for some super savings! Book any of our Disneyland packages online or give our agents a call at 855-GET-AWAY. Our travel heroes are ready to help you book an epic Disneyland vacation.

Check out these other great articles: